Best Permanent Eyeliner Styles for Each Eye Shape
The choice of permanent eyeliner styles should be based on your preferences, eye shape, and the rest of your facial features. Here's a list of different eyeliner styles that can be achieved with PMU.
This post was originally published in April 2020. Updated in August 2021.
As fabulous as on-point eyeliner can be, it can also be your worst enemy on busy mornings. That's why so many people love semi-permanent eyeliner, a long-lasting solution for a smudge-proof eyeliner look.
But since the results of this permanent makeup treatment last even up to 5 years, it's important to get it right and be sure you'll love wearing it that far into the future.
Before you book a treatment, it's important to know what type of look you want, so make sure you study permanent eyeliner styles and colors available carefully. Start by looking at pictures of permanent eyeliner styles, but before and after photos should only serve as an inspiration, not a template.
To help you with this decision, we've prepared a mini-guide through permanent eyeliner styles best suited for different face shapes, as well as some other factors to be considered.
Table of contents - Skip to a specific paragraph
Can Permanent Eyeliner Styles Be Customized?
As with any permanent makeup treatment, the results are created so that they suit your individual needs: your style preferences, facial morphology, skin tone, skin type, etc. So different eyeliner styles can 100% be adapted to look the way you want them to.
Technically, all eyeliner styles that can be achieved with regular makeup can be achieved with PMU eyeliner as well. But some choices are better and more practical than others. The 3 basic permanent eyeliner styles PMU artists recommend are:
Subtle eyelash enhancement
Classic eyeliner
Smokey eyeliner
You also have the option of adding a lower lid eyeliner tattoo to each of the looks. Keep reading to find out what features each of the permanent eyeliner styles can be customized.
Image source: Instagram @mp.brows
What Is Permanent Eyeliner and How Is It Done?
Permanent eyeliner is a permanent makeup technique, AKA cosmetic tattoo, that gives you the look of wearing eyeliner by injecting pigments into your eyelid skin.
The eyeliner lasts somewhere from 1 to 3 years on average, but it can last up to 5 years or longer if you refresh it. The procedure itself lasts for approximately an hour and a half, but it might take longer for more complex eyeliner tattoo styles.
Even though it's called (semi) permanent eyeliner, the color will start to fade after some time, at which point you need to have a touch-up if you want to keep the results.
Want to find out more about permanent eyeliner? Follow the links:
Permanent Eyeliner – The Ultimate Guide
Permanent Eyeliner Cost
Permanent Eyeliner Before and After
Features of Permanent Eyeliner Styles
The features of an eyeliner look are:
the length of the line – how far towards the inner corner of the eye the line will go, and how far it will extend outwards
the thickness of the line
the edges – the line can be defined, smokey, or slightly faded
the color of the line – deep browns are most common, but this is a matter of preference (black is not recommended as it fades into bluish for most clients)
All these factors are adapted to the shape of your eye and the rest of your facial features. Combining these elements creates different eyeliner styles.
Common Permanent Eyeliner Styles
Artists don't advise getting the line too thick or the wing too long, because a) a totally dramatic look isn't versatile and you may not feel like wearing it every single day, and b) it's important to consider the fact that skin loses elasticity in time and may change significantly over 3 years, which could cause the marks to look not quite on-point.
So subtler, discrete semi-permanent eyeliner styles which can be enhanced with regular makeup on special occasions are the way to go for most clients.
Here are some popular permanent eyeliner styles. Of course, they are customized to best suit each client.
Eyelash Enhancement
The most subtle and the most sought-after style, since it suits all eye shapes and ages, and it's appropriate for all occasions. It is done by either drawing an extremely thin line that blends into the lashes or using the so-called dotting technique, which means injecting a dot at the base of each individual lash.
Image source: Instagram @heavenbergbeauty
Classic Eyeliner
The line starts at the first lash in the inner corner and ends with the last lash at the outer corner of the eye, without a prominent wing. In case the lower lash line is also done, the two stay close but separated since the skin at the connection is more prone to pigment migrations, and connecting the two makes eyes look smaller.
Image source: Instagram @phicontour_kerstin_thorsten
Shaded or Smokey Eyeliner (Designer Eyeliner)
The boldest option. The shaded or smokey look is achieved by adding a shade above the line, smoking out its edges. A wing is usually added, too. The shade is usually added in a deep brown tone, slightly lighter than the line itself. A purple shade is also popular for shading.
Some artists have been calling this add-on permanent eyeshadow lately. Others call it designer eyeliner.
As fabulous as the smokey style can be, it's best suited for clients who wear a significant amount of makeup on a daily basis. For someone with a sporty, casual style, this might be too much.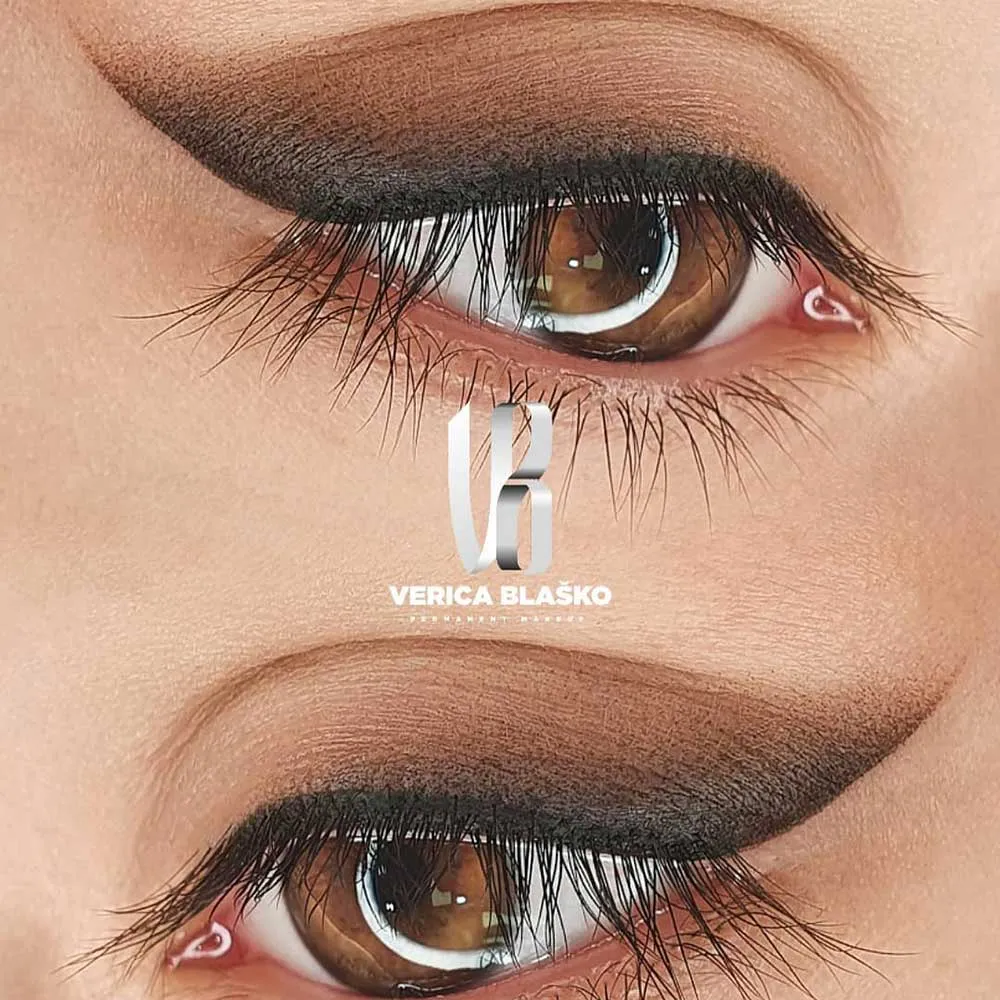 Image source: Instagram @vericablaskopmu
The Bottom Lid Permanent Eyeliner
Bottom lid eyeliner can be added to each of the eyeliner tattoo styles. This extra line should follow the lashes, meaning start at the first lash and end at the last one.
When incorporating a lower lid eyeliner tattoo, it's important not to connect it to the upper one. This closes the eye and makes it look smaller.
Some clients choose to only get a lower lash line enhancement, without tattooing the upper lid at all.
Extra Tip: If you're on the fence about getting a bold look, start thin. You can always schedule a touch up and top it up.
Image source: Instagram @kelseygeldenhuyseda
Can I Get a Waterline Tattoo?
Many people love wearing eyeliner or pencil on the water lines – the tiny stretches of mucosal tissue that connect the lash line and the actual eyeball. But getting a waterline tattoo is one of the permanent eyeliner styles artists warn against.
Although the final effect can look good, the procedure is very complicated and could lead to complications and dry eyes.
How to Choose the Best Style According to Eye Shape
Permanent eyeliner can visually change the shape and size of the eye, but it's important to recognize the exact points at which the line should start, end, and how thick it should be in order to achieve the desired result.
The Canthus Chart identifies the 4 most common eye shapes and the best eyeliner looks for them.
1 – The outer corner is significantly uplifted. The best style for this shape is a subtle one since there's no need to visually uplift the outer corner further.
2 – The outer corner is slightly uplifted. This eye shape can pull off any eyeliner style.
3 – The inner corner is higher than the outer one. The outer corner should be visually uplifted by creating a straight angle look, extending the outer edge a bit.
4 – The inner and outer corners are in line. This shape should be slightly uplifted with a line that gradually widens in order to give the circle more definition, not dragging the eye downwards.
Image source: Instagram @n.y.bae
Permanent Eyeliner Styles for Aging Eyes
By opening up the eyes, permanent eyeliner can instantly make you look younger.
However, experimenting with different styles of permanent eyeliner may not be a good idea. The best look is either a subtle lash enhancement or the one described in point 3 above – a subtle cat-eye with the wing angled straight upwards, not curved.
Also, it might be a good idea to go for a smokier edge, as the defined line may look smudgy on skin that isn't completely tight.
Image source: Instagram @spmubysarahlowe


Permanent Eyeliner Styles – Main Takeaways
The procedure of getting permanent eyeliner is definitely a time-saving decision, and it can be a great idea. However, you need to pay attention to the artist that you choose and decide on the best style and color together with him.
Take time to consider all of your options and decide on what's best for you. Don't be reluctant to ask your artist for advice – they have a sharp eye and know how to determine which permanent eyeliner styles will work best for you.
LEARN MORE ABOUT PERMANENT EYELINER
Explore more permanent eyeliner topics:
Swipe for more permanent eyeliner topics →