Henna Brows: The Ultimate Guide
Interested in henna brows? Read this guide to find out what they are, how they're done, how long the effects last, and much more.
Editor's Note: This post was originally published in July 2019. Updated in December 2021.
If you're thinking of getting a brow enhancement more long-lasting than your average brow pencil or powder, but you're not ready to commit to microblading or another brow PMU style (or you're not a candidate for it), the henna brows treatment is just the thing for you.
A semi-permanent brow shading solution, the treatment is a natural alternative to the basic brow tint, and it gives a bit more drama to your brows.
Here's everything you need to know about henna eyebrows.
Table of contents - Skip to a specific paragraph
ABOUT HENNA BROWS
What Are Henna Brows?
Henna brows are actually a form of brow tinting which darkens the brow hairs into the desired shade, but also stains the skin underneath them for a shaded look. It's done by coloring the brows arches with henna, a natural colorant extracted from the henna tree.
The results look like you're wearing brow powder, but also like your brows are naturally fuller, as the henna colors all the baby hairs that aren't visible otherwise. The look stays on for a couple of weeks, at which point it's faded and can be refreshed.
Image source: Instagram @make_up_and_brows_by_brzozka
ABOUT HENNA EYEBROWS TREATMENT
How Are Henna Brows Done?
The process of a henna eyebrow tint is very similar to the process of doing a normal dye tint, and if you want to DIY it, it's pretty much the same thing.
Since the point of the treatment is to give you great brows, it's usually done in combination with waxing, threading or tweezing in order to sculpt the brows before coloring them.
Here's a step-by-step description of the process:
Step 1 – Brow Shaping
Your brows are shaped with the hair removal of your choice – threading, waxing, or tweezing. If your skin isn't used to waxing, perhaps threading is the best option, since it's the most gentle hair removal method.
Step 2 – Scrub and Cleaning
In order to get an even shading, the skin of the brows needs to be smooth and cleaned of all makeup, skincare and sebum residues.
A quick gentle scrub can be done to remove the flakes and make the surface smooth and allow an even color absorption. The brows are thoroughly wiped with a cleanser.
Step 3 – Outlining
Since the henna stains the skin, it allows for a slight modification of the arch shape. If it's applied a bit outside of the natural hairs, it can add thickness to the arches, or make them look slightly more angled.
The tech draws the outline of the desired brow shape that will be filled in with henna.
Step 4 – Applying Henna
Henna comes in the form of a powder, so it's mixed with a liquid carrier before application. A customized color can be mixed by combining different shades.
Once liquid, the henna is applied onto the brows with an angled brush. The tech should saturate the brows, so a thick layer is desirable. They should go back and forth across the brows and apply enough pressure on the brush to allow the henna to reach the skin underneath the brows, especially if the client's brows are fuller.
Any excess henna that goes outside of the desired outline is wiped off with a cotton swab to get clean edges.
The color is left on for 10-20 minutes.
Ombre Effect
Nobody wants the inner corners of their brows to look square, like a block of color! The heads of the brows should be left lighter, gradually darkening towards the center of the arch for an elegant ombre effect.
The ombre effect is achieved either by applying a thinner layer of henna at the heads, or by removing the henna from the heads after about 5 minutes, and leaving the rest of the brows covered.
Step 5 – Cleaning
The henna is removed with a damp cotton pad, and stylish shaded brows underneath are revealed!
Image source: Instagram @beautyandco_lane
How Long Does the Henna Brow Treatment Take?
It usually takes about 30 minutes, but it can take longer if the treatment includes threading, waxing or tweezing, or the scrub.
PREPARATION FOR HENNA BROWS
How Do I Prepare for the Henna Eyebrow Tint?
The only mandatory prep is doing a patch test to prevent an allergic reaction.
Apart from that, you can do a gentle brow scrub the night before your appointment (if you're getting a professional service) to remove dead skin cells and ensure better color absorption. Most techs include a quick scrub in the treatment, so it's not necessary for you to do it in advance, but it will shorten your appointment.
If you do it yourself, use a gentle scrub that won't irritate your skin.
Can I Get Henna Brows if My Skin Is Sensitive or Dry?
As long as you do a patch test and it shows no reaction, you can go through with the treatment.
When it comes to dry skin, it's good to note that henna is a natural exfoliant, so it might dry your skin a bit further. Nothing too significant, though.
HENNA BROWS AFTERCARE
Do Henna Eyebrows Require Any Aftercare?
To ensure your henna eyebrows last for as long as possible, follow these rules:
Don't touch your brows for 24 hours.
Don't get them wet for 24 hours (this includes exposure to sweat and steam).
Don't expose them to sunlight for at least 24 hours.
HENNA BROWS FADING
How Fast Do Henna Eyebrows Fade?
Henna combines 2 effects – coloring the hairs, and shading the skin underneath.
The shade fades from the skin after about 7 days. On oily skin, it may fade faster, since the sebum overproduction "washes it out".
The brow hairs stay colored for up to 5 weeks.
HENNA BROWS MAINTENANCE
How Do I Prevent Premature Fading?
To make the best of your henna brow tint and ensure it lasts out as long as possible, follow these rules:
Don't exfoliate the brows area.
Don't wax your brows.
Don't use retinol or any other brightening skincare products in the area.
Don't use oil-based products in the area.
Use a gentle face wash.
Minimize sunlight exposure.
Image source: Instagram @blis.sbeautybyash
HENNA BROWS SIDE EFFECTS
Are Henna Brows Safe?
Generally, yes. Henna is a natural substance and no hydrogen peroxide is used.
The only possible side effect is an allergic reaction. Black henna contains a substance called PPD (paraphenylenediamine) which causes a reaction in many people. It's often mixed with brown henna for a custom shade, so a patch test must always be done the first time you're getting a henna brow tint, or if you're using a new brand.
Are There Any Side Effects?
Apart from the possibility of an allergic reaction (which is prevented with a patch test), there aren't really any side effects to the henna eyebrow tint.
The treatment might irritate sensitive skin slightly and there could be some redness afterwards, but it should subside quickly and it's nothing to worry about (unless it's accompanied by itching, rashes, or extreme irritation – in that case, it could be a reaction).
Are There Any Contraindications?
The henna brow tint isn't suitable for you if:
you have a reaction to the patch test
you take Accutane, or have used in the past year
your skin is sunburnt or damaged in another way
you have Eczema, Psoriasis or Rosacea in the brow area
you've had microblading or another brow PMU treatment in the past 8 weeks (the skin needs to heal first)
If you've had harsh chemical peels or similar treatments in the past year or so, consult a brow tech and let them assess the state of your skin before the treatment.
HENNA BROWS COST
How Much Do Henna Eyebrows Cost?
The average price of henna brows is $45, but it can range from $20 to up to $100. The price depends primarily on what brow shaping method is used (if any) and the exclusivity of the salon.
Image source: Instagram @brows.by.j_
DIY HENNA BROWS
Can I Do Henna Brows at Home?
Yes, you just need to buy a henna kit.
The process is very simple and it's exactly like what we described above.
The only possible issue might be color matching, as store-bought color might not be exactly what you're looking for, and there's no possibility of mixing a custom shade.
HENNA BROWS VS REGULAR TINTING
What's the Difference Between Henna Brows and Basic Brow Tinting?
Henna is a natural version of the traditional brow tinting with a dye, so it may be more suitable for people with sensitive skin, or those whose skin reacts to hydrogen peroxide used in regular tinting.
The results are somewhat different. Regular brow tinting might stain the skin a bit, but the residues are washed off in a day or two, and it's not really a desired effect, more of a side effect. Henna is meant to stain the skin, so it gives a more dramatic look, similar to the look of microshading or powder brows.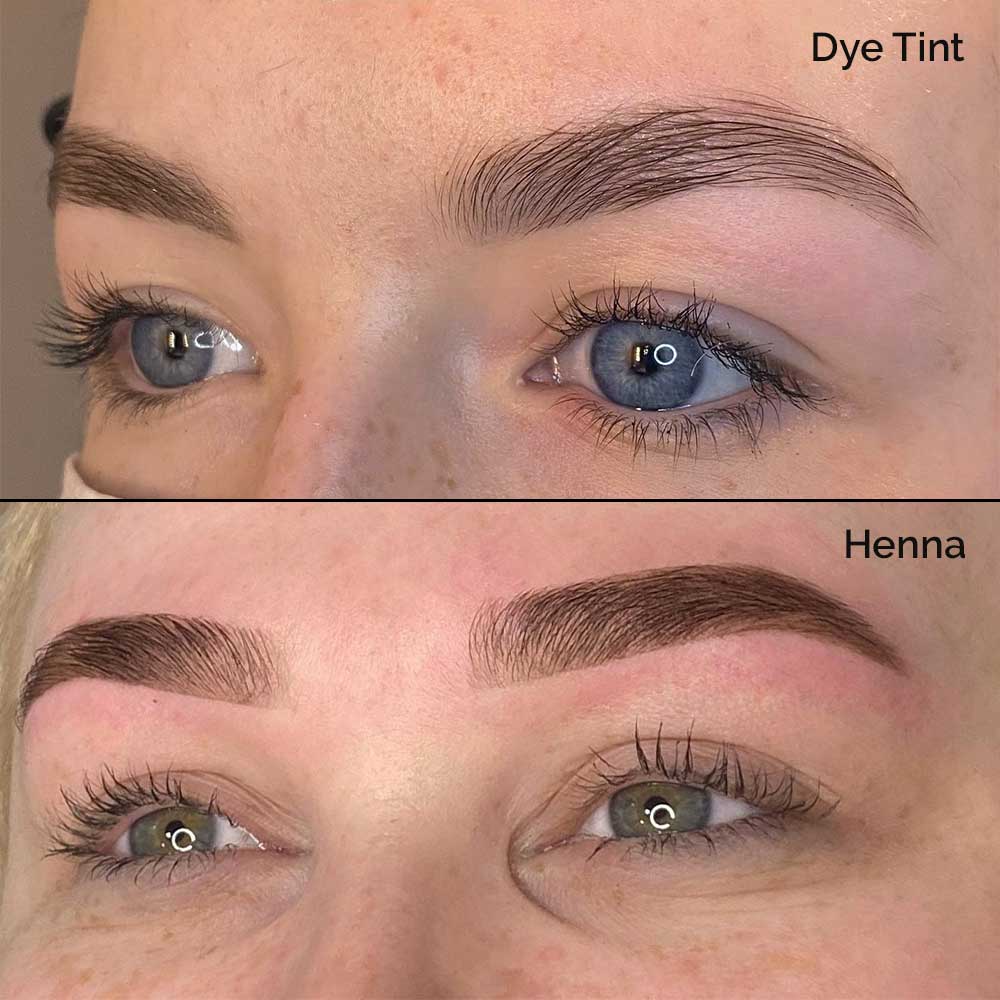 Image source: Instagram @lucysheridanbeauty (tint), @beautybycarlaxo (henna)
HENNA BROWS – MAIN TAKEAWAYS
Henna brows are a great treatment that gives a semi-permanent brows enhancement. It gives the brows thickness and definition by coloring the hairs and tinting the skin underneath. The effects last up to 5 weeks.
It's a completely natural, non-invasive treatment; quite affordable too, especially if you do it yourself.
It's also a great gateway treatment towards more permanent options such as microblading or powder brows. With a henna brow, you get to test drive the look before committing to cosmetic tattooing.
LEARN MORE ABOUT HENNA EYEBROWS
Explore more henna brows topics:
Swipe for more henna brows topics →