⏱️
5
min read
We always like to highlight that with permanent makeup, it's all individual.
From the motivation behind the decision to get it done, to expectations, to the experience itself. There are no 2 clients alike, there are no 2 skins with the exact same properties, and there are no 2 identical pairs of brows.
So every PMU experience is completely unique. At PMUHub, our goal is to tell honest, authentic PMU stories from real people – unbiased, unsponsored, and objective.
And today, we're bringing you one just like that! We spoke to Nev, a friend of our Editor in Chief and local socialite, who recently took the plunge and got powder brows after years of eyeing the treatment.
Here's her story.
Powder Brows – A First-Hand Experience
PMUHub: Hi Nev! Thanks for talking to us. First things first – why did you decide to get a brow tattoo, and why did you go for powder brows?
Nev: No problem, I'm happy to share my experience!
I've been thinking of getting permanent makeup for a while now. I used to have thick and full natural eyebrows in my childhood and early teens, but at the time, the trend was thin arches.
So I made the common mistake and started tweezing away like there was no tomorrow, and after a few years of that, there was no going back.
As thick brows became more and more popular, I started filling in my brows with various makeup products.
At one point that got so tedious I started thinking about getting a brow tattoo. After seeing some stunning examples from local PMU artists on social media, I realized powder brows was the style I wanted.
I decided I wanted medium arches – not too thick, something that would subtly complement my features.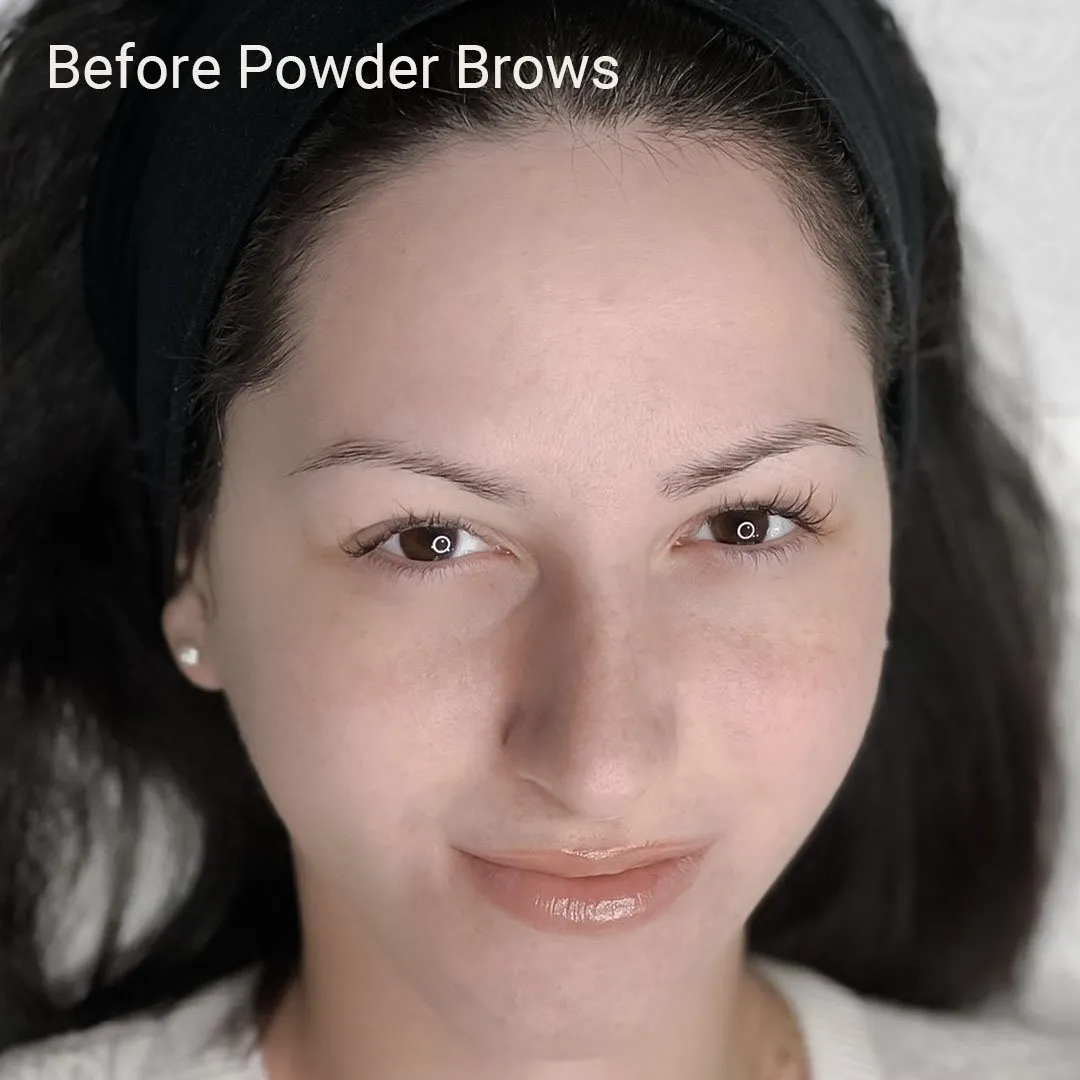 PMUHub: How did you decide on an artist?
Nev: It was a recommendation from someone I trust on beauty matters, who assured me the artist was super professional and highly skilled. Of course, I looked at her portfolio and fell in love with her work. I knew we were a match right away.
PMUHub: How did you prepare for the treatment?
Nev: There was no particular prep, as I don't do any of the things you're supposed to avoid before the treatment anyway.
PMUHub: Tell us about the treatment itself. Our readers are always curious to know what PMU feels like. Was it painful?
Nev: The first pass was slightly uncomfortable, as it was done without anesthesia. It's not the most pleasant sensation, but it's nothing too bad – totally bearable.
But after the first pass, the artist put some oily substance on my brows and they went totally numb. I couldn't feel the rest of the treatment at all after that.
PMUHub Explains
What Nev's artist did was skip the pre-numbing, a very common practice in the PMU industry nowadays.
Topical anesthetic applied to unbroken skin before any work is done takes a relatively long time to work, and the numbing sensation achieved may not be as intense as the client would like it. Plus, it can complicate outlining.
That's why some artists prefer to skip it, do a lighter first pass to open up the skin, and use a secondary numbing formula.
Secondary numbing usually comes in liquid or gel form (what Nev perceived as oily), it penetrates the now-broken skin deeper, and gives a very intense numbing sensation within a couple of minutes.
PMUHub: Tell us about first impressions. What was it like seeing your brows for the first time after the treatment? Was there any brow shock?
Nev: I was thrilled! I loved them instantly. It was a huge relief knowing I wouldn't have to draw them on anymore – that became such a bore.
PMUHub: How's your healing process going?
Nev: Well it's mostly over and honestly it was nothing special. There were no side effects worth mentioning. The only thing I noticed was that my brows would get itchy when I'd practice my aftercare routine – upon cleaning and applying my aftercare ointment.
The peeling wasn't too bad and it wasn't too annoying. I did get thin scabs, but they all came off at once, in bigger chunks, when I was cleaning my brows with a cotton round, around day 5.
PMUHub: What aftercare routine were you prescribed?
Nev: On day 1, I'd wipe them gently with distilled water every hour or so.
On day 2, my artist said it's fine to wash my face as I normally do, as long as it's a gentle cleanser. After that, she advised me to apply Vaseline on my brows 3 times a day, for 5 days.
PMUHub Explains
A few years back, Vaseline used to be the go-to product for PMU aftercare, and artists loved how easily available and affordable it is.
But recently, there's been a debate within the community on petroleum jelly being too occlusive for wound healing.
More and more artists are switching to lighter moisturizers, but it's important to note that there's no 1 universally accepted form of PMU aftercare – the best routine is the one that gives the best results.
And since Nev had no complications during her healing process, Vaseline obviously worked just fine for her.
Here's the full discussion on using Vaseline for microblading aftercare.
PMUHub: So now that it's been a couple of weeks since your treatment, and the initial stages of healing are through, are you happy with your brows? Would you do the treatment again?
Nev: Absolutely!
Okay, my brows look a little uneven right now. When the scabs came off, my tails turned out really light, and it seems to me that my left brow is slightly lighter than the right one. It's a little annoying, but I know all of that will be corrected at the touch up.
I can't wait for that!
I'd definitely get the treatment again. I'm planning on getting annual refreshers!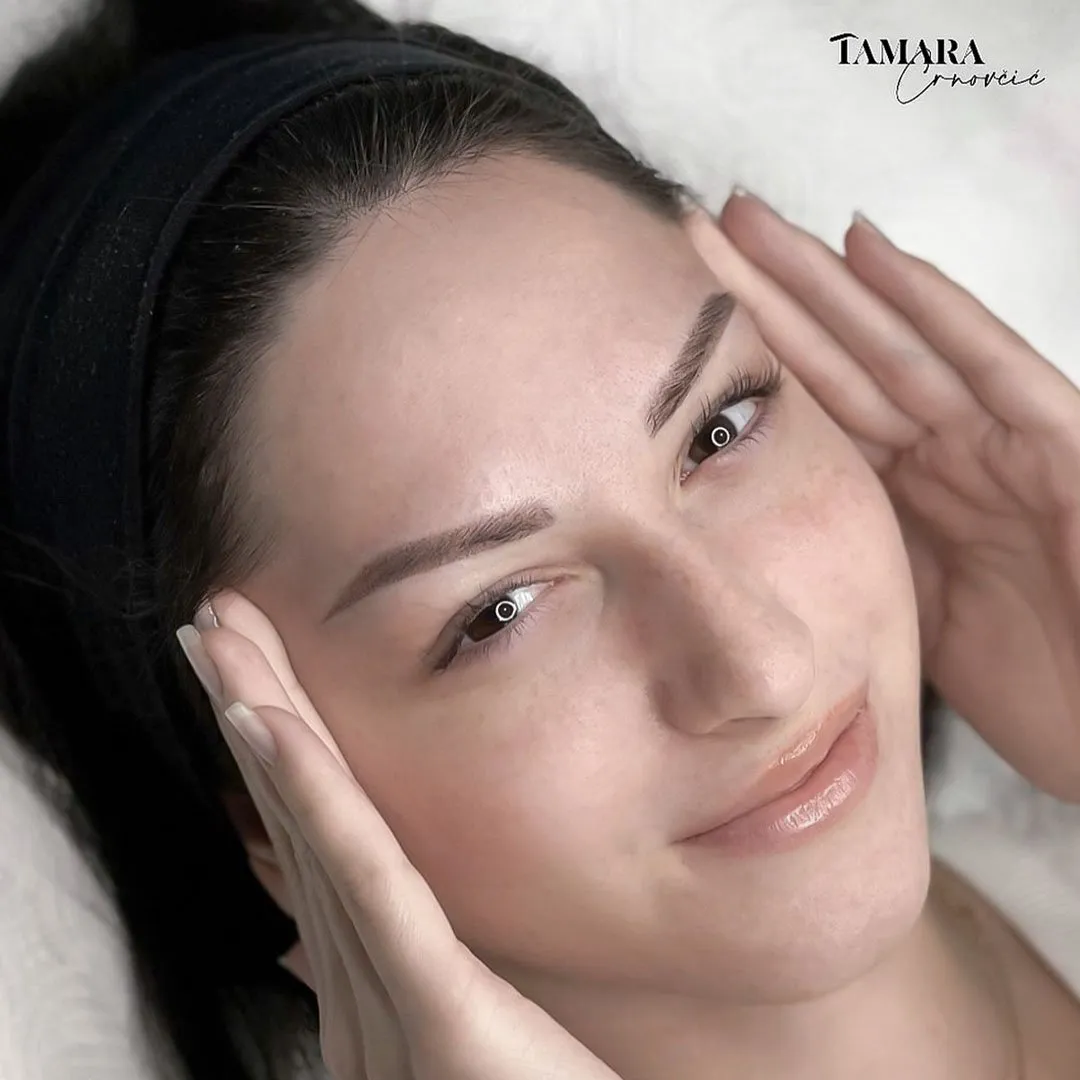 Image source: Instagram @tamara_crnovcic
PMUHub: Is there some additional information or a piece of advice you'd like to share with our readers?
Nev: Actually, yes. I'd like to advise them to be careful about who they book with.
One thing that was super important to me was to be sure the person I'm trusting with my brows was reliable and trustworthy. I'm really happy with my choice, but I know there are also cases where people don't get what they want, and I think choosing the right artist is crucial for that.
PMUHub Explains
The best way to go about choosing an artist would be to get a first-hand recommendation from someone who's had the treatment done.
But if that's not possible, you should go full-on internet sleuth: browse through local artists on Instagram, check their before and afters (photos that look too photoshopped are red flags), but don't forget to go through their reviews in their comments, Google Reviews, Yelp, anything you can find.
If anything seems suspicious, it's better to find someone else than to risk it.
PMUHub: Was PMUHub helpful at any stage of your process?
Nev: Your series of articles on the ghosting stage (I learned that term on PMUHub!) was very reassuring. I'm not stressing about my brows being lighter, because I know it's not their final form yet.
PMUHub: Thank you so much for sharing your experience with us!