⏱️
5
min read
The lash lift or lash perm is a treatment that can completely transform your natural eyelashes by making them look longer, darker, and more separated. However, if your natural lashes aren't particularly long to begin with, you might be wondering, will a lash lift work on short lashes?
If you struggle with using an eyelash curler due to the length of your lashes, you might want to get a lash lift, especially if your lashes go straight down. It will enhance them and keep them curled for weeks, plus if you get a lash tint, you no longer have to worry about mascara.
So, can you enjoy the benefits of lash lifts if your lashes are short? Read this article to find the answer to this question plus some suggestions for making your natural lashes long and beautiful.
Will a Lash Lift Work on Short Lashes?
Yes. Most people with short eyelashes can get a lash lift.
However, in order for the procedure to be effective, your lashes should be at least 4 mm long.
Lifting lashes that are 4 mm in length or shorter can result in damage and breakage, so it is highly recommended to book an appointment with a certified lash tech that has experience doing such procedures.

Image source: Instagram @harrietcharterbeauty
Benefits of Lash Lifts for Short Lashes
There are 2 major benefits of getting lash lifts when you have short eyelashes:
Lash Lifts Make Short Lashes Look Longer
Since this treatment lifts your eyelashes from the root up, it can make your lashes more visible and create the illusion of extra length. Combined with a lash tint, the lengthening effect is boosted plus the darkened look creates more volume.
You Won't Need Your Eyelash Curlers
A lash lift gives your lashes a curled look that lasts for weeks, so you no longer have to struggle with eyelash curlers. If you have short lashes, you've probably experienced pinching your eyelids a couple of times, since most eyelash curlers aren't designed for use on short lashes.
Well, there will be no more of that!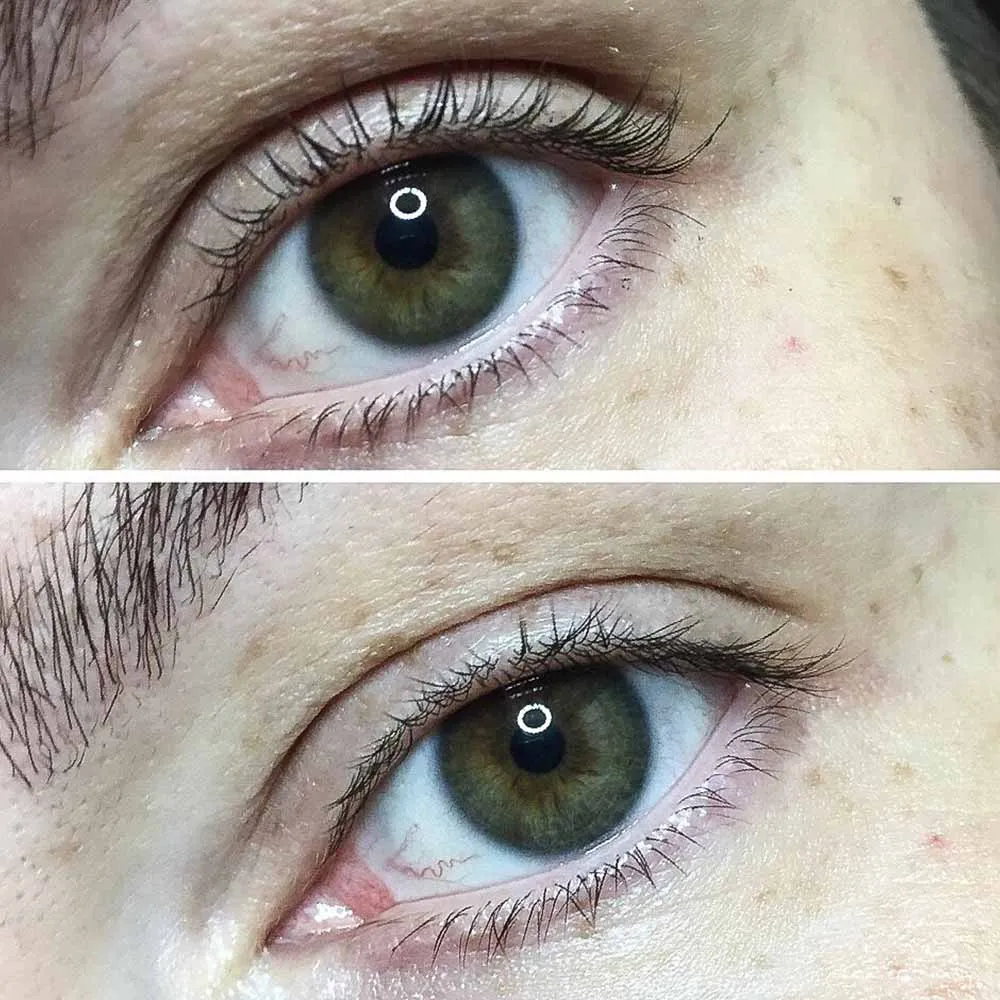 Image source: Instagram @kbeauty_room_peterborough
Possible Complications when Doing Lash Lifts on Short Lashes
Although it's possible, doing lash lifts on short lashes can be difficult, and there are potential complications that can make the treatment unsuccessful:
Choosing the Wrong-Sized Rod
Your lash tech should be experienced enough to choose the correct rod when performing the procedure.
When the lashes are brushed over the rod, their tips should reach the end of the rod, without going over the edge. If the lashes only reach halfway across the rod, that means that it's too big. And if the rod is too big, the lashes won't be lifted properly.
Getting Short Lashes to Stick to the Rod
Getting short lashes to stick properly to the rod can be quite tricky.
There's not much lash length to provide a good grip, so the lashes just keep flicking off the rod. Applying an extra dose of glue is not the solution here, as too much of it can prevent the softening and reshaping process from working correctly.
Applying Too Much Softening Solution
The softening solution should be applied to about a third of the client's lash length, from the root up. But when the client's lashes are really short, this can be a real challenge and the solution can get all over their lashes. As a result, the lashes can be damaged and overprocessed.
How to Make Your Lashes Longer Before a Lash Lift
If you want to get the maximum results from your lash lift procedure, or if you plan on getting regular lash lifts in the future, consider investing in eyelash-enhancing products like natural oils and lash growth serums first.
Essential oils like castor and coconut oil are proven, natural conditioners that prevent your lashes from breaking. They can also stimulate lash growth and nourish your lash hairs from within, plus, they can serve as a way to relax overly curled lashes after a badly done lash lift.
Lash growth serums are typically clear, gel-like products applied to the base of the lashes with a small brush, kind of like a liquid eyeliner. The active ingredients in the serum condition and strengthen the lashes from within, helping them grow longer, thicker, and healthier.
Here are some of our lash growth serum recommendations, based on customer reviews:
RapidLash Eyelash Enhancing Serum
The RapidLash Eyelash Enhancing Serum has an innovative formula with advanced polypeptides that help enhance the appearance of lashes when applied on a daily basis.
This serum actually works to add thickness, length, and color to your eyelashes, but it will take 4 to 6 weeks of use to experience noticeable results.
Once you start to see the results, your lashes will be completely transformed from the root up, making this the perfect pre-lash lift routine!
RevitaLash Advanced Eyelash Conditioner
The RevitaLash Advanced Eyelash Conditioner has a physician-developed formula that is dermatologically and ophthalmologically tested.
With a formula rich in Panthenol, peptides, biotin, and green tea extract, this serum at the same time strengthens the lashes and protects them from environmental damage.
It is also highly recommended for use on over-processed lashes in order to prevent breakage and brittleness, plus it is the safest lash serum formula to use on your eyes, hands down.
GrandeLASH-MD Lash Enhancing Serum
As one of the most popular lash growth serums on the market, the GrandeLASH-MD promotes the appearance of longer, thicker-looking lashes in 4 to 6 weeks.
Not only will it make your lashes longer when used regularly, but they also grow stronger and much faster.
The GrandeLASH-MD serum has a water-based formula which makes it perfectly safe to use on top of eyelash extensions since it doesn't in any way affect the lash glue.
Final Thoughts
Contrary to common misconceptions, people with short eyelashes can get a lash lift, but they first have to make sure that their lashes are healthy and longer than 4mm.
Lifting short lashes can be quite a challenge, so make sure to book your appointment with a licensed and experienced lash technician.
In the meantime, apply a lash growth serum or groom your lashes with natural oils regularly to give them the needed strength before booking your lash lift appointment!
To learn how to properly care for your lashes after a lash lift, click here.
Image source: Freepik