⏱️
5
min read
Lash lifts or lash perms are the quickest and easiest way to enhance your natural eyelashes. Combined with a lash tint, this procedure can create the illusion of longer, darker-looking eyelashes without the need for lash curlers and mascaras.
When done correctly, lash lifts can give you amazing results that last for weeks, but what happens when the procedure goes wrong? Whether you do a DIY lash lift at home or book a professional treatment, there is a possibility of your lashes turning out too curly.
If you are here, there's a chance that this scenario has already happened and that you're asking yourself why is my lash lift too curly, and how can I fix it? Fortunately, PMUHub has got you covered!
Let's take a look at the possible red flags of a lash lift procedure, and how to correct bad results.
What Is a Lash Lift?
The lash lift is a lash enhancement treatment where a tech applies a perming solution to your natural eyelashes to shape them in an upward position, making them appear longer and more curled.
It's a relatively long-lasting procedure with results that typically last 6-8 weeks or as long as your natural lash growth cycle.
Lash lifts are a more practical solution than getting lash extensions because they require almost no maintenance, just a few simple rules on the first day followed by a slight adjustment to your skincare routine.

Image source: Instagram @jordi_eyebrows
What Does the Lash Lift Procedure Look Like?
A professional lash lift procedure usually lasts about 45 minutes up to an hour. 
First, your lash tech will assess your eyelashes' length, thickness, and natural curl. This will help them decide what intensity of curl to go for to create a lift that looks natural.
Then, they'll clean the eye area and apply silicone eye shields to your eyelids. Upper lashes are then combed and attached to a silicon rod to hold their shape.
A perming solution will then be applied to your eyelashes. The solution is left on the lashes for about 10 minutes, depending on how well the lashes hold a curl.
Just as the perming solution is removed, a neutralizing solution will be applied to the lashes to help lock in their new shape.
Once the solution does its magic the tech cleans the area. Your lashes will be lifted and curled right away and proceed to hold their shape for several weeks.
Why Is Your Lash Lift Too Curly?
First off, we have to note that there are 2 lash lift too curly scenarios: your lashes look too lifted but they're not damaged, or your lashes are frizzy and overprocessed.
The first case is a bummer but it doesn't affect the state of your lashes. It's caused by using a curling rod that's too small for your lashes, which gives an intense curl.
But overprocessing can be a problem. If your lashes turned out frizzy, the treatment was not done properly and their integrity was affected. There are two possible reasons as to why's your lash lift too curly:
too much of the perming solution was used during the procedure or
the perming solution was left on your lashes for too long.
If you decide to use a DIY lash lift kit at home, it's very important to keep track of the time as well as the amount of solution you use. Always make sure to read the instructions carefully and don't think that the longer you leave the product on, the better the result you'll get.
Other things that can go wrong with a lash lift are:
Unevenly distributed lashes
Singed or burnt eyelashes
Lashes that are too lifted
Frizzy or crimped lashes
When booking your lash lift appointment, do your research beforehand and go to a licensed lash technician.

Image source: Instagram @eyelovebeauty___
How to Fix Overly Curled Lashes
If your eyelashes look too curly after a lash lift, the best way to fix this problem is to simply wait it out. Giving your lashes time to grow out is the safest and healthiest solution, although it requires patience.
If you absolutely hate the way your eyes look after the lash lift procedure, there are several ways to reverse the effect:
1. If Your Lashes Aren't Frizzy, Repeat the Treatment
This is the fastest way to get rid of a lash lift that went wrong. You can book a corrective treatment with your technician which is the safest way to go about this, but you can also do this procedure at home by following these steps:
Clean the entire eye area thoroughly of sebum and makeup residue.
Place a protective pad under your eyes to catch any product fall.
Apply the perming solution to your lashes using a spoolie.
Comb your lashes downward to relax the curl.
Leave the perming solution on for only a minute.
Wipe off the perm liquid with a dry cotton pad.
Clean the eye area with a damp cotton pad.
Keep in mind that this is only okay if your eyelashes are not previously damaged. Remember to apply a nourishing oil at the end of the procedure to moisturize and protect your lashes.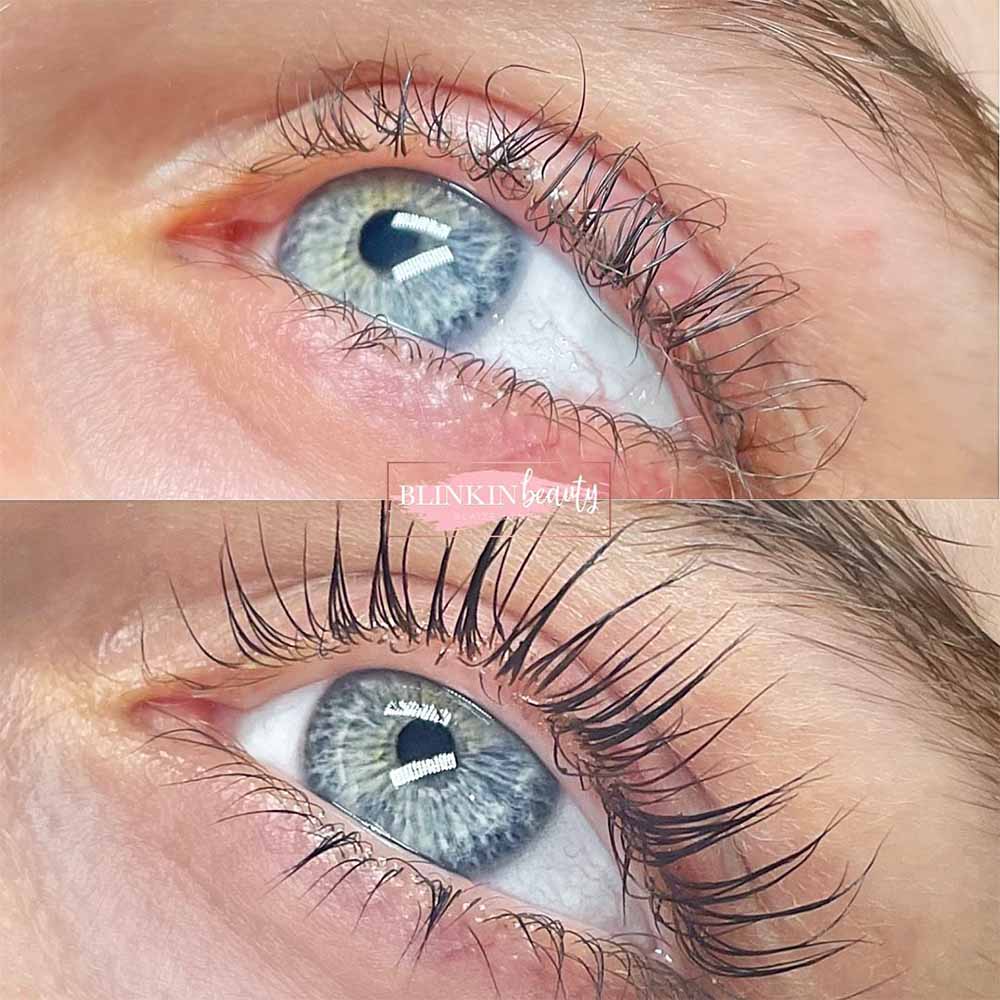 Image source: Instagram @senioxford
2. Oil Them Up to Relax the Curl and Repair Them
If your lashes got damaged during the lash lift process, the best thing to do to repair them and give them much-needed care is to apply natural conditioning oils every night.
Just soak a q-tip or cotton swab in the oil and gently apply it to your lashes. Use a clean spoolie to brush them in a downward motion and let the oils sit on your lashes overnight.
This won't completely reverse your lash lift but it will relax the curl and give your lashes the nutrients they need after being overprocessed.
The safest oils to use around the eye area and on top of your lashes are castor and coconut oil. Here are our recommendations and top picks for the best quality natural oils to try out:
Kate Blanc Cosmetics Organic Castor Oil
Kate Blanc's Organic Cold Pressed Castor Oil is certified by USDA and considered one of the best quality natural and hexane-free castor oils on the market.
It doesn't have a strong scent and is perfect for sensitive, allergy-prone skin. The dropper makes it super easy to apply, and for relaxing your lashes you'll only need a tiny amount to use before bedtime.
To nourish and strengthen damaged lashes or stimulate the growth of sparse and short eyelashes, it will take a couple of weeks of continuous use.
COCO & CO.'s Pure, 100% RAW, Natural Virgin Coconut Oil
The sign of a good quality coconut oil lies in its origin and extraction process.
COCO & CO.'s coconut oil is made from freshly pressed, chilled, and separated coconut milk. Heat is never used in the process of extraction, making it 100% raw and natural. It has a velvety texture that melts quickly in your hands and gets easily absorbed into the hair and skin without greasy residue.
A multi-purpose product at a great price!
In Conclusion
Lash lifts can do wonders for eyelashes and your eye shape – when performed correctly and by a trained professional. Complications like overly curled lashes come from the perming solution being applied for too long or by the hand of an untrained technician.
To reverse the effect of a badly done lash lift, the safest way to go is to wait it out or to relax your lashes day by day using high-quality natural oils.
Learn more about lash lift aftercare, cost and risks in our ultimate guide.
Cover image source: Freepik