⏱️
4
min read
Permanent eyeliner is the perfect solution for having a flawless winged look without having to go through the nerve-wracking application each time. Just think about how much time you will save by skipping this tedious step!
But after getting your eyelids tattooed you need to let them heal properly before applying your makeup again. That raises one important question – when can I wear mascara after permanent eyeliner?
Let's go over some things you need to know.
A Bit About Permanent Eyeliner…
Eyeliner tattoos help recreate the look of perfect eyeliner, permanently (more or less). It can be done in various styles from thin, natural-looking lines to classic and smokey eyeliner statements. It can even be done in different colors.
Even though it might sound painful it's really not that scary.
Your permanent makeup artist will apply numbing cream and use an extremely thin needle that deposits color only in the top layer of the skin. Modern-day eyeliner tattoos also differ from traditional ones in their use of natural pigments your body breaks down over time.
Usually, they last up to 3 years but require touch-ups after 12-24 months.
But even the tiny little micro-wounds need to heal. Having such a sensitive area as your eyelids tattooed requires some healing time and extra care.
Image source: Instagram @anjakonecnikkosmetik
Basic Info on the Healing Process
In the days after your permanent eyeliner appointment, you can expect some lymph oozing, swelling, redness, and irritation. After that scabs will start to form and then eventually flake off.
This initial stage of the healing process lasts about 2 weeks, and during this time, your freshly tattooed eyelids will need some special care and attention.
The skin is essentially closing up wounds and if they get contaminated or if the recovery process is disrupted, you risk complications and patchy results.
As part of your post-care, one of the things you need to be careful about is when can I wear mascara after permanent eyeliner. Let's elaborate on this point.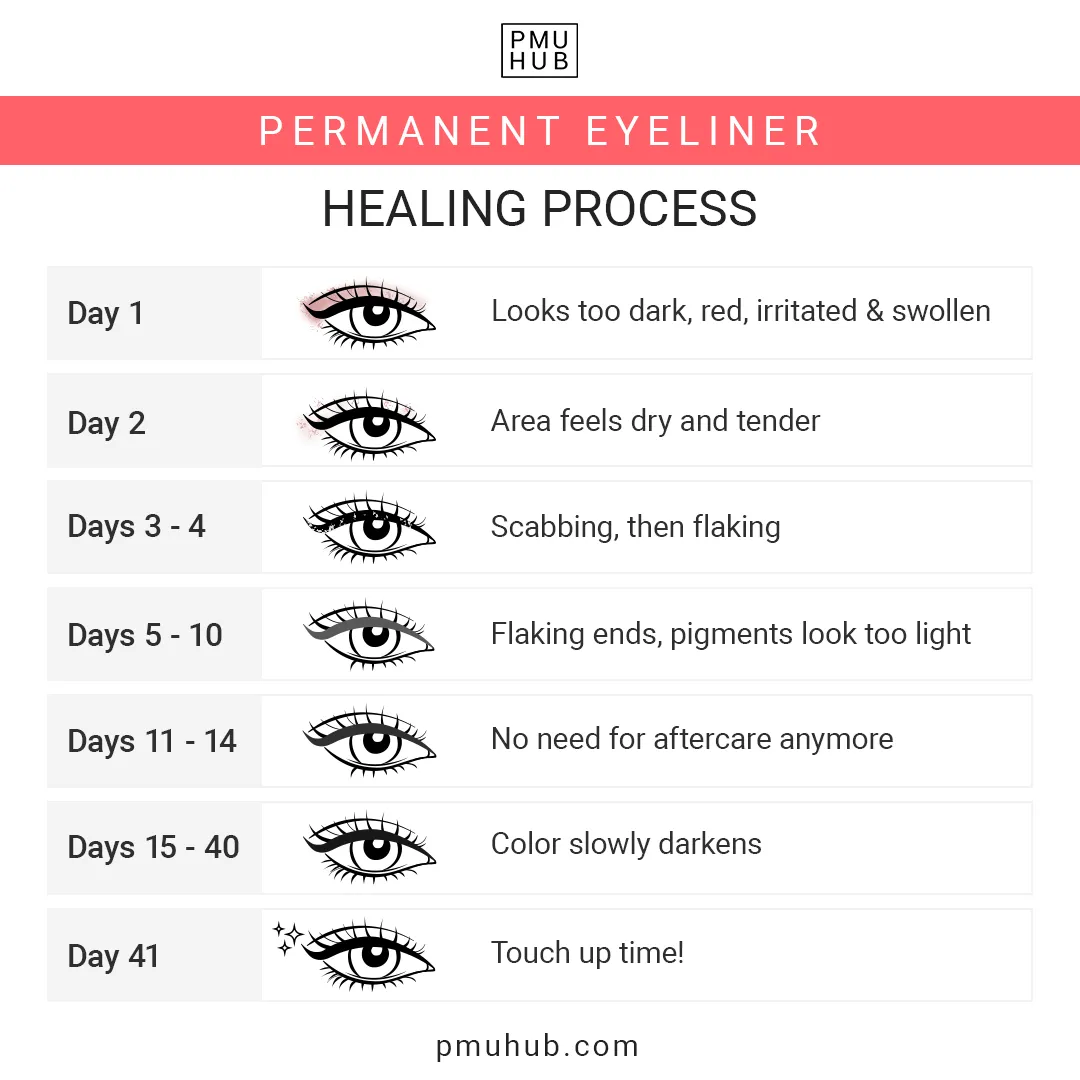 So, When Can I Wear Mascara After Permanent Eyeliner?
After the treatment is done, no makeup should be applied for the first 10-14 days or until all micro-wounds close up and all the peeling stops, so that's the answer to when can I wear mascara after permanent eyeliner.
Some artists aren't so strict with the restrictions and only warn about the first 72 hours. But it's safer to hold it off a bit longer, just to make sure you avoid all possible complications and get the best possible results.
Once you start using mascara after permanent eyeliner, get a new, unused one. Your old tube might be contaminated with bacteria and cause problems with newly healed skin – mainly contamination and subsequent infection.
Also avoid using the waterproof formula, at least at first. Waterproof mascaras are harder to take off and require more rubbing and more aggressive cleansing products.
Makeup removal can interfere with color retention, causing your eyeliner tattoo to disappear faster. It may not even make it to the touch up!
Plus there's a risk of damaging the recovering tissue, which can result in permanent scarring.
Image source: Instagram @haikuink
What About Using a Lash Curler After Permanent Eyeliner?
No eyelash curler for 2 weeks! No unsterile surface should come into contact with your healing eyeliner tattoo, as it poses a risk of contamination and subsequent infection. Plus, your eyelids will be sensitive from the procedure and lash curlers can irritate them further.
What About Getting a Lash Lift Before or After Permanent Eyeliner?
To get your lashes permed or tinted you have to wait at least 2 weeks after getting your eyeliner tattooed. And if you've had a lash lift done, you need to wait 4-6 weeks before booking your permanent eyeliner tattoo.
What About Other Skincare or Eyelash Products?
If you are in the middle of healing from a permanent eyeliner procedure, you should temporarily discontinue the use of eyelash care products such as eyelash growth serum, oils and other eye creams that go directly around the eyelids.
Above all, avoid products with anti-aging properties. Those formulas often contain harsh exfoliating ingredients, and you don't want those anywhere near your brand new eyeliner tattoo.
It's not recommended to use them at least the first 10 days after the procedure. Once the area is completely healed, you can continue to apply them.
What About Eyelash Extensions?
You can't get permanent eyeliner done if you have eyelash extensions – you need to get them removed.
If you are planning to get them after getting permanent eyeliner, you should wait at least 10 days or until the tattoo is fully healed. Ideally, even longer, since products used during the application of lash extensions can irritate freshly tattooed skin.
Read more about lash extensions removal in this guide!
Conclusion
Permanent eyeliner helps your eyes stand out and saves you a ton of time on skipping the most stressful step in your makeup routine. Yes, it requires some healing but it is very much worth waiting it out.
So, don't risk infection and further health complications by ignoring advice on when can I wear mascara after permanent eyeliner. Not rushing the healing process will help your results turn out as crisp as possible and last as long as they're supposed to.
So, be patient, wait it out, and listen to your artist's recommendation for proper eyeliner tattoo aftercare!
Cover image source: Freepik