⏱️
6
min read
In today's beauty-obsessed world, people seek all sorts of ways to camouflage what they may perceive as imperfections. Naturally, a long-lasting solution is always preferable to a short-lived one, so tattoo artists got creative and started using the traditional tattooing technique to achieve all sorts of cosmetic effects.
They soon realized the technique needs to be adapted for this purpose, so cosmetic tattooing emerged as a way to hide imperfections and enhance a person's beauty while looking natural or mimicking makeup.
And the trend definitely caught on! Cosmetic tattooing, or micropigmentation, emerged from traditional tattooing, but it's now a whole independent branch. Today, a cosmetic tattoo is much more advanced and can be used for many purposes.
Let's see what a cosmetic tattoo can be used for and how it's different from the traditional kind.
What's a Cosmetic Tattoo?
A cosmetic tattoo is a form of tattooing done to camouflage imperfections such as scars or stretch marks, to reconstruct the hairline or a nipple, or to recreate the look of wearing makeup.
It uses the same principle as body art tattooing, but there are some crucial differences:
1. Purpose
Traditional tattooing is done to create art on the skin. It can do any custom design you want and it's supposed to be noticeable.
Cosmetic tattooing is supposed to recreate certain effects that are usually achieved with makeup, or natural features which are missing.
2. Application Process
A traditional body art tattoo is done with a tattoo gun, a more powerful machine that gives a high color saturation.
A cosmetic tattoo can be implemented manually (in the case of microblading which is done with a thin blade that's dragged through the skin), or with a permanent makeup (PMU) machine. A PMU machine is gentler on the skin and it creates fewer punctures than a tattoo gun.
You can find more info on the differences in the implementation processes of traditional and cosmetic tattooing in this article.
Image source: Freepik
3. Colors Implemented
Traditional body art is done with traditional tattoo inks. These inks are formulated in such a way that allows them to be as vivid as possible and to stay visible on the skin as long as possible, without fading too soon or at all.
A cosmetic tattoo isn't supposed to look obvious, so special formulas had to be developed for it. Cosmetic micropigmentation is done with PMU pigments, special formulas which don't contain some ingredients tattoo ink do. They are formulated in such a way that allows them to fade: if you get a permanent makeup tattoo, you don't want to be stuck with it forever.
The primary factor that allows the PMU pigments to fade is the fact that their molecules are very small. Once these substances are injected into the skin, the body's immune system immediately starts attacking them, because they are perceived as foreign matter. Gradually, it will extract a portion of the pigments, causing the results to fade into invisibility.
PMU pigments are also made to blend into the skin, not stand out too much, so their colors are more subtle.
4. Longevity
Due to the implementation process and the formula of the colors injected, a cosmetic tattoo doesn't last as long as a traditional one.
A traditional tattoo can last a lifetime with minimal fading. A cosmetic tattoo can last 1-8 years, depending on the type of tattoo. Brow and lip tattoos last an average of 2 years, permanent eyeliner lasts an average of 3 years, an areola tattoo lasts 3-5 years, and scalp micropigmentation lasts 4-8 years.
You might be thinking – hey, I don't want my cosmetic tattoo to fade away so soon, but if you think about it, trends and preferences change, so it's better to have the option of changing up the look every once in a while. That's why permanent makeup should never be done with tattoo inks.
Image source: Instagram @amybissett_pmu
Cosmetic Tattoo Treatments
The cosmetic tattoo technique can be used for 2 general purposes: paramedical micropigmentation, and permanent makeup.
Paramedical Micropigmentation
Paramedical micropigmentation implies doing a cosmetic tattoo to camouflage scars, or to restore natural features which were lost due to different causes.
This category encompasses:
Nipple and Areola Micropigmentation
For people who've lost one or both of their nipples, the areola can be recreated quite realistically with micropigmentation. There are many talented artists who can create areola tattoos so realistic they look three-dimensional.
Find out more about the treatment in this guide.
Image source: Instagram @lyndseefrankel
Scar Camouflage
Skin-toned pigments can be tattooed into scars to blend them into the rest of the skin. This is most often done with stretch marks.
Alternatively, treatments like brow tattooing, scalp micropigmentation, or lip blush can be used to disguise scars in the brow, scalp, or lip area, respectively. This is where paramedical micropigmentation and permanent makeup converge.
Image source: Instagram @artstudiopmu
Scalp Micropigmentation
A cosmetic tattoo that can recreate the look of hair cut very short for people who have no hair, or suffer from hair thinning. It's a versatile technique that can recreate the buzz cut from scratch on the whole scalp, camouflage bald patches, or add an illusion of density to hair that is sparse.
Find out more about the treatment in this guide.
Image source: Instagram @scalplosangeles
Freckle or Beauty Mark Tattoos
You can even get freckles or moles recreated with micropigmentation. When done right, these cosmetic tattoos can look indistinguishable from the real deal.
Find out more about freckle tattoos here, and about mole tattoos here.
Image source: Instagram @browsbygracee
Permanent Makeup
Applying makeup every single day gets tiresome, so more and more people are getting cosmetic tattoos that look like their favorite makeup. A cosmetic tattoo can recreate the look of brow, eye, and lip makeup.
Eyebrow Tattoos
Definitely the most popular form of cosmetic tattoo. On-point brows are a must nowadays, and however you like to style your, there's a brow tattoo treatment that can recreate the look in its long-lasting, waterproof version: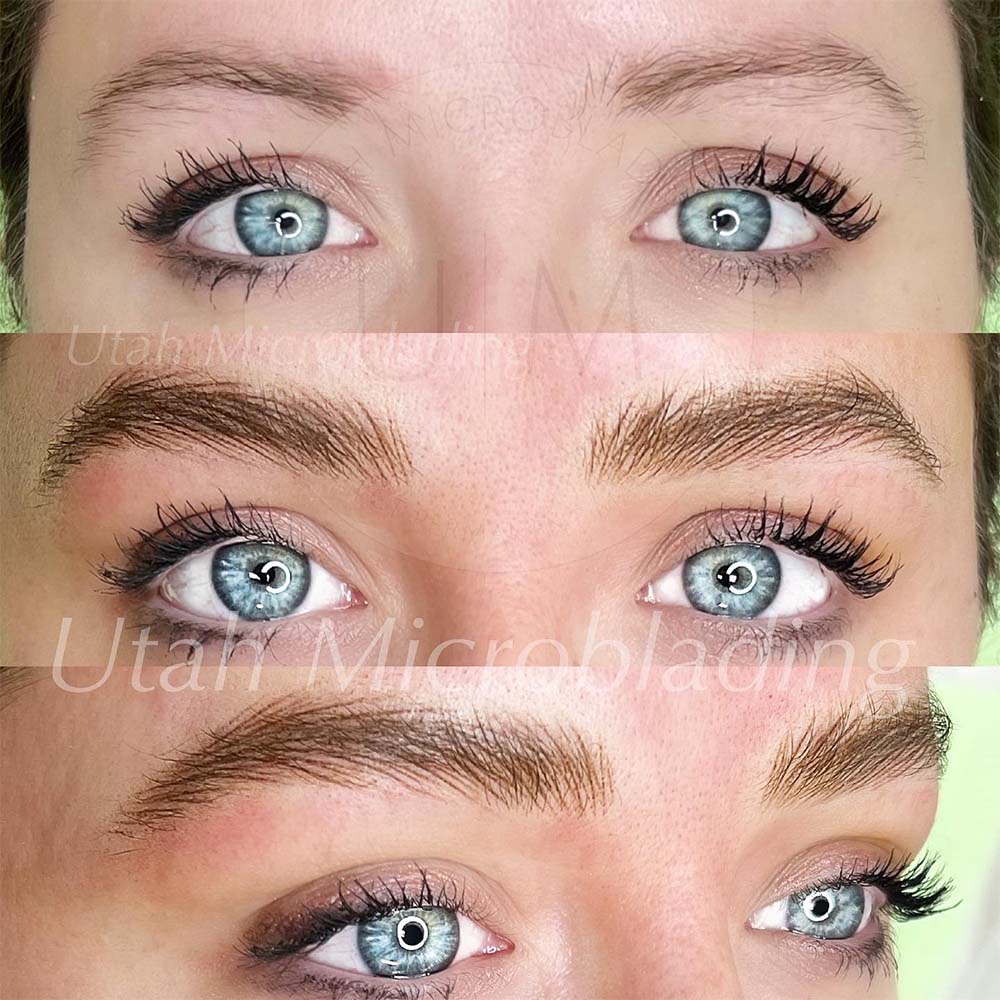 Image source: Instagram @utahmicroblading
Eyeliner Tattoos
If there's one makeup product that gives us pain it's eyeliner. An eyeliner tattoo is a huge time-saver. Okay, having a needle poke around your eyes may not sound like a pleasant experience, but it's over very quickly and it gives you on-point eyeliner for 2+ years.
It can be done in any style you want, including an eyeshadow type of shade.
Find out more about the treatment in this guide.
Image source: Instagram @maquillagepermanentbysandrine
Lip Tattoos
The lip tattooing technique used to create permanent makeup is called lip blushing. It's very versatile and comes in many styles, but it's always done with a PMU machine that implements any color you normally wear, however sheer or opaque you want it.
You can get the whole lips colored, or just outline them for a permanent lip liner effect.
Find out more about the treatment in this guide.
Image source: Instagram @cristanicolebrows
So, Is a Cosmetic Tattoo a Good Idea?
If you're dealing with any insecurity that can be fixed with paramedical tattooing or permanent makeup, we definitely say – go for it! These treatments are quite non-invasive, painless (topical anesthetics are used), and low maintenance.
They're not no-maintenance, however, as the results fade over a couple of years, but you can refresh them as soon as you feel they're not visible enough. Or, if you decide you don't want them anymore, you can just let them fade away!
Cover image source: Freepik