⏱️
4
min read
Eyebrow tattoos, the modern versions, are very popular because they look natural, they are low-maintenance, they don't last forever, and they are not so painful. More and more people decide to get their brows enhanced and improve their look.
In this article, we are going to discuss the prices of different eyebrow tattoo treatments. Also, we will explain what's included in the treatment and say more about the touch up prices.
So, keep reading to find out what is the average price of eyebrow tattooing.
What Permanent Eyebrow Treatments Are There?
There are different treatments for permanent eyebrows and naturally, their prices are not the same. So you can choose among:
Microblading – the most popular hair stroke pattern, done with a manual tool.
Nano brows – hair stroke brows, done with a machine.
Microshading – adding shade to your brows, the effect of powdery eyebrows.
Powder brows – soft, powdery effect, done with a machine.
Ombre powder brows – same as powder brows, but with an ombre effect, lighter head, and darker tail.
Combo brows – a combination of microblading and shading.
Combre brows or ombre microblading – a combination of microblading and ombre brows.
A branded pattern – some salons or academies have their own pattern of an eyebrow tattoo.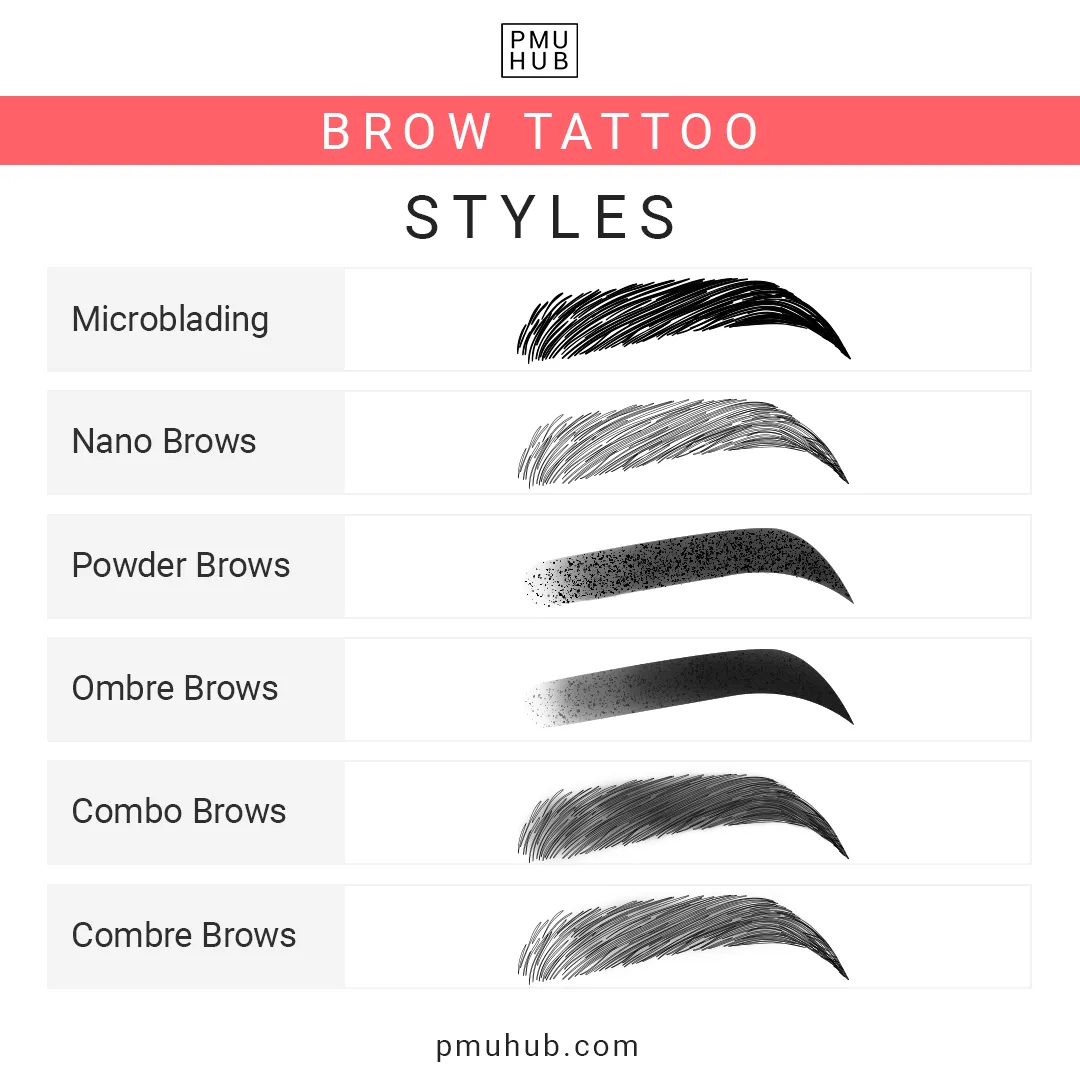 What Is the Average Cost of Eyebrow Tattooing?
The prices of these treatments are pretty similar. The treatments that are a combination of two techniques may cost a bit higher. PMUHub has conducted research and here are the results – average prices of each treatment.
(by clicking on each treatment, you can find out more about the average cost, and for some treatments the average prices in some US cities).
Bear in mind that these prices are the average, so both small salons and established ones are included. The prices vary depending on different factors. Recently, the prices seem to be dropping since the market is becoming saturated with microblading and brow tattoo artists.
What Do the Prices Depend On?
The price primarily depends on the exclusivity of the salon and the popularity and experience of the artist. Naturally, they will charge more than beginners or those who haven't been in the industry for too long. So, some popular artists charge around $1000 or more.
The next factor that affects the price of an eyebrow tattoo treatment is the location. Prices are higher in big cities than in small towns. Also, the price depends on the competition – if there are many eyebrow tattoo artists in the area, you can expect that they will set competitive prices for their services, in order to stand out and attract more customers.
Most artists form their prices taking into consideration where they were trained and which materials they use. If they are certified by a well-known permanent makeup academy and use expensive and quality materials, their prices will probably be higher, which is completely justified.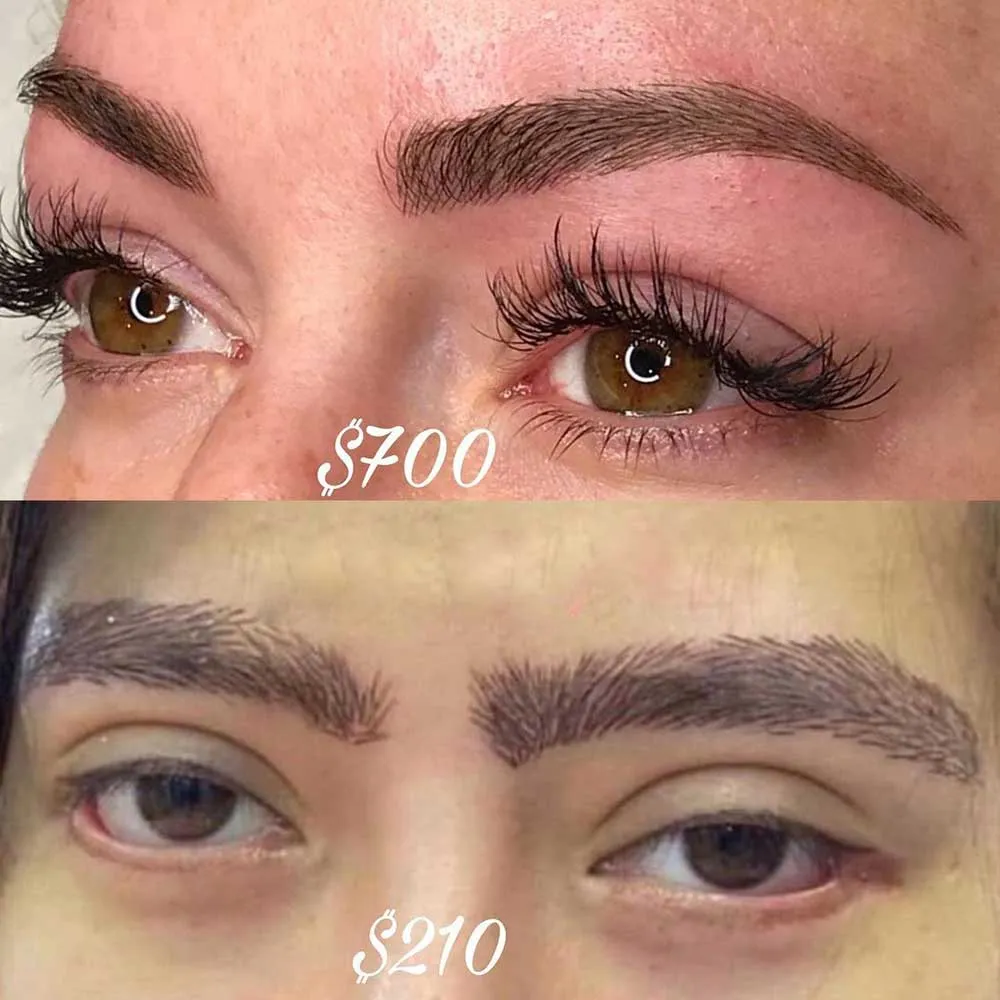 Image source: Instagram @flirtwaxbar
Is Touch Up Included in the Price of the Treatment?
All of the contemporary eyebrow tattoo treatments are done in 2 sessions. After the initial treatment, the eyebrows go through the healing process, which takes up to 6 weeks. So, a touch up appointment is required after 6-8 weeks. Some artists include it in the price, others don't.
Those artists set their prices a little bit higher if they include the touch up. If a touch up is charged separately, its price is usually around 30% of the initial treatment.
What About Other Color Boost Appointments?
Since contemporary eyebrow tattoos are fading after some time, a color boost is required to prolong the effect. The frequency of color boost touch ups depends on how fast the pigments fade, i.e. the skin type, and lifestyle.
Those whose brows fade fast will probably need annual touch ups, while those who have great pigment retention can have a touch up after 18-24 months. The price of the color boost is approximately half the price of the full treatment if there's still a certain amount of pigment left.
The longer a client waits, the more faded the eyebrows will be, and more work will have to be done. So, the price depends on that as well.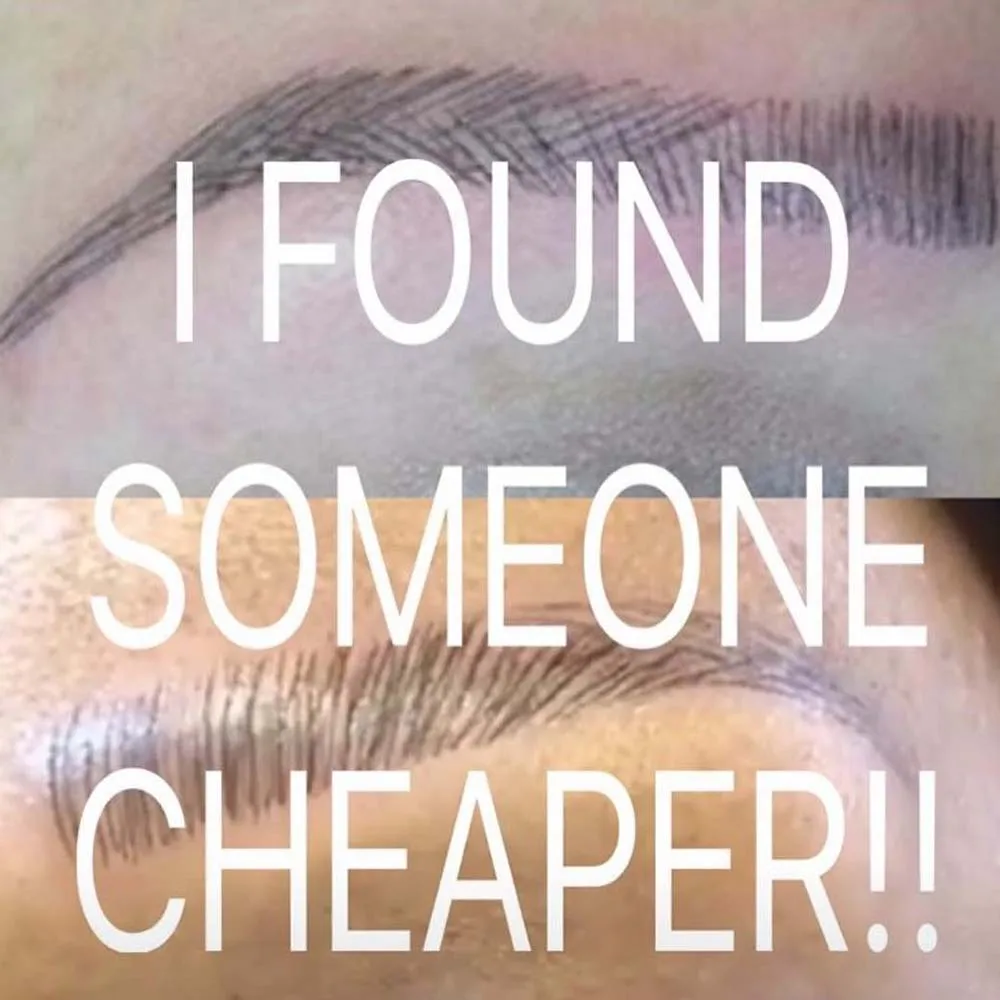 Image source: Instagram @dbb_skin_and_laser
How to Choose the Best Artist Based on Price?
First of all, the price shouldn't be the most important factor when you are choosing the artist. The things that are more important are their reviews and recommendations, as well as the cleanliness of the salon, their expertise, materials they use, etc.
When deciding how much money you want to spend on new eyebrows, bear in mind that eyebrows are very important and the most prominent feature of your face, so you don't want to go cheap and risk getting them botched. So, find out what is the average cost of eyebrow tattooing in your area, and don't go for too much under or above that. And carefully research the artist, their online portfolio as well as the reviews before you book a treatment.
Cover image source: Freepik