⏱️
4
min read
Eyebrow tinting has been around for a while, but it seems that in the recent months, it has become the number #1 alternative to eyebrow makeup. It is a quick, yet relatively long-lasting solution for all those who may not be ready to commit to the more permanent microblading treatment.
Suddenly, it seems that every beauty salon is offering this old but gold service! So what exactly is eyebrow tinting?
PMUHub answers all your questions.
What is tinting eyebrows?
Tinting eyebrows is a procedure similar to dying your hair – semi-permanent brow dye is applied to the eyebrow arch area in order to color the brow hairs.
The effectiveness of tinting eyebrows lies in the fact that there are many extremely thin hairs in every arch, which, when tinted, add fullness to the arch and fill in sparse patches.
The results are completely natural and subtle, which is why brow tinting is a great option for grooming men's eyebrows, too.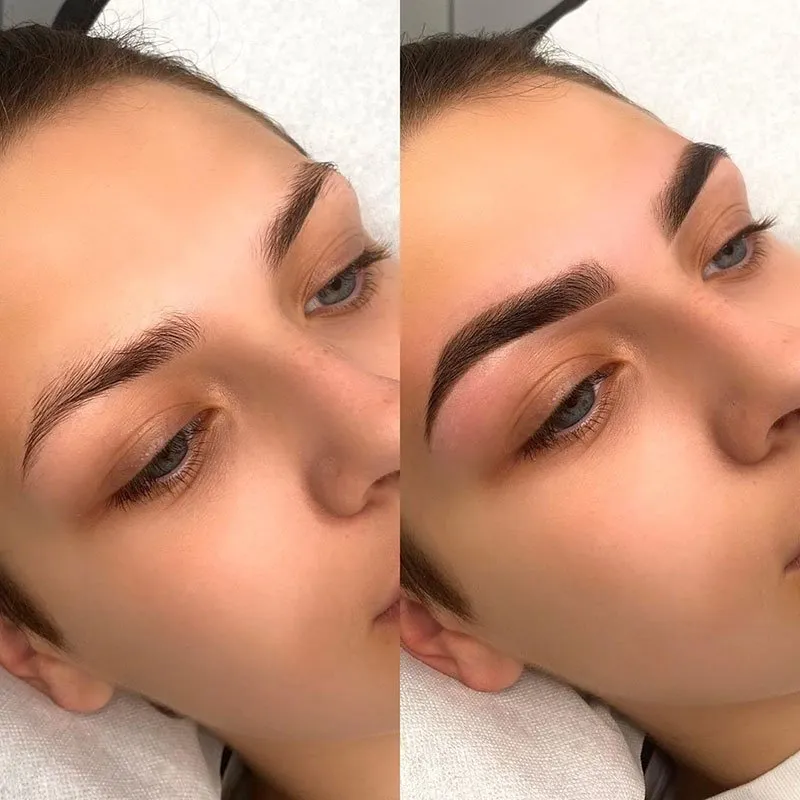 How long does the treatment take? What is it like?
Tinting eyebrows takes only about 15 minutes, including consults.
You can decide on how natural you want the look to be, and based on that, the technician will mix a customized dye blend. It is usually a shade or two lighter than your hair.
Before the dye is applied, the technician prepares the area by cleaning the brows, waxing, or tweezing a bit, if necessary. Also, the technician is applying a petroleum jelly barrier around the arches to prevent any skin staining outside of the arch.
The dye is applied to the brows. It is left on for 5-15 minutes depending on the dye shade and the thickness of hairs, and the excess is removed.
It's common for a shade-like residue to stay on the skin underneath the hairs, but this is washed off within a day or two.
How long does eyebrow tinting last?
The brows stay tinted for 2-3 weeks, but the results can last as long as 6 weeks, depending on your skin type, skincare routine, and the amount of sunlight exposure your brows get. Sunlight can have a bleaching effect and cause the color to fade more quickly.
Another thing to avoid is getting your brows wet for at least 12 hours after the appointment, and avoiding oil-based skincare or makeup products at all times, since they speed up fading.
Exfoliation can cause excessive fallout, so it's best to avoid it around the brow area. Products with retinoids and retinols should also be avoided for a while after tinting, as they can irritate the skin further.
How much does eyebrow tinting cost?
The price of an eyebrow tinting appointment depends on the location and the exclusivity of the salon. The average price of the treatment is around $20, but some salons charge up to $30.
Whatever your budget may be, make sure you go to a clean salon and an experienced tech.
Does eyebrow tinting damage eyebrow hairs?
Brow tinting is a totally non-invasive procedure, as there is no damage to the skin at all. Brow dye doesn't contain bleach, so it's very gentle and doesn't damage the hairs or the follicles.
However, it's always a good idea to inquire about the brand of the dye used at the salon, and even its ingredients.
Who is a candidate for eyebrow tinting?
Everyone! Okay, there is one exception – if you are prone to allergic reactions to dyes, tinting is not a good idea. In case it's your first time getting tinted, the technician will recommend doing a 24-hour patch test.
The test is done by applying a small amount of tint on the skin behind your ear or in the crease of your elbow, and tracking any possible reactions. If you notice any burning or itching, or if your skin looks reddish and irritated after rinsing, tinting isn't the best option for you.
Brow tinting is suitable for all skin types and tones, and hair colors. Of course, the darker your natural brow hairs are, less color adjustment can be made. Tinting is especially popular with blonde men and women, who might be under the false impression that microblading for blondes isn't possible.
Gray eyebrows can be tinted, too, but the process needs some adjusting so the results don't end up patchy and uneven. Gray hairs tend to take in dye less, so it's best to go to an experienced tech.
Where can I get tinting for eyebrows and eyelashes?
Eyebrow and eyelash tinting is available at many hair and beauty salons and spas, but make sure you go to a meticulous, experiences technician.
The best way to make sure you'll be satisfied with the results is to check out the tech's tinting eyebrows before and after photos.
Can I tint my brows at home?
If you don't feel like searching for salons that do eyebrow tinting nearby, you can try waxing and tinting eyebrows at home as a more economical alternative!
The first step, of course, is to shape your brows by waxing or tweezing the unwanted hairs. Then, apply the barrier in the form of petroleum jelly around the brows. Then, apply the dye, leave it on for no more than 5 minutes, and rinse it off, but make sure you don't rub.
It is quite a straightforward procedure, but choosing an appropriate, quality product is key.
Tinting eyebrows with hair dye isn't advisable, since the formula is too harsh for the thin skin on our faces. So make sure you get a dye designed for eyebrows, an eyebrow tinting kit, or you can even use moustache dyes!
Extra tip
However, one thing to keep in mind is the fact that most eyebrow hair dyes available for purchase haven't been approved by the FDA and there is no standardized formula. This means a higher risk of allergic reactions caused by store-bought dyes.
It's a fact most people won't go through with the 24-hour patch test at home, although we strongly advise you to do so.