⏱️
5
min read
Eyebrows are one of the most important features of the face. But beauty trends change all the time, and brow trends are no exception.
We've seen plenty of experimentation when it comes to eyebrows in the past year – namely the official comeback of thin brows, which prompted the debate about thick vs thin eyebrows. But, does the shift in trends mean it's time to change up your brow shape?
Let's discuss thick vs thin eyebrows, how you can achieve each style – and most importantly – whether you should.
So… Thick Vs Thin Eyebrows?
Both trends had their time in the spotlight. Thin, defined arches have been the beauty ideal for the better part of the century. But in the 90s and early 2000s, they've gone a bit too far as people started severely overplucking them.
This prompted the opposite trend to rise and thick, luscious (but well-groomed) brows started taking over. And since the beginning of this trend, way back in the 2010s, achieving such a look has seemingly been everyone's goal.
But what about trends right now? Controversially, thin brows have returned to the scene once again which prompted the question – Are thick brows no longer in?
Well luckily, that's not exactly the case. Nowadays there's a range of trends focused on both thin and thick brows so you don't have to manipulate your brows against their natural shape.
Image source: Instagram @kaiagerber
But, Which Is More Trendy?
The biggest representative of the thick brow trend is brow lamination, a treatment that hasn't loosened its grasp since it was introduced into the beauty world.
On the opposite side, we have Y2K-inspired skinny brows – a somewhat controversial trend. You can read more about it here.
But let's not forget that we shouldn't be focusing only on the extremes. Nowadays there are plenty of choices so it's easy to find a trendy, yet flattering shape. So the question seems to be shifted from Which should I get – thick vs thin eyebrows? to Which style of thick vs thin eyebrows?
To help you explore your options, here are our Brow Trends in 2023 Predictions.
Which Trend Better Suits You?
Seeing as both shapes are popular at the moment, thick vs thin brows should only be the debate when it comes to what shape is better suited for your specific facial structure.
Thin brows are well suited for those who have smaller eyes and more delicate facial features. They're also perfect for those with oval and round face shapes.
Thick brows give narrow faces a broader, more harmonious appearance. But they also work well for fuller faces and more pronounced facial characteristics like strong jawlines and broader cheekbones.
To learn more about which eyebrow shape suits you the best, here's a guide through each face shape.
Thick Vs Thin Eyebrows – Treatments to Achieve Each Look
When choosing brow shape according to what's trendy at the moment, you also need to consider what vibe you're going for. So keep in mind the effects that the depth and thickness of the brows create.
Full brows tend to be a sign of youthfulness, so thin brows may make you look a bit older. However, thin brows help open up the eye area, making the eyes appear brighter and more enticing.
So let's see how you can achieve each of these styles:
How You Can Achieve Thick Brows
With the beauty industry constantly evolving, there are quite a few treatments that can help you fake having thicker brows – or help your already thick brows look more trendy. Let's see what those are:
Eyebrow Tattoo
The obsession with getting your brows as thin as possible resulted in most millennials trying to get their brows to grow back. So those that weren't seeing desired effects by using hair regrowth serums had to find another solution.
Microblading eyebrows, and then later on other eyebrow tattooing methods such as combo brows or nano brows, solved that problem for them.
The microblading technique is based on drawing on individual fake hairs in places that are missing them, creating fuller-looking and thicker brows.
And if you already have quite full brows to begin with, that doesn't mean you won't gain anything from this procedure. Microblading thick brows can be very subtle – but make a serious difference.
And if you just want your brows filled in – we suggest microshading or powder brows instead!

Image source: Instagram @atefehmoradi_brows
Brow Lamination
By now you're probably familiar with the brow lamination treatment – a semi-permanent manipulation of the brow hairs with the help of a chemical solution. You can think of it like perm – only for your brows.
By combing the brow hairs into the desired shape you get thick, fluffy and well-defined eyebrows. It works great for people who already have naturally fuller brows, but even if your brows are super thin, this procedure can help you make them appear much thicker.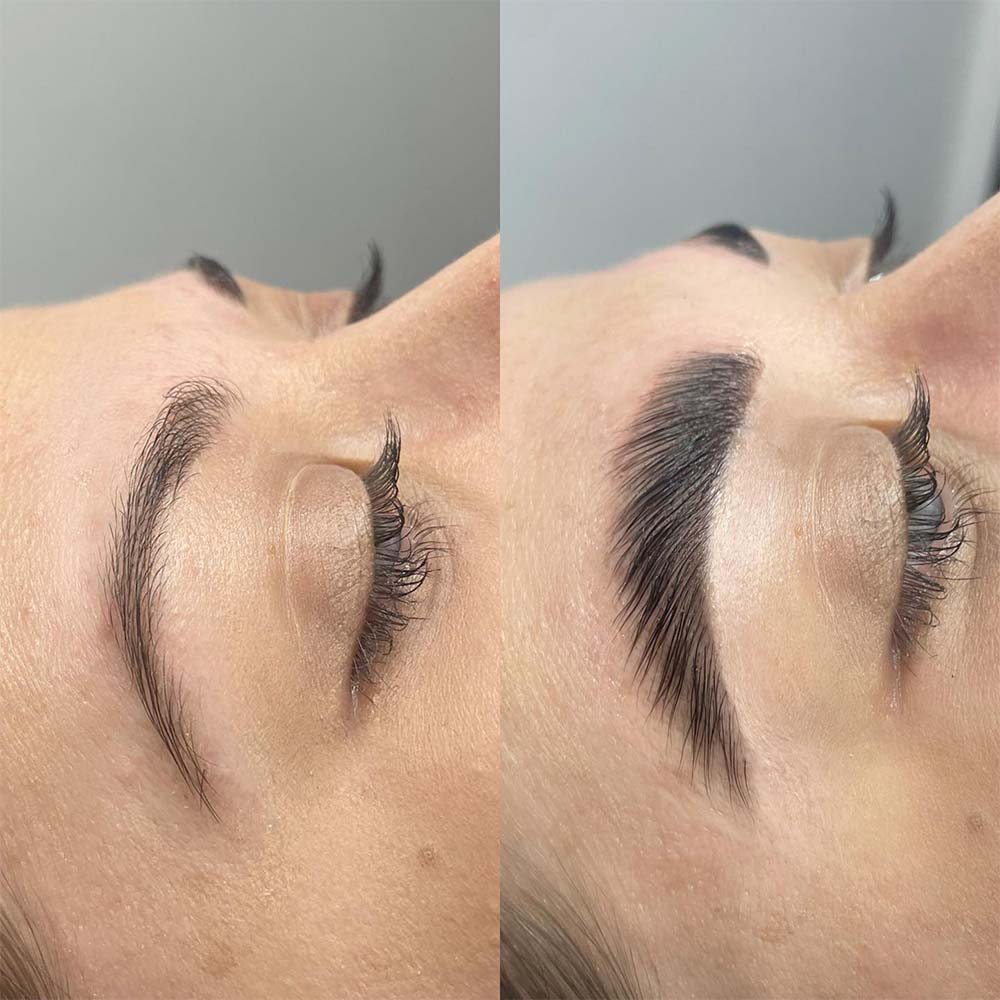 Image source: Instagram @emerald.florence
Brow Tinting
Hand in hand with brow lamination, brow tinting is another procedure that can help you achieve fuller-looking brows. This procedure makes your brows appear darker, which makes them look thicker.
It's essentially faking density by coloring in the skin underneath the hairs as well.
This effect can also be achieved with henna as well.

Image source: Instagram @theeyebrowstudioadelaide
How You Can Achieve Thin Brows
The key to contemporary thin brows is all about achieving the right shape since it's very easy to make them seem outdated. Here's how you can achieve modern thin brows:
Threading
Since thin brows require constant hair removal it's important to find the safest way to do so. As we're all aware, overplucking can damage your hair follicles and cause the hair to stop growing.
Threading is the best hair removal option as it causes the least amount of trauma to the hair follicle. Besides, it's less painful and the results last longer than with other hair removal methods.
Nanoblading
While microblading is generally used to add hairs and make the brow thicker and more defined that doesn't mean you can't achieve skinny brows with the help of this procedure! Or, more specifically, with nanoblading.
Nanoblading is a microblading technique that uses much thinner blades, resulting in thinner, more precise, and more delicate results. This allows you to define the arch and skip that step of daily penciling it in with makeup.
You can learn more about the difference between nanoblading and microblading here.

Image source: Instagram @belindabrows
To Sum Up
When choosing a brow shape, it's not about which trends are the most popular at the moment, instead, it's all about which shape fits your facial structure the most.
Besides, 2023 allows you a lot of freedom of choice as current brow trends are very diverse. Consider which vibe you want to give off and if thick vs thin eyebrows are more fitting – there's your answer.
Cover image source: Freepik