⏱️
6
min read
Summer – the perfect time to change up your lash game!
Lash extensions can instantly elevate your look, making you feel confident and ready to take on the sunny days ahead. But, to keep them looking fresh and make sure they stay in place after swimming or tanning, good retention is key.
Read this article to discover the latest trends for summer lashes and learn about the impact of hot weather and humidity on lash glue, plus pick up some summer lash retention tips along the way.
Summer Lashes – Top 5 Looks to Try Out
As we step into the summer, we must reflect on the latest trends in fashion and beauty and how they translate to the lashing world.
Whether you're a lover of the natural style or ready for something bright and colorful, here are some of the top summer lashes to consider:
Natural Lash Look
When it comes to summer lashes, one thing's for sure – the heavy volume lash extension trend is on the way out. Taking its place is a subtle, more natural style to enhance your features.
Natural lashes are arguably the most popular way to enhance your eyes this summer. They are the perfect complement to a glowy, bronzed-up complexion and require the least amount of maintenance.
The best thing about natural lashes is that they suit almost any eye shape. Even celebs like Kylie Jenner are seen rocking the no-makeup makeup look crowned with a set of classics or wispies, depending on the occasion.

Image source: Instagram @kyliejenner
Brown Lash Extensions
Speaking of natural lash looks, many lash wearers nowadays opt for dark or medium brown rather than regular black lashes, which is especially convenient if you're going for a bronzed goddess look this summer.
Learn more about brown lash extensions and why they're the most versatile lash look here.

Image source: Instagram @glambymillaa
Wet Look Lashes
We can't talk about summer lashes without mentioning the look that can give you summer pool party vibes all year long – wet look lash extensions.
Wet-look lash extensions have a signature spikey and textured appearance, which is reminiscent of how your lashes look after swimming or diving.
Since they are so densely applied to the natural lash, they can also give you the appearance of wearing eyeliner, which is great if you want to skip eye makeup altogether in the summer. They are fully customizable to best suit your eye shape.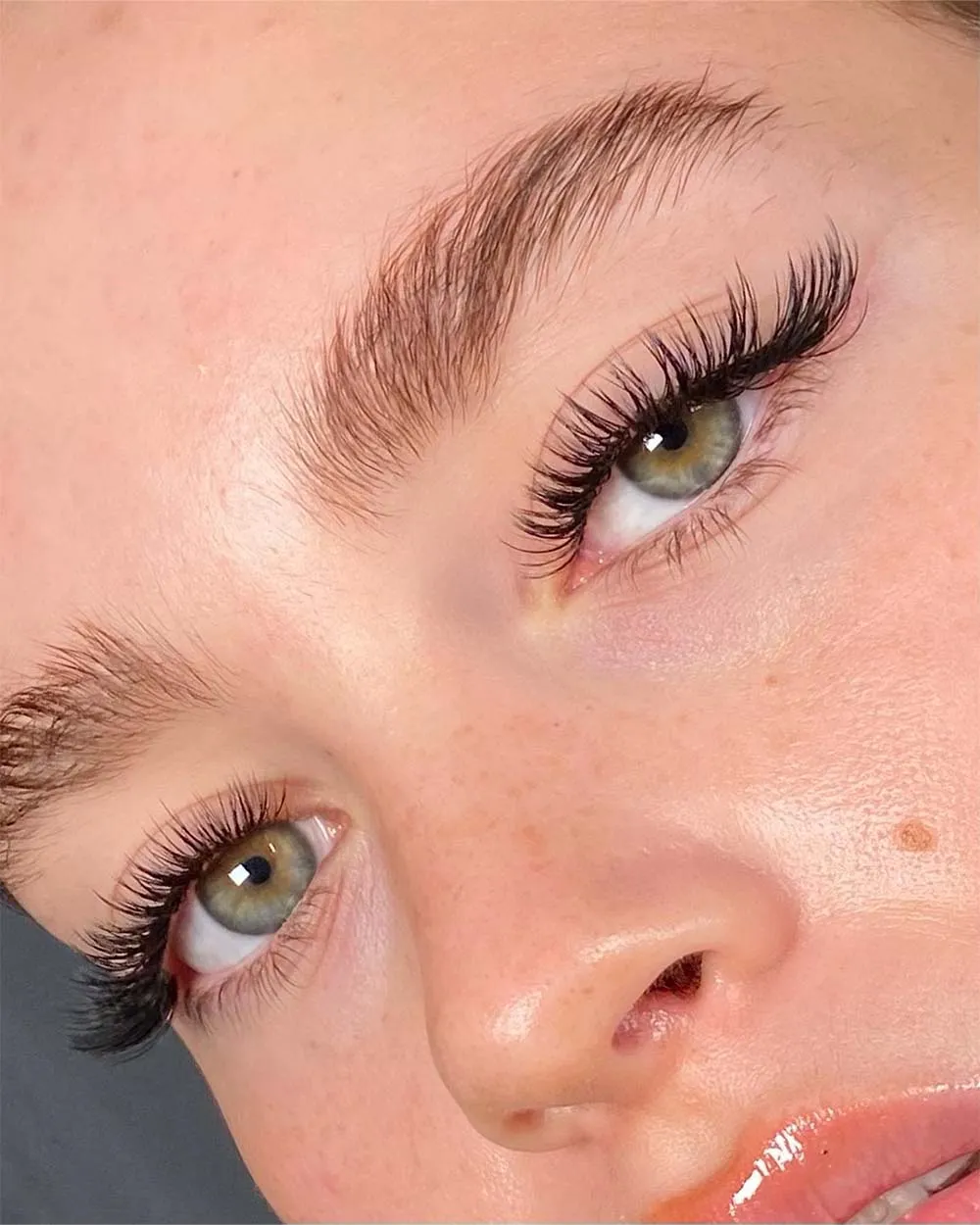 Image source: Instagram @rosefalkaimua
Bottom Lash Extensions
Bottom lash extensions are slowly gaining popularity and may just reach their 5 minutes of fame this summer.
Enhancing the lower lash line can add to that fresh-out-of-the-pool look.
If you want to make your eyes appear bigger and create a more balanced wet lash look, we highly recommend giving these a try!

Image source: Instagram @zendaya
Colored Summer Lashes
If you're looking for something a bit bolder, we recommend adding a pop of color to your regular lash extensions, or even opting for full-color lashes.
Summer is the perfect time to experiment with vibrant hues like blue or pink and express your personality. For summer festival goers, this can be a great way to complement your party outfit and not worry about your eye makeup wearing off.

Image source: Instagram @beautybyloisgavey
Mermaid Lashes
One of the most popular colorful lash styles is certainly mermaid lashes, which fit the theme of summer lash looks to a T.
They are customized to best suit your eye shape and can be applied in all available lash extension styles, from classic to volume.
You can also get them in a combination of colors like royal purple, kelly green, and sea blue with some glitter extensions or various decals for a bit of extra sparkle.

Image source: Instagram @asylum_aestheticsllc
What Can Affect Summer Lash Retention?
Wearing lash extensions in hot weather does require some extra attention and care from both you and your lash technician.
Before we give out our summer lash tips, here are some factors to consider before applying lash extensions in the summertime:
Lash Glue in Hot Weather
When it comes to lash extensions and hot weather, understanding the behavior of lash glue is crucial. Summer's high temperatures and humidity can affect the performance of the lash adhesive and here's how:
Drying Time
Every experienced lash technician knows that humidity plays an important role in the drying time of lash adhesives.
The ideal room humidity of 45-60% implies that a drop of dispensed glue stays fresh for about 20 to 30 minutes, giving you enough time to layer and switch up your placement. However, in high humidity, that drop will start curing much faster.
Since any lash glue will dry 1-2 times faster in environments with high humidity than its original drying speed, it's important to use glue with a slower drying speed.
This means that a lash adhesive with a 4-5 second drying time will turn into a 3-4 second glue in high humidity.
Poor Attachment
In summer weather, lash adhesives may dry faster, making it challenging to achieve precise placement of lash extensions. That's why it's important for lash technicians to adapt their techniques to ensure accurate application before the adhesive sets.
If your extensions are not attaching well to the natural lash, this can only result in poor retention and premature shedding, so be mindful of the humidity levels in your salon.
Make sure your air conditioner is working properly or invest in a dehumidifier.
Summer Lash Tips for Optimal Retention
To ensure your summer lashes stay on point throughout the season, here are some essential retention tips:
Avoid Excessive Heat & Humidity
You got your summer lashes done and you went on your summer vacation, but before you enter complete relaxation mode, keep in mind that too much humidity can affect the look of your lashes.
Limit your exposure to extreme heat and humidity as much as possible. This means avoiding activities like going to steam rooms or taking long, hot showers.
Cleanse Your Lashes Daily
Cleanse your lashes every day using an oil-free cleanser.
Gently swipe along the lash line using a dense, soft brush or lint-free applicator to remove any debris or makeup residue. Also, opt for oil-free makeup and skincare products, as oil can break down lash adhesive and weaken the bond.
Maintaining your lash extensions is especially important after swimming as chlorine and sea salt may also affect retention. Learn how to bathe safely with lash extensions here.
Pat Your Lashes Dry
After washing your face or swimming, avoid rubbing your face vigorously with a towel. Rubbing can cause friction and lead to premature lash loss.
Instead, pat your face and lashes dry gently using a soft towel or let them air dry naturally – the same goes for your lashes. You can also dry your lashes with your blow dryer in a cool setting.
Don't Use Waterproof Mascara
While waterproof mascara might be a summer makeup staple, it can be difficult to remove and may require rubbing, which can compromise your summer lash extensions.
Instead, choose a mascara that is specifically designed for use with lash extensions, as they are easier to remove and less likely to damage the lashes. Here's our top pick:
Use a Lash Serum
Incorporate an oil-free lash serum into your daily routine to promote lash health and strengthen the natural lashes, especially during the summer months.
Remember, a nourished lash line provides a better foundation for lash extensions and helps them adhere more effectively. See our full list of best serums here, or scroll to see our favorite:
So, Should You Try Summer Lashes?
Staying on trend during the summer months is made easy with so many lash extension styles to choose from. But when it comes to lash extensions and hot weather it's not all about looks.
Whether you opt for natural or colorful extensions, consider the behavior of lash glue in hot weather and be mindful of the effects of humidity on lash retention. Make sure to clean your lashes regularly to keep them healthy and protected during frequent sun and water exposure.
Cover image source: Freepik