All About Tummy Tuck Scar Camouflage
For people who've had abdominoplasty, scar camouflage treatments are usually the final step. Find all the info about tummy tuck scar camouflage below!
After a surgical tummy tuck, otherwise known as abdominoplasty, you are not only getting used to the new look of your body but to the sometimes large scarring that is left as a result of the procedure.
Surgery scars can take months to heal, but you might be impatient to show off your new body. Now, you might be wondering: How can I hide my tummy tuck scar?
Read this guide to learn more about which tummy tuck scar camouflage treatments are available for making your scar less noticeable.
Table of contents - Skip to a specific paragraph
What Is Tummy Tuck Scar Camouflage?
Tummy tuck scar camouflage is a term that combines all the available treatments and techniques that are designed to reduce the visibility of abdominal scars.
Depending on the texture, shape, and color of your scar, several treatment options that focus either on scar restoration or scar tattooing are available.
If you're left with improperly healed scars after your tummy tuck procedure, you will first need to book a couple of sessions of dry tattooing before proceeding with other scar camouflage options that involve injecting cosmetic pigments.
Image source: Instagram @newimagebeautybar
Different Types of Tummy Tuck Scars
The size and the location of your tummy tuck scars vary depending on the exact procedure you had. Your surgeon will do what they can to help reduce your scarring, but that isn't a guarantee that you won't be left with visible scars.
Before learning about your treatment options, let's take a look at all the types of tummy tuck scars:
Mini Tummy Tuck
Mini tummy tucks are performed on people with a small amount of excess fat and tissue beneath their belly button.
This procedure results in a scar that is about the length of a C-section scar, approximately 3-6 inches.
Full Tummy Tuck
Full tummy tucks are performed on individuals with a slightly higher percentage of excess fat and tissue in their abdominal area.
The typical scar of a standard tummy tuck is fairly large and spans from one hip to the other and it's located just above the pubic area. Full tummy tucks can also result in scarring around the belly button.
Fleur-de-Lis Tummy Tuck
A fleur-de-lis tummy tuck is usually performed on people who have a large amount of excess skin due to major weight loss.
This procedure can result in a standard hip-to-hip scar plus a vertical scar that runs from the lower breastbone to the pubic bone.
Tummy Tuck Scar Camouflage Treatments
Tummy tuck scar camouflage boils down to 2 things – improving the general appearance of the scar itself, and re-coloring the scarred area. Let's take a look at the two most popular procedures for treating tummy tuck scars:
Dry Tattooing
Dry tattooing or MCA dry needling is a technique used to lighten dark scars, improve their texture and make them firmer.
Although called dry tattooing, it isn't exactly performed on completely dry skin.
It is done by using surgical-grade needles to create thousands of micro-injuries to the skin, which will act as channels through which healing serums can reach skin cells and regenerate them.
Dry tattooing stimulates the production of collagen, melanin, and elastin which can significantly improve the appearance of tummy tuck scars. This treatment can be especially beneficial for scars that have healed unevenly.
If you've gotten a mini tummy tuck, dry tattooing alone can minimize the look of your post-surgery scarring. But if your scarring takes up more space, dry tattooing should be done in combination with other scar camouflage treatments.
Learn everything you need to know about dry tattooing here.
Image source: Instagram @tattoo_byjulie
Scar Camouflage Tattoo
Tummy tuck scar camouflage tattoos are generally considered non-invasive and safe, as they require little to no downtime and a fairly easy aftercare routine.
They can also be done as an additional service after a couple of dry needling sessions, especially if you had a full tummy tuck or a fleur-de-lis tummy tuck procedure done.
Scar camouflage tattooing consists of three similar treatments – scar micropigmentation, Brazilian stretch mark and scar camouflage, and decorative tattooing.
Scar Micropigmentation
The scar micropigmentation treatment is a form of cosmetic tattooing. Its main goal is to blend scars into the surrounding skin by using skin-colored permanent makeup pigments that your body will naturally break down over time.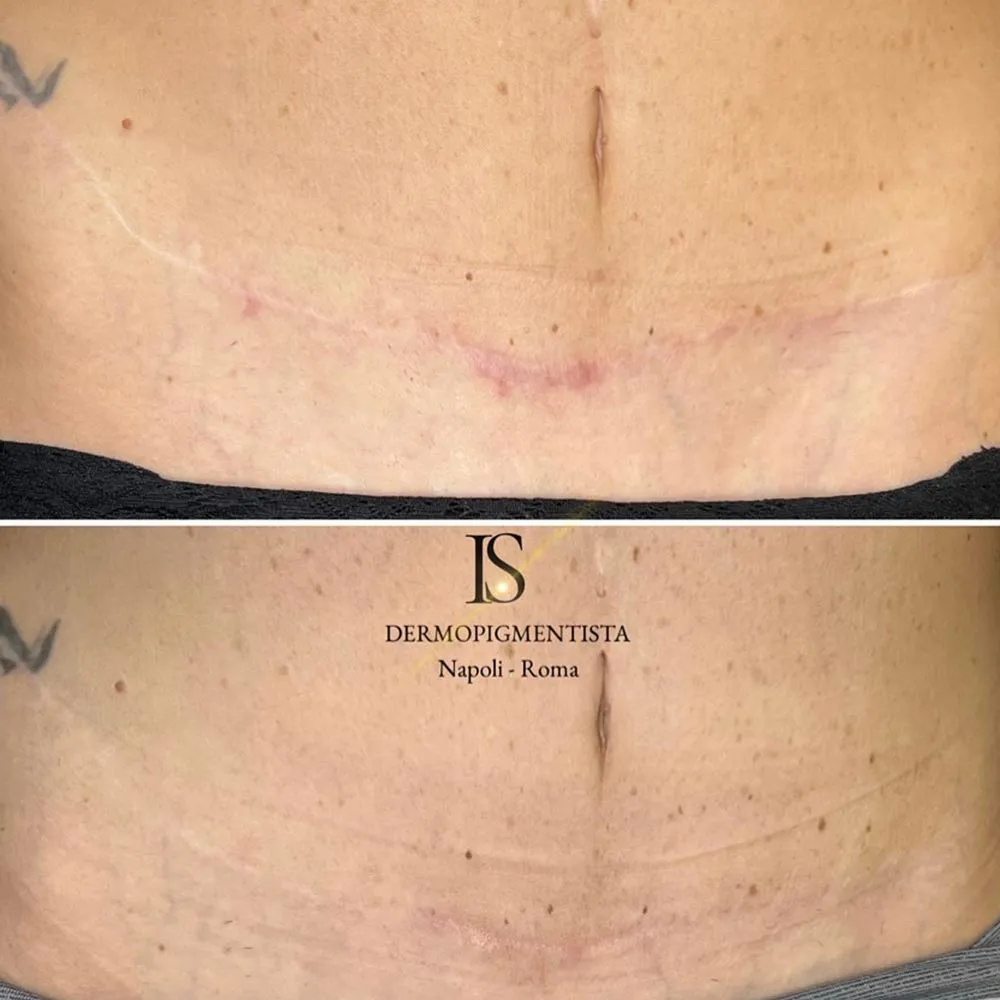 Image source: Instagram @ilaria_s_dermopigmentista
Brazilian Scar Camouflage
Brazilian stretch mark and scar camouflage is similar to scar micropigmentation but instead of using permanent makeup pigments, skin-colored traditional tattoo ink is used to blend surgery scars with the surrounding skin.
@rodolphotatuador

• 𝘊𝘢𝘮𝘶𝘧𝘭𝘢𝘨𝘦𝘮 𝘗𝘦𝘳𝘮𝘢𝘯𝘦𝘯𝘵𝘦 𝘥𝘦 𝘊𝘪𝘤𝘢𝘵𝘳𝘪𝘻 𝘤𝘰𝘮 𝘛𝘢𝘵𝘶𝘢𝘨𝘦𝘮 𝘐𝘯𝘢𝘱𝘢𝘳𝘦𝘯𝘵𝘦 • • • 🇧🇷 𝙈𝙚́𝙩𝙤𝙙𝙤 𝙍𝙤𝙙𝙤𝙡𝙥𝙝𝙤 𝙏𝙤𝙧𝙧𝙚𝙨 🇧🇷🌎 • • 🏆𝗖𝗿𝗶𝗮𝗱𝗼𝗿 𝗠𝘂𝗻𝗱𝗶𝗮𝗹 𝗱𝗮 𝗧𝗮𝘁𝘂𝗮𝗴𝗲𝗺 𝗘𝘀𝘁𝗲́𝘁𝗶𝗰𝗮 𝗥𝗲𝗽𝗮𝗿𝗮𝗱𝗼𝗿𝗮 🌎🇧🇷 • • ✅ᴅɪᴍɪɴᴜɪᴄ̧ᴀ̃ᴏ ᴅᴏ ᴄᴏɴᴛʀᴀsᴛᴇ ᴅᴀ ᴄɪᴄᴀᴛʀɪᴢ ✅ʀᴇsᴜʟᴛᴀᴅᴏ ᴄᴏᴍ ᴀsᴘᴇᴄᴛᴏ ɴᴀᴛᴜʀᴀʟ ✅ᴘʀᴏᴄᴇᴅɪᴍᴇɴᴛᴏ ᴘᴇʀᴍɪᴛᴇ ᴠɪᴅᴀ ɴᴏʀᴍᴀʟ ᴀᴏ ʙʀᴏɴᴢᴇᴀʀ ☀ • 🔴 👉 "A Tatuagem Estética Reparadora é um procedimento que utiliza a milenar arte da tatuagem para a melhoria de queixas estéticas relacionadas ao contraste (cor). Com a Tatuagem Estética Reparadora é possível a melhoria do contraste destas queixas estéticas de forma permanente e natural." - Rodolpho Torres 🇧🇷 • • 🔴⚠️•𝐈𝐌𝐏𝐎𝐑𝐓𝐀𝐍𝐓𝐄•⚠️🔴 𝐎 𝐨𝐛𝐣𝐞𝐭𝐢𝐯𝐨 𝐝𝐚 𝐓𝐚𝐭𝐮𝐚𝐠𝐞𝐦 𝐄𝐬𝐭𝐞́𝐭𝐢𝐜𝐚 𝐑𝐞𝐩𝐚𝐫𝐚𝐝𝐨𝐫𝐚, 𝐞́ 𝐚 𝐌𝐄𝐋𝐇𝐎𝐑𝐈𝐀 𝐝𝐨 𝐜𝐨𝐧𝐭𝐫𝐚𝐬𝐭𝐞 𝐝𝐚 𝐪𝐮𝐞𝐢𝐱𝐚 𝐞𝐬𝐭𝐞́𝐭𝐢𝐜𝐚 𝐫𝐞𝐥𝐚𝐜𝐢𝐨𝐧𝐚𝐝𝐚 𝐚 𝐂𝐎𝐑. 𝐄𝐥𝐚 𝐞𝐧𝐭𝐫𝐞𝐠𝐚 𝐦𝐮𝐝𝐚𝐧𝐜̧𝐚 𝐄𝐗𝐂𝐋𝐔𝐒𝐈𝐕𝐀𝐌𝐄𝐍𝐓𝐄 𝐧𝐚 𝐜𝐨𝐫 𝐝𝐞𝐬𝐭𝐚 𝐪𝐮𝐞𝐢𝐱𝐚. ⚠️ ❌ 👉 𝐂𝐀𝐃𝐀 𝐂𝐀𝐒𝐎 𝐄́ 𝐔́𝐍𝐈𝐂𝐎 𝐄 𝐈𝐍𝐂𝐎𝐌𝐏𝐀𝐑𝐀́𝐕𝐄𝐋 ⚠️❌ 𝐄́ 𝐈𝐌𝐏𝐎𝐒𝐒𝐈́𝐕𝐄𝐋 𝐏𝐑𝐄𝐕𝐄𝐑 𝐎 𝐑𝐄𝐒𝐔𝐋𝐓𝐀𝐃𝐎 𝐃𝐄 𝐆𝐀𝐍𝐇𝐎 𝐃𝐄 𝐂𝐎𝐍𝐓𝐑𝐀𝐒𝐓𝐄 𝐏𝐀𝐔𝐓𝐀𝐃𝐎 𝐄𝐌 𝐎𝐔𝐓𝐑𝐎𝐒 𝐏𝐑𝐎𝐂𝐄𝐃𝐈𝐌𝐄𝐍𝐓𝐎𝐒 ❌ 👉 𝐎 •𝐎𝐛𝐣𝐞𝐭𝐢𝐯𝐨 𝐮́𝐧𝐢𝐜𝐨 𝐝𝐨 𝐌𝐞́𝐭𝐨𝐝𝐨• 𝐞́ 𝐝𝐞 •𝐌𝐄𝐋𝐇𝐎𝐑𝐈𝐀 𝐃𝐎 𝐂𝐎𝐍𝐓𝐑𝐀𝐒𝐓𝐄•, 𝐧𝐚̃𝐨 𝐭𝐞𝐧𝐝𝐨 𝐜𝐨𝐦𝐨 𝐟𝐨𝐜𝐨 𝐞 𝐭𝐚̃𝐨 𝐩𝐨𝐮𝐜𝐨 𝐜𝐨𝐦𝐨 𝐬𝐞𝐮 "𝐌𝐄𝐃𝐈𝐃𝐎𝐑 𝐃𝐄 𝐄̂𝐗𝐈𝐓𝐎 𝐃𝐄 𝐑𝐄𝐒𝐔𝐋𝐓𝐀𝐃𝐎" 𝐞𝐦 "𝐒𝐔𝐌𝐈𝐑" 𝐨𝐮 "𝐃𝐄𝐒𝐀𝐏𝐀𝐑𝐄𝐂𝐄𝐑" 𝐜𝐨𝐦 𝐚 𝐪𝐮𝐞𝐢𝐱𝐚, 𝐌𝐀𝐈𝐒 𝐒𝐈𝐌, 𝐞𝐧𝐭𝐫𝐞𝐠𝐚𝐫 𝐝𝐞 𝐟𝐨𝐫𝐦𝐚 𝐏𝐄𝐑𝐌𝐀𝐍𝐄𝐍𝐓𝐄 𝐚 𝐌𝐄𝐋𝐇𝐎𝐑𝐈𝐀 𝐝𝐨 𝐜𝐨𝐧𝐭𝐫𝐚𝐬𝐭𝐞 𝐝𝐚 '𝐪𝐮𝐞𝐢𝐱𝐚 𝐞𝐬𝐭𝐞́𝐭𝐢𝐜𝐚' (❗️*𝐂𝐎𝐍𝐓𝐑𝐀𝐒𝐓𝐄* ❗️👉 𝐄́ 𝐚 𝐝𝐢𝐟𝐞𝐫𝐞𝐧𝐜̧𝐚 𝐝𝐞 𝐜𝐨𝐫 𝐝𝐚 '𝐪𝐮𝐞𝐢𝐱𝐚 𝐞𝐬𝐭𝐞́𝐭𝐢𝐜𝐚' 𝐩𝐚𝐫𝐚 𝐚 𝐜𝐨𝐫 𝐝𝐚 𝐩𝐞𝐥𝐞 𝐚𝐨 𝐫𝐞𝐝𝐨𝐫 𝐝𝐚 𝐪𝐮𝐞𝐢𝐱𝐚). 🔴⚠️🔴 • ᴍéᴛᴏᴅᴏ ʀᴏᴅᴏʟᴘʜᴏ ᴛᴏʀʀᴇs 🇧🇷 ʀᴏᴅᴏʟᴘʜᴏ ᴛᴏʀʀᴇs ᴀᴄᴀᴅᴇᴍʏ 🎓🦅

♬ Time Traveller - Nimus
Decorative Tattooing
Decorative tummy tuck tattoos are traditional ink tattoos designed in such a way that completely covers up or conceals the scarred area. The color and artwork are chosen in collaboration with your tattoo artist.

Image source: Instagram @fatboy562ink
How Long Does Tummy Tuck Scar Camouflage Last?
The longevity of the results depends on the treatment you chose with your artist.
Dry tattooing is usually performed in a series of two to three treatments and can be done every 6 weeks or so. If you chose this option to treat your tummy tuck scars, you'll be pleased to know that the results last up to a year.
How long the results will last varies from person to person and depends on many factors like proper healing, aftercare, environmental factors, and how quickly your body breaks down and absorbs the pigments.
Tattoos for tummy tuck scars on the other hand last even longer, anywhere from 2 to 5 years when done with cosmetic pigments, or indefinitely when done with tattoo ink.
You can keep your tummy tuck tattoo looking fresh by booking a touch-up session with your artist every 5-10 years.
Tummy Tuck Scar Camouflage Healing & Aftercare
In order for your tummy tuck scar tattoo to properly heal, you must follow an aftercare routine prescribed and explained to you by your artist or technician.
This is very important to prevent complications during the healing process like infection, hyperpigmentation, or poor pigment retention.
Dry tattooing takes about 6 weeks to heal, while treatments like Brazilian stretch mark and scar camouflage take up to 12 months to fully heal.
During this time, your skin will go through phases of peeling and sensitivity, so it is important to keep the treated area away from sun exposure and moisturize with a prescribed ointment.
Who Is a Candidate For Tummy Tuck Scar Camouflage?
Before booking your dry tattooing or scar camouflage tattoo treatments, it is essential for your scar to be at least 12 months old.
The second most important thing is for your tummy tuck scars to be white or very pale in color since tattooing over scars that are not properly healed can cause further trauma and damage to the scar area.
When it comes to decorative tattoos, keep in mind that scar tissue doesn't hold ink as well as regular skin and because of this, the scar can still show as a lighter or darker colored line running through your tattoo.
If you are prone to keloid scarring, these treatments are not the best option for you as they can cause new scars to emerge.
How Much Does Tummy Tuck Scar Camouflage Cost?
The cost of scar camouflage treatments depends on the treatment itself and how many sessions you will need to conceal your scarring.
It also depends on the surface area that's being treated and the location and popularity of your chosen PMU or tattoo artist.
Some technicians charge per session, while others give you a bulk price for a series of treatments – it all varies from artist to artist.
The average price for a series of dry tattooing treatments is about $1000, while scar micropigmentation for a mini tummy tuck scar costs about $250 per session on average.
Tummy Tuck Scar Camouflage – Main Takeaways
Tummy tuck scar camouflage can be achieved by dry tattooing, scar camouflage tattooing, or as a combination of those two treatments to get the best possible results.
How well these treatments will work for you depends on the type of tummy tuck scarring you have, as well as how you care for your skin after treatment.
You can also opt for traditional tattoo ink and get a decorative tummy tuck tattoo to reduce the visibility of scars that are fully healed.
Learn more about scar camouflage treatments here.
LEARN MORE ABOUT SCAR CAMOUFLAGE