Scar Camouflage – The Ultimate Guide
Scar camouflage can significantly reduce the visibility of facial and body scars. Here's all the important info on these life-changing procedures.
Permanent makeup and micropigmentation treatments are designed specifically to beautify and correct our facial and body imperfections. Yet, this role gains new meaning when it serves as a way to boost confidence and improve the quality of life for people who have permanent scarring.
Scar camouflage can reduce the visibility of facial and body scars that come as a result of injury, surgery, or other factors.
It offers people with scarring a long-lasting solution for covering imperfections that doesn't smudge by the end of the day, helping them feel more confident. Read our guide to find answers to all your questions related to scar camouflage.
Table of contents - Skip to a specific paragraph
What Is Scar Camouflage?
Basically, it's a tattoo scar covering. It's a term that encompasses various micropigmentation techniques and treatments designed for diminishing the visibility of scars, stretch marks, and hyperpigmentation.
Scar camouflage tattoo or cosmetic tattooing is a needle and pigment technique that blends scars into the surrounding skin using permanent makeup pigments that the body naturally breaks down over time or inks.
A camouflage tattoo is generally considered non-invasive and safe, as it requires little to no downtime and a fairly easy aftercare routine.
Image source: Instagram @replikhair
Which Types of Scars Can Be Camouflaged?
The general rule of scar camouflage is that any scar can be camouflaged or re-pigmented as long as it's not a keloid and it's healed completely. This means that the source of the scar itself is not as important as its look and feel.
Artists and technicians usually recommend waiting for 6 months to a year or longer if necessary, for the scar to fully heal after surgery or injury. Once fully healed, color correction can be applied to:
Surgery caused scars
Injury caused scars
Stretch marks
Cleft lip and palate scars
Age spots
Burns
Hypopigmentation
It's important to note that how and whether a particular scar can be re-pigmented depends on its nature and how skilled the artist performing the procedure is. The best kind of scars to camouflage are stretch marks since they are flat and much paler than the surrounding skin.
In order to achieve maximum tattoo scar cover-up, artists suggest getting the area microneedled first, to help the skin regain its original texture.
Who Should Avoid Scar Camouflage Tattoo?
As previously mentioned, most scars can be camouflaged.
However, there are certain skin conditions that can make it difficult or unsafe to do a successful camouflage procedure. Those conditions include:
Keloids
Spider veins
Hyperpigmentation
Thinned, translucent skin
Which Scar Camouflage Treatments Are Available?
Scar camouflage can treat various types of facial and body scarring. From covering acne scars to stretch marks, the physical benefits of scar camouflage treatments are truly life-changing. Here's a look at all the scar camouflage treatments available:
Facial Scar Camouflage Treatments
Facial scars can be covered up with permanent makeup quite successfully. Here's how:
Permanent Brow Shading (Powder or Combo Brows)
Permanent brow shading is a form of brow tattoo done with an electric PMU device very similar to a tattoo gun. It implies implementing tiny dots of pigment into the skin or the scar tissue to create the look of wearing brow powder.
This technique can blend scars into the brow arches very efficiently.
Regardless of what you may have read online, microblading isn't the best option for covering scars, as scar tissue can't really hold pigment strokes and they blur.
However, it's possible to shade the scar and the body and tail of the arch, and add strokes on the healthy skin to get a combo brow.
Learn more about powder brows or combo brows.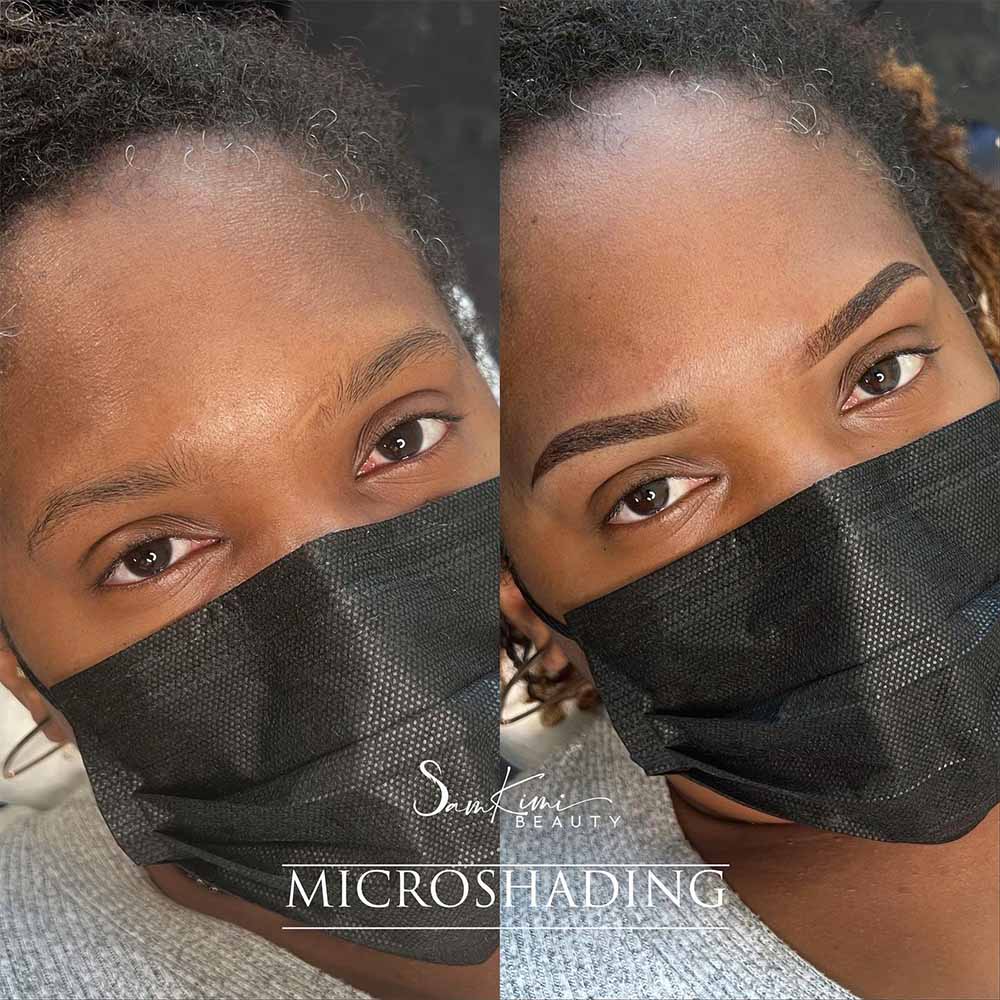 Image source: @samkimi_beauty
Lip Blush or Lip Tattoo
Another permanent makeup treatment that's perfect for reshaping and rebalancing the lips after cleft palate and lip reconstruction surgery. A PMU machine is used to deposit pigment into the lips, evening out their color and making them look fuller and more prominent, blending in the scar.
Learn more about lip tattoos here.
Image source: Instagram @gasparmelinda.pmu
Body & Scalp Scar Camouflage Treatments
Depending on the location of the scar, there are several methods of tattoo scar covering on the body.
Nipple and Areola Tattoo
Nipple and areola tattoos are a form of paramedical micropigmentation, used most often as a final step to breast reconstruction surgery. They create a realistic, 3D representation of the clients' nipple and areola, using an electric PMU machine.
As part of the nipple/areola tattooing, scars in the area are also camouflaged.
Learn more about areola tattoos here.
Image source: Instagram @beautymarkboutiquedallas
Stretch Mark Tattoo
A stretch mark tattoo is a form of micropigmentation, where an electric PMU machine is used to deposit pigment that matches the color of the skin surrounding the stretch mark area, reducing their visibility.
For maximum results, it is recommended to do a microneedling treatment beforehand (scroll down for more info), to first diminish the scars as much as possible, and then tattoo them.
Image source: Instagram @blissbeautystudio6ix
Scalp Micropigmentation
Scalp micropigmentation is a form of cosmetic tattooing done with an electric PMU machine, that mimics the density of hair follicles, oftentimes covering scars by blending them in and correcting the natural hairline.
Surgery scars and burns are easily camouflaged, with results lasting up to 8 years.
Learn more about scalp micropigmentation here.
Image source: Instagram @phiscalpuk
There's Also Dry Tattooing and Microneedling
Okay, so these aren't exactly micropigmentation, but these two treatments are effective for reducing the visibility of scars, so we have to mention them.
Microneedling is a treatment that involves controlled puncturing of the skin with thin needles, in order to trigger the collagen production and skin regeneration.
Dry tattooing, better known as MCA dry needling, is a similar, but more specialized technique developed exclusively for treating scarring.
The techniques are similar to tattooing in the sense that a needle pokes the skin over and over, but there's no ink or pigment. As controlled damage is afflicted on the scar tissue, the body starts to repair it, so the scar gets gradually less and less visible.
So instead of camouflaging the scar, they actually treat it. This is useful on its own, or as preparation for micropigmentation.
The treatments can be performed on the face mostly for reducing the appearance of acne scars, but also on the scalp and body.
Learn everything you need to know about microneedling here.
Image source: Instagram @derm__ab
What Are the Risks of Scar Camouflage Tattoo?
Although generally safe, scar camouflage tattoo does come with some possible risks to look out for:
Allergic Reactions
Allergic reactions to permanent makeup pigments or numbing creams are very rare, but in order to prevent them, your chosen artist or technician should do a patch test before the procedure just to make sure.
Infections
Scar camouflage tattoo requires breaking the surface of the skin to deposit pigment. This leaves the skin susceptible to contamination and subsequent infection. When the treatment is performed with sterilized equipment and if proper aftercare is followed, the risk of infection is minimal.
Pigment Migration
If the PMU pigment is implemented too deep into the skin, there is a risk of pigment spreading over time. This can be avoided by going to a licensed and experienced technician.
Additional Scarring
Unfortunately, when going to an inexperienced artist, there is a risk of compromising the skin that can end up worsening the look of the scar instead of covering it. This can happen if the skin is overworked or the needle goes in too deep during scar camouflage.
Is Scar Camouflage Reversible?
Yes, but not every technique is suitable for every scar camouflage. Let's look into the options:
Saline Removal
One option for removing a micropigmentation camouflage tattoo saline tattoo removal. The skin above the unwanted pigment is punctured in much the same way as the tattooing process, only a saline solution is inserted. The solution lifts the pigments.
As the skin heals, a scab will form over it which will trap a portion of the lifted pigment. Over a series of sessions, the unwanted tattoo is removed.
Learn more about saline removal here.
Saline removal is possible for almost all scar camouflage tattoos. The only exception is scalp micropigmentation if it covers a large area. In the case of lip tattoos, it can be difficult to find a technician who performs saline removal on the lips.
Laser Removal
Laser tattoo removal is the safest, most effective way to correct or completely remove micropigmentation, but it's problematic for skin toned pigments and in some cases, red-tones pigments.
Lighter pigments often contain titanium dioxide, a white pigment used to formulate most skin-toned shades. When touched by a laser beam, titanium dioxide darkens and goes gray.
The now gray pigment can be removed with further sessions of either laser or saline removal, but you'll have to walk around with the dark marks for a few weeks, and it complicates the process further.
Learn more about laser removal here.
Micropigmentation that can be removed with laser without a problem are scalp micropigmentation and brow tattoos. For other types of scar camouflage, it's best to consult a removal expert and see what they suggest.
Scar Camouflage – Main Takeaways
Scar camouflage is an effective way to completely cover up or minimize the visibility of facial and body scars. There are various treatments that can be used to camouflage scars, and they're often combined with microneedling.
Camouflage tattoo is most effective on flat, properly healed scars that are lighter than the rest of the skin. If you're not satisfied with the effectiveness of the procedure, scar camouflage tattoo can be removed, but it can be a complicated process.
LEARN MORE ABOUT SCAR CAMOUFLAGE