Scalp Micropigmentation for Women
Read our guide to find out how scalp micropigmentation for women works.
Editor's Note: This post was originally published in April 2020. Updated in November 2021.
Hair loss is an issue equally common in both men and women, although it emerges in different ways. The causes of hair loss in women are numerous, from temporary postpartum hair loss to certain medical conditions. Whatever the case, it can be detrimental to a person's self-confidence.
Luckily, the beauty industry has come up with a long-lasting non-surgical treatment that can successfully camouflage a number of hair loss issues. It gives immediate results and success is guaranteed.
Here's all you need to know about scalp micropigmentation for women.
Table of contents - Skip to a specific paragraph
What Is Scalp Micropigmentation?
Scalp micropigmentation is a permanent makeup procedure done on the scalp. It implies injecting pigments of natural origins into the skin in tiny dot-shaped incisions, but not as deep as with traditional body tattoos.
The marks look like hair follicles and they add up to a shade that gives the illusion of extra density, camouflages sparse spots, and blends scars into the rest of the scalp. The effects stay visible for a few years, gradually fading, and eventually becoming invisible if you don't refresh them.
Want to find out more about scalp micropigmentation? Follow the links:
Scalp Micropigmentation – The Ultimate Guide
Scalp Micropigmentation Before and After
Scalp Micropigmentation Healing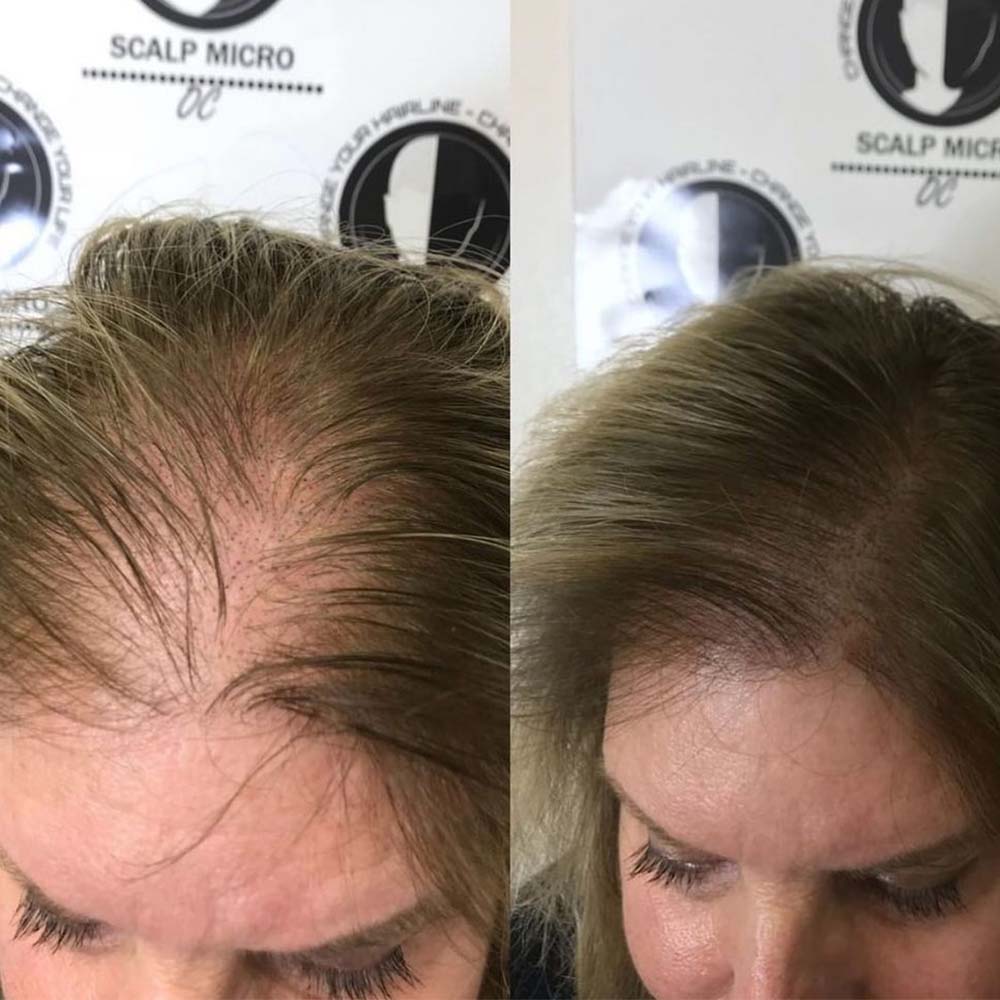 Image source: Instagram @smpforwomenofficial
What Can Scalp Micropigmentation for Women Do?
For clients with no hair, men or women, scalp micropigmentation can recreate the look of a buzz cut on the entire scalp. But since female clients who do have some hair usually wear it longer than a very short cut, through scalp micropigmentation women can achieve extra density, or camouflage smaller spots with little to no hair. Tiny dots are deposited between the actual hair follicles and they add up to a shade.
The technique is the same regardless of the hair issue, only it's used for different purposes.
So, scalp micropigmentation for women can help:
Add density
Camouflage small bald spots
Camouflage scars
Bring down the hairline a bit.
You can see some great examples of SMP for women before and after in our SMP gallery.
Do I Have to Shave My Head to Get Scalp Micropigmentation?
No.
Unlike men who already have a very short cut, for scalp pigmentation women are not asked to shave their hair. The tattooing is done in between the hairs, and it doesn't affect hair growth in any way.
Can Scalp Micropigmentation Be Done on Long Hair?
Yes.
Scalp micropigmentation for women adds a shade, or an underlayer, which creates the illusion of denser hair. Although there aren't any actual extra hairs, the shade covers up the scalp so it's not seen through the hair.
SMP can also improve the appearance of a receding hairline, but to a point. Since the marks made are tiny dots that don't look like hair strands, going too far outside the hairline doesn't really look natural. An alternative for those areas is hairline microblading.
Image source: Instagram @hairkraft_smp
Can Scalp Micropigmentation Damage My Natural Hair?
No.
A common worry about scalp micropigmentation women have is whether it will affect the growth of their hair or damage the healthy follicles. The answer is no. During scalp micropigmentation, the needle only goes into the upper dermis layer or the skin, so it doesn't reach the hair follicles, and can't damage them in any way.
Can Scalp Micropigmentation Cover Up a Scar?
Yes. In fact, this is one of the most common issues scalp pigmentation is used to fix.
A scar can be treated with pigmentation and tiny dots can be drawn over it. It will blend into the rest of the hair and won't be so prominently visible.
You can find more information on scar camouflage through micropigmentation in this article.
What Is the SMP Process Like?
Scalp micropigmentation is done in 2-3 sessions scheduled about 2 weeks apart. After each session, there is a certain degree of fading as the excess pigment is washed out. So, the shade is gradually built up over a few sessions until the desired result is achieved.
Each session can take up to 4 hours, as thousands of tiny incisions are made. Of course, this depends on the size of the area treated, but since female clients usually need smaller patches done, scalp micropigmentation for women doesn't take that long.
Here's what each session looks like, more or less:
Consults. The first session requires thorough consults – the artist will take some time to assess your scalp and determine the price of the treatment, and how many sessions you will likely need. At further sessions, the consults come down to assessing how well your scalp is retaining pigment and how much further work is needed.
Numbing (not always). Not all artists use numbing cream, since the treatment is generally pain-free. But if your artist does, you'll wait 15-20 minutes for the numbing to kick in before the actual pigmentation starts.
Pigmentation. By using a special machine designed specifically for scalp pigmentation, the artist pierces the skin in countless dots and injects pigments into them. They might do several passes.
After each session, the area needs to go through a healing cycle during which you need to follow the prescribed aftercare routine.
Image source: Instagram @scalpclinicpr
What Are Scalp Micropigmentation Healing and Aftercare Like?
They're quite short and simple.
SMP heals just like any other wound, so your scalp will first be a bit irritated and red for a day or 2, then it'll scab, and once the scabs have peeled off, the area is healed and you can book your next session. All this takes about 10-14 days.
During this time, you need to avoid certain activities to make sure the area doesn't get contaminated and the pigments settle properly.
The basic rules are:
Don't touch your scalp
Don't get it wet
Don't use any products not prescribed by your artist
Avoid sweating
If advised, moisturize the area.
For more detailed aftercare instructions, read this article.
How Much Does Scalp Micropigmentation for Women Cost?
The price of a hair tattoo for women is calculated based on the size of the area that needs to be covered and the complexity of your case. So the scalp micropigmentation women cost is determined at consults.
But to give you a general idea of what to expect, the price of fixing minor imperfections like sparse patches or scars, which is what most female clients need, is around $2000. The same goes for diffused densification, more or less.
Image source: Instagram @roh_scalp.busan
Scalp Micropigmentation for Women – Main Takeaways
Scalp micropigmentation for women can help camouflage a number of hair loss issues, like lack of density, sparse or bald patches, and even scars. It implies implementing tiny dots of pigments that look like hair follicles into the skin, and the result is a shade that gives the illusion of density, or bald patches into the rest of the hair.
LEARN MORE ABOUT SCALP MICROPIGMENTATION
Swipe for more SMP topics →