Scalp Micropigmentation Aftercare Guide
A simple day by day guide through scalp micropigmentation aftercare.
Scalp micropigmentation is a form of cosmetic tattooing. As such, it implies breaking the surface of the skin over and over again, and the area needs time and special care to close up the micro-wounds. Luckily, the treatment is much less invasive than traditional body tattooing and the recovery is short and simple, but it does entail an aftercare routine you need to follow as closely as possible.
Here's a day by day guide through the scalp micropigmentation aftercare routine.
Table of contents - Skip to a specific paragraph
Is Scalp Micropigmentation Aftercare Complicated?
No.
In terms of after care scalp micropigmentation is not too demanding, but you will need to make some minor adjustments to your normal routine.
Since the area will be going through a recovery cycle and it will be sensitive, you will need to clean it in a certain way and with suitable products. You'll also need to refrain from certain activities so that you allow the pigments to settle into the skin properly and achieve the best possible results.
Want to find out more about scalp micropigmentation? Follow the links:
Scalp Micropigmentation Before and After
Scalp Micropigmentation Recovery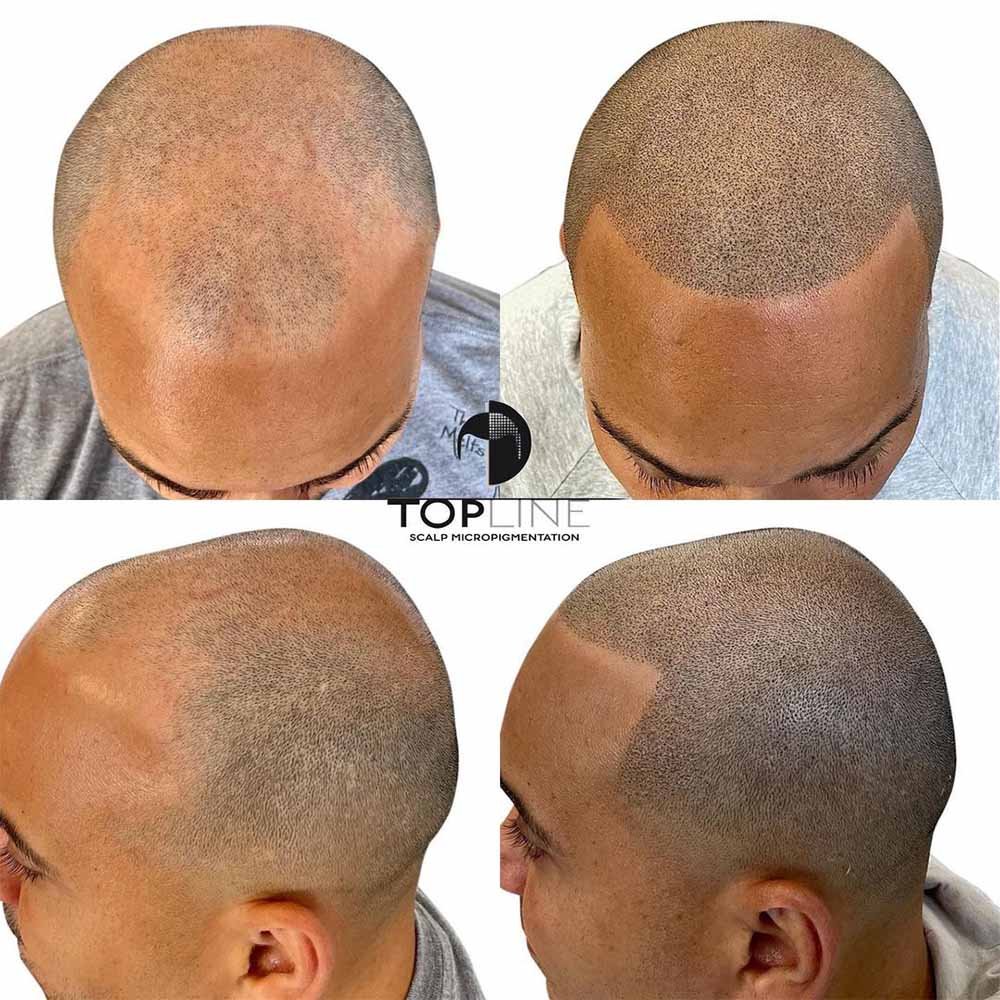 Image source: Instagram @toplinesmp
Scalp Micropigmentation Aftercare Day by Day
It's important to understand that the point of scalp tattoo aftercare is to aid the recovery process at each stage, so the 2 are closely connected and follow the same timeline.
Here's how to take care of your freshly treated scalp at every stage of the healing process:
Days 1 – 4
The first few days of SMP after care are crucial to proper healing. You need to be very careful not to contaminate the area with dirt and bacteria, as this can cause an infection. Plus, your scalp will be irritated and sensitive, so you don't want to irritate it further.
So, you mustn't:
Touch your scalp
Get it wet
Get any cosmetic products on it (apart from prescribed soothing ointment if you get one)
Shave
It's crucial you keep your scalp dry during this period. That means no washing the head, no excessive sweating, and if you must shower, protect your scalp with a shower cap and make it quick.
Days 4 – 10
This is the flaking stage. The scabs that form over the micro-wounds will start peeling off, and it's super important you don't pick them or rip them off – they can pull out the pigments and ruin the results.
So at this stage, not touching the scalp is the most important thing to bear in mind.
You can clean your scalp at this point, but with certain precautions:
Don't soak the area
Use a mild, fragrance-free soap, not shampoo
Use lukewarm water – hot water will cause sweating
Make it quick
Dry the area as soon as possible by blotting and be very gentle
Apply the prescribed moisturizer after washing
You still can't shave and you still need to avoid sweating and getting the area wet outside of the described cleaning.
Days 10 – 14
Once the peeling ends, you can shave your head. In fact, you'll need to do it for your next session. Use the trimmer – razor is not an option because the area is still sensitive and it can create further trauma.
If you're due for another session, you'll repeat the aftercare routine afterwards.
Up to Day 30
When you get your final session, you will follow the prescribed routine for 14 days, and pay attention to certain points for 2 more weeks.
Until day 30, you have to avoid:
Harsh products and chemicals
Shaving with a razor
Swimming in chlorinated water
Sunlight exposure for long stretches of time
After the 30 days after your final session elapses, you don't have to follow the scalp pigmentation aftercare routine anymore, and can go back to your normal routine, more or less.
Image source: Instagram @simonlane_smp_innovator_
Long-Term Scalp Micropigmentation Aftercare
If you want to keep your scalp micropigmentation looking as fresh as possible for as long as possible, there are certain activities and products you should avoid. Of course, SMP is here to make your life better, not restrict it, but you can make some minor adjustments to make the most of your SMP.
Here's what to avoid as part of long-term SMP after care:
UV radiation exposure. Exposing your SMP to sunlight for long stretches of time can cause a chemical reaction that causes the pigments to fade faster. Wear SPF whenever you're outside (ideally, SPF 50+), or a hat.
Chlorinated water. Chlorine can also react with the pigments and cause them to fade or change color.
Salt water. Salt is known to accelerate pigment fading a bit, but it won't cause color shifts.
Harsh ingredients, especially acids. They can affect the pigment color and accelerate fading.
Antibacterial soap and any product that contains alcohol or sulfates. Alcohol dries out the skin, which can cause flaking. Flaky skin takes away small amounts of pigment and can cause patchy fading. Sulfates strip the skin of its natural oils and dry it out.
Aggressive exfoliation. Removing a thick layer of skin cells from its surface can remove small amounts of pigment. Light exfoliation is not forbidden, in fact you should do it from time to time, but don't rub too hard and don't use salt-based products (salt fades pigments).
Scalp Micropigmentation Aftercare – Main Takeaways
Scalp micropigmentation aftercare is simple, but it is essential to proper healing and maximum effects of your SMP treatment. It boils down to not touching your scalp, keeping it dry, cleaning it in a certain way, moisturizing if advised, and avoiding sweating and harsh products.
LEARN MORE ABOUT SCALP MICROPIGMENTATION