⏱️
6
min read
The red carpet has always been a place where celebrities showcase the latest fashion and beauty trends, and eyebrows are no exception.
In recent years, there have been some exciting and unique eyebrow trends that have made their way onto the red carpet.
As the 2023 award season slowly comes to a close, it's time to take a look back at some of the hottest brow trends from this years' red carpet events.
But First, Let's Discuss Recent Brow Trends in General
PMUHub has been staying on top of the biggest brow trends of 2023 and in the past year or so, we've noticed the priority shift from fullness of the brow to the definition of the brow.
So if the thickness of the brow doesn't seem to be the main concern anymore, what kind of shape should be the focus?
Arched? Upturned? Somewhere in between? Well, the answer is kind of all of the above.
Brows are now a way to express your personality and attitude, so whether they're edgy and experimental or laid back and effortless, there's a trendy style to suit everyone.
So, let's analyze which brow trends made their way onto the red carpet eyebrows and which trend specifically left a lasting impression. Here are the top red carpet eyebrow trends we've spotted.
The Official Comeback of Skinny Brows
While thin brows weren't the most popular choice in the past, they were a very prominent trend during the 2023 award season.
So you could say that in the past year, these red carpet looks are a confirmation that skinny brows have made a full comeback – and not just with Gen Z!
These contemporary skinny brows aren't focused on being dramatically thin and arched like they were in the 90s. Nowadays, skinny brows are actually elegant arches that elongate the face and give that facelift effect.
They can follow the brows' natural shape, like the brow Rihanna showcased at the Oscars, or they can be arched upward, like Ana de Armas'.
However, the perfect representation of thin red carpet eyebrows was the Y2K icon herself, Paris Hilton at the 2023 Grammy Awards.
Swipe to see more pics:
Effortless Elegance of Soft Brows
In this past year, we've noticed a shift towards more natural, softer brows on the red carpet. This look is all about embracing your authentic brow shape, rather than creating the one that stands out.
Most celebrities seem to have embraced this trend on the red carpet during the 2023 award season, as we've seen all variations of this look.
From no-makeup-makeup natural, to fully untouched brows, as seen on Halle Bailey.
Another celebrity who has embraced the natural brow trend is Stephanie Hsu. Her brows are full and fluffy, with a soft, natural shape that really complements her features.
Swipe to see more pics:
Making a Statement with No Brows
The no brows trend is a unique and unconventional eyebrow trend that has emerged in recent years.
As the name suggests, this trend involves completely removing the eyebrows by shaving or bleaching them, and leaving a blank canvas on the forehead. It is often used to create a dramatic, avant-garde look that makes quite a statement.
And while it's not a very common sight to see outside of the editorial shoots, this year we were able to spot it on actual red carpet events, mainly on Doja Cat and Taylor Russell.
Swipe to see more pics:
Brushed-Up Brows Are Still Going Strong
Brushed-up brows have, arguably, been the most popular brow style during the past award seasons.
This trend involves grooming and shaping eyebrows to create a lifted, full and youthful effect. That can be achieved with brow gels and waxes, or by doing a brow lamination treatment.
Regardless of the method, the result is a slightly messy and textured look that gives the illusion of fullness and volume. So, it's no surprise that this trend has become a favorite among beauty enthusiasts and celebrities.
Despite the recent surge of thin brow trends, it's important to note that thick brows are still very much desirable. After all, people have spent years trying to regrow their brows to achieve that coveted fullness.
And with trends like soap brows and brow lamination still going strong, it's safe to say that the reign of thick brows is far from over.
These techniques enhance the thickness of your brows while giving them a defined shape and structure. With a little grooming and shaping, you can achieve a look that's both timeless and on-trend.
Swipe to see more pics: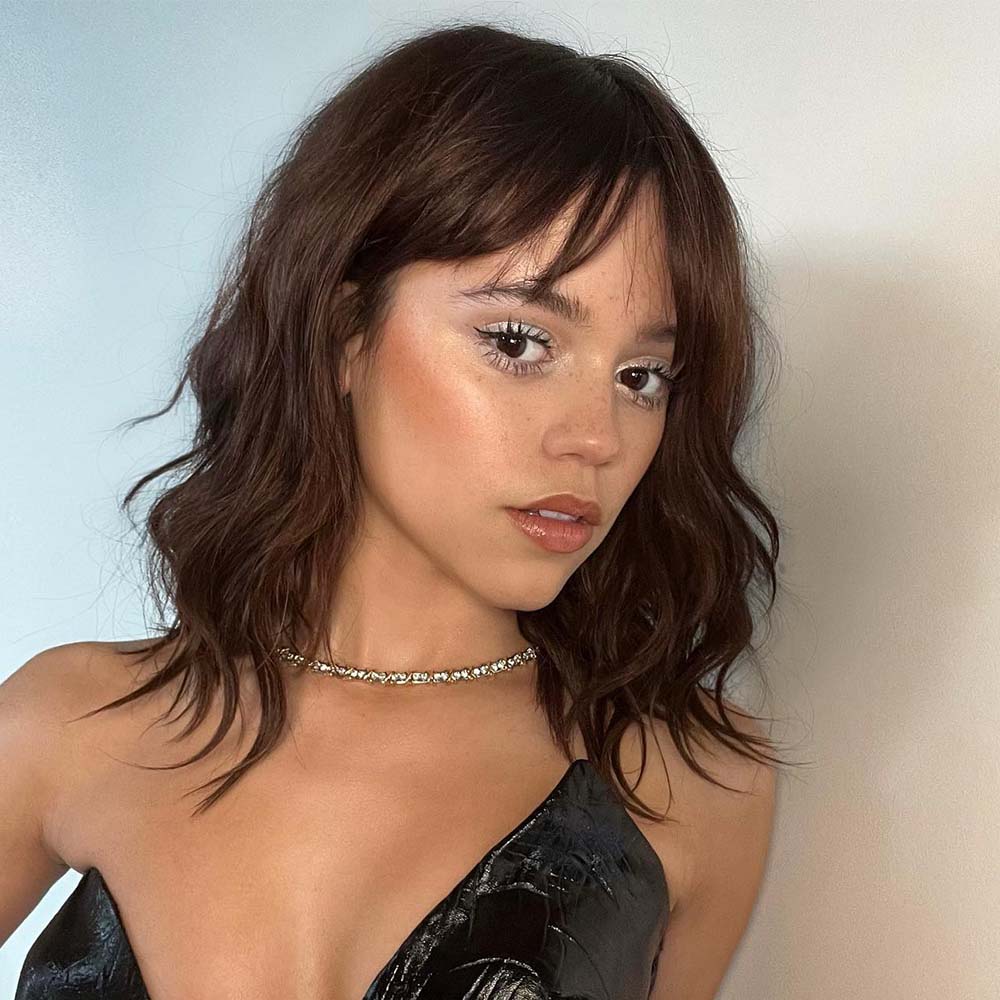 Straight Brows Have Taken Over
Straight brows have become a very popular trend recently. Actually, they seem to have become the trend this year. And unsurprisingly, many celebrities seem to embrace this unique and edgy look.
From Jennifer Connelly who has the straightest of straight brows, to Vanessa Hudgens who's embraced a slightly upturned shape, this has to be the most widely-accepted brow trend of this year's award season.
And that's exactly what makes this style of brow great – it offers a wide range of variations to choose from. It can be slightly arched, upturned, long, short, or even slightly bushy, allowing for a personalized and unique look.
This trend involves creating a straight line across the brow, rather than following the natural arch of the brow bone. The shape is achieved by first removing the tail of the brow, and then by using a brow pencil or powder to create the new shape.
Swipe to see more pics:
To Wrap Up the Red Carpet Season, Here's a Met Gala Brow Report
The Met Gala is fashion's biggest night, and it always brings about some wild beauty looks. And since no beauty look is complete without brows!
So here's a rundown of this year's most provocative brow styles:
And the Award for the Best Red Carpet Brows Trend Goes to…
While the 2023 award season was filled with a variety of eyebrow styles that made a statement on the red carpet, the most prominent trend was by far the straight brow shape.
While some may have raised an eyebrow at the idea of straight brows, the 2023 award season proved that this look is here to stay. Whether you're going for a bold and daring look or a more understated and elegant style, straight brows proved to be a great way to make a statement.
So, it's safe to say that the future of brows is looking straight and simple. It's time to embrace the trend and show the world that sometimes breaking the rules can lead to stunning results.
Cover image source: Freepik