Powder Brows Removal - The Techniques That Work
The most successful powder brows removal techniques explained in detail.
Powder brows and its variation ombre powder brows are a great choice of a brow tattoo for people who want perfectly defined, attractive and modern eyebrows that don't come off.
But sometimes people want to get rid of their old or botched powder brows for some reason. So the answer to the question can ombre powder brows be removed is YES, and here is when and how to do it.
Table of contents - Skip to a specific paragraph
Why Should Powder Brow Removal Be Done?
The most common reason is when people are just not happy with their new powder brows and want to get rid of them. This is common when they let an inexperienced artist do their powder brows. The brows may be too dark or uneven or just unsuitable for a client's face.
Also, sometimes clients visit a brow artist asking for a correction of their old powder brows tattoo, but it is usually too saturated and needs to be removed before a new one is done. So, in this case, the artist will suggest you remove powder brows in order to get a new eyebrow tattoo.
Want to find out more about powder brows? Follow the links:
Powder Brows – The Ultimate Guide
PMUHub tip
Don't let an uncertified artist practice on your brows. It is an eyebrow tattoo after all and cannot be removed easily. Better safe than sorry!
Before You Decide to Have Powder Brow Removal…
Wait. Yes, your freshly done powder brows tattoo will probably be too dark at first, and you may experience brow shock.
First of all, you need to know that there is a healing period. This means that your brows will shrink and become somewhat lighter once the healing period is over. You need to wait a month or more before you can judge the outcome of the powder brows treatment.

Image source: Instagram @brows.naked
Wait for the Touch Up Appointment
You will need some time to get used to the new look of your brows, so don't send your brow artist panicked texts right after the treatment, asking how to remove ombre powder brows.
Unless your powder brows are completely botched, certain imperfections can be corrected at the touch up appointment. Remember that the powder brows treatment requires two sessions, and the second one is there to correct what you don't like about your new powder brows.
Consider Fading as an Option
If you are still pretty upset about your new brows, there are ways to fade them before you start thinking about how to remove powder brows. Here are some tips that can work for you:
Ignore aftercare tips – Powder brows aftercare routine has certain rules and if you don't follow them, the treatment may be unsuccessful. So, do exactly the opposite of what's advised if you want to fade your powder brows.
Expose your brow tattoo to water, saltwater, sweat, and sunlight. It will affect pigment retention and make your powder brows fade faster.
Use fading products and skincare products that contain retinol, ascorbic acid or vitamin C, glycolic acids, and salicylic acid. These ingredients will speed up the fading process.
Have facials – chemical peels and microdermabrasion, to make your brows fade faster.
How To Remove Powder Brows?
If your powder brow tattoo is too saturated and the fading doesn't work, powder ombre brows removal is your only option. There are different ways to do that, and the most commonly used are:
Laser powder brow removal
Saline powder brow removal
Glycolic acid powder brow removal
Some of them are more effective, but also more expensive. Here are some things they have in common:
They are not cheap
They usually require more than one session
They require patience. There is a recovery period between the sessions, so the whole process will take a while.
So, let's find out more about the most effective ways how to remove powder brows.
Laser Removal
This is the most effective way how to remove powder brows.
The number of sessions you will need depends on how saturated the pigment is and what color is used. Some people see dramatic results after the first session, but on average 4-6 sessions will completely remove your eyebrow tattoo.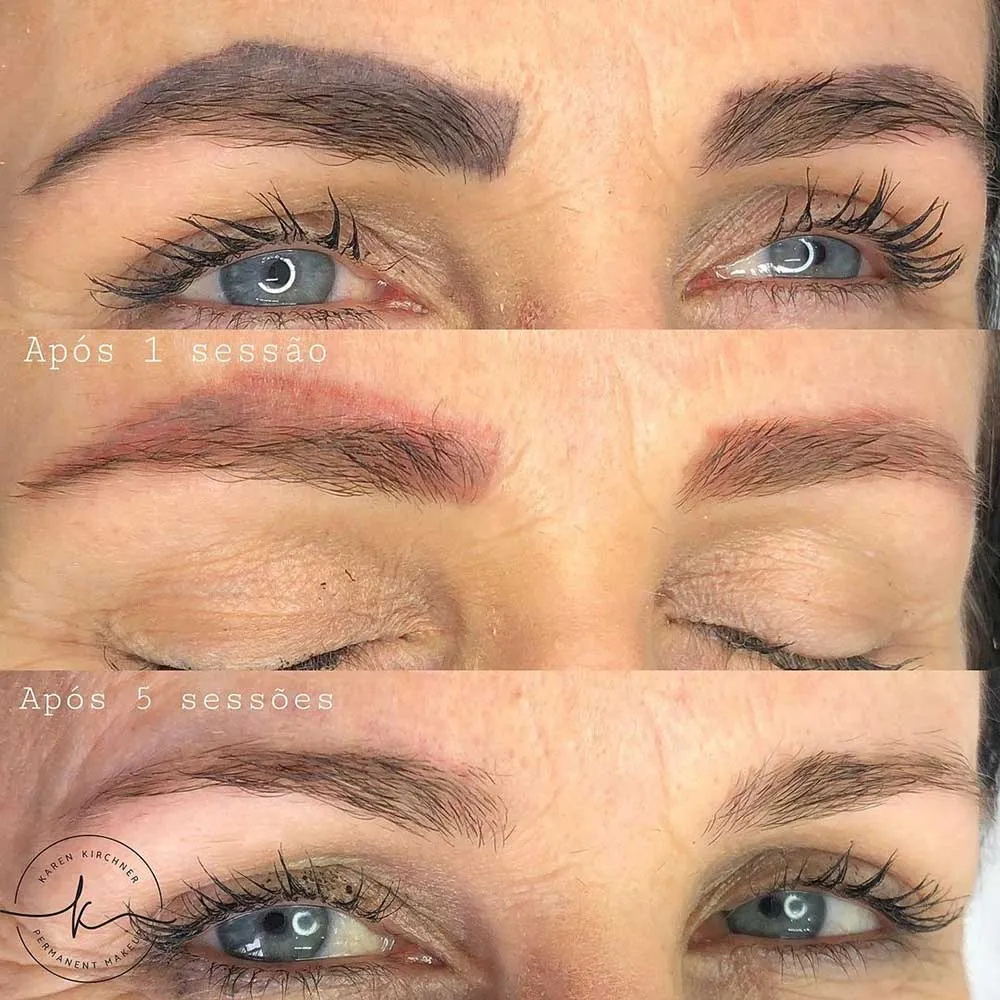 Image source: Instagram @studiokarenkirchner
How is Laser Removal Done?
The laser breaks the pigment into smaller particles and then it is absorbed through your body. With each new treatment, more and more pigment particles are broken down, until they are completely gone.
Is Laser Powder Brow Removal Painful?
Laser powder brows removal is pretty uncomfortable, but a local anesthetic is applied to diminish discomfort. Clients can experience some minor pain after the anesthetic wears off, but they are allowed to use ibuprofen or an adequate painkiller after the treatment.
Does Laser Removal Burn Hair?
This is one of its biggest disadvantages. Even though laser removal is the most effective way to remove powder brows, it does burn brow hair, but there is nothing to worry about – it is not permanent. The brow hair will grow back.
How Long Is the Healing Period After Laser Removal?
Your skin should heal approximately 2 weeks after the laser removal treatment, but it takes a couple of more weeks to completely recover. That is why it is advisable to wait at least 6 weeks between the laser removal sessions, to avoid the risk of scarring.
Some side effects can be pretty uncomfortable in the first 2-3 days after the treatment. These include severe itchiness, some swelling, and even small blisters.
What Does the Laser Removal Aftercare Look Like?
For the first three days, cover the area with a layer of antibiotic healing ointment. You need to stay away from makeup or any other unprescribed creams. After the third day, continue to treat the area carefully by keeping it clean and dry. If the laser removal technician advised so, moisturize the area with Vaseline or Aquaphor, or other recommended moisturizer.
PMUHub tip
It is inadvisable to expose your skin to the sun after going through a laser powder brow removal procedure. Keep the area protected and wear sunblock.
How Much Does Laser Powder Brow Removal Cost?
The price varies, but on average it is $200 per session.
Saline Removal
Saline powder brows removal is done as a reverse tattoo – it can be done with a machine or a manual tool. The skin is opened over the unwanted pigments, and saline solution is implemented, which dries the pigments out. As the incisions heal, scabs will appear after the treatment and they will lift the pigment up and out of the skin.
If done correctly, it won't leave any scarring.

Image source: Instagram @botchedink
PMUHub Tip
Saline tattoo removal should only be done by a certified technician. It is not advisable to do it at home since there is a risk of scarring.
Is Saline Removal Painful?
Numbing cream is used to diminish discomfort, so it is not really painful. It is like doing a tattoo again, so you can expect a similar amount of pain as when you had your powder brows done.
Does Saline Removal Destroy Brow Hair?
No, it doesn't. Unlike laser tattoo removal, which can destroy your brow hair, saline powder brow removal will leave it intact.
How Long Is the Healing Period After Saline Removal?
The healing period after saline powder brows removal is similar to the one after the laser treatment. It takes up to 10 days for the skin to recover, but you need to wait 6-8 weeks between sessions, so the skin can recover completely.
What Does the Saline Removal Aftercare Look Like?
The saline powder brow removal aftercare is similar to the one after having your brow tattooed.
Keep the area cleaned and dry.
Don't soak your eyebrows in water and protect the area when you take a shower.
Wash your face gently without touching the treated area.
Avoid long showers, saunas, swimming pools, sweating, working out, and tanning.
Don't touch the scabs.
Use vitamin E oil once the scabs are gone.
How Much Does Saline Removal Cost?
The average cost per session for saline tattoo removal is $200.
Can Emergency Saline Removal Be Done?
Yes, if you want your powder brows removed immediately after the procedure it can be done but only in the first 48 hours after the powder brows treatment.
It is done differently than the tattoo – there is no need for needles since the wound is still fresh. Saline solution is applied to extract the pigments.
If your brow tattoo is more than 48 hours old, the scabbing stage may start and the risk of scarring is bigger.
Saline Removal vs Laser Removal
Here are some differences that can help you chose how to remove powder brows:
With laser tattoo removal, ink is absorbed by your body. With saline tattoo removal, ink is extracted from the skin.
Laser removal is faster and more effective.
In some cases, depending on the pigment used and the skin undertones, the laser won't remove the red or pink color. That is when saline removal steps in.
The laser burns brow hair, saline doesn't. But the hair grows back quickly.
Saline is more suitable for people with sensitive skin.
Saline is done when an emergency removal is required.
Glycolic Acid Tattoo Removal
Some technicians have their own methods how to remove powder brows and they use acids to extract pigments. This works similarly to saline removal.

Image source: Instagram @milaaestheticslv
During these treatments, glycolic acid and enzyme solution are inserted. They react with the pigment by bringing it to the surface and out of the skin. It's a very effective powder brow removal method that works with all shades of pigments.
This option is cheaper than others, as it costs $100 on average per session. However, it is said to be more aggressive than saline removal.
How to Remove Powder Brows – Main Takeaways
If you decided to have your powder ombre brows removed professionally, it is important to visit a certified laser or saline removal technician. Don't try to do it at home, and under no circumstances should you try to remove your powder brows by force. These treatments require patience and discipline in order to be successful.
LEARN MORE ABOUT POWDER BROWS
Explore more powder brows topics:
Swipe for more powder brows topics →