Ombre Brows Gone Wrong: Why This Happens & What to Do?
Although they're rare, ombre powder brows gone wrong scenarios can happen. Here's what can go wrong with your powder brows and how to fix them.
Powder brows gained their popularity primarily on social media, and makeup lovers are especially crazy about the ombre pattern, where the head is slightly lighter than the tail of the brow. When done properly, they look really attractive and glamorous, but what to do with ombre brows gone wrong?
Today we are going to discuss all the possible ombre powder brows gone wrong scenarios and solutions to botched ombre brows.
Table of contents - Skip to a specific paragraph
What Is Considered Ombre Brows Gone Wrong?
Any situation when you are not happy with your ombre powder brows, when they look bad and when the tattooing has bad consequences is considered an ombre brows gone wrong situation. Here are some of the scenarios:
uneven ombre powder brows
brows that are too thick
eyebrows too dark or wrong color
unnatural positioning of the arches
the pigment didn't stay, so the treatment seems unsuccessful
allergic reactions
infections
permanent scarring
pigments turning blue, gray, or reddish after some time
Image source: Instagram @pureskinlounge
Why Do Ombre Brows Gone Wrong Situations Happen?
Cosmetic tattooing is poorly regulated throughout the world. To become an eyebrow tattoo artist, you are required to get certified, meaning that you need to complete a training course with an accredited academy or trainer.
Even though there are many reputable courses that provide good training with hands-on practice, there are also those that are of poor quality and if the students can't afford more training once they get certified, they keep learning on their own.
So, sometimes, only a 2-day training can provide an artist with a certificate, and that's why they lack proper knowledge and practice. They are underqualified and the clients, attracted by the low prices, risk ending up with ombre powder brows gone wrong.
Ombre Brows Gone Wrong Solutions
Here's a rundown of the most common ombre powder brows gone wrong scenarios, along with fixes.
Problem No. 1 – Ombre Powder Brows Are Too Dark
When the tattooing process is over, the eyebrows go through the healing process. They will be too dark in the first days, which can come as a brow shock and you may regret the decision to get ombre brows. But that is normal and they are supposed to fade up to 40% by the end of the healing period.
If, for some reason, they are still too dark for your taste, you can try fading them. Retinol-based skincare is pretty effective at fading cosmetic tattoos, as well as a homemade hydrogen peroxide paste.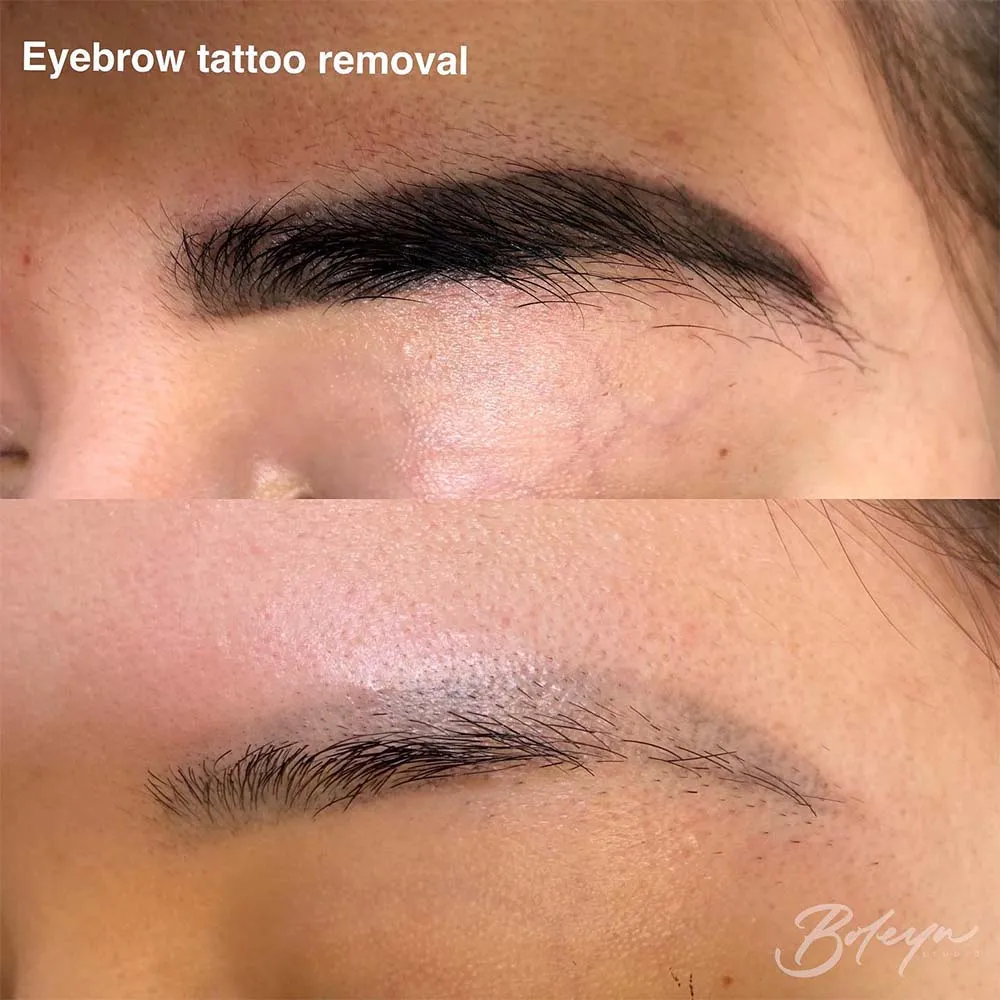 Image source: Instagram @boleynstudio
Problem No. 2 – Brows Are Uneven
If you come home and realize that one eyebrow is slightly longer than the other one, or the arches are not identical, it can start bothering you. You will probably send the pictures to your artists to ask what to do, but the only solution to that is to wait 6-8 weeks until the brows are completely healed and then you will have a touch up. It's there to correct all the imperfections and finalize the look of your eyebrows.
Problem No. 3 – Ombre Powder Completely Botched
If your powder brows are uneven, too big, and simply look so disastrous that they can't be corrected, the only solution is to get them professionally removed. Here are your options:
Emergency removal – It needs to be done in the first 48h after the treatment before the skin starts closing up. The options are saline or glycolic acid removal. The skin won't be opened again, since the wound is already fresh.
If you wait longer than 48h, you must wait till the end of the healing period to start the removal process. Saline removal is one of the most effective methods – the skin is opened, the saline solution is inserted, scabs form and fall off with pigment. Usually, 2-8 sessions are required for complete removal, depending on the state of your powder ombre brows gone wrong. You will need to wait 6-8 weeks between the removal sessions.
Glycolic acid removal is quite similar, but a different solution is used. This method also requires more than 1 session and complete removal can last for months.
Laser removal is a proven method for removing tattoos as well as permanent makeup. However, you will need to wait 6 months after the treatment to start the laser removal process. The laser breaks the pigment particles which are then absorbed by the body, but it's not effective at removing pigments of reddish, pinkish, and yellow color.


Image source: Instagram @niks.browstudio
Problem No. 4 – Powder Brows Healed Patchy
This is a very common problem and not really an ombre brows gone wrong situation. In many cases, ombre brows do heal patchy and that is why the treatment consists of 2 sessions – the touch up is there to fix all imperfections that may emerge during healing.
Problem No. 5 – Ombre Brows Disappeared After Scabbing
As said above, the eyebrows will be healing for up to 8 weeks, by going through the different stages and one of them is the scabbing stage. After the scabs fall off the brows usually appear too light, and for some people, they may even look like there's no pigment left at all.
This is completely normal and it's called the ghosting phase. The pigment should reappear but in some rare cases, it doesn't. Learn more about that in this article.
Problem No. 6 – Pigments Turned the Wrong Color
Permanent makeup is done differently than traditional tattooing and the brows are supposed to fade after some time. However, for some people ombre brows can go wrong while fading, which means they don't look nearly as attractive as they used to. They can turn into an unattractive reddish or any other shade.
This usually happens due to the poor quality of the pigments. The solution to this ombre brows gone wrong situation is getting a color correction or choosing one of the removal methods.
Image source: Instagram @inkji.co
Problem No. 7 – Eyebrows Got Infected
Yes, getting an infection after the eyebrow tattoo is possible but not that common and can be avoided if you choose the right ombre brows artist. The infection happens if the artist doesn't work in sterile conditions or if something goes wrong during the healing process, i.e. due to the wrong aftercare.
In case of infection, you should contact your artist and your dermatologist immediately. You will probably be given antibiotics.
Problem No. 8 –  Permanent Scarring
Permanent scarring can be the result of the artist's improper technique, poor aftercare, infection, or any other ombre brows gone wrong situation. This is hard to fix but can be prevented by choosing the right artist and following the aftercare instructions.
Problem No. 9 – Ombre Powder Brows Just Didn't Take
Yes, this is also one of the powder ombre brows gone wrong scenarios. Sometimes, the pigment retention is very poor, even if the artist had done everything right. In this situation, there is not much you can do – some people's skin is just not suitable for tattooing, or their system just doesn't retain pigments, although it's very rare.
Problem No. 10 – Ombre Powder Brows Faded Too Soon
Your eyebrows look perfect and the artists said that they will last for at least a year before they start fading, however, you notice that they started losing their color and shape too soon. So you must reach out for the brow pen to fill them in.
You may feel mad because you spent so much money and the brows faded after a couple of months. This can happen for different reasons:
The depth of the tattooing is not proper
The pigments are of a poor quality
The client's lifestyle – if you spend too much time in the water or sun, the brows will fade sooner
The skincare routine – some skincare ingredients speed up the process of fading
The skin type – oily skin produces more sebum which, again, speeds up the fading process
If you can't prevent premature fading, the only thing you can do is book more frequent touch ups.
How to Avoid Ombre Brows Gone Wrong?
Powder ombre eyebrows gone wrong situations can be prevented by following these tips:
Research eyebrow tattoo artists in your area carefully – check for their online reviews, their websites as well as their social media portfolio
Ask about the artist's training – make sure your artist is certified by a reputable academy and has a license for the job they are doing
Book consultations with the artists you like – after researching them, you can choose the top 3 artists you like, and book consultations when you can ask all you need to know about the treatment and the materials they use. Bear in mind that some of them charge for consultations.
Check out the salon before booking an appointment to make sure the hygiene is on point.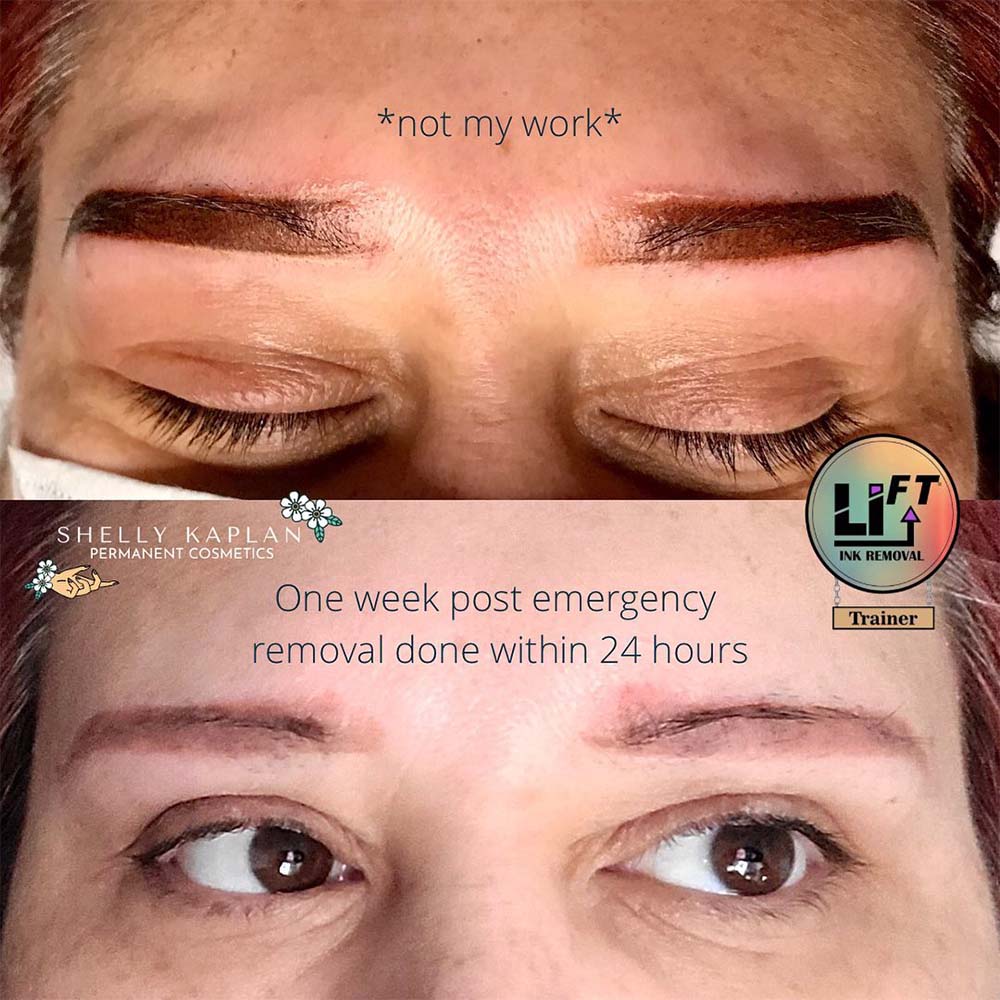 Image source: Instagram @shellyk_permanentcosmetics
Ombre Brows Gone Wrong – Main Takeaways
Ombre brows gone wrong can be a very frustrating and traumatic experience. In order to prevent it, research the artist carefully, follow the aftercare tips and adjust your skincare routine to avoid premature fading.
LEARN MORE ABOUT POWDER BROWS
Explore more powder brows topics:
Swipe for more powder brows topics →