⏱️
6
min read
We all love seeing those bright, rich colors of freshly done lip blush, especially if it's a dramatic before & after transformation. But we have to remind ourselves that lip blush doesn't take its final form until healing is done.
So neither immediate results, nor the color of the liquid in a pigment bottle, is telling of what the color will look like on the client. In fact, there's no way to know for sure how the color will turn out, but you can make educated guesses.
How? By learning about color theory on the one hand, and seeking pictures of healed results on the other!
To help you choose a pigment, we've assembled a gallery of Perma Blend lips healed. We've dug up examples of the most popular shades after healing – scroll and feast your eyes on the amazing retention!
Why Is It Important to Assess Pigments Healed?
Once pigments are implemented into the skin of the lips, the tissue starts going through the recovery process – the punctures start closing up, as they do they ooze lymph, the skin peels, and as all this is happening, some of the pigment is extracted.
So by the end of the healing process, which lasts about 6 weeks, the color fades as much as 50%.
That's why artists always go a few shades darker than the color the client wants upon initial application.
On top of fading, artists have to know that the pigment interacts with the pigments naturally present in lip tissue. This is especially important when doing dark lip neutralizations.
With all that in mind, they have to be super knowledgeable about color theory to be able to predict what the pigment will heal into. But seeing real-life examples from other artists definitely helps in getting to know your pigments.
But healed pics of quality work can be hard to find. It can take hours of scrolling through hashtags, and still coming up short! So we've done the work for you. Enjoy our gallery of Perma Blend lips healed!
Most Popular Shades of Perma Blend Lips Healed
Perma Blends pigments are known for their good retention, regardless of collection. So while some fading is inevitable during lip blush healing, Perma Blend lips pigments still give saturated, even and true-to-color healed results.
But we'll show, not tell. Here's a gallery of healed results done with the most popular, most beloved Perma Blend lip pigments.
Perma Blend Mauve Healed
Mauve is a rusty red, high-opacity shade. It looks kind of bricky-red in the bottle, but it changes a lot once in the skin of the lips. It doesn't heal very warm, but rather in a neutral pink tone. It's a high-opacity pigment, and it gives nice, even coverage.
Swipe to see more pics: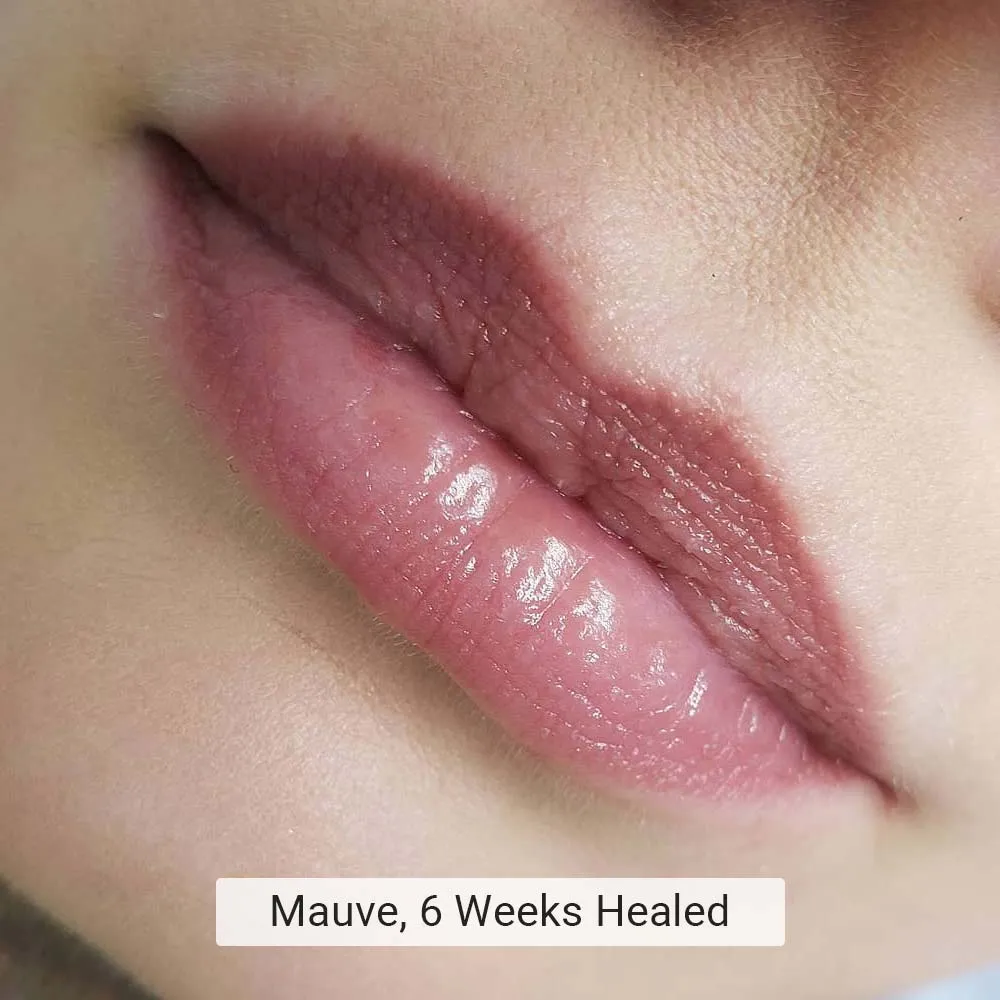 Buy Perma Blend Mauve on PMUHub
Perma Blend Bazooka Healed
Bazooka is a very popular shade, because it works well with dark lip neutralization. It's the most vibrant, striking pink in the collection, and in the bottle, it looks almost neon! But it heals into a much more subdued shade.
Depending on the tone of the lips, Perma Blend Bazooka healed is either a darker, dusty, cooler pink, or a lighter, almost pastel pink. Or any shade in between! But it's still a true pink, it doesn't verge on reddish like some other shades do.

Image source: Instagram @sculptedstudios
Buy Perma Blend Bazooka on PMUHub
Perma Blend Sweet Melissa Healed
Perma Blend calls this shade an earthy pink. In the bottle, it's a vibrant, bright pink with some reddish tones. But Perma Blend Sweet Melissa healed is a very natural rosy tone that looks just like naturally rosy lips.
It's one of the most versatile shades, which is probably why it's such a best-seller. Of course, every client will get a unique shade, but the color is fairly consistent.
Swipe to see more pics: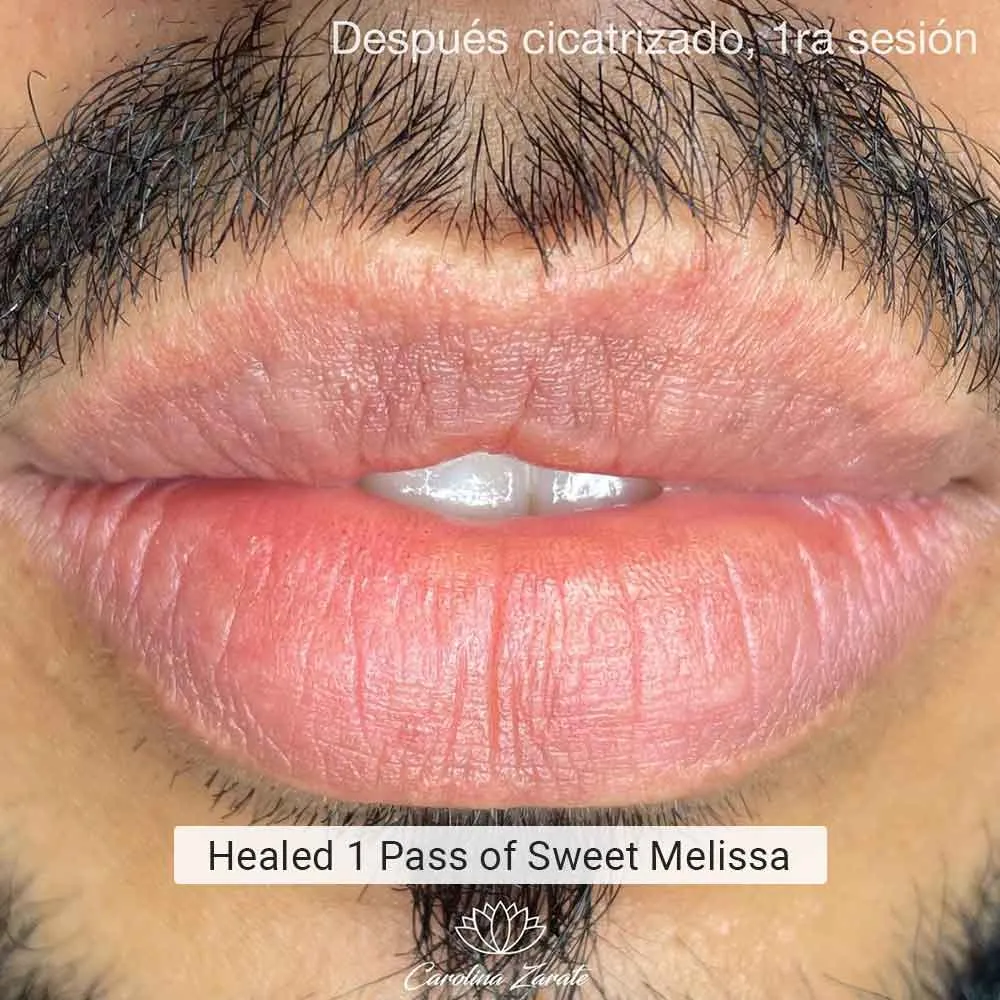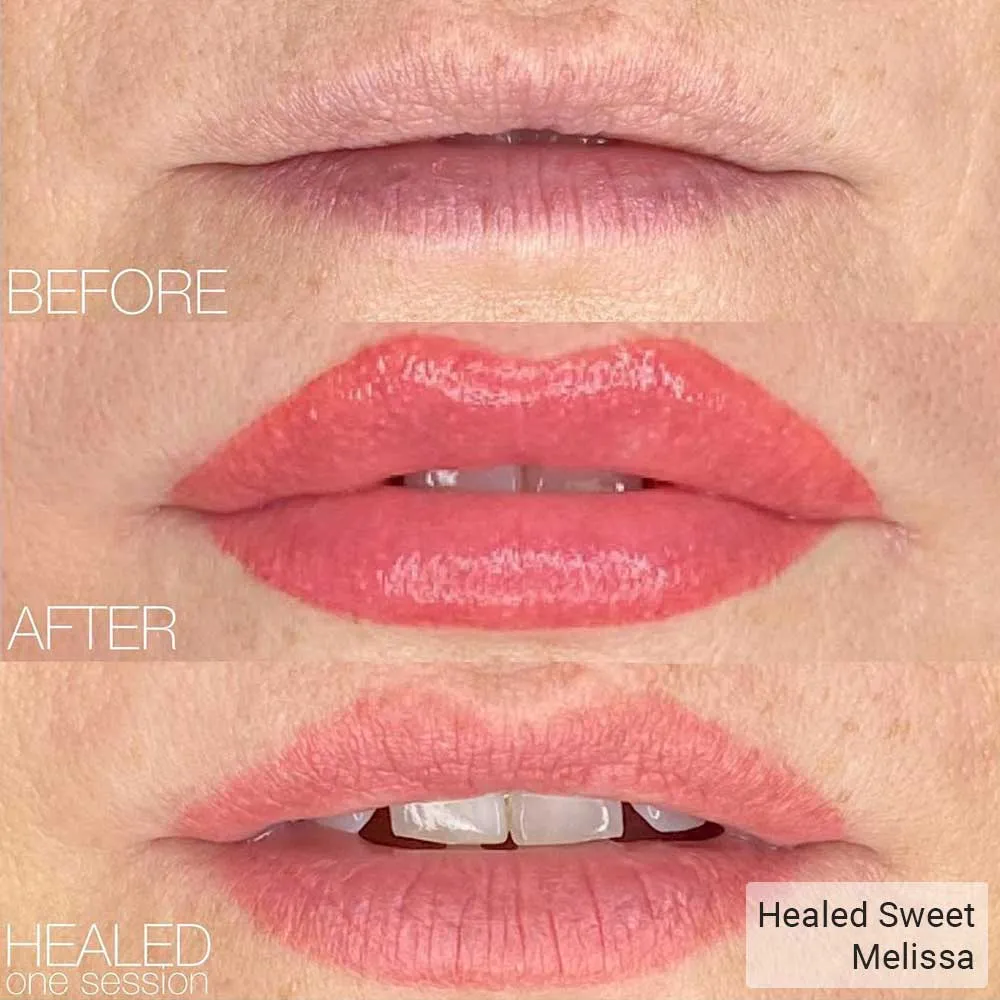 Buy Perma Sweet Melissa on PMUHub
Perma Blend Tres Pink Healed
Another earthy pink, but slightly lighter. Like Sweet Melissa, Perma Blend Tres Pink healed is another universal rosy tone, very natural-looking. Being a lighter shade, it's a very popular pigment for mixing, but it works great on its own, too.
Tres Pink works with virtually any skin tone, and clients love it. It's definitely something you don't want to run out of.

Image source: Instagram @victoriawynn_inked
Buy Perma Blend Tres Pink on PMUHub
Pigment Mixes of Perma Blend Lips Healed
One thing artists love doing with Perma Blend pigments for lips is mixing them together for a custom shade.
They do this either to modify a pigment so that it would work with the client's undertone, or to get a completely new shade to fulfill their wishes.
They often start with one of the go-to pigments mentioned above, and add a modifying shade to make the most out of both.
When mixing, the client's natural lip color has to be the starting point. You can't just make a mix that looks nice in your pigment cup – you have to think ahead and try to predict what it'll look like healed on those specific lips.
So, every pigment mix has to be custom-made. Still, you can get inspired by other artists and their work!
So here's a gallery with some of the most attractive healed Perma Blend lip pigment mixes.
Swipe to see more pics: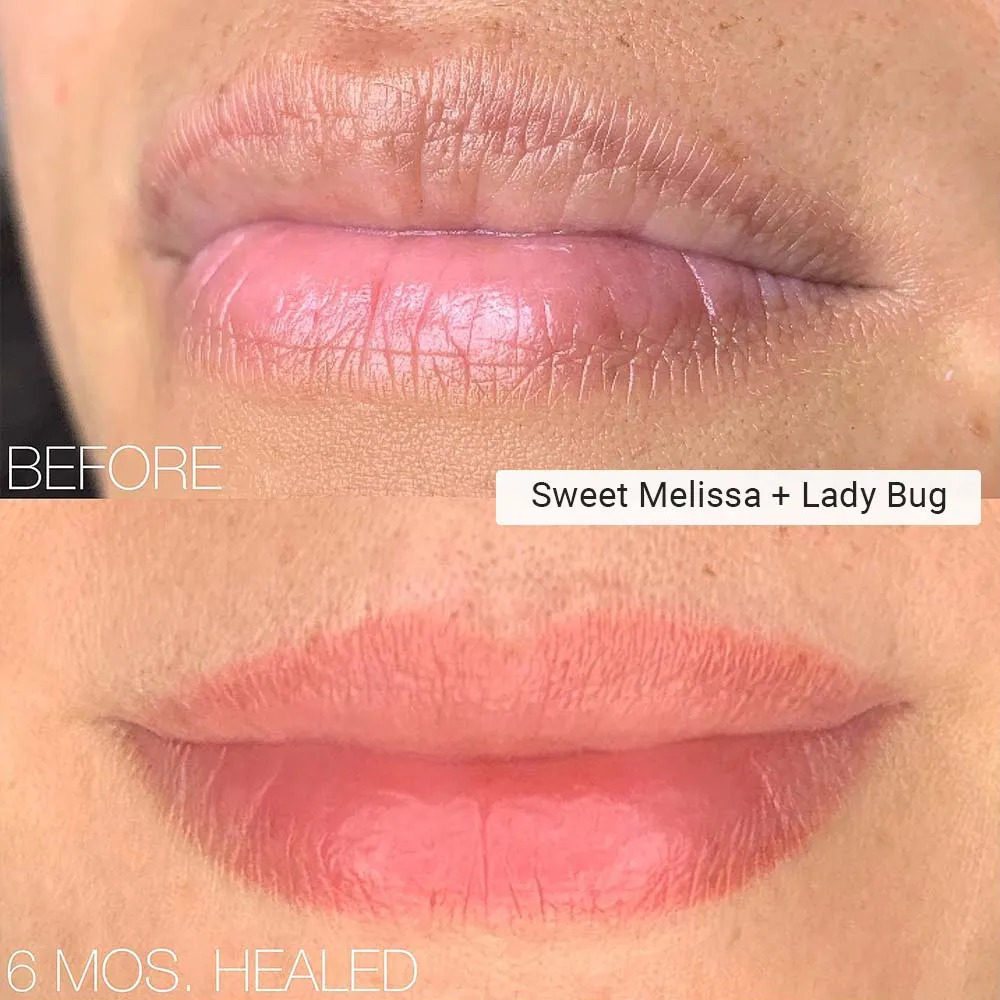 Dear Artists…
If you have photos of your healed lip blush work using one of the pigments mentioned above, send them in! We're still looking for high-quality photos of healed Perma Blend lips!
Send an email to [email protected] with the subject title Perma Blend Lips Healed – let's expand the gallery together!
Final Note
To wrap things up, we have to remind you that seeing healed results is great for getting an idea of what certain pigments heal into, but you can't guarantee the color will turn out a certain way on every client.
Every client is unique and their lips have unique properties. You can't know for sure what their lip blush will heal into until it does! Luckily, that's when you can make further modifications and achieve the best possible results.
The good thing about Perma Blend lips pigments is that they stay as true to color as possible. Get yours on PMUHub Shop!
By shopping in PMUHub Shop, you're supporting our effort to keep pushing out useful content that will inform, educate, and spread knowledge about the PMU industry. And you're making us really really happy!