⏱️
4
min read
A popular pattern called ombre became popular in the beauty industry a couple of years ago and now you can get ombre hair, ombre nails, and even ombre brows.
The ombre eyebrow tattoo became a huge hit on Instagram and it looks great, especially on people who wear makeup daily. Today we are going to explain what exactly they are, how they are done, and give you a run-down of ombre eyebrow tattoo variations to get you inspired.
Here's all the info on the ombre eyebrow tattoo.
What is an Ombre Eyebrow Tattoo?
Ombre brows are a modern version of an eyebrow tattoo, done with pigments that gradually fade, so you won't be stuck with it forever. They're done with a machine that creates tiny pinpoint dots thus creating a soft, pixelated look. To achieve an ombre effect, the eyebrows are lighter in the head and gradually become darker towards the tail of the brow.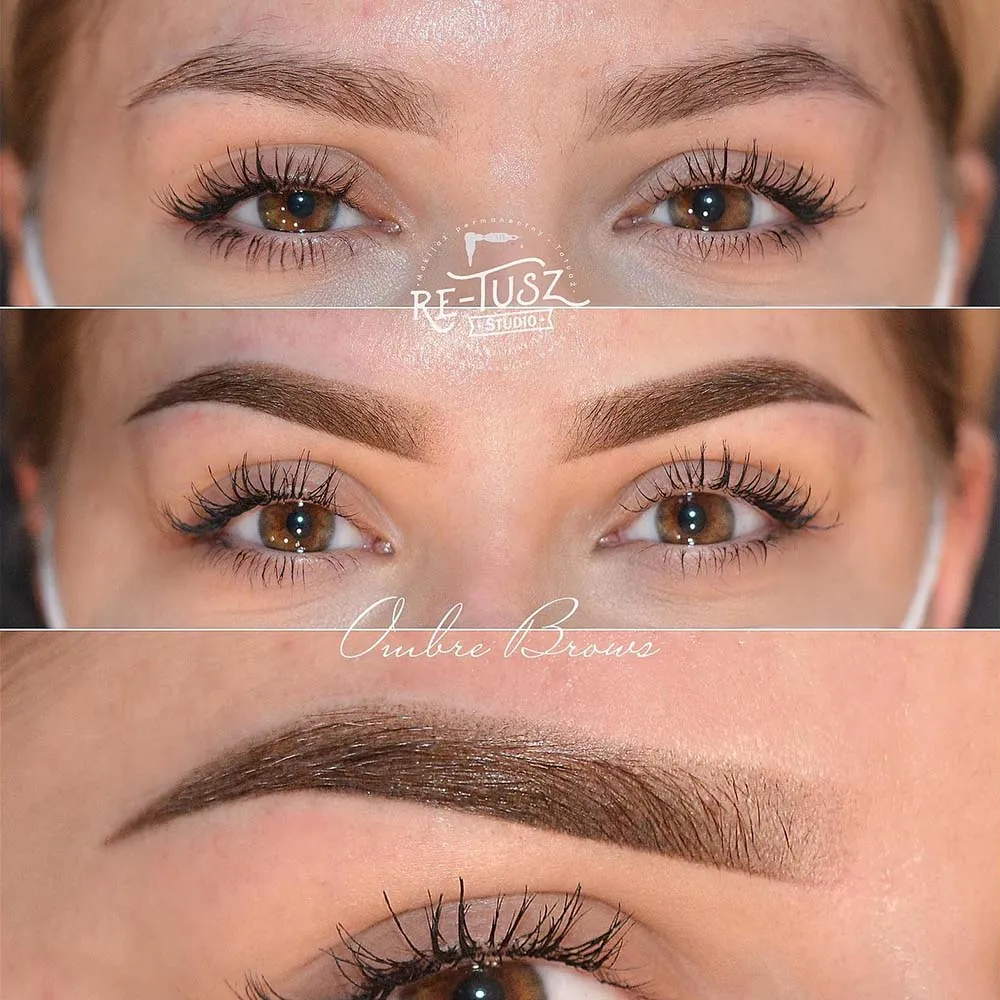 Image source: Instagram @re_tusz_studio
What Is the Difference Between Ombre Eyebrow Tattoo and Powder Brows?
The only difference between powder and ombre brows is that ombre brows have a lighter head and darker tail, while powder brows' color is of the (more or less) same intensity in every part of the eyebrow. Basically, an ombre eyebrow tattoo is actually a powder brows tattoo, but with a pattern.
What Is the Difference Between Ombre Eyebrow Tattoo and Microblading?
Microblading is done with a hand-held tool, a micro blade, that creates incisions and fills them with pigment. The result is hair stroke brows that look really natural. Ombre eyebrow tattoo does not have visible hair strokes – they look like you filled your brows with a pencil.
Who Is Ombre Eyebrow Tattoo Good For?
An ombre eyebrow tattoo is perfect for people who prefer a makeup look, and who usually fill their brows with a pencil or eyebrow powder. They will get smudge-proof, water-resistant brows that always look on point.
They are also great for covering up old microblading or other brow tattoos.
If you are not sure whether to commit to the tattoo, you can try a semi-permanent solution. Henna brows will give a similar effect and last for about 6 weeks. If you like the look and you want to rock it for a longer period, an ombre eyebrow tattoo is for you.
What Are Ombre Eyebrow Tattoo Spin-Offs?
Some people like how ombre eyebrow tattoo combines with hair strokes. The perfect treatment for them is so-called combre brows. Combre brows are a combination of microblading or nanoblading (hairstroke brows done with a machine) and ombre effect done with powder brows machine. The head of the brows is covered in hair strokes and the rest is shaded.
You can learn all about combre brows in this article.
Image source: Instagram @phibrows_juancordero
What to Expect After the Ombre Eyebrow Tattoo Treatment?
Since ombre brows are a form of a cosmetic tattoo, that means that the skin is opened during the treatment for the pigment to be inserted. It will go through the healing process that consists of several stages. It's useful to get well informed about the healing process so that you don't get surprised because some of the stages can be quite uncomfortable.
Stage 1 – dark brows – on the second and the third day of the treatment, the brows will look too dark. Don't worry, the pigment will lose intensity up to 40% by the end of the healing period.
Stage 2 – scabbing. As the brows are healing, the scabs form and they start peeling. Don't pick the scabs – let the brows heal on their own. Otherwise, you risk damaging the tattoo and ending up with permanent scarring
Stage 3 – ghosting phase. The scabbing stage ends and once the scabs peel off, the brows may look too light. For some people, it may seem like there's no pigment left at all! In most cases, this is normal and the pigment comes back, but in rare cases it doesn't.
Stage 4 – The end of the healing period. The brows are getting their final shape and after they are completely healed, it's time for a touch up.
You will need to follow aftercare instructions while the brows are healing, to ensure great retention and perfectly healed brows.
Learn all about that here.
Image source: Instagram @butterbrowdc
Why Do I Need an Ombre Eyebrow Tattoo Touch Up?
Each contemporary brow tattoo is a 2-step process. The touch up must be done to correct all that faded or was left patchy after the healing process. Some more pigment is added, if necessary. It's only when the brows heal after the touch up that you will see the true color of your eyebrows.
How Long Does Ombre Eyebrow Tattoo Last?
It will last up to 2 years, more or less. The longevity depends on the skin type and their lifestyle. Learn more here.
Can Ombre Eyebrow Tattoo Be Removed?
Yes, but it can be a long and costly process. That is why you need to carefully think this decision through and choose a certified, licensed and experienced artist. If for some reason you want to remove an old ombre eyebrow tattoo, think about laser, saline, or glycolic acid removal.
To Sum Up
Ombre eyebrow tattoo is perfect for everyone who likes a bit more dramatic, makeup look, but it doesn't look fake – the pencil-filled brow effect, powdery, yet with a lighter front of the brow looks so trendy!
Cover image source: Freepik