⏱️
5
min read
Natural look is something that has been trending for a while and too much makeup and exaggerated contouring is behind us. The accent is on soft, nurtured skin, neat hair and slightly enhanced face features, usually with permanent makeup.
But long, thick lashes have always been popular and people are looking for ways to enhance them, without making them look too fake for everyday routine.
Here's how to get natural looking eyelash extensions.
Which Style Is the Best for Natural-Looking Eyelash Extensions?
First they came in a 1:1 ratio, and then they became bigger and thicker, with a few thin extensions attached to one natural lash. Here are the most common eyelash extensions styles:
Since wispy, hybrid, and volume lashes tend to be a bit dramatic, the most natural-looking eyelash extensions are achieved with classic lashes.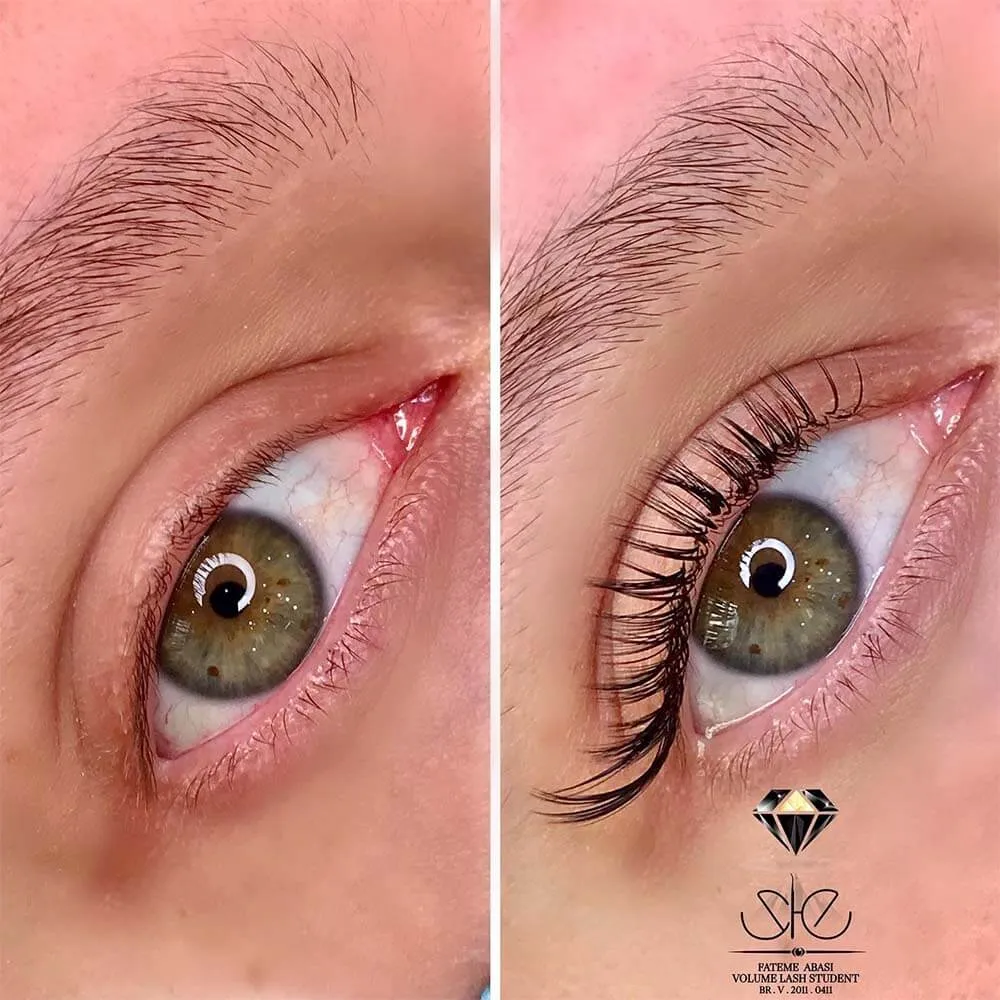 Image source: Instagram @shelash_atenaabbasi
What's Important to Know When Making Natural-Looking Eyelash Extensions?
If you are a lash extensions technician, there are some things you need to take into consideration when your client asks for natural-looking eyelash extensions.
The first thing you will do is ask for the client's preferences. The best option is to get to see the photos of what kind of a look they tend to achieve. Encourage them to google the pictures of natural-looking eyelash extensions they like so you can get the hint of what they want.
The next thing you'll do is assess the client's natural lashes. See how long they are and how curly. When choosing the extensions you'll apply, you shouldn't exaggerate and go with extensions that are much longer or curlier than their natural.
Here are the things you should decide on and discuss with your client when you choose the right extensions:
Materials
Eyelash extensions can be made of mink fur, then faux mink and silk, as well as synthetics. The eyelash technicians usually recommend faux mink or silk lashes for the most natural looking results. They are very thin and don't look plasticky.
Mink eyelash extensions truly look the most natural but they tend to lose their shape quickly, they are more high-maintenance and more expensive.
Curl
Eyelash extensions come in different lengths and curl, and an experienced lash technician knows how to choose the right curl to complement the shape of your eyes and make them look more open. The most natural-looking eyelash extensions curls are B and C.
Ds are usually too dramatic for a natural effect.
Length
There are 2 reasons why lash extensions shouldn't be too long:
The first one is that, if they are longer than the client's natural lashes, they will not look natural.
The second reason is that they may be too heavy for the natural lashes and may feel uncomfortable for the client.
Therefore, the extensions shouldn't be more than 2-3 mm longer than clients' natural lashes.
So, when choosing the length of lash extensions, don't go over 15 mm if you want to achieve a natural-looking effect. In fact, the most often recommended length is 12 mm.
Of course, not all the extensions of the set should be of the same length. Natural lashes are shorter in the inner and the outer corner of the eye, so choose extensions of 5-7 mm for this.
Also, natural lashes in the middle of the eye are not always of equal length, so you can also mix the extensions of different lengths to create a natural effect.
Thickness
In order to achieve a natural look, the extensions shouldn't be much thicker than the client's natural lashes. So, try to assess the diameter of the client's natural lashes and go for only slightly thicker. Again, the most commonly chosen thickness for a natural-looking eyelash extensions is about .15 mm
Color
Last but not least – the color. Eyelash extensions are usually in black, but brown eyelash extensions may be more suitable for blondes or people with fair skin tone.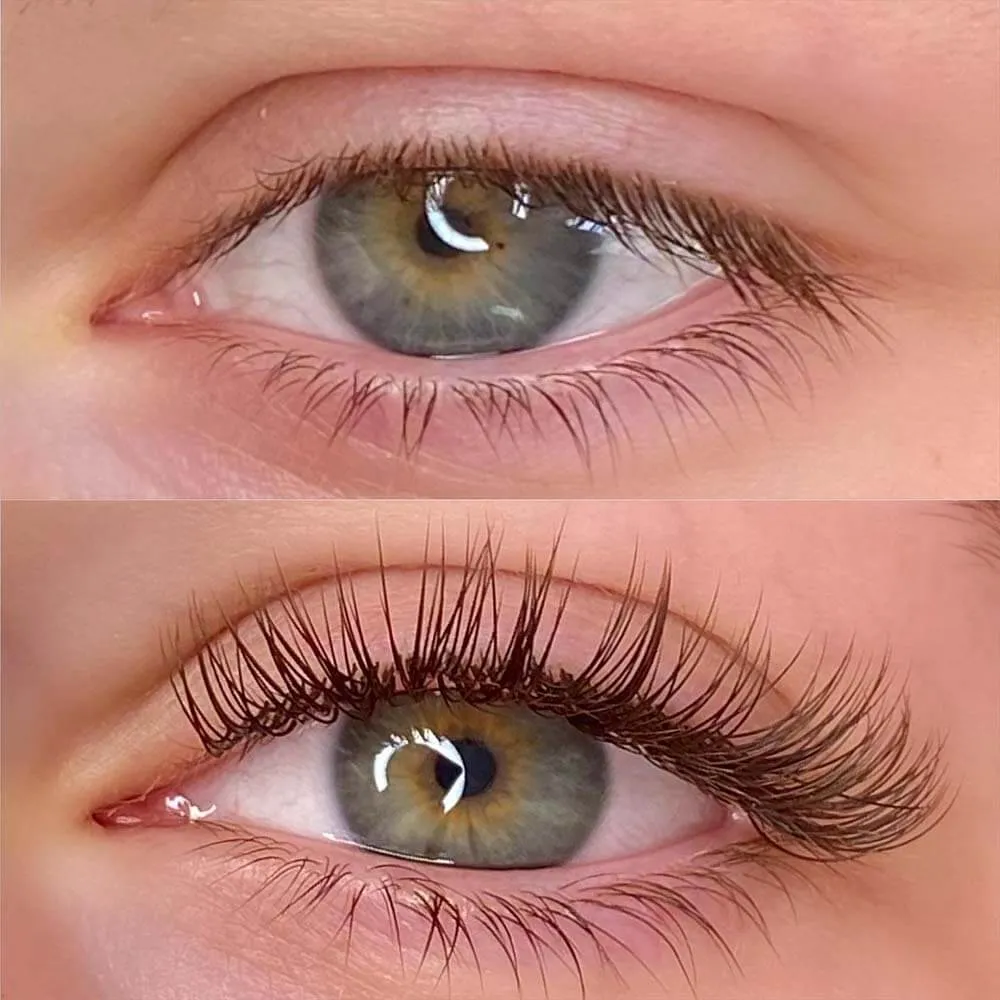 Image source: Instagram @xlashesbyleahx
Can Volume Eyelash Extensions Look Natural?
Of course.
In that case, the fans should be smaller – 3-5 extensions per one natural lash. Also, they shouldn't be too long. However, hybrid lash extensions will look much more natural than volumes, since they combine the fans and individual lashes.
How Long Do Eyelash Extensions Last?
Eyelash extensions are attached to natural lashes, which have a growth cycle of up to 8 weeks.
Since not all of them are at the same moment of the growth cycle, some of them will fall off earlier, some of them later. So, you can expect to lose around half of your extensions a month after the treatment.
Image source: Instagram @foxandvamp
How to Maintain Natural-Looking Eyelash Extensions?
So, as the lashes fall off, they will need an infill if you want them to last longer. The lash fill should be done when you still have at least 40% of the extensions remaining. So, let's say 3-4 weeks after the full set application is the right time for the infill.
Besides that, there are some maintenance tips to prolong the effect of your lash extensions and to avoid premature loss of the extensions:
Don't wash your lash extensions 24 h after the treatment.
Avoid long showers and steam for 24 h after the treatment.
Don't use oil-based products, they will break down the adhesive.
Don't use the lash curler.
Don't touch your lashes too often.
No rubbing or pulling the extensions.
Sleep on your back.
Don't use mascara during lash extensions aftercare.
Brush your lashes regularly.
Avoid oil-based products.
Wash your eyelash extensions regularly.
Learn how to wash your eyelash extensions properly in this article.
To Sum Up
Eyelash extensions are a perfect way to make your eyes more open and more feminine. Make sure your lash tech understands what you are looking for. Carefully choose a certified technician and check their online reviews and Instagram page to get insight into their previous work.
Cover image source: Freepik