⏱️
4
min read
Lip blushing is a semi-permanent tattooing method that enhances the natural shape and color of your lips. Lip blushing can be done in several different styles like aquarelle, ombre, full lip coloring, etc. But if you desire natural lip blushing – which one should you choose?
We know all these terms can become confusing, so we created this short guide to help you decide exactly what style gives you the look you want. Let's get into it.
What Is Lip Blushing?
Lip blushing (otherwise known as lip tattoo) is a permanent makeup procedure that tints your lips using pigments. Enhancing the color of your lips, lip blushing helps your lips look more defined and appear fuller.
Natural lip blushing gives the results of healthy flushed lips without having to struggle with constantly reapplying your fav lip product. Soft color will cover uneven pigmentation or the lack of it, without changing the shape or texture of your lips.
Usually, it lasts 2 to 3 years, but for some people, it can last up to 5. The colors will gradually fade until your lips return to their natural hue. If you wish to keep the results you might need to go in for a retouch.
Check out our comprehensive guide through lip tattoos – it covers the whole process thoroughly including aftercare and the cost of this procedure!
Image source: Instagram @stella_ink_la
How Is It Done?
All lip techniques are done using the same method – the only difference is in the intensity of the colors and its placement.
A lip tattoo is done by placing the pigments into the skin of the lips using a pen-shaped electric PMU machine. A thin needle pierces the skin repeatedly and deposits the pigment inside.
Color Theory for Natural Lip Blushing
To achieve natural lip blushing results you need to use the right color that suits your overall complexion and is similar to your original lip color.
For this, you should consult with the professional that will be doing your lip tattoo. They are familiar with color theory and can analyze what it is you need to get the results you want.
It's important to note that right after your treatment the color will be much darker than you anticipated. Don't worry – it's not messed up! During the healing process, the color fades 40-60% and the final result will be much lighter than what you get right after the procedure.
Image source: Instagram @stella_ink_la
Which Style Is the Best for Getting the Natural Lip Blushing Results?
Natural lip blushing results can be achieved in many different ways. Depending on your desired results, there is a wide variety of methods used to achieve them. Let's explore all the subtle lip blushing techniques.
Full Lip Tint Coloring
Even though this style is used to recreate the look of an applied lipstick, it doesn't necessarily have to look like you are wearing one. With many colors available you can choose the one closest to your natural lip color and just enhance what you already have.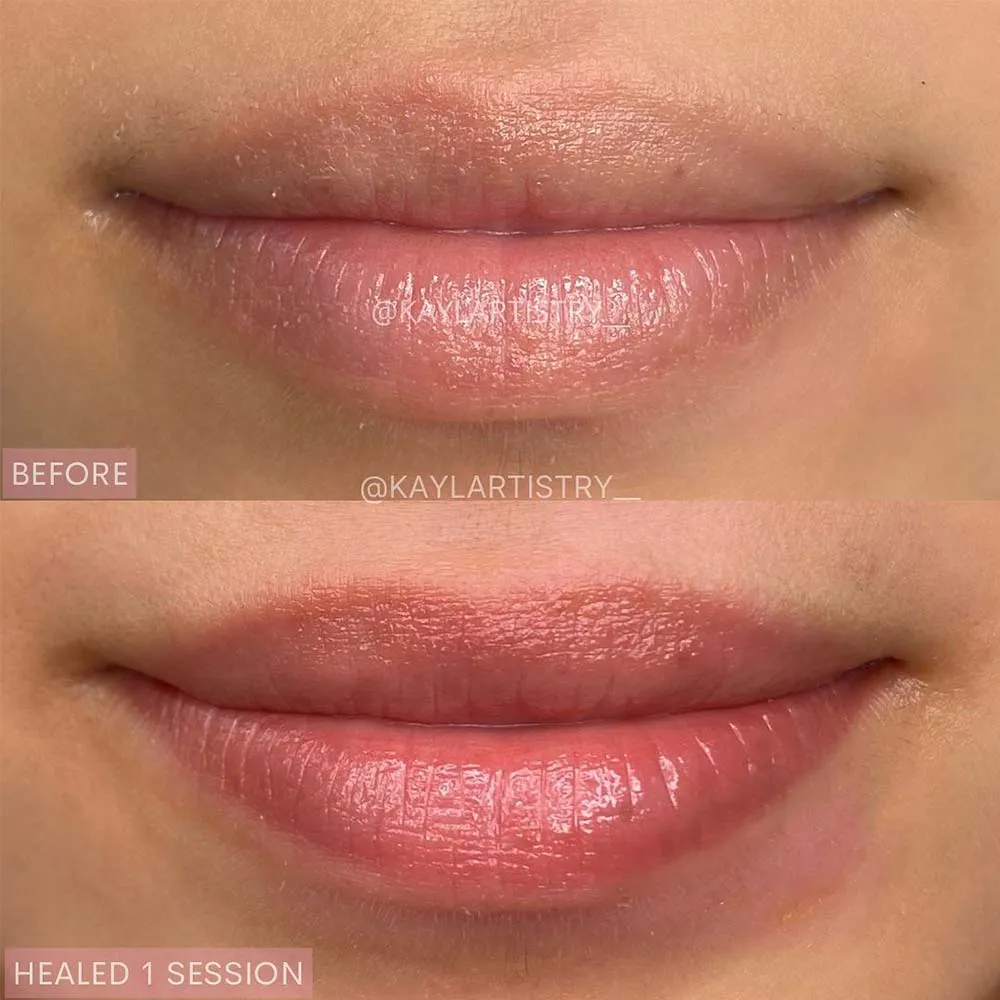 Image source: Instagram @kaylartistry__
Ombre Lip Blush
Perhaps not the most natural lip blushing technique, but if done right it can look seamless. This style is done by creating an ombre gradient from the edge of the lips, where the pigment is the most opaque, toward the center, where it is the lightest. Transition is soft and nicely blended and helps create the illusion of fuller lips – even with natural colors!
Image source: Instagram @marastudio_clt
Aquarelle
Aquarelle might be the most natural lip blushing technique. It doesn't define the edges as much as other techniques and gives off a soft airbrushed effect.
A shaded, blended edge is less saturated than the center of the lips (sort of like a reversed ombre). The look of the aquarelle lip tattoo is very subtle and this makes it seem like you aren't wearing any makeup at all… like your lips just are that color.
Image source: Instagram @luxury_wonder_beauty
Dark Lip Neutralization
Dark lip neutralization requires more sessions than regular lip blushing. Because the tone of the lips interferes with the pigment applied during the lip blushing procedure, the first step is to neutralize cool tones so warm tones of a lip blush can show through. That is achieved by canceling out the already existing lip color and then adding in the desired lip blush shade.
Obviously, it's important to go to a professional for all of the above-mentioned methods, but for lip neutralization especially. This technique requires good knowledge of color theory.
Image source: Instagram @browlicious_nyc
To Sum Up
For those that hate the feeling of lipsticks and lip glosses but don't want to have bare lips, a lip tattoo is a great solution. Natural lip blushing can be achieved with all the above-mentioned styles – it all depends on what results you are seeking.
Cover image source: Freepik