Microblading Blonde Eyebrows: Is It Worth It?
Find out all about microblading for blondes and what shades are available.
Last updated in January 2022.
Microblading has been extremely popular for a while now and it seems everyone is getting some brow work done! However, blonde people are more reluctant to go under the microblade, fearing they'd end up with unnaturally dark, very obviously touched-up arches.
PMUHub is here to shatter the misconception and assure all blondies that microblading for blondes is 100% possible!
Table of contents - Skip to a specific paragraph
Is Microblading Blonde Eyebrows Possible?
Yes, microblading for blondes is definitely possible, as microblading can be adapted to any brow color, shape and style.
The only thing that differentiates microblading blonde eyebrows from any other style of microblading is that the microblading artist has to be more careful when picking the shade.
What is Microblading?
Microblading is a permanent makeup procedure for eyebrows
that gives the look of fluffy, realistic yet enhanced brows. The technician uses a multi-bladed tool to implement
pigments of natural origins
into the skin between the natural hairs, modifying and beautifying the arch for up to 2 years.
Why Is Microblading for Blondes a Great Idea?
As all naturally blonde people know, with golden hair come light, almost indistinguishable eyebrows.
Blonde people spend a lot of time every morning filling in their brows with various makeup products, trying to make their eyebrows look perfectly shaped, to frame their face and look even.
Finding the right shade is just as problematic. Luckily, the solution to the hardships of brow makeup is microblading for blondes.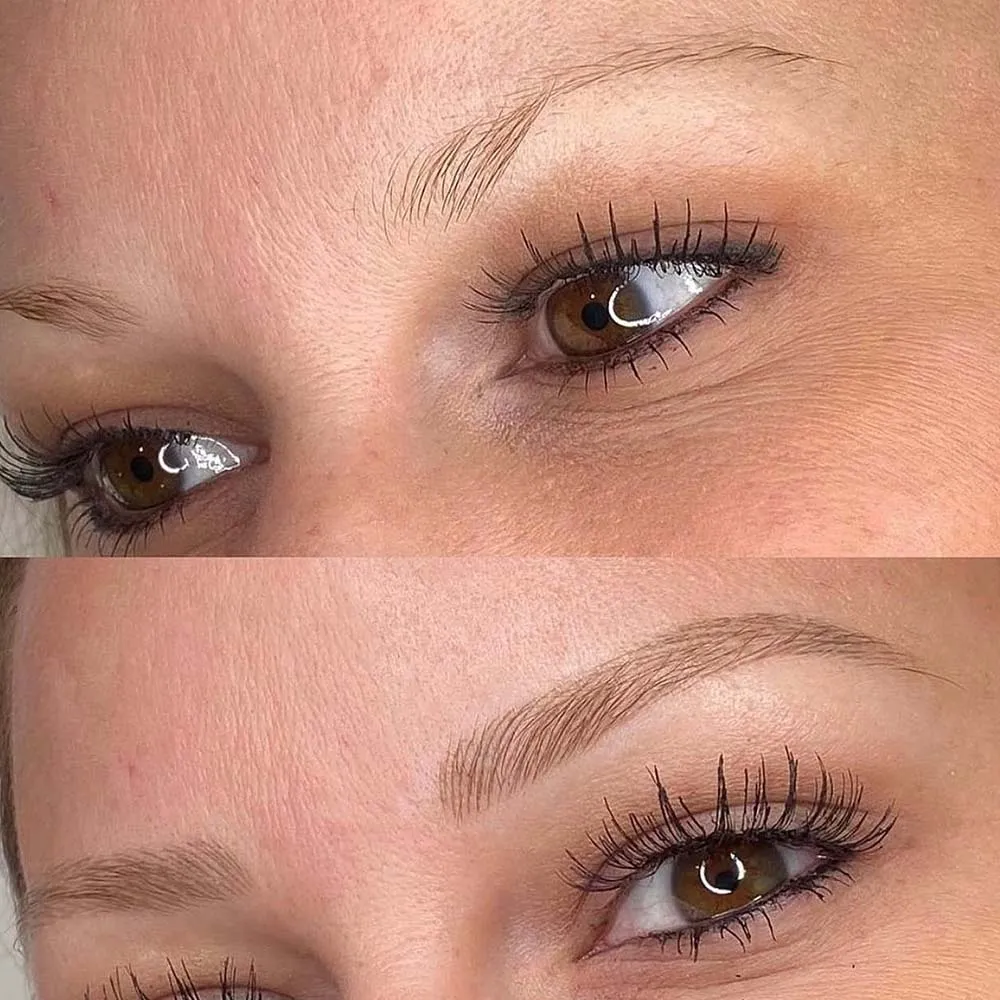 Image source: Instagram @thebarasourcils
What Is Blonde Microblading Like?
The microblading procedure is the same for everyone, so microblading blonde eyebrows is just like any other microblading treatment.
The first and crucial step is the consultation, the chance to tell the artist what you want and for the artist to give recommendations. The microblading artist then starts measuring and outlining, and do a pre-draw to show you what the shape of your brows will look like. 
Once you're satisfied with the shape, a numbing cream is applied. When it kicks in, the artist starts drawing the strokes by dragging the microblading tool through the epidermis, depositing pigment just under the basal membrane between epidermis and the dermis.
This lasts 2-3 hours, and after a few weeks of healing and aftercare, the fabulous blonde microblading is revealed!
Image source: Instagram @microbladingbylacey
What Is Blonde Microblading Healing Process Like?
After being microbladed, eyebrows need to go through the healing process. Since microblading is a form of a tattoo and the skin is being broken, the area is an open wound and during the next 4-6 weeks it will go through the following healing stages:
dark stage – eyebrows will appear too dark after the treatment, usually on the 2nd day
scabbing stage – starts around day 3-5. Scabs are form and they are peeling until day 10-14.
ghosting stage – when the scabs are gone, the eyebrows look too light. 
pigment reappears – the color is coming back and the eyebrows are taking their final shape. They may heal lighter than expected or patchy. More pigment will be added at the touch up. 
The first touch up is mandatory and it is done 6-8 weeks after the initial treatment, when the eyebrows are completely healed. The artist will see how your brows have healed and make corrections where needed. 
Check out our Microblading Healing Guide for a more detailed overview.
What Is Blonde Microblading Aftercare Like?
Aftercare is the same for everyone and blonde microblading healing process is no different than that of any other brow PMU procedure.
The tech will give you specific instructions on how to clean the area for a few days and provide you with special aftercare products. You will also be advised to avoid certain activities that include excessive sweating and getting your eyebrows wet. 
Check out our Microblading Aftercare Guide for a more detailed overview.
Image source: Instagram @alice_msp_microblading
What Colors Are Available for Blonde Microblading?
An important part of the consultation is color matching. Blonde clients usually want the final result to be slightly darker than their natural hair.
There is a wide range of pigment shades to choose from when microblading blonde eyebrows, which can be further mixed into a customized shade. So even microblading strawberry blonde eyebrows is possible!
The most important choice is between a slightly warmer or cooler tone. You can go for warm light browns or cool ashy tones. The artists spend quite a bit of time studying pigments and color theory during their training, so they are more than qualified to advise you on this matter.
It's important to note that every pigment looks different once injected, and the artist should be able to predict the final results.
They can also predict what shade will blend into the natural hairs so the strokes don't stick out, in which case you might have to get the hairs tinted.
Extra Note
It takes some time for the pigments to settle into the skin, so the results of microblading often appear much darker in the few days after the procedure.
This can be particularly worrisome for light-haired people, but don't panic, the pigment fades into the color you originally chose within a few days.
Image source: Instagram @freya_vera
Alternative PMU Procedures for Blonde Eyebrows
Microblading is the pioneer PMU brow treatment, but several spin-offs have emerged over the years that give slightly different results.
Powder brows include a soft shadow, while ombre powder brows give a more dramatic look. All procedures can be done in any pigment shade, so they're available for blondes, too!
Still on the fence about PMU? Consider a brow lamination + tinting! It is a great way to try out the enhanced brows look without the commitment.
Microblading Blonde Eyebrows – Main Takeaways
Microblading blonde eyebrows is a solution to a number of practical issues like makeup running, smudging and extra expenses, but it also boosts confidence! An enhanced arch frames the face and highlights its beauty!
If you are still unsure whether you should go for blonde microblading, take a look at some amazing transformations in before and after images gallery and get inspired.
LEARN MORE ABOUT MICROBLADING
Explore more microblading topics:
Swipe for more microblading topics →