⏱️
4
min read
Microblading is a choice of many people who want to add volume and enhance the shape of their eyebrows. However, it can also be a great solution for people who don't have any brow hair at all, such as those who suffer from alopecia or cancer patients.
Let's find out more about microblading with no eyebrows.
Is Microblading with No Eyebrows Possible?
Definitely! Microblading can be used to reconstruct the entire brows! The only thing you should pay attention to is to find an experienced microblading artist who knows how to do microblading with no eyebrows properly.
It is not as easy as for clients who have eyebrows, especially those who just need small enhancement. Here, the whole shape needs to be reconstructed and it needs to be made to look as natural as possible. Each hair stroke is created from scratch with a manual tool dipped in pigment. Once healed, the hair strokes resemble natural hairs.
Image source: Instagram @sirenella_pagano
Does It Look Natural?
If done properly, yes.
Microblading is a much better option than powder brows because hair strokes look much more natural. Powder brows would give a makeup look and can look a bit artificial, especially with people who also lost their eyelashes.
An experienced artist will have to be skillful at mapping, to give your eyebrows a perfect shape that will compliment your face and look as natural as possible. They usually map out the brows and do a pre-draw which you will see before they start microblading, and say if you want it adjusted or modified.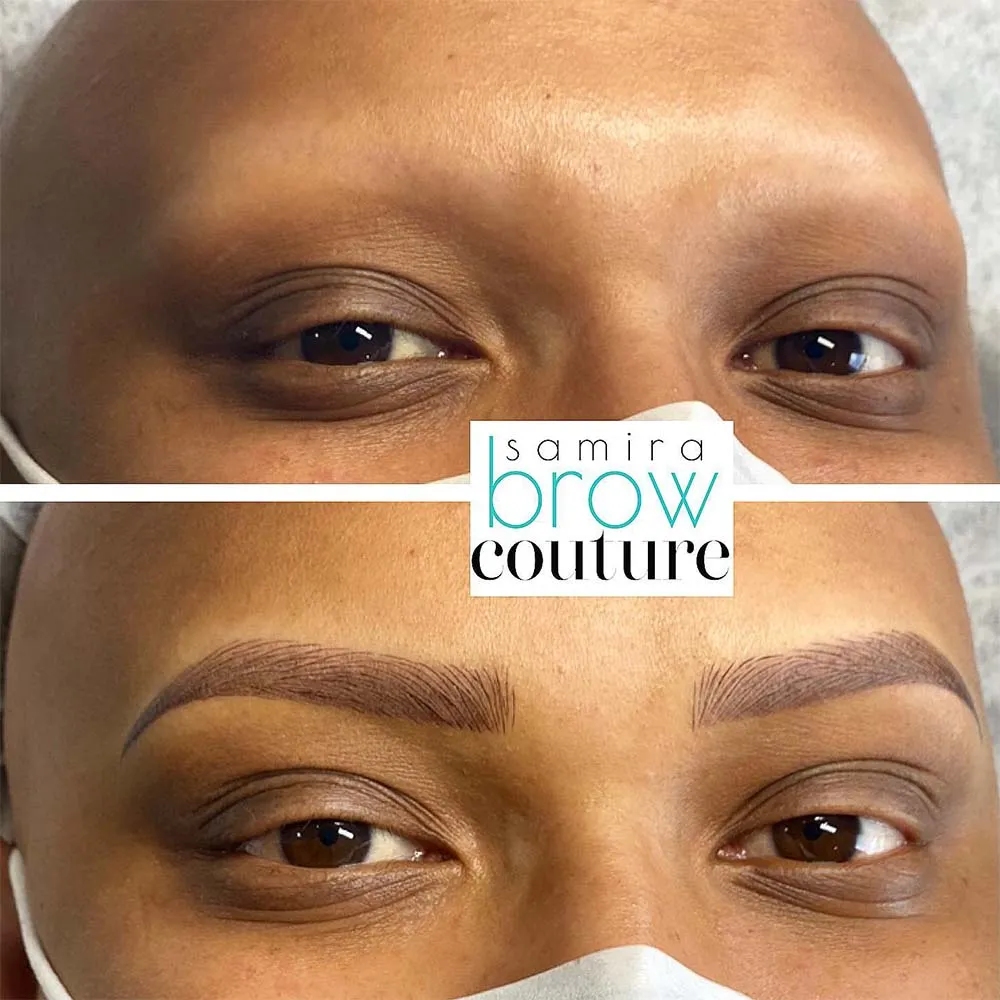 Image source: Instagram @samirabrowcouture
Are Nano Brows a Better Solution than Microblading for No Eyebrows?
Probably yes.
Nano brows is basically hair strokes done with a PMU machine instead of a manual blade. Microblading with the machine, i.e. nano brows, creates thinner, more delicate hair strokes and it's more suitable for oily skin. Also, it tends to last longer.
Image source: Instagram @browsbyjulie_kim
What About Cancer Patients?
Cancer patients who lost their brow hair are becoming huge fans of microblading and other brow tattoo techniques. The most common question is when is the right time for microblading, chemotherapy-wise.
Some people prefer getting microblading before the chemotherapy starts, so they can deal with the hair loss more easily. In that case, microblading should be done around 2 months before the chemo starts, so the brows have enough time to heal and for the mandatory touch up to be done.
If they decide to get the treatment after the chemo, it is recommended to wait at least 8 weeks for your system to recover and rest. Most artists will ask for your blood results to make sure it's safe to perform the treatment.
NOTE
Medications you may use can affect retention and the outcome of the whole brow tattoo process. So, inform your artist about any medication you use and if they ask you, get a doctor's approval to have your eyebrows microbladed.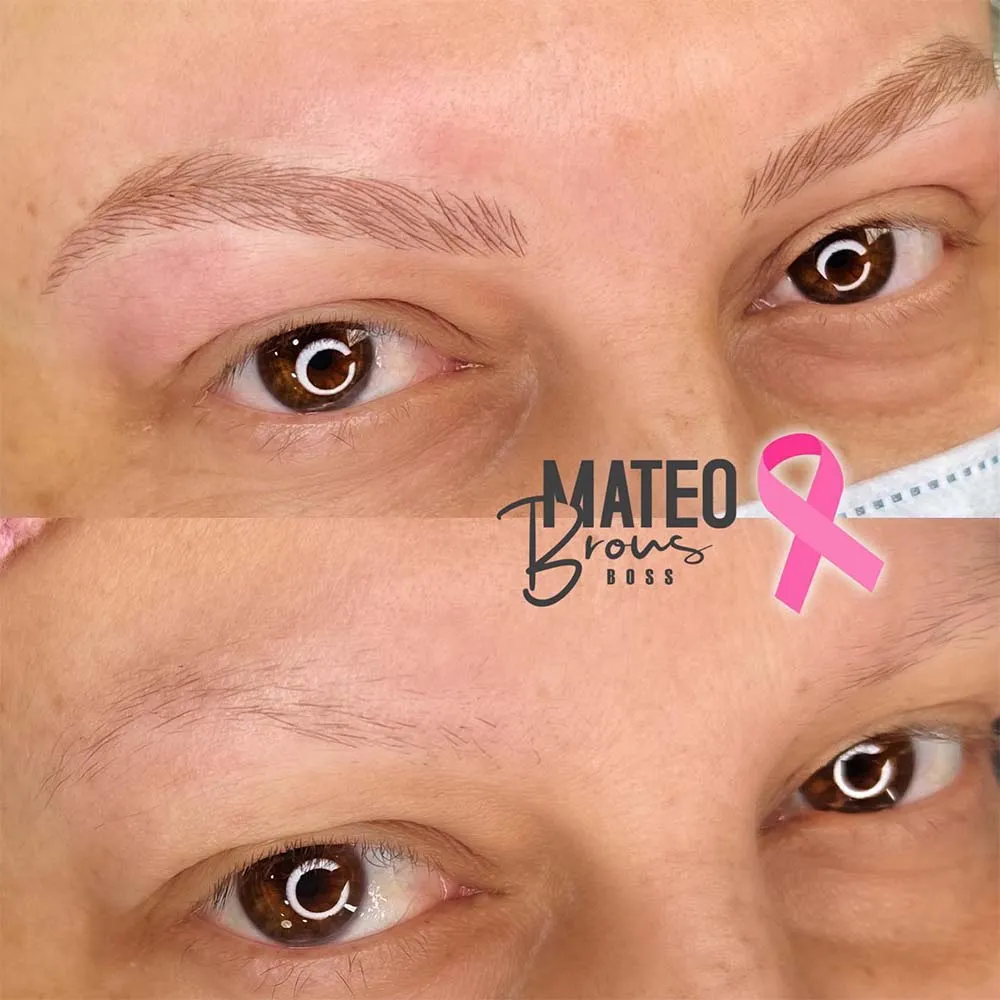 Image source: Instagram @mateo_brows_boss
What If I Lose One Eyebrow?
Sometimes clients lose one of their brows, and want to microblade the other. This can be tricky, because a 2D eyebrow can never look as natural as the brow with actual hairs. So, the artist needs to be honest with the client and be realistic about their expectations.
When it comes to male clients, their eyebrows are usually bigger and bushier than female brows. In that case, the artists should probably trim the real brow, to make it appear as similar as possible to the tattooed one.
Unfortunately, the tattooed brow will always appear lighter and more two-dimensional, but it is still a huge improvement.
How Do I Find a Good PMU Artist for Microblading with No Eyebrows?
Choosing a good PMU artist is essential, whether you have some eyebrow hair or not.
Eyebrows are the most prominent feature of a person's face and can affect your confidence to a great extent. That is why choosing a good, certified microblading artist is essential. It is important to find someone who already has experience with microblading with no eyebrows and knows how to give great results.
Ask for recommendations, check the online reviews and especially their Instagram pages where they post their before and after photos and there you will see if they have done a lot of microblading with no eyebrows and what results are achieved.
Learn more about Microblading for Cancer Patients here, and on Microblading on Alopecia Patients here.
Cover image source: Freepik