⏱️
4
min read
Microblading and similar eyebrow tattoo techniques are still very popular among people of different age, race and gender. One of the reasons for its popularity is that it's completely custom-made, so each client will get the eyebrows that fit them best.
Choosing the right shape requires skill and experience, but choosing the right pigment shade is very important and this is one of the biggest struggles for artists who do microblading eyebrows for grey hair.
Let's try to figure it out together.
What's Important to Know When Microblading Eyebrows for Grey Hair?
So, here are the most important things to bear in mind when microblading eyebrows for grey hair:
Let's explain each point.
Skin Type
If your client has very oily skin, that doesn't make them a desirable candidate for microblading,
In that case, you should recommend a different treatment, done with a PMU machine. Nano brows (hair stroke brows done with a machine) are a great option, and powder brows are the perfect solution for people with oily skin.
Clients with grey hair are mostly mature clients, which means their skin is different. This should not be neglected. There are some things to keep in mind when microblading mature skin.
First of all, pigments tend to heal ashier and cooler on mature skin. This is actually a good thing, because that way the pigment will match the hair more.
Also, bear in mind that the healing process is a bit longer with mature clients, so the touch up should be done at 8 weeks, not 6.

Image source: Instagram @jelizabethbrows
Pigment Shade
So, here we are. The trickiest part when it comes to microblading eyebrows for grey hair.
Getting the right pigment shade for brunettes is a piece of cake for most experienced artists. What can be tricky is choosing the pigment shade for clients with blonde or red hair, and microblading for gray hair can turn out to be even trickier.
Choosing the right pigment shade is hard, and there is no one unique shade that will fit all people with grey hair.
Hair color is not the only thing that should be considered. And it definitely shouldn't try to be matched, because sometimes the identical shade of eyebrows and hair looks unnatural.
Some people like their brows darker, while others like them lighter. There are people with blonde hair and dark eyebrows and it looks great on them.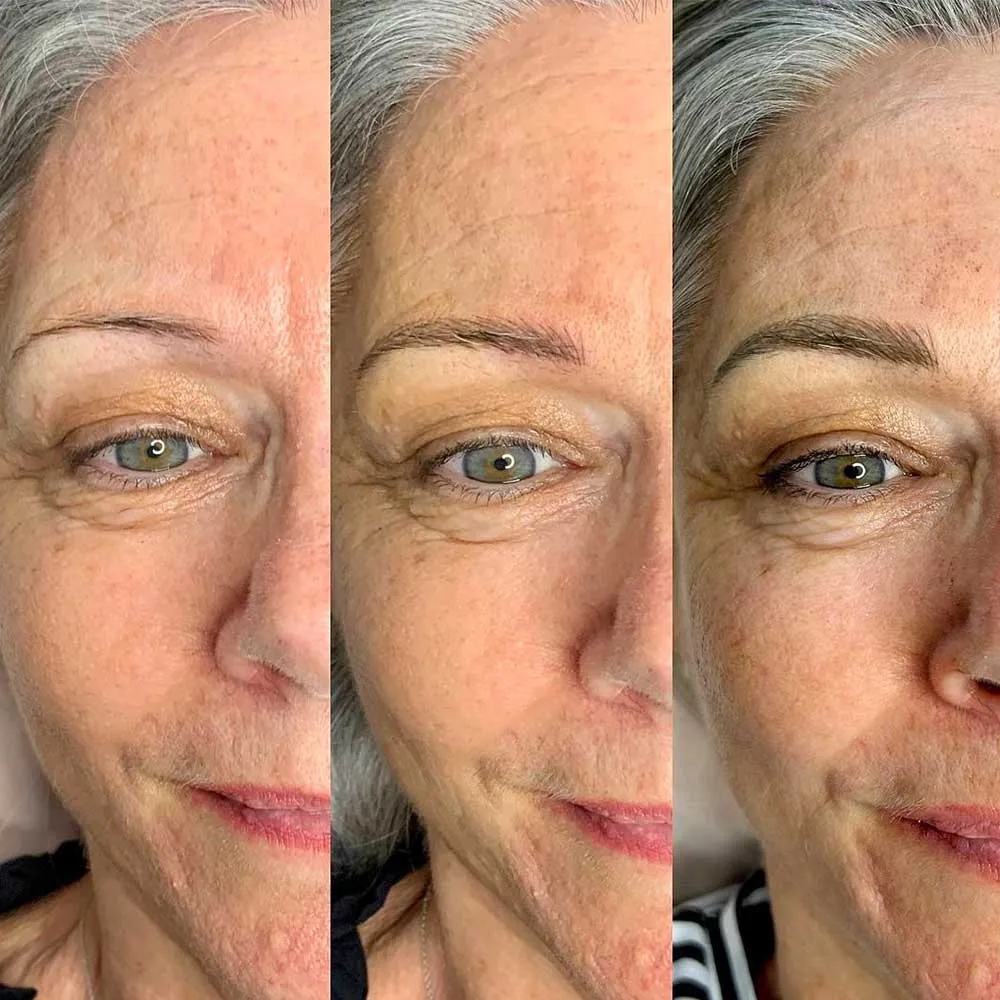 Image source: Instagram @byskye__
How to Choose the Pigment for Microblading with Grey Hair
Here are some important things to know when choosing a pigment when microblading eyebrows for grey hair.
Make sure you know your client's skin tone and undertone and can predict whether the pigment will heal ashy or not.
If you work on mature skin, it's important to know that mature skin retains pigment better than younger skin and doesn't fade as much, so don't go too dark on mature skin, even though the pigment will fade.
It is easier to add more pigment at the touch up, if the color seems too light once the healing period is over.
Some artists use grey pigment, some ashy blondes, and others even light brown tones which can look great on people with grey hair. You want the color to be muted but not too ashy.

Image source: Instagram @purdiebrows
Pigment Suggestions for Microblading Eyebrows for Grey Hair
Again, you need to look at the client's skin tones, undertones and overtones. Then look at your pigments. Knowing your pigments is another key factor, how a specific color heals with specific skin tones. Also, you need to know your color wheel.
Here are some common choices for microblading for grey hair.
NOTE
As pigments are usually mixed to get the shade you want, with clients with grey hair you should also mix pigment, to add warmth or to make a pigment lighter. Tina Davies Light Brown and Blonde are usually mixed together to give a perfect combination for microblading eyebrows for grey hair.
Talk About the Final Results
The biggest fear of microblading clients with light, blonde or grey hair is that their eyebrows will be too dark and look unnatural. The first thing you as an artist need to make them understand is that the results immediately after the treatment aren't real.
The eyebrows will go through the healing process – they will scab and peel and become much lighter. They can even become ashier – it depends on how the pigment heals.
Remember, aged skin turns pigments easily grey so a little bit of warmth is never a bad idea. Then at the touchup, confirm or go colder.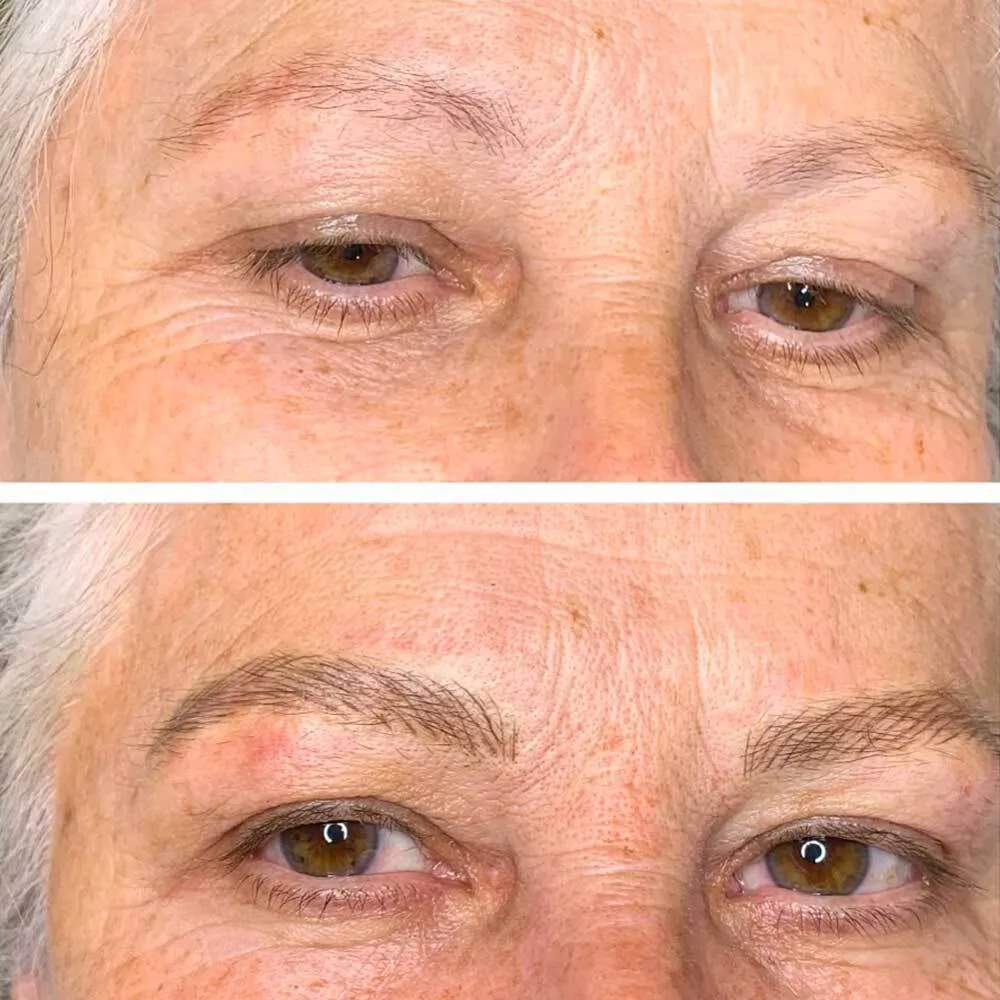 Image source: Instagram @byskye__
Conclusion
When microblading eyebrows for grey hair, the most important thing to know is your pigments as well as how they will look once they are healed on different skin tones.
Since mature clients are very common PMU customers, you should definitely take the time to study your pigment collection and make sure you have a couple of options, like the ones we suggested above.
Cover image source: Freepik