⏱️
8
min read
One of PMUHub's editors, Lucy, has had her microblading done recently and she decided to share her microblading experience with our readers. Enjoy reading her microblading diary.
It's been more than a year since I started thinking about getting my eyebrows done. Every single morning I would do my brows (never making them perfect) and thinking about microblading.
I've seen so many pictures of perfectly done microblading, but also so many of those with microblading gone wrong, and that would always discourage me.
And then one day, after so much time spent reading about microblading and researching it, I decided to take the leap and go for it. I knew everything about the procedure and made sure I found a reputable microblading artist who I can trust.
So, this is my microblading experience!
How I Prepared for the Treatment
Once I read everything I need to know about the microblading treatment, I made sure to find the perfect microblading artist. I did a thorough research (word of mouth referrals + reading reviews and browsing photos of past clients), and decided to go with Bojana Ana Nikolin.
I booked a free consultation to make sure I was a good candidate for microblading. Since I have normal to dry skin, and no contraindications, she decided I would make a great candidate for microblading and so we scheduled my appointment.
I learned how to prepare for the treatment in this article and didn't drink coffee on the day of the procedure.
My Microblading Experience Day by Day
Here are my honest thoughts and feelings throughout my microblading experience, along with a description of the treatment and aftercare instructions I was given + the photos of the healing process.
The Day of the Treatment
First we talked about my preferences. I wanted my eyebrows to look as natural as possible, just a bit darker than my own, and shaped in harmony with my facial features. My eyebrows are uneven and the right eyebrow is pretty sparse, so I wanted them fuller and properly shaped.
Here's What the Procedure Looked Like
First, the artist mapped my eyebrows according to my facial morphology, and I trusted her completely with this step. She didn't apply any numbing before the first pass, she just started microblading.

How I felt during the treatment: The blading was completely bearable, I can't really say it hurt. I can compare the level of pain to eyebrow tweezing. I felt light tingling sensation when she stopped blading and when she let the brow rest or when she put a pigment mask over.
She did numb my eyebrows before the second pass. She told me she could reapply in case it hurt and I couldn't handle it (but there was no need for that). What I appreciated a lot was that she used a new blade for the other brow, so it was sharp enough.

How I felt after the procedure: I love my new brows! They look really natural – just the perfect brows. Everyone around me said they were fabulous! My microblading experience so far is perfect!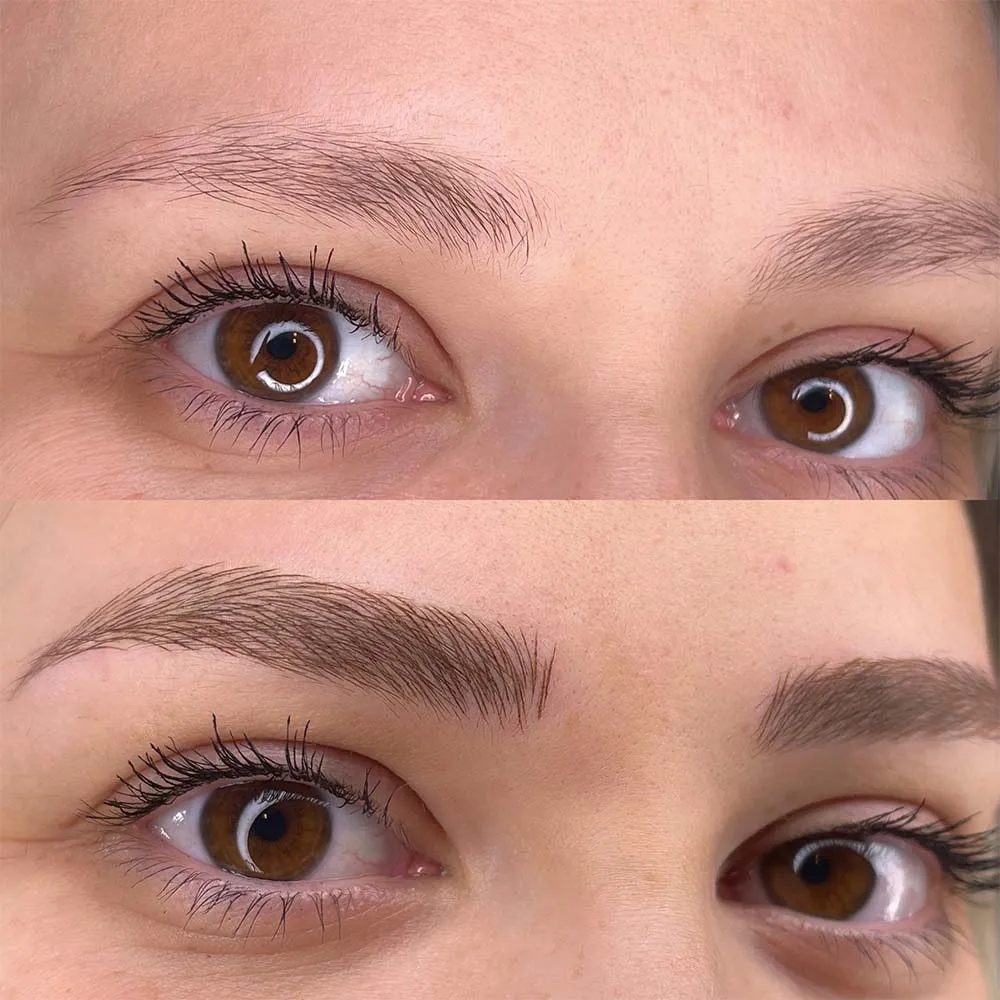 Aftercare on the Day of the Treatment
Aftercare for immediately after the procedure is very simple – I just need to put a drop of warm water on a cotton pad and wipe my brows gently to remove the excess lymph that appears a couple of times a day.
The Next Day…
I woke up with slight tingling around the brow area, as if I burned my skin a bit, but nothing too painful. The first thing I do is, of course, head for the mirror. And OH MY GOD! I knew they'd look too dark, I know they are supposed to fade, but I am so taken aback. Typical BROW SHOCK.
They are too dark and too strange for my face. They even look reddish. I want my old brows back!
Aftercare for Day 1
I do the same thing as on the previous day – clean them with water on a cotton pad.
Today I can start using an aftercare ointment my artists recommended. She told me it was important to use a very thin layer, a rice grain size, and apply it with a cotton swab and that's what I do. I repeat this 3 times.
Important: I never apply a new layer of an ointment before cleaning the brows first. Also, the artist told me to use the side of the cotton swab to apply the ointment, not to scratch the brow with its tip. It's also important to go back and forth over the brow, so that the ointment gets absorbed properly.

Confession:
I have to admit, I almost messed up my aftercare.
It was a beautiful summer day, and I wanted to go on a boat so desperately, but I was afraid the sun would mess up my brows. I went anyway, but I protected my eyebrows with a hat and big sunglasses.
But still, I was worried it would ruin my microblading. So, here's my advice – make sure you don't have to go out in the sun after the microblading treatment. And summer is not really the best season for getting your eyebrows tattooed.

How I feel: My brows were slightly burning the whole day, but the aftercare ointment helps a lot. Also, I am kind of nervous it will be ruined and I am so disappointed with how I look, but I decided to be patient and get through this healing process as relaxed as possible.
Day 2
I woke up without that tingling sensation I felt the day before. My brows look a bit reddish (but other people don't really notice) and they seem just a tiny bit lighter than before.
Day 3
My brows look a bit lighter. They look more… umm… normal. I am getting used to them.
The pigment is more brown than reddish, so I guess the real color is yet to show. In the evening, after washing my brows, I noticed tiny gaps on the tail of one brow, as if some pigment was missing.
Day 4
Those tiny gaps on the tail of the right eyebrow are bigger today and I can tell the scabbing phase has started. The brows feel a bit itchy. I am worried that all the heat and me sweating will affect my microblading.
I was too afraid I would mess something up if I wash my hair on my own, so I went to the hairdresser's.
Day 5
A big scab fell off! Every time I gently wash my brows, some scabs are gone. I am very anxious and self-conscious about my brows – one of them looks as if I forgot to draw it on!
They feel itchy from time to time. I wash them gently with water and dry them afterwards with a dry cotton pad. I still use the aftercare ointment 3 times a day.
Day 6
My brows continue to peel. The strokes are falling off in small flakes. The other brow's started peeling, at the tail, too. The color is okay, I think. Half of my right brow is missing.
Day 7
More peeling. So annoying. I still wash them twice a day and use the aftercare cream.
Day 8
Today I wanted to wash my hair, so I tried the swimming goggles trick. Umm, not a good idea.
I really struggled to keep the goggles on. And I think some water came in because I feel a slight tingling sensation in the area.
I think I can say the peeling is almost over. The microbladed strokes under the former scabs are barely visible. The brows aren't healing at an equal pace – the left brow hasn't peeled off yet.
Day 10
There are a few flakes on the left brow and then that's it. My brows are very light – the strokes are lighter than my natural brow hairs. I know the color will come back – I just need to be patient.
I think I can wash my hair as usual now.
Day 14
It's been 2 weeks, and the brows look healed. They are very light and one brow is lighter than the other, so I decided to fill them in with a brow pencil until the color comes back (my artist said this was okay). Now I am waiting for my touch up appointment.
5 Weeks Later – Touch Up
A month after the treatment, the color came back, but my brows look patchy, especially the right one. 5 weeks after the initial treatment, I had a touch up appointment.
The touch up appointment was shorter than the initial treatment. The artist added more color and the strokes looked a bit thicker than the first time. She also added some shading at the tail, where the pigment was missing.

How I feel after the touch up: I feel like my eyebrows are uneven and the right one looks thicker than the left one. But my artist said it will shrink and look better when it's completely healed.
Healing After the Touch Up
The pigment looked reddish again, for 4-5 days. There was some minor scabbing, where the shading was added.
My Microblading a Month After the Touch Up
My brows look really good now. I like the color, it completely matches the natural color of my brow hair. The brows look really natural and you can't tell they were microbladed.
My Microblading 2 Months After the Touch Up
Do I regret my decision? Absolutely not!
I don't fill my eyebrows in every morning, they don't look fake as they used to with brow makeup – I retired my brow kit. Finally, I have eyebrows after swimming in the pool or in the sea!
This is perfect for people like me, who don't like wearing too much makeup. I guess I would have to fill them in if I wanted heavier, night-out makeup.
I'm just a bit worried about when I will need to do a color boost. What will they look like after a year? Will they still look this good with more microblading added on top?
My artist told me that she won't go that deep for the color boost – she'll just slightly open the channels and apply some extra pigment.
Final Thoughts on My Microblading Experience
Overall, my microblading experience is definitely positive. I'm really satisfied right now. I've never had any tattooing or cosmetic procedures before microblading, so this was not an easy decision.
But I am glad I'd chosen someone who knows their job very well, and who I had great communication with. She answered all of my questions and we were in touch about the healing process. That meant a lot.
My Microblading After 6 Months
It's been 6 months since the initial treatment and my eyebrows still look great. They are a bit lighter and the strokes are not as crisp as they were, but they haven't lost their shape and still look very natural.
I like the fact that almost no one has noticed I had my eyebrows microbladed! I feel more confident and my morning makeup routine is simplified. Sometimes I just add some mascara and that's it. The brows really complement my face.
When it comes to maintenance, I have to admit that I am careful with my skincare. I know it won't affect the brows too much, but I still avoid the brow area when I apply my night anti-age cream. I just want to be sure the brows don't fade too soon.
My Honest Advice
If you are contemplating microblading and you make a good candidate, go for it. But the most important thing is to find an artist you can trust. And to get well informed about the treatment, follow the aftercare and not skip the touch up.