⏱️
7
min read
If you're on TikTok, by now you must've heard about low maintenance beauty. The focus is on finding the treatments and products that help you invest the least amount of time to get the most results.
The trend is mostly focused on overnight-acting products and DIY beauty kits. But let's talk about the benefits of investing in more permanent low maintenance beauty solutions.
Low Maintenance Beauty Philosophy
The idea of cutting down (or rather cutting out) the time needed to put stuff on your face each morning sounds good. Imagine not needing to fill in your brows, to camouflage dark spots and blemishes – not even having to apply mascara!
More and more people are spending money on sometimes expensive beauty procedures so they can just roll out of bed and go.
Today, everyone's on a tight and busy schedule, so when something helps you save time and energy, it's easy to understand why it's seen as a necessity rather than a luxury.
High Maintenance Treatments for Low Maintenance Beauty
Whenever these expensive treatments are mentioned, the first thing that probably comes to mind are celebrities and their perpetually perfect looks. But the truth is, anyone investing in high-maintenance treatments can achieve that same.
The results can be as dramatic or as natural as you'd like. Most clients like to get yours-but-better effect with these procedures.
There are a few categories of beautification treatments. We'll be focusing on what you can do for your face. So there's skincare and (semi)permanent makeup procedures.
Look After Your Skin – Low Maintenance Skincare
Lately, the main focus has been on the skin. A glowing, healthy, youthful-looking complexion is everyone's goal. When the overall appearance of the skin is improved, there's no need for (heavy) makeup. Luckily, there are many ways to achieve that.
Here are 4 non-surgical procedures designed to combat signs of aging, rejuvenate and refresh skin.
Microdermabrasion
Microdermabrasion is a mechanical exfoliation done with a device that scrapes off the dead skin cells and sucks out the dirt and debris that was trapped underneath it. Plus, taking off the outermost layer, it reveals the fresher one underneath.
This is a very quick and popular facial that provides extended effects (several weeks) and contributes to better-looking skin in the long run. You can read more about microdermabrasion here.
Dermaplaning
Another skin resurfacing treatment, done with a very sharp surgical scalpel that removes 2 weeks' worth of debris. In other words – it removes everything your at-home exfoliator can't.
But in the process, it also takes off facial hair as well – which is the reason it's often compared to face shaving.
Removing facial hair makes your tone appear more even, so there's less need for foundation. Find out more about dermaplaning here and decide if it's something worth trying.
Microneedling
The most comprehensive treatment, with the most long-lasting results.
Microneedling treatment has been praised for its considerable benefits, but in regards to low maintenance beauty, the most relevant is its ability to visibly improve the skin's texture and skin elasticity.
These effects are achieved by creating microscopic wounds in the skin that spur collagen production.
Read more about microneedling here.
Chemical Peel
This treatment exfoliates your skin by purposefully damaging the top skin layer and encouraging it to peel off so that a new layer of skin that hasn't been damaged can take its place. This way the targeted blemishes are diminished.
Light superficial peels can be done quite frequently to keep your skin always glowing.
Chemical peeling is a highly customizable treatment. The appropriate peeling agent is chosen based on your skin type and thickness. You can learn more about the types, intensities and effects of chemical peels here.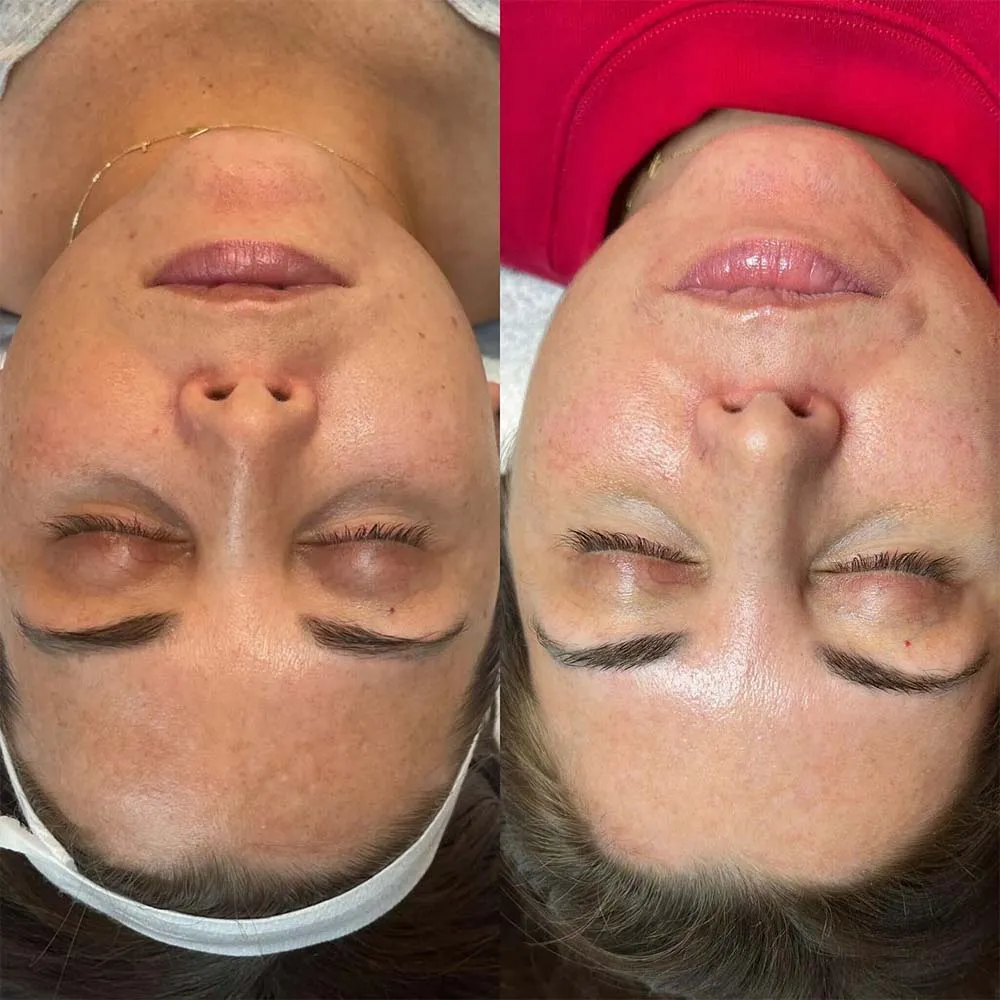 Image source: Instagram @elanmedspas
Invest in Permanent Makeup for a Low Maintenance Makeup Routine
Permanent makeup is the ultimate low-maintenance beauty hack! It is technically a form of cosmetic tattooing that has long-lasting effects.
While it is comparable to regular tattoos, permanent makeup tattoos use different pigments that are body degradable and start to fade after a while. The results last up to several years, with an occasional touch-up to prolong the results.
Nowadays, there is a PMU version of every step in daily makeup application, cutting out the part that normally takes you the longest to do. So PMU is ideal for those who seek to create the ultimate low maintenance beauty routine.
Luckily, PMUHub's got you covered on all things permanent makeup. Let's quickly explain all the treatments you can get.
Get Your Brows Done
… and we're not talking just about waxing or threading.
Don't you wish you could skip drawing on your brows each morning?
Nowadays there are plenty of different eyebrow tattooing techniques. There are powder brows, ombre brows, nano brows, combo brows, nanoblading … but brow microblading is still the most popular method among them all.
Because it can resolve a wide variety of brow issues, microblading became very popular since it's so universal. It can be subtle and only fill in sparse spots, or it can completely transform your brows and fix the mistakes of the 2000s overplucking craze.
Learn about the differences between all these techniques here and decide which style is the best one for you.

Image source: Instagram @phibrows_by_ana
Get Smudge-Proof Eyeliner
Anyone who has ever applied eyeliner knows the struggles and pains of when it just won't cooperate.
Well, with permanent eyeliner those hardships can be a thing of the past. You can avoid using eyeliner for up to 3 years!
This treatment recreates the look of your favorite eyeliner style in a permanent version. It doesn't smudge or wash off because the colors are injected into the skin rather than being applied to its surface. You can learn more about it here.

Image source: Instagram @stefaniepmu
Perfect Long-Lasting Lipstick
Lip tattoo is an umbrella term for permanent lipstick, lip blushing, lip tint, etc. And yes, there's a difference between each of these treatments (read more about different lip tattoo styles here).
Depending on the preferred style, lip tattoos can be done in several different ways. You can get your whole lip evenly colored in a subtle, your-lip-but-better shade which is what lip blushing is.
You can also choose to go with a bit bolder, uniform color, which is then called permanent lipstick. There's also an option of just outlining your lips as well as an ombre lip and reverse ombre lip (aquarelle lip).

Image source: Instagram @amberstencils
Complexion Perfecting Treatments – Permanent Concealer, Foundation, Blush & Contour!
Just like with regular concealer, its more permanent version serves the exact same purpose. You can look into the whole process here, but essentially, skin-toned pigment is placed beneath the skin surface, evening out its tone from within.
In case you're looking to cover more than just dark undereye circles or a few blemished areas, there's also a treatment for your whole face! It's called BB glow and it's is supposed to give the effects of wearing BB cream.
Similarly to BB glow, permanent blush or permanent contour can be achieved with clever pigment placement.
However, we need to note that complexion-perfecting permanent makeup is up for debate. While it isn't inherently bad, it may have some long-term side effects that should definitely be kept in mind. You can get more information about that here.
Less Permanent, But Still Long-Lasting Alternatives to Makeup
As great as permanent makeup is for your low maintenance beauty routine, some people aren't ready to get their faces tattooed. If that's you, look into some less radical treatments that still allow you ditch many of your makeup products.
Lift & Tint Your Lashes or Your Brows
Thick and dark lashes emphasize the eyes better than any makeup can. But the daily routine of curling them and applying coats of mascara does waste quite a bit of time when you start adding it up.
This is exactly what makes lash lift and lash tinting so beloved. It's a much longer-lasting solution – and it only takes 45 minutes to an hour to get done! Lash lift results last as long as your lash growth cycle – 6-8 weeks.
And you can do the same for your brows.
Getting your brows tinted and laminated helps you wake up with the perfect shape. Eyebrow lamination makes your brows appear thicker and adds volume to your arches. It lasts up to 6 weeks and takes only 15 minutes to achieve!

Image source: Instagram @elleebanausa
…or Lash Extensions
If enhancing your natural lashes isn't enough of a wow factor for you, you can get lash extensions done. This procedure increases lash density and makes the eyes more accentuated.
The results can last for a couple of months with an occasional infill.
If that's something you're interested in, find out more about the lash extensions process and styles here. Alternatively, you can also check out a DIY alternative version of this treatment – Falscara lash extensions.

Image source: Instagram @lashextension_factory
DIY Your Low Maintenance Beauty Routine
Although these treatments provide long-lasting results, the hassle of going to the salon defeats the purpose for some people. So, a lot of these treatments actually got their own DIY version.
Keep in mind that the results will not be the same as what you get in the salon. But if that's alright with you, just make sure you get at-home versions and systems, since those are made to be safely used by non-professionals.
Doing any treatment wrongly can prompt many adverse side effects and have consequences on your health so if not booking with a professional, at least do thorough research beforehand.
If you'd prefer to DIY these treatments here are some product recommendations of what you can incorporate into your at-home low maintenance beauty routine:
For low maintenance skincare:
For low maintenance makeup:
Further Reading
Here are a few articles that can help you figure out how to perform these treatments by yourself safely:
Cover image source: Freepik