Men's Lip Tattoo: All You Need to Know
Lately, men's lip tattoo has been super popular. Read all about the procedure, how it's done on guys, and the subtle but effective results it can give.
Permanent makeup treatments are currently the most popular way to enhance your look without going under the knife.
Cosmetic eyebrow tattoos, permanent eyeliner, and lip tattoos are the most popular treatments, lip tattoos being the one that recently really stands out.It became the most often requested procedure, and women are not the only clients.
Men's lip tattoo is a thing and in this guide, you'll get all the information about it.
Table of contents - Skip to a specific paragraph
What Is a Lip Tattoo?
A lip tattoo is a new, sophisticated way of getting long-lasting color on your lips. It is done similarly to traditional body tattooing, and that is why it is called a lip tattoo, even though there are some differences.
Cosmetic lip tattoos are done with a permanent makeup machine, which is similar to, but more gentle than a tattoo gun. Instead of ink, specially designed PMU pigments are used.
They are formulated differently than tattoo ink, so they fade faster. Therefore, lip tattoos don't last forever – their lifespan is somewhere around 2 to 3 years.
What Are the Reasons for Getting a Mens Lip Tattoo?
The purpose of this treatment is to improve the look of the lips, whether it's by changing their color, improving their shape, or camouflaging scars and discoloration.
When they ask for lip tattoo men usually do it because they want to make the color of their lips more natural (but not look as if they are wearing lipstick). Sometimes, if they have uneven lips, a lip tattoo can help their lips look more symmetrical.
And one of the most common reasons for men's lip tattoo is dark lip neutralization. For people who feel insecure about their dark lips and would feel more confident if they camouflage them, a lip tattoo is the perfect choice.

Image source: Instagram @permanentmakeup_academy_ke
Are the Results of Men's Lip Tattoo Natural-Looking?
If done right, meaning you found a good lip tattoo artist who knows what they are doing, then yes, men's lip tattoo can look really natural.
The color can seem a bit intense immediately after the treatment. This is because this is a tattoo and requires a healing period, during which the pigment loses intensity.
The color is supposed to fade for about 40% and true results are seen after the healing process is over.

Image source: Instagram @renatasuzart.artistry
What Styles Are Suitable for Men?
Lip tattoos come in different styles: lip blush, aquarelle lips, lip liner, opaque permanent lipstick, ombre lips, etc. Lip blush for men is the most popular style because it is very versatile and can be of different opacity.
Lip blush is perfect for correcting imperfections and especially for dark lips neutralization. In this case, the treatment is done a bit differently than the regular treatment – it includes the neutralization step, over which the desired color is applied.
Is There Any Difference in the Procedure Between Lip Blushing Men & Women?
The treatment itself is done in the same way, the only difference is the choice of pigment color. While women choose the color of their favorite lipstick and they usually want their lips to look as if they are wearing lipstick, men will choose something more natural.
Since men's lip blush is usually done to improve the look but not to look as the real lipstick, men will go for something that is as close to their natural lip color as possible. The border of the lips mustn't be too saturated, but soft and blended.

Image source: Instagram @ink_by_lulu
What Does a Men's Lip Tattoos Procedure Involve?
Just as with any other lip tattoo treatment, lip blushing for men includes the following steps:
Consultation with the Artist
Before booking the treatment you'll need to find a good artist who is experienced in mens lip tattoo.
Then you'll have a consultation session to discuss the desired results. You will also be asked about your medical history and conditions that are potential lip blush contraindications.
Pre-Draw and Tattooing
The artists will do a pre-draw to find the perfect shape of your lips. Before they start the tattooing process, they will apply a numbing cream and wait some time until it kicks in.
The lip blush process can be painful since lips are very sensitive, so the numbing cream is there to reduce the discomfort.
The tattooing process lasts for about an hour and your lips are pierced over and over and the pigment is implanted. The needles are very thin and delicate and there's no big trauma to the skin.
The artists will go over your lips a couple of times in different directions, so they ensure good pigment retention.
Aftercare Instructions
After the male lip blushing treatment, your artists will give you aftercare instructions. It's important to follow them religiously for two most important reasons: to ensure good results and to avoid any complications during the healing process.
Aftercare is the most important during the first two weeks after the treatment. You'll need to clean your lip tattoo regularly and moisturize them with a recommended healing balm. You'll also need to avoid makeup, certain skincare products, and certain activities.
Get full lip blush aftercare instructions in this guide.
Healing Process
A men's lip tattoo is a wound that needs to heal. The surface part of the healing process lasts around two weeks and it includes scabbing, peeling, and color changing. After that, you'll lips should look fine, but the full healing cycle is not complete.
The healing process is considered finished only after 4-6 weeks.
Then, it is time for the touch-up or the second session. As said above, pigment does fade to a great extent and more color needs to be added. Sometimes, if it's a dark lip neutralization process, more than one session is required.
Learn all about lip tattoo healing in this guide.
How Long Does Men's Lip Tattoo Last?
When it comes to lip blushing, men can expect their tattoo to last 2 years on average. After that, it will have faded significantly and a color boost will be required if you want to prolong the results.
Men's lip blush life expectancy depends on different factors such as skin type, body chemistry, and lifestyle.
If you spend a lot of time in the sun, if you swim a lot and get your lips exposed to water, or if you smoke, you can expect your male lip blushing to need a touch-up much sooner.
Another important thing that will affect pigment retention and the longevity of results is aftercare. If you mess up the aftercare part, you can expect your lip blush to disappear after the healing period.
Find out more about lip blush longevity in this guide.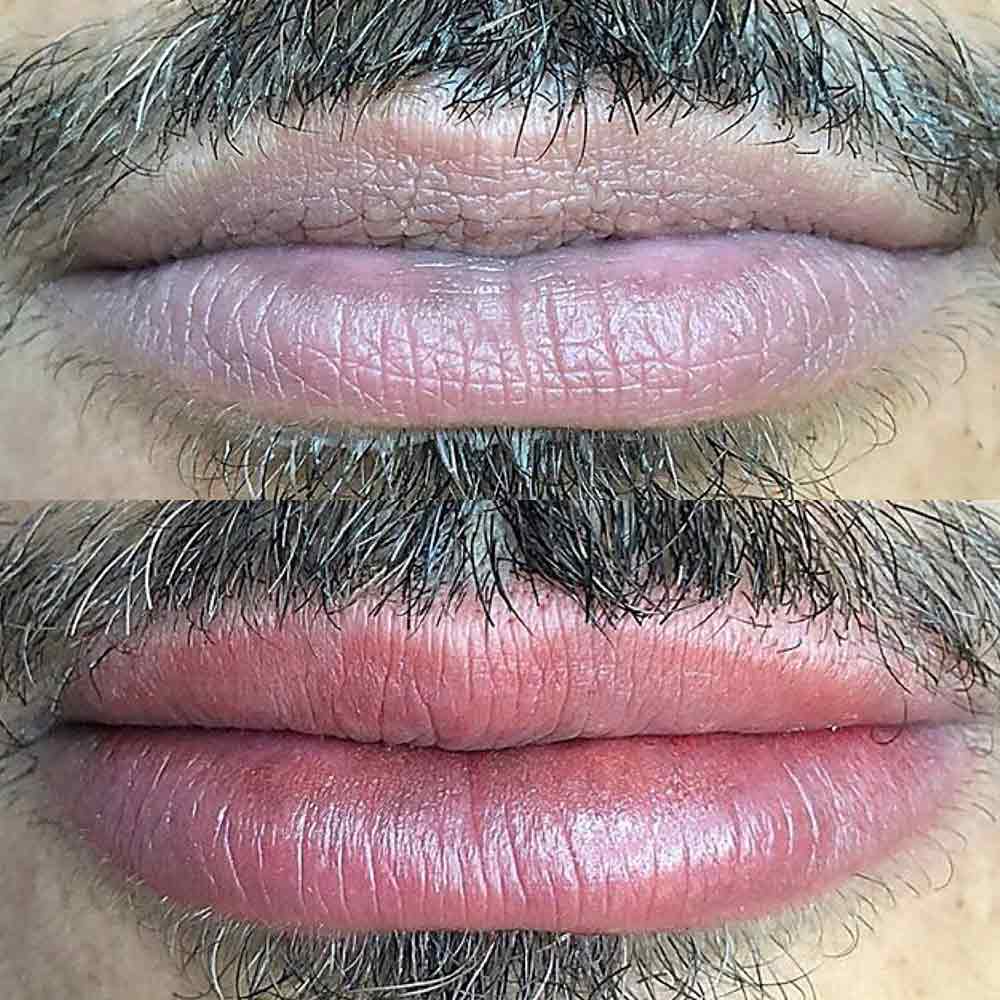 Image source: Instagram @_____twosisters_____
How Do I Choose the Right Artist for Men's Lip Tattoo?
Choosing the right male lip blushing artist is very important. You want someone who is certified, and licensed, who has great reviews and a reliable portfolio.
Most PMU artists post their lip blush before and after photos on their social media or website. A bonus is if the artist has already done a couple of lip tattoos for men, so you can see how natural the results are.

Image source: Instagram @empressbrowpdx
Men's Lip Tattoo – Main Takeaways
Men's lip tattoo is a very popular treatment because it gives natural results, improves tiny imperfections, gives your lips the color you desire, and can neutralize dark lips.
Also, one of the reasons is that it can be very effective at covering up scars.
LEARN MORE ABOUT LIP TATTOO
Explore more lip blush topics:
Swipe for more lip blush topics →