Lash Tint – Everything About the Treatment
A lash tint is a quick and affordable way to enhance your lashes and give your mascara a break. Learn more about the lash tint process, benefits, cost, and more!
If you're looking for a happy medium between wearing mascara and getting lash extensions, then a lift and a lash tint treatment may just do the trick.
It is a quick and affordable option for enhancing your natural eyelashes that doesn't require any complicated maintenance or aftercare routines.
Lash tints are used to dye lash hair strands from the base to the tip in a slightly darker color than your natural eyelashes, making them appear bolder and longer. It's most often done alongside a lash lift.
Let's take a look at what is a lash tint, how it's done, as well as some risks and benefits of the treatment.
Table of contents - Skip to a specific paragraph
What Is a Lash Tint?
The lash tint is a process of applying vegetable dye to your natural eyelashes, either as a treatment of its own or as part of the lash lifting procedure.
Lash tinting is a short, painless procedure that can make your eyelashes darker for an extended period of time.
If you have naturally blond or light eyelashes, you will definitely see the most dramatic difference in eyelash length by getting a lash tint.
Keep in mind however that a lash tint won't add curl or volume to your eyelashes, you'll need to get a lash lift or lash extensions for that.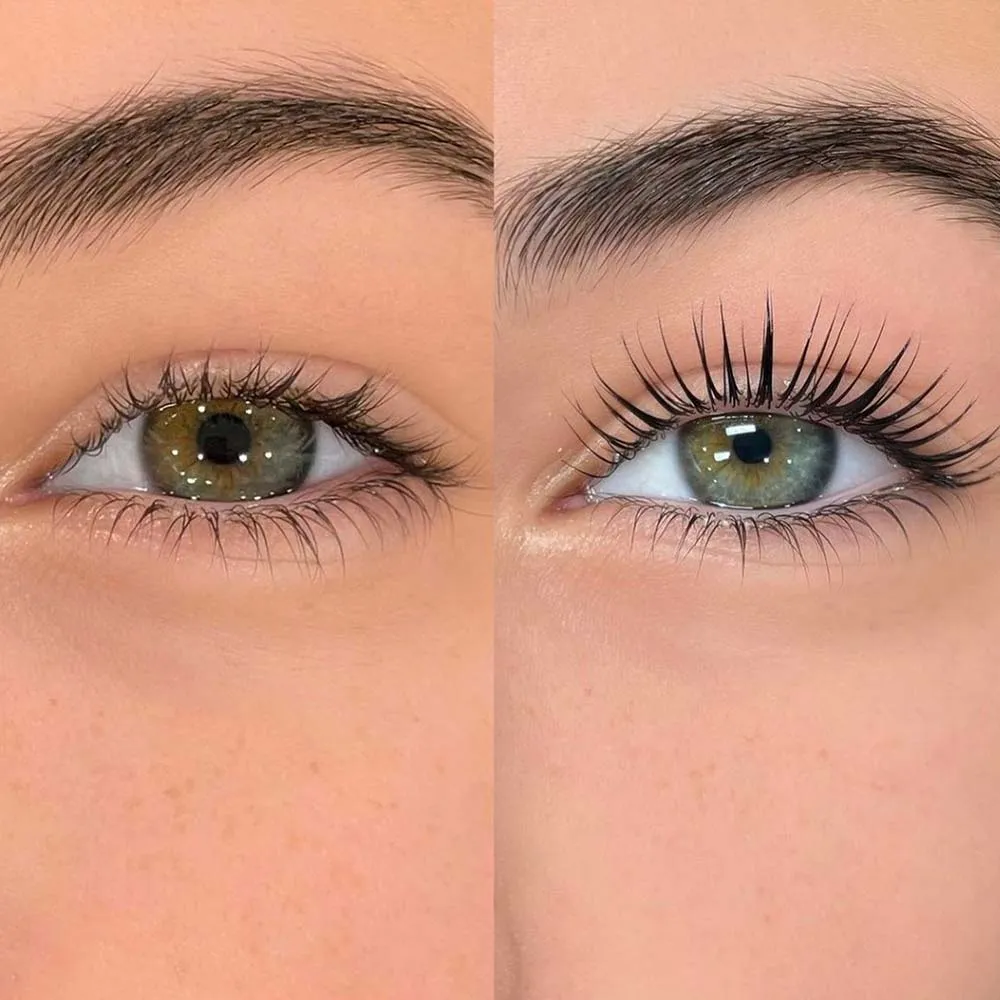 Image source: Instagram @elleebana
What Does the Lash Tint Procedure Look Like?
Getting an eyelash tint means investing in a painless and easy treatment that will leave you with amazing eyelashes that last for weeks. It's also very quick – the whole process from start to finish takes only about 30 minutes to complete.
Here's a look at the lash tint procedure:
Consultations & Prep
When you arrive at your lash tint appointment, the technician will first assess your lashes and choose a tint shade that best suits your complexion and the look you're going for.
Then, they will proceed to clean the eye area, ridding it of sebum and makeup residue before the procedure begins.
If you have sensitive or allergy-prone skin, your technician will do a patch test before the procedure to exclude a possible reaction to the lash dye.
Applying Eye Protection
Next, they will apply either eye patches or silicone eye shields around the eyes to protect the skin and your bottom lashes from getting tinted during the process.
Dyeing
Your tech will use a disposable microtip brush or q-tips to coat your lashes from the root up with a lash tint.
The tint should be left on your eyelashes for about 10 to 15 minutes.
During this time you shouldn't feel any pain or discomfort. If you do begin to feel a slight sting or a burning sensation, you should inform your tech straight away since it may be an indication of the dye getting into your eyes.
Removing the Lash Tint – End of Procedure
Once the desired depth of color has been achieved, your tech will remove the dye with q-tips and proceed to clean the eye area thoroughly.
A lash serum or a lash botox treatment can be applied as the last step of the tinting process to restore hydration and nourish the treated lash hairs.
How Long Does Lash Tint Last?
Lash tint results last as long as your natural lash growth cycle – 6 to 8 weeks to be exact.
Once your lashes are tinted, the tint itself shouldn't fade over the course of time, but as your natural lashes fall out and new, untinted lashes begin to grow, you'll notice your eyelashes looking lighter and lighter.
To get the most out of your lash tint, you should keep the eye area dry for 24 hours after your tinting treatment and use only oil-free products around the eye area.
What Are the Benefits of Lash Tint?
For those who enjoy a natural makeup look, an eyelash tint can be the perfect replacement for mascara and thus save them some time in getting ready for work. Let's take a look at some of the biggest benefits of the lash tint:
A Lash Tint Speeds Up Your Makeup Routine
Because eyelash tints last up to 8 weeks, you won't need to waste time or money on mascara for a large portion of this time.
Your lashes will look effortlessly darker and longer, plus you'll have a couple of extra minutes in the morning to spend on something other than doing your makeup.
The Best Alternative to Mascara
Some people can't wear mascara due to eye sensitivity or allergies to various ingredients found in mascara.
If this is the case, you are still able to achieve darker lashes using lash tint without having to go through the torture of irritable eyes or allergic reactions.

Image source: Instagram @azestheticsbybriii
It Is Completely Waterproof
One of the biggest perks of lash tinting is that you no longer have to worry about mascara running down your face as soon as it rains or you decide to go swimming.
Lash tints can help you wake up every morning with picture-perfect eyelashes that don't lose color even during excessive sweating.
It Comes In a Variety of Colors
If you go to an experienced lash tech, you can expect to find a variety of lash tinting options available, from black to colorful.
If you have light blonde lash hair and just want your lashes to appear more visible but not too dark, you could opt for a brown tint rather than a black.
But if you want to achieve a more dramatic look, you could opt for an ultra-black shade or even a bright color like red or blue, which can be great for music festivals and parties.

Image source: Instagram @carmenlouisebeauty
What Are the Downsides of Lash Tinting?
The success of a lash tint depends on the length of your natural lashes so if your eyelashes aren't particularly long, you probably won't be amazed by the results.
The lash tint is a fairly safe procedure, but it does come with several side effects to look out for.
Here's a look at some of the lash tint downsides, risks, and side effects:
Lash Tints Don't Curl Your Eyelashes
Lash tinting only works on your lash color and not the shape. If you have straight lashes that lack curl, a lash tint can only exaggerate the straightness of the lashes by adding a dark sheen.
That's why it is recommended for people with straight lashes to get a lash lift in combination with a lash tint to get the best result from these treatments.
Learn all about lash lifts here.
Side Effects & Allergic Reactions
Some of the side effects that may occur during the lash tinting process are eye irritation and swelling. These side effects can last through the application process and continue for a number of days after the procedure.
Allergic reactions to the dye used during the procedure are also possible, so going to a licensed professional and doing a patch test before the procedure is a must.
Lash Tints Can Damage Your Natural Lashes
Lash tinting can damage your eyelashes and dry them out, especially when performed often.
This happens because dye can strip the natural moisture out, causing them to become dry and brittle. The more your lashes are tinted, the greater the damage to your lash hair when not properly nourished after each treatment.
The Results Don't Last That Long
Lash tint results vary depending on the lash growth cycle of each individual. Generally, the results last about 5-6 weeks with good upkeep.
However, direct exposure to sunlight and the use of oil-based products on your lashes can cause the tint to fade, making your results not as long-lasting.
How Much Does Lash Tinting Cost?
Just like with other beauty treatments, the price depends on the location, the experience, and the popularity of the technician or artist you choose.
You can expect to spend anywhere from $40 to $75 for a lash tint, tips not included.
If you decide to get a lash tint as part of your lash lift treatment, you can expect to pay about $110-$175 for the whole service.

Image source: Instagram @irina_cia
Lash Tint Aftercare
To get the best results from your lash tint treatment, you must follow a simple aftercare and maintenance routine, especially in the first 24 hours after your treatment.
Let's take a look at proper lash tint aftercare:
The First 24 Hours After Treatment
Avoid touching the treated area.
Keep your eyelashes dry for at least 24-48 hours.
Avoid using oil-based products for at least 24-48 hours.
Avoid applying makeup for at least 24 hours.
Avoid swimming, saunas, and excessive sweating.
Try not to sleep on your face.
Do not put your contact lenses back in for the rest of the day.
After the First 24 Hours
Wash your face with gentle cleansers that are not oil-based.
Apply a specially formulated eyelash serum to hydrate the lashes.
Avoid exposure to direct sunlight.
Brush your lashes from time to time with a spoolie.
Is Lash Tinting Safe?
Lash tinting is considered a pretty low-risk lash enhancement treatment and many salons offer it as part of their service.
Even so, we have to note that the FDA hasn't completely approved the use of color additives for permanent dyeing or tinting of the eyelashes thus far, which means that lash tinting may not be legal in your state.
Make sure to book an appointment with a certified lash technician to get only the best quality, eye-safe service and products.

Image source: Instagram @_riri.lashes_
Can You Do an At-Home Lash Tint?
Eyelash tint is a quick, low-maintenance treatment that you can safely do at home by yourself.
The best way to go about this is to get FDA-approved products like silver nitrate-based eyelash dye.
If you want to DIY a lash tint, here's an article that will guide you through it. We've selected the best products and prepared easy, step-by-step instructions for doing an at-home lash tint.
Lash Tint – Main Takeaways
If you're dreaming of dark, naturally beautiful eyelashes, look no further than a lash tint procedure.
Combined with a lash lift, it can make your eyes appear brighter and more open, plus, you no longer need to hurry in the morning to apply several coats of mascara.
The results can last up to 8 weeks and it doesn't require complicated maintenance or care after the first 24 hours post-treatment.
LEARN MORE ABOUT LASH LIFT