Laser Lip Plumping: All You Need to Know
Laser lip plumping is a non-invasive treatment that gives extra volume and color to your lips. Here's how laser lip enhancement works, what effects you can expect, and more.
Plump, rosy lips are a very attractive feature, so it's no wonder everyone wants them. There are many cosmetic procedures that aim to polish this aspect of our appearance, from makeup tricks to aesthetic surgery.
One method in particular is rising in popularity: laser lip plumping.
Using laser for lips plumping eliminates all the unpleasant aspects of traditional lip fillers. It is a non-invasive procedure which requires zero downtime and has virtually no side effects.
PMUHub has compiled a guide through what laser lip plumping is, how it works, how much it costs, and what it achieves. Let's take a look.
Table of contents - Skip to a specific paragraph
What Is Laser Lip Plumping?
Laser lip plumping is a type of laser lip augmentation which improves the volume, coloring, and shape of the lips. It's a popular alternative to lip fillers. It's a great choice for anyone who has:
Naturally thin lips
Lips thinned by aging
Dull lip color
Dark lips
Smoker lips
Sagging lips due to aging
The laser lip plumping treatment is popular because it's non-invasive. Unlike lip fillers, it doesn't require any injections. Instead, it stimulates the skin's natural collagen production to enhance your lip volume.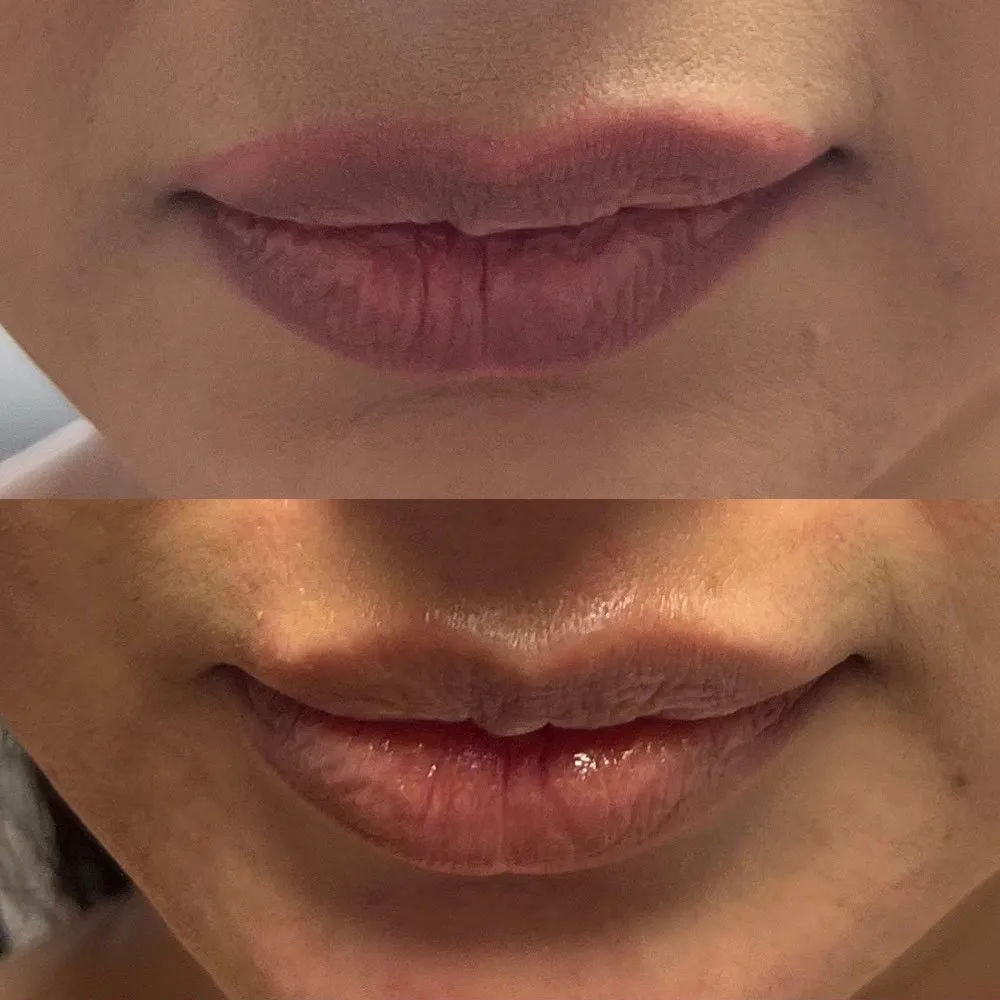 Image source: Instagram @pielaesthetics
How Does Laser Lip Plumping Work?
It's all about boosting collagen production in the lip tissue.
As we age, our bodies produce less and less collagen and our elastin fibers get weaker. This causes our skin to lose its firmness. The change displays as loose skin in the lips, neck, around the eyes, etc.
Laser lip enhancement works by exposing the lips tissue to short pulses of heat from a laser beam. This stimulates the production of new collagen, improving the texture and elasticity of the lips.
In most cases, the laser is applied to the outer lips and a bit of the surrounding skin. If deeper stimulation is necessary, it can also be applied to the inside of the lips.
The skin surrounding the lips is tightened, which gives more volume to the lips themselves. You don't lose your natural lip shape, they just look plumper and younger.
What Does the Laser Lip Plumping Treatment Look Like?
A laser lip treatment takes less than 30 minutes. On average, it takes approximately 15-20 minutes to perform.
Your technician will protect your eyes with special glasses, goggles, or a protective eye mask. Then they will use a pen-like tool to direct a laser beam to your lips and the surrounding skin.
The treatment is essentially painless, so there's no need for numbing agents or local anesthetics. You can expect to feel a certain degree of warmth as the laser is applied.
The sensation has been described as:
pleasant heat,
slight tingling,
similar to a tiny pinch,
or similar to little droplets of hot water dispersing on the lips.
That said, pain and discomfort are subjective categories, and our lips are the most sensitive feature of our faces. Some people might be more sensitive to the feeling of the laser than others.
If the sensations are too unpleasant for you, feel free to ask your technician to apply a topical numbing product.
Laser lip enhancements are sometimes done as a part of cosmetic dentistry services. Dentists usually do use some local anesthetic to make the whole procedure, including any additional work in the area, less unpleasant for sensitive clients.

Image source: Instagram @northtorontolasermedclinic
Laser Lip Plumping Effects
The laser lip treatment focuses on achieving subtle results that look natural. For that reason, the effects appear gradually. Let's explain.
How Soon Can You See the Effects?
It mostly depends on your body's natural rate of collagen production. Since everybody's system is unique, the timeline varies from individual to individual. In general, you will begin to see noticeable improvement in the first few weeks post-treatment.
Some changes you might notice include increased lip volume, a better-defined cupid's bow, and a more symmetrical, well-rounded lip shape overall. Mature lips will also sag less and become fuller.
The results of your lip laser treatment will become more evident with each additional session.
How Many Sessions of Laser Lip Plumping Do You Need?
The general consensus seems to be that 4-6 sessions are necessary, but different technicians have different ideas on the number and ideal scheduling of laser lip plumping treatment sessions.
Various sources make the following suggestions:
3 initial sessions once per month + 1 maintenance session every 3 months
6 sessions once per week + 1 maintenance treatment every few months
3 initial sessions spaced 2 weeks apart + 3 maintenance sessions at one month apart
Once per week for 4-6 weeks + 1 session every 3 months
When you choose a lip laser technician, book a consultation before you commit to the treatment. Ask them about their recommended course of sessions and what would be the best option for your specific skin type.
Just like it's the case with other forms of collagen induction therapy, like skin microneedling or lip microneedling, in order to achieve more significant collagen build-up, the micro-trauma needs to be repeated.

Image source: Instagram @candidprochrista
How Long Does Laser Lip Plumping Last?
The results of laser lip plumping generally last for 6-12 months between touch-up treatments. The specific length of time depends on your age and metabolism, because the newly produced collagen degrades at the same rate as existing collagen.
Generally speaking, mature systems experience collagen degradation at a faster rate. As a rule of thumb, touch-ups become necessary at the following intervals:
Around 10-12 months for people aged 18-25
Around 6 months for people aged 25+
Around 3 months for people aged 60+
Bear in mind that this is just a general timeline, and that your experience may differ.
Does Laser Lip Plumping Have Any Risks or Side Effects?
Laser lip augmentation is essentially a risk-free treatment. Unlike with lip fillers, there's no breaking the surface of the skin and no inserting substances into your system (either organic or synthetic).
You're literally just boosting your own body's natural functions.
That means no pain, no bleeding anywhere, no bruising, no cold sore flare-ups, no chance of inflammation, no risk of infection, nothing to which you might have an allergic reaction. The only notable side effects are:
Lips looking somewhat flushed
Your natural lip hue looking a little brighter
Mild stinging after the treatment (goes away in about an hour)
Residue warmth in the lip area (goes away in about an hour)
Potentially mild dryness (goes away in a day)

Image source: Instagram @perfectmedspa
Laser Lip Plumping Aftercare & Recovery
As we mentioned, laser lip enhancement is non-invasive and risk-free, so there isn't any specific aftercare strategy you must follow. Nonetheless, there are a few steps you should take to minimize discomfort after your laser lip plumping treatment:
Your lips will be more sensitive to sunlight and UV radiation than usual. Avoid excessive sun exposure for around 4 weeks after your treatment, and wear good SPF.
The skin on the outer lip may be mildly dry. Use nourishing lip balms to keep it hydrated and comfortable.
Completely avoid any spicy foods and very hot beverages for 3 days after your laser lip enhancement.
Other than these minor adjustments, you can go back to your routine right away. That's another reason why laser lip plumping is so popular: it requires no downtime whatsoever, and there's essentially no recovery period.
How Much Does Laser Lip Plumping Cost?
On average, the cost of laser lip augmentation tends to fall in the $200-250 range. However, it can vary with location and the experience and expertise of the technician.
Certain businesses, like cosmetic surgeons, could price it at as much as $750 as a part of their services. Keep in mind that most people require 4-6 treatments, so consider the total cost before you commit.
Take your time in choosing your technician.
Shop around to find the lip laser plumping cost that best suits your budget. Look at online reviews, compare prices and portfolios, and don't be afraid to look outside your city of residence if you can reasonably make a little trip to a more affordable provider.
Laser Lip Plumping – Main Takeaways
Laser lip plumping is a great alternative to lip fillers. It is non-invasive and quite comfortable compared to other lip enhancement methods.
Laser lip augmentation relies on stimulating the body's natural collagen production. It helps counteract lip thinness, tighten loose skin around the lips, improve the color and shape of the lips, and make them plumper and more youthful.
Since it works with the body's natural processes, it's arguably the safest method of lip enhancement you can try.
LEARN MORE ABOUT LASER LIP PLUMPING