⏱️
5
min read
Whenever a new beauty treatment pops up, there's bound to be a discussion on its safety.
Permanent makeup has been around for a while, so there's been plenty of time to study its effects. In general, the possible side-effects of PMU and the circumstances under which they may occur are known, as are the ways to predict and prevent them.
If you're considering getting a treatment, it's natural you're wondering how safe is permanent makeup. So look no further, PMUHub answers all your questions!
Is Permanent Makeup Safe?
The permanent makeup industry has come a long way. The tools and supplies used are much more advanced nowadays than, and the techniques are constantly being perfected.
Modern-day PMU procedures are generally considered non-invasive and therefore relatively safe, but whenever there is breaking of the skin, there are certain risks involved. 
Most of them are not related to the pigments (although substandard quality pigments could cause irritation, even granulomas, and unattractive fading, so make sure you check what the artist of your choice is using), but rather to the artist's technique and the conditions under which the procedure is done.
So, let's explain and discuss the biggest risks of permanent makeup.
Risk of Infection
The number 1 issues that arise from PMU procedures are infections, which can occur due to several reasons that have to do with the application itself on the one hand, and the aftercare on the other.
Whenever the skin is broken, there's the possibility of bacteria entering your system. This risk is minimal in a sterile environment, which is what every PMU salon should be, but the fact is, not every artist pays the same attention to hygiene.
Before every treatment, all the tools must be sterilized, just like all the surfaces the tools or the client may come in contact with. Of course, the tools used for making the incisions are single-use, but there are other supplies to consider, like measuring tools.
The artist must wear protective equipment (gloves, mask, goggles) throughout the procedure.
But it's also important to note that the skin in the treated area has to be disinfected before it's broken, to make sure no harmful microorganisms make their way into the wounds.
Because, freshly done PMU is essentially an open wound, although the microinjuries are tiny.
And for this reason, the period of recovery, while the skin is closing up, is also a potential source of infection.
The client has to care for their results properly during the healing period, which means cleaning the area according to the rules prescribed by the artist, and using carefully-selected products to aid the recovery.
For more detailed info on this topic, here's a look into microblading infections and lip blush infections.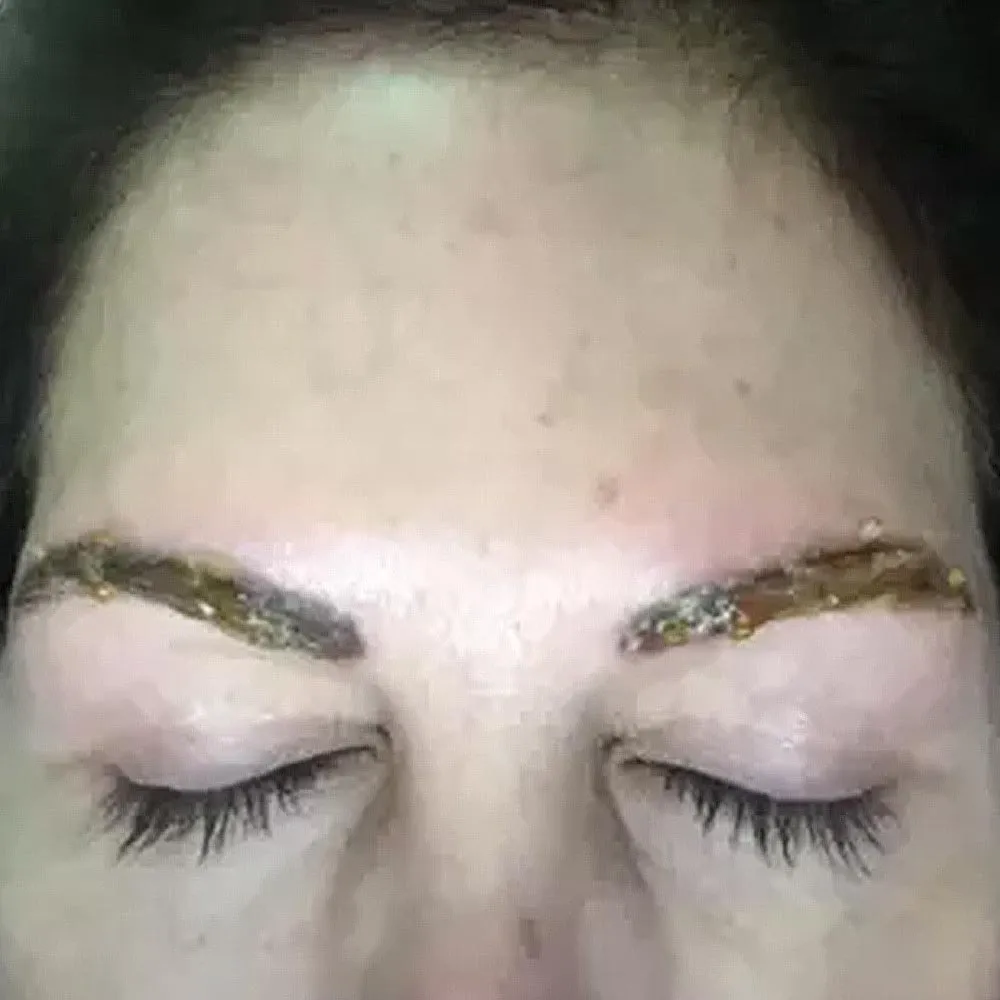 Image source: YouTube Inside Edition
Scarring
PMU should be done in such a way that's not too aggressive on the skin, but in certain cases, the skin can get overworked, can't heal properly, and scars form as a result.
This should not be an issue with experienced artists who know how to adapt their pressure even to thinner, more sensitive skin. 
But not all artists are equally skilled, so clients need to be really careful when choosing a PMU artist.
Scarring can also occur due to extreme cases of infection which can disrupt the healing process. We have to repeat, though, that infections are not always the artist's fault. 
Keloid Scarring
We have to mention keloids as a different type of scarring that can occur even with minimal skin trauma. 
Keloids form as a result of overproduction of collagen as a response to skin injury. Some people's systems simple react too aggressively, and PMU is a potential trigger.
So, if you know that your skin tends to develop excessive scarring, it's best to steer clear of PMU treatments.

Image source: Instagram @eliselouisemelbourne
Contraindications for Permanent Makeup
Unfortunately, PMU isn't safe for people who suffer from certain conditions:
People with uncontrolled diabetes (read more about diabetes & PMU here)
People with serious diseases such as epilepsy or autoimmune disorders
People with any bleeding disorders
People who take blood thinning medications and can't temporarily discontinue use
People who've recently had Botox injections or fillers (at least 2 weeks should pass between treatments)
People with viral infections or diseases
People who are going through chemotherapy
People with skin irritations or Psoriasis near the treated area
PMU also shouldn't be done on skin that's recently been tanned.