⏱️
4
min read
We're sure you've already heard of microneedling, this miraculous treatment that gives great results, no matter what skin concern you have.
This treatment is highly recommended by literally everyone – dermatologists, beauticians, celebrities. So many benefits, yet nobody is talking about the downsides. It has to have some, right? Well, let's compare the pros and cons and see is microneedling worth it.
Microneedling Has Many Benefits…
Microneedling is a minimally invasive skincare treatment that stimulates the body's natural collagen production by deliberately creating micro-wounds via puncturing the skin with tiny needles.
It promotes healthy circulation, tightens and lifts the skin. This is why this treatment is most often referred to as anti-aging treatment – although it's used for resolving various skin concerns.
Microneedling helps battle acne and acne scars, hyperpigmentation, wrinkles and fine lines, stretch marks, and many other skin issues. Overall it can be used by nearly everybody who seeks to improve their skin texture and appearance.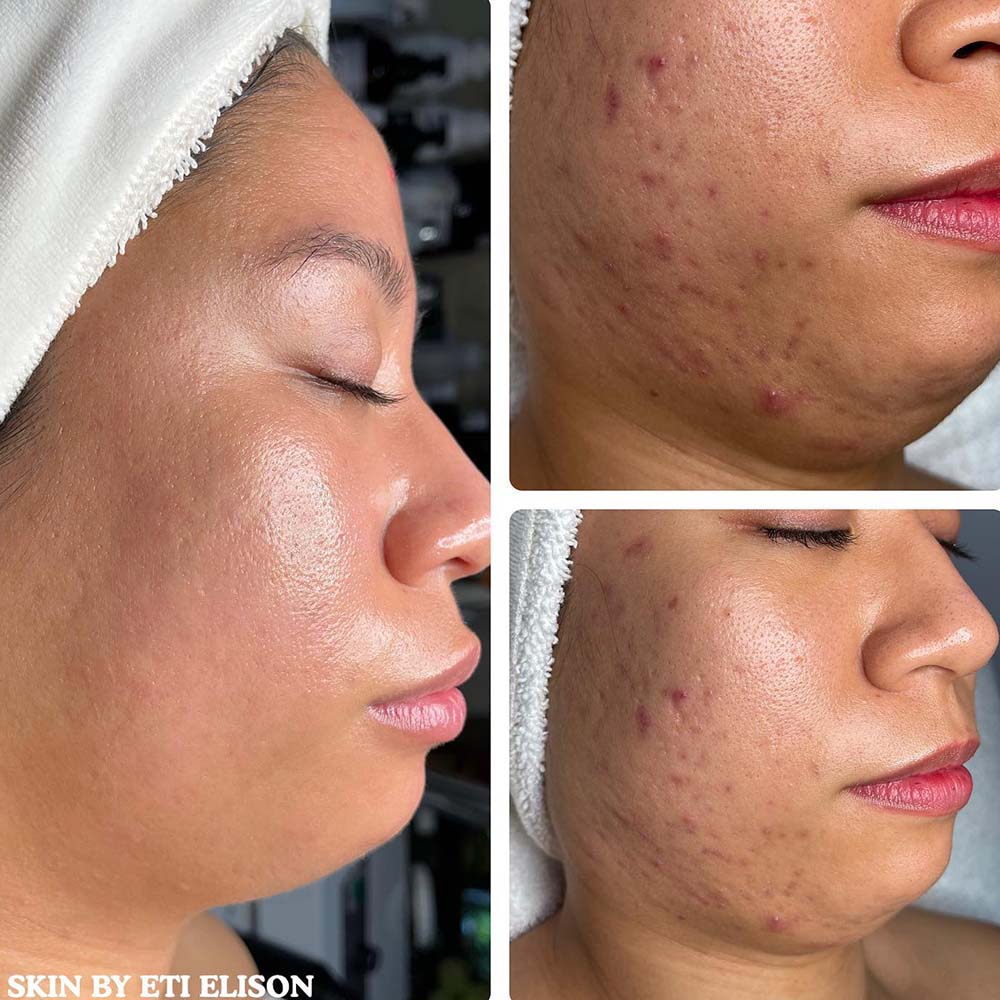 Image source: Instagram @skinbyetielison
… But It Also Has Some Downsides
You might be skeptical because it seems like this treatment is the cure for all skin problems. And that just seems too good to be true. Okay, so it might have some drawbacks. Here are some of the downsides of microneedling to help you decide is microneedling worth it:
Has to Be Done Frequently
To get the most out of microneedling, you have to be patient and consistent. It requires multiple sessions that need to be spaced out over several weeks. Ideally, 4-6 weeks should pass between each session. This drawback turns people away as several weeks of repeating the treatment seems like a drag to some.
Doing just one microneedling treatment will give you some positive results but multiple appointments are needed to achieve the best possible results. The amount of sessions you need depends on your skin concerns.
You can talk to your technician about the rough number you'll need but ultimately it depends on how your skin reacts and how effective the treatment is for you.
It Isn't Exactly Cheap
Microneedling sessions can add up. The average price of a single treatment is around $200, but it can vary from $100 to $350, depending on the location, expertise, area treated, etc. Keep in mind that you'll probably need multiple sessions as well, so it can be quite expensive.
At-home treatments are more affordable, obviously, but DIY microneedling costs at least the amount you'll spend on a dermaroller, serum, and disinfectants.
However, at home microneedling isn't as effective as the one done at a salon. Professional treatment yields better results because they use longer needles that can go deeper into the skin. This is performed by a trained professional that is knowledgeable about safety and sanitary requirements.
Image source: Instagram @ramona.martiness.official
It Can Be a Bit Uncomfortable
Another is microneedling worth it? dilemma is regarding the level of pain during the treatment.
Although the treatment isn't really painful, it can be uncomfortable. And again, it has to be done more than just once.
The sensation mostly depends on the body part you'll be treating. The most sensitive parts are bonier parts of the face or body and parts where the skin is thinner. But even then, this treatment isn't meant to be painful. Numbing cream is usually used to eliminate the pain.
The downside is that numbing prolongs the length of the session, as you have to wait some time for the numbing effect to start.
It Causes Some Side Effects
Red, tender, and sometimes even swollen skin post-treatment is another downside of the microneedling treatment. The skin starts turning red immediately and that redness lasts at least for a couple more hours.
Technically you can go about your day if you don't mind the redness, but just keep in mind you won't exactly be looking your best.
Plus, albeit short, there is also a healing process this treatment requires. Usually it's only 24 hours, but it can take up to several days, depending on the extent of the treatment.
Although it doesn't really entail any serious downtime, you still have to follow the aftercare regimen. The micro-wounds will close up within 7 days after the session, but when having multiple sessions, following strict rules for weeks can be annoying.
Image source: Instagram @facebywallace
So, Is Microneedling Worth It?
Short answer: totally!
All of the downsides of microneedling aren't comparable to its many benefits!
Microneedling is maybe the least invasive skin treatment that provides a prominent improvement with only a mild discomfort. It can achieve similar results as laser treatments but it's as much as 4 times cheaper.
If you take a look into the side effects and downtime other skin treatments require, microneedling seems like a great choice. The best part is that if you try it out and decide it's not for you – you can always choose not to go through with more sessions. Your skin will still be better than it was, but you don't have to commit.
Learn more about microneedling:
Microneedling – Everything You Need to Know
Microneedling Before and After Pictures Gallery
RF Microneedling – What Is It & What Are the Benefits?
Cover image source: Freepik