⏱️
5
min read
If you've been researching eyebrow tattoos, you probably came across some info on how to prepare for microblading.
Just like all permanent makeup, microblading implies depositing pigments into your skin, and as such, the success of the treatment largely depends on the state of your skin at the moment of the procedure, but also the state of your system overall.
That's why preparing for microblading properly is very important. Here's a simple checklist of microblading prep instructions: things to do and things to avoid in the months, weeks and days before your microblading appointment, along with explanations.
How to Prepare for Microblading – What's Good to Know
Preparing for microblading is something you need to take seriously. The treatment implies breaking the surface of the skin, and if you don't follow prep instructions as closely as possible, things may not go according to plan.
Here's what can happen if you don't do proper prep before microblading:
There can be complications during the treatment
Your skin can have a dramatic reaction
The pigments may not get retained
The retention can be poor
That's why many artists insist you sign a waiver form confirming you've followed the instructions on how to prepare for microblading. If you don't, the treatment may not work out and you'll need to repeat it. And pay for the do-over, since it's not the artist's fault.
NOTE
Some aspects of preparing for microblading start quite a while before the actual appointment. So getting microblading can't be an impulsive decision – you need to plan it in advance.
Image source: Instagram @xara_beauty
First Step – Finding an Artist
The first step of microblading preparations is obviously finding an artist. Lately, so many artists have emerged it can be hard deciding on who to pick, so here are some tips:
#1 Don't Get Fooled by Prices
Microblading isn't cheap, but don't let the price be the primary factor in making your decision. Don't get blinded by bargains and book with the cheapest artists you can find – this is your face we're talking about and you don't want a botched job. But don't be prejudiced either – there are many talented artists who are relatively new and are just starting out.
On the other hand, you shouldn't automatically trust an artist just because their prices are high-end. Their style may not suit you.
The primary factor when deciding on an artist should be their work.
#2 Research Portfolios
Microblading can be done in many different patterns, and every artist has their signature style. Find artists in your area and check out their before and after portfolios so you get a sense of their style.
#3 Save Pictures for Reference
It will be easier for your artist to get the idea of what you want if you show up prepared. Save some works you came across during your research and show them to your artists during consults. They can take that as a starting point and advise you on what will work best for you.
You can browse our Microblading Before and After Gallery for inspo!
Image source: Instagram @fernandahuerta_beautyacademy
How to Prepare for Microblading as Your Appointment Approaches
Here's what to avoid at different stages of microblading prep.
1 Year Before Microblading
Obviously, you won't plan your microblading a year in advance.
But what you have to know if you're researching microblading is that you have to be off Accutane at least a year before you can get a brow tattoo. Accutane extremely thins out the skin, and it takes a long time for it to recover sufficiently to be ready for a microblading treatment.
If it's not fully recovered, it can get damaged by the blading.
1 Month Before Your Appointment
Your skin needs to be in the best shape possible for microblading, and that means you can't use any thinning products at least a month before your appointment, to let it recover. Compromised skin doesn't react well to the treatment – it gets irritated and overworked fast, and it bleeds more.
So, avoid:
Retinol (vitamin A)
Aggressive acne treatments
Salicylic acid
Aggressive chemical peels
Aggressive facials
If getting fillers or Botox in the forehead or eye area, you should do it at least 1 month before microblading. They need to settle into your face so the artist can give you the best brow shape possible.
Ideally, you should get microblading first, and fillers/Botox when it heals (more info here).
Another thing to avoid is henna brows and regular brow tinting. It's not safe to open up the skin if there's a henna stain on it, and the artist should see the natural color of your brows to pick the best pigment shade.
10 Days Before Your Appointment
Don't take any blood thinning medication or supplements for 10 days before your microblading. If your blood is too thin, you will bleed a lot during the procedure, which can make the artist's job difficult and the pigment won't get retained as well.
If you're taking blood thinners as part of therapy for a medical condition, check with your GP if it would be possible to pause use until you get microblading.
Vitamin E and fish oil are also blood thinners that need some time to leave your system, so stop taking that, too.
You also need to avoid sunlight exposure and tanning beds for at least 10 days before microblading. These compromise the skin and it can react severely to the blading. Plus, if you get sunburnt, you'll have to postpone your microblading appointment.
Wear sunscreen on your face when you're going out.
Image source: Freepik
1 Week Before Your Appointment
If you normally get any type of brow grooming – tweezing, waxing, threading, or anything like that – skip it for 1 week before your microblading appointment. Your skin can get irritated, and the artist needs to see your natural, untouched brows to give you the best bespoke shape.
1 Day Before Your Appointment
The things you ingest a day before your procedure will still be in your bloodstream the next day, and could affect the consistency of your blood. This will lead to more bleeding during the procedure.
So, avoid:
Alcohol
Caffeine
Aspirin and ibuprofen
Niacin (vitamin B3)
The Day of Your Appointment
On the day of your appointment, skip your workout. Even though you'll shower and wash your face, some sweat can remain in your pores, and the salt in it can affect the way pigments go into the skin and how they settle.
Make sure you wear comfortable clothes to your appointment, as you'll be laying down in the same position for up to 2 hours.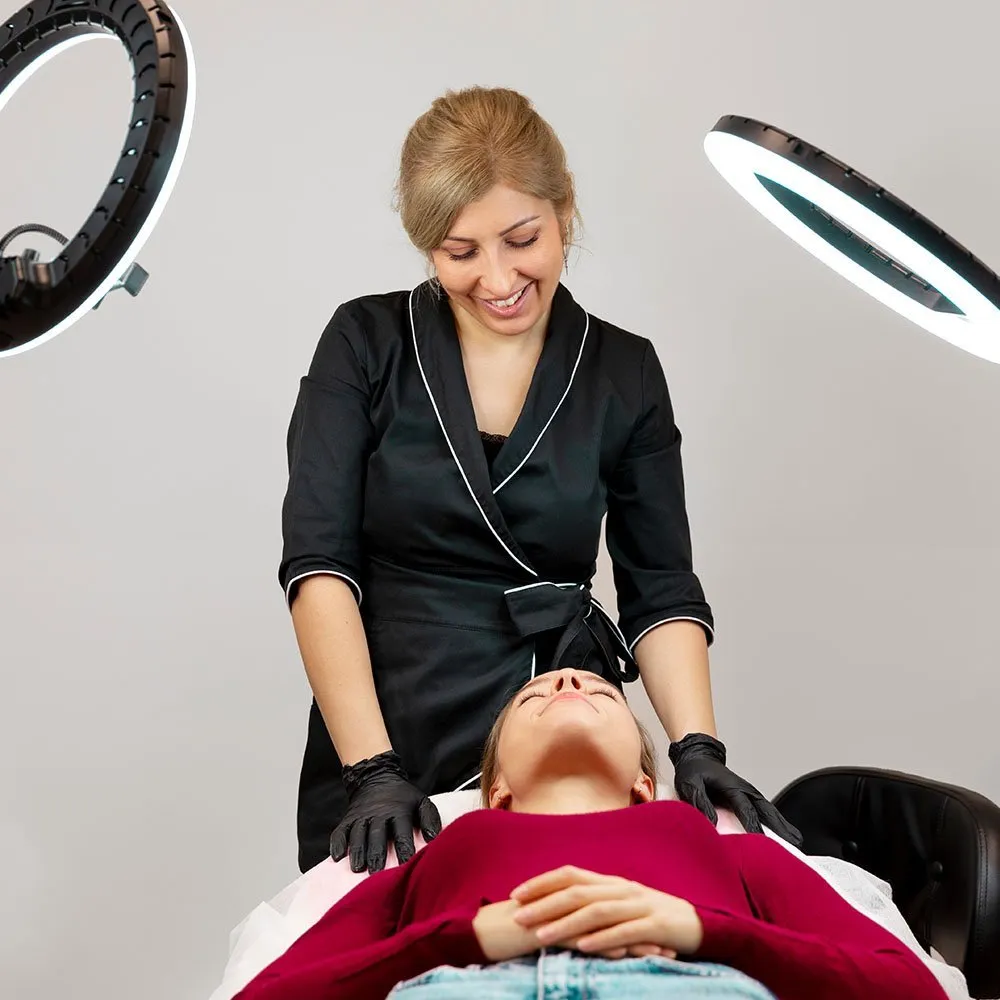 Image source: Freepik
Final Piece of Advice
An important part of how to prepare for microblading is to relax.
Clients sometimes get anxious as their treatment is coming up and turn into real control freaks, which is somewhat understandable as you'll live with your microbladed brows for up to a year and a half and you want them to turn out as fab as possible. But if you give off an aura of panic and make your artist's work difficult by constantly checking on what they're doing, you'll both just get frustrated.
If you chose an experienced, reliable artist, trust them. They know what they're doing!
Cover image source: Freepik