⏱️
4
min read
When booking a microblading appointment, clients can have all sorts of questions they may not feel comfortable asking their artist. While it's very important to feel like you're able to ask them anything you want to know about the treatment itself, you can't really ask them directly do you tip microblading artists, and how much to tip for microblading.
Well, PMUHub is there to clear up everything about PMU treatments, and today we'll be digging into this touchy subject.
Let's review the common practices when it comes to how much do you tip for microblading.
Do You Tip Microblading Artists in General?
When it comes to the microblading industry, there aren't really any established rules in terms of whether or not you should tip or how much to tip for microblading. It's all down to your personal choice, and it's important to understand that artists don't expect a tip from you, although they would greatly appreciate it.
Think of it this way – would you tip your hairstylist? Or, if you ever got a tattoo, did you tip your tattoo artist? There's no rule that says you have to, but if you're satisfied with the service, it only feels natural you'd tip the person who provided it, as a sign of gratitude and your satisfaction with their work.
Granted, microblading doesn't come cheap and the price of the treatment itself can be quite high, and you may feel like, since you already paid several hundred dollars, there's no need to add a little extra. Artists set their prices based on various factors (you can find more info on how microblading artists set their prices here), but it's important to understand that, sometimes, they have to charge their work below its value.
This happens with beginners who haven't had a chance to make a name for themselves yet, or those working in areas where the competition is so strong they have to keep their prices somewhat lower to attract clients. In many cases, the price isn't the true reflection of the quality of an artist's work.
So, if you feel really happy with your new brows, tipping is welcome, although it's not a given. No artist will refuse a tip!
In fact, many claim that getting a tip is a huge encouragement and an affirmation of your satisfaction with their work, although they don't really expect it.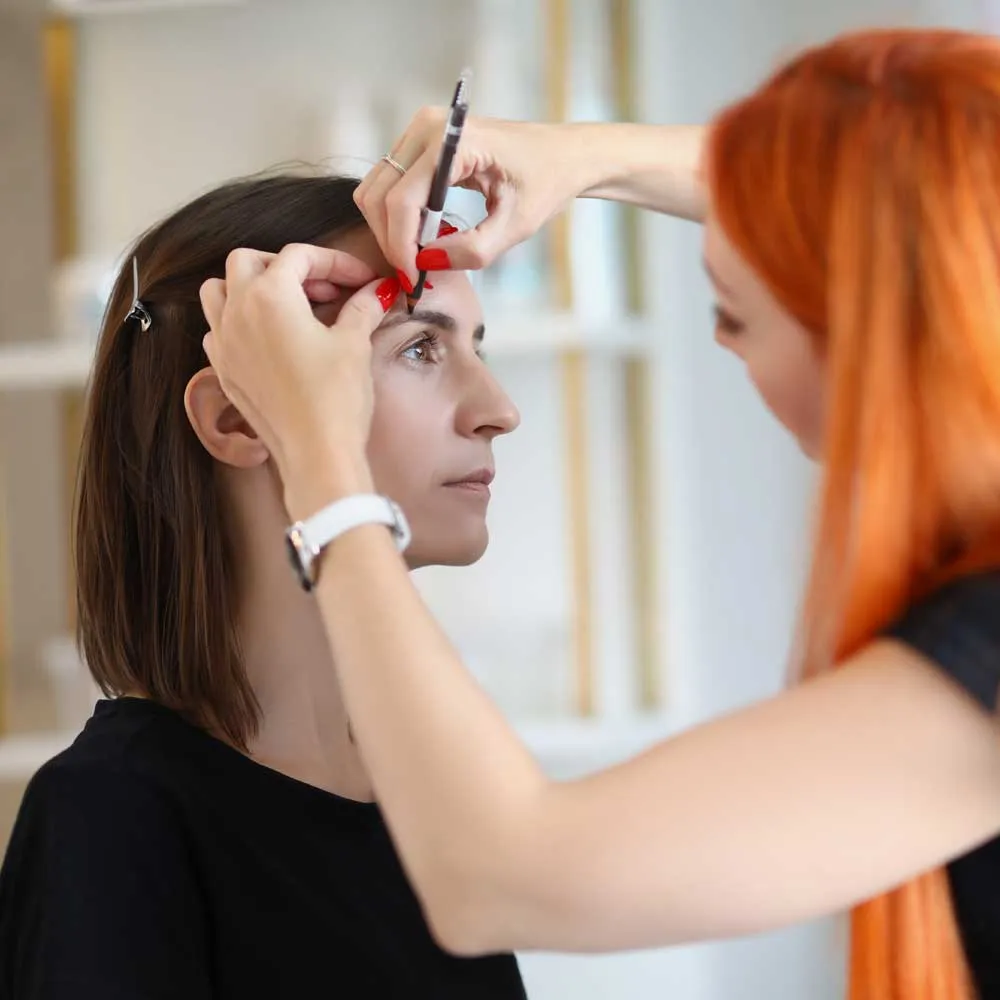 Image source: Freepik
How Much to Tip for Microblading Treatments?
Once we've assured you it's more than okay to tip for microblading and that you've decided that you do want to tip your microblading artist, the next obscurity is – how much to tip for microblading?
Tipping tendencies are more or less the same in every industry: 10-20% of the price of the service. The value of the tip should be proportional to the cost of the service.
If you're not satisfied with the service, you naturally won't tip at all. If you're over the moon, you can always go higher than that if you're comfortable with it.
And the same goes for microblading.
To put things into perspective, here are some figures to help you determine how much to tip for microblading:
If your artist charges below the average $300, a fair tip is between $30 and $60, although the relatively low price of the treatment may encourage you to set your tip in the higher range.
If your artist charges an average $600, a fair tip is between $60 and $120.
If your artist charges the above-average $800, a fair tip is between $80 and $160.
How Much to Tip for Microblading Touch Ups?
Microblading is a 2-session treatment, and both sessions are charged. However, 2 equally widespread practices are including the price of the touch up in the price of the initial session, and charging for each session separately.
If your touch up is charged separately and you've tipped for the initial session, you don't have to feel pressure in terms of tipping for the touch up. You've already expressed your satisfaction with the artist's work.
But since the touch up is usually charged significantly less than the initial session, the tip will be proportionally smaller and therefore won't make a big dent in your budget, so it's a small act of kindness that will assure the artist that you truly love your brows once they're healed – this is the point where the quality of the work can judged.
If you paid for both sessions at your initial appointment and included a tip, you obviously won't be expected to tip at the touch up.
Final Word
Tipping is a sign of good will and a way to reward your artist for their good work. Behind a finished pair of brows stand years and years of practice and investing into education. Mind you, it's not an easy skill to learn, and artists who do it exceptionally well deserve to know you appreciate them.
Of course, there are many ways to express your gratitude and money isn't the only option, but if you feel like your artist deserves it and you're genuinely grateful for the work they've done, just the gesture of having tipped them can make their day, regardless of the amount you add on top.
If you don't feel comfortable leaving a tip, a great way to show your appreciation is leaving an online review! Artists value reviews a lot. Ask your artist on which platforms their business is listed and say a few words for future clients.
Cover image source: Freepik