Henna Freckles - Faux Semi-Permanent Freckles
Here's a short guide through henna freckles, a cute semi-permanent way to get the freckles look.
Freckles are very much in! The freckled look has been super trendy in the past couple of years, and people who aren't naturally born with these cute little marks are coming up with ways to recreate them (without exposing their faces to harmful sunlight).
While using the good old brow or eye pencil for drawing on some extra freckles might seem like the obvious solution, if you stay consistent and draw them on every time you leave the house, it can get very tiring very quickly.
So TikTokers came up with a semi-permanent alternative – henna freckles! Let's see how you can use henna for freckles.
Table of contents - Skip to a specific paragraph
What Are Henna Freckles?
Basically, faux freckles created with henna. It's a simple procedure that can create the look of having freckles anywhere on the face (or body, for that matter) that will last significantly longer than regular makeup, but not as long as freckle tattoos.
It's an easy way to draw freckles that won't smudge or wash off. Plus, they will blend nicely into the skin. In terms of fake freckles, henna is the most natural-looking option. They won't look unrealistic the way a poorly done freckle tattoo can. Of course, you have to get the color right.
Henna is a natural dye that can be used in various ways for hair coloring and body art. It leaves marks on the skin that last for several weeks, after which they fade away.
Image source: Instagram @honeypot_waxspot_az
How Can I Get Freckles with Henna?
Henna freckles started as a DIY thing, but salons quickly picked up on this trend, and you can now get henna freckles as a professional service.
The treatment is done by applying tiny drops of henna paste directly onto the skin. The paste is left on to dry, allowing for the skin to absorb it, and once it's removed, the skin underneath is stained.
Henna Freckles Process Step by Step
No matter whether you decide to do your henna freckles yourself, or to get a professional service, the application process is the same.
Let's go through the process of applying henna freckles step by step.
Step 1 – Patch Testing
Certain types of henna contain a component PPD, known to cause allergic reactions in a significant portion of the population. Even if it doesn't contain PPD, you should test the henna somewhere on your skin a couple of days before doing henna freckles to make sure you're not allergic to it – an allergic reaction on your face is not something you want.
Place a small drop of henna behind your ear or in the crease of your elbow. Leave it on for some time, and if there's no reaction after 48 hours, you can use it on your face.
Step 2 – Color Matching
Choosing the right shade of henna for your freckles is arguably the most important step in the process. Henna comes in several shades, from black to red. It's important to note that black henna shouldn't be used on the skin due to its chemical composition, and plus, who wants black freckles?
So you should go for a brownish shade somewhat darker than your skin tone, but not too dark, or the freckles will end up looking unnatural and not blending into the skin properly.
Now the problem is, it's not always possible to find a henna shade light enough, but you can get around this issue by removing the paste from the skin quicker.
Step 3 – Cleaning the Face
Your skin needs to be clean of any makeup, skincare, and sebum residues in order to let henna get absorbed nicely and evenly. Clean your face with a gentle cleanser that won't irritate your skin, and dry it.
Step 4 – Henna Application
The best henna for freckles is the one that comes in a cone-shaped packaging, so that you can apply it directly out of the tube.
Drops of henna are placed wherever you want your faux freckles to be. They can be as big or as small as you want them, and they can be concentrated in one area, or dispersed over your face. Just don't get henna too close to your eyes.
Step 5 – Let It Sit
The amount of time henna should be left on mostly depends on the formula of the dye, but it also depends on whether you're getting the treatment at the salon, or you're doing it at home.
If you get a professional treatment, the henna will probably be left on for about 20 minutes. This is generally enough for the color to get absorbed. But if you're DIY-ing it, you can leave it on for longer and get somewhat darker results.
Step 6 – Clean It Off
As it sits, the henna paste will dry, so it can be gently scraped off your face with a cotton pad, and then the residue rinsed off.
Your henna freckles will look orangey right after the application, but they'll get a bit darker and cooler in tone within a day.
Image source: Instagram @pamperedbycatelyn
Is There Any Aftercare?
Not really, just keep your face dry for 12 hours to let the color settle in, and maybe adjust your skincare so harsh ingredients don't fade your faux freckles prematurely.
How Long Do Henna Freckles Last?
Henna freckles can last up to 7 days, but they can fade away faster due to certain factors:
Oily skin
Harsh skincare products
Rubbing or scrubbing
Sunlight exposure
Exposure to chlorinated or salt water
Some techs recommend using an oil to moisturize the skin and keep the henna looking fresh for longer, but you should be careful about which oil you apply – some of them are so-called lifting oils and can actually make the henna fade faster. Coconut oil should be fine, just make sure you're not allergic to it.
Can Henna Freckles Be Removed?
Henna freckles will fade away on their own relatively quickly, but if you really dislike how they turned out and can't wait them out, you can try:
Getting them wet repeatedly
Exfoliation
Exposing them to steam and sweat
Exposing them to direct sunlight (which isn't really advisable)
A combination of these will probably fade the henna freckles significantly.
Is It Safe to Get Freckles with Henna?
Generally, yes. The only risk is the risk of an allergic reaction, but that's easily prevented with a quick patch test.
An allergic reaction to henna can manifest itself through:
Redness
Itching
Flaking
Burning
Rashes
Should I Get Henna Freckles at a Salon or Should I DIY It?
Since henna freckles are such a simple and non-invasive treatment, there's no real risk of doing it on your own and saving a few bucks. Just make sure you find a high-quality henna paste, since it will be going directly on your face, and test it on a hidden area of your skin before doing the freckles.
The only benefit of getting a professional service is the option of having the henna shade custom mixed for your skin tone.
How Much Do Henna Freckles Cost at a Salon?
Henna freckles are a relatively affordable treatment. In most salons, it's between $20 and $50.
How Much Does Henna for Freckles Cost?
If you decide to DIY it, you can find freckle henna quite cheap – you can get a good amount of product for as little as $10.
The best option is to buy the ones sold in cone-shaped packaging you can apply directly to your face in drops.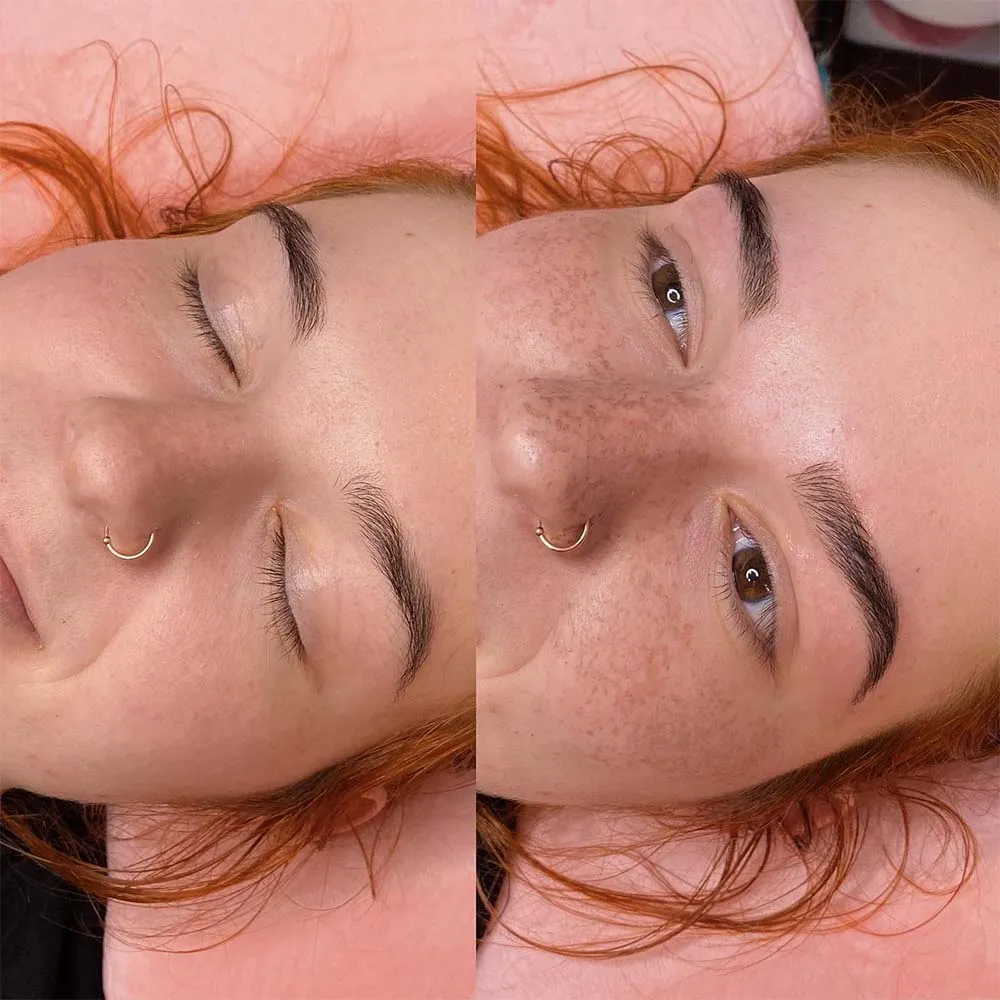 Image source: Instagram @estelle.esthetics
Is There a More Permanent Alternative to Henna Freckles?
If you decide you love the look of freckles on your face so much you want to wear it for much longer than the 7 days henna freckles can give you, you can look into freckle tattoos. As a form of cosmetic tattooing, freckle tattoos can last up to 3 years, after which time they'll fade if you don't want to refresh them.
You can learn all about freckle tattoos in this guide.
Henna Freckles – Main Takeaways
Henna freckles are a quick and easy way to get the look of freckles on your face that will last longer than drawing them on with a pencil, but not as long as freckle tattoos. They last up to 7 days, look very natural, and can be done at home at a very low price.
LEARN MORE ABOUT FRECKLE TATTOO
Explore more freckle tattoo topics:
Swipe for more freckle tattoo topics →