Plasma Pen Fibroblasting - The Ultimate Guide
Here's all you need to know about fibroblasting, one of the most advanced noninvasive skin tightening treatments: effects, risks, recovery, cost, and more!
Plasma pen fibroblasting is the talk of the town right now when it comes to non-invasive facial procedures. We're here to break down all the ways it can help make the skin look younger, discuss possible side effects, and answer all your questions!
Table of contents - Skip to a specific paragraph
What Is Fibroblast Skin Tightening?
To put it simply, it's a procedure that makes the skin tighter. It works by inducing small amounts of trauma to the cells via mini electric shocks, causing them to regenerate.
This is done with a tool called a plasma pen, so it's also sometimes called a plasma lift.
Basically, the process stimulates fibroblasts, the cells in the skin that produce collagen, hence the name fibroblasting. This is cutting-edge technology in the beauty world, as it converts energy to boost your skin's natural collagen production.
As a result, little dots appear on the skin that look kind of like tiny scabs. These are carbon deposits left by the blasts.
We get it – it sounds scary at first. Keep on reading, and we'll show you that it really isn't!
How Long Do Plasma Pen Results Last?
Plasma pen fibroblasting usually doesn't require a touch-up for up to 4 years. The results will be most visible for the first 9 months or so, and after that, the skin cells continue to age naturally and regress to their former state.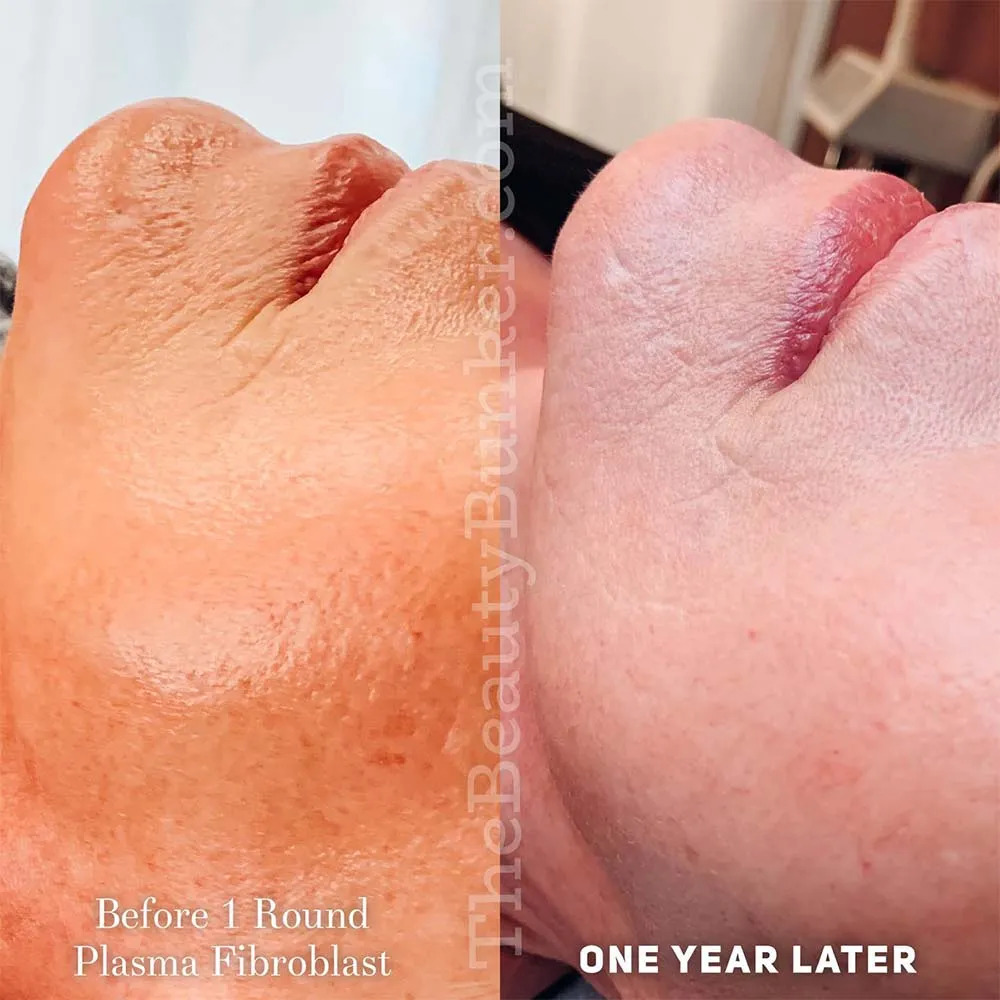 Image source: Instagram @glow_skin_science
Fibroblast Procedure Step by Step
The first step is, naturally, cleaning and disinfecting the skin. It's best to show up to the appointment with a clean face and no makeup to speed up this step.
After that, the professional will apply a local anesthetic, usually a numbing cream, on the area that will undergo the plasma fibroblast. Then, the procedure can begin.
This is pretty simple, but there are some steps you need to take before going to your treatment:
Remove eyelash extensions if you're getting work done around the eyes,
Avoid Retinoids, exfoliants, Salicylic products, and products containing Hydroquinone, AHA, and BHAs 2-3 days prior.
Remove contact lenses if you're getting work done on the face
Who Is the Fibroblast  Treatment for?
It's generally deemed safe for everyone. However, it's important to note that you should reschedule if you:
have a suntan or sunburn,
have a cold/flu/anything similar,
are pregnant or breastfeeding.
And you shouldn't get the fibroblast treatment at all if you:
have eczema or psoriasis around the target area,
are diabetic,
have lymphatic drainage issues,
have a history of hyperpigmentation,
are prone to scaring more than average,
wear a pacemaker,
have any kind of healing disorder.
Now that we've established you're a good candidate for fibroblast skin tightening, let's take a look at what you can do with it!
Plasma Pen for Wrinkles
Since it boosts the production of collagen and tightens your skin, the main use for the plasma pen treatment is as an anti-aging procedure. It works best around the face and neck area, so these are the most popular treatments.
Here are some examples of how plasma fibroblast therapy can help the skin look tighter and smoother!
Plasma Pen for Forehead Wrinkles
It can help reduce the so-called 'worry lines' that span across the forehead, and crow's feet – the lines on the sides of your eyes.
Another very popular treatment is using the plasma pen for frown lines. Keep in mind that, depending on the depth of these lines, you may need more than one treatment.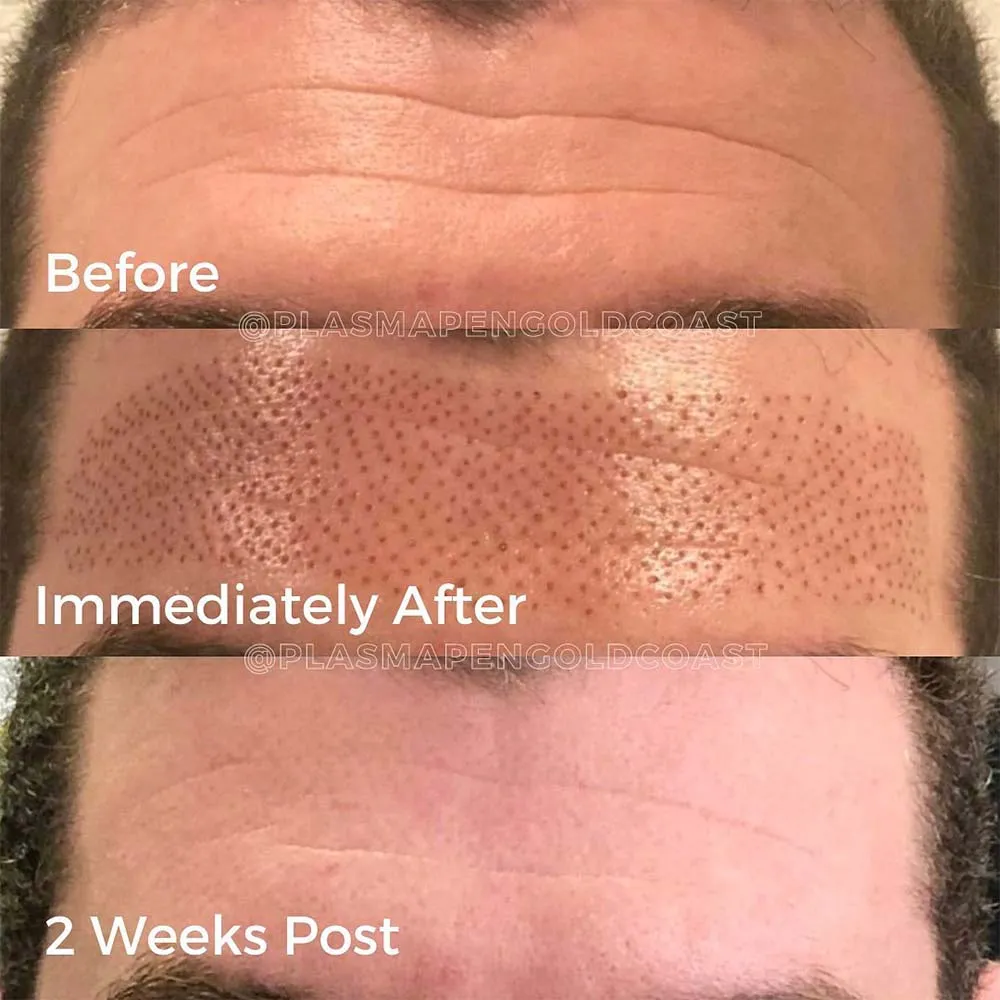 Image source: Instagram @plasmapengoldcoast
Plasma Pen Brow Lift
When it comes to the forehead area, the most popular plasma pen treatment is the anti-wrinkle one. However, another great use is to achieve the brow lift effect. This treatment is nicknamed the dragon lift.
The main benefit of going this route is that it's completely non-surgical, and can be performed by a skin expert in-office.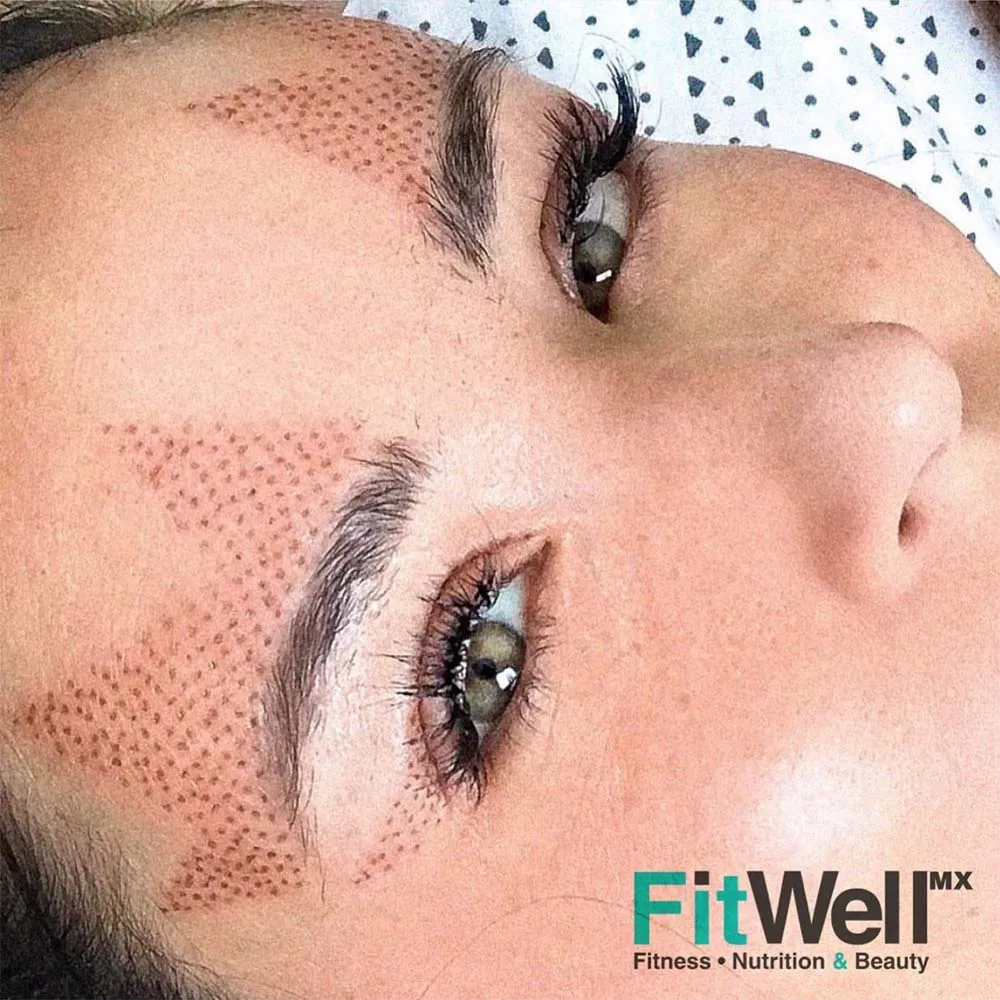 Image source: Instagram @fitwell.mx
Plasma Eye Lift
In this case, you can use the plasma pen for under-eye bags, on the upper or lower eyelids, or to remove crow's feet. It doesn't require any cutting or needles, which is why many would rather fibroblast under eyes than book regular cosmetic surgery.
Here's what that looks like! You'll notice how the person in the picture not only looks younger but also more awake and less stressed, so the plasma skin tightening treatment isn't only restricted to anti-age procedures.

Image source: Instagram @wonderface_chile
Fibroblast for Hooded Eyes
Fibroblasting can help with naturally hooded eyes, too, whether they're the result of aging or not.
There is absolutely no surgery involved, and the recovery typically lasts for only 3-5 days.
Like with wrinkle removal, the pen zaps cells and makes the skin tighter. Here, the only difference is that the targeted area is slightly larger, so it's possible that you'll need to come in for a few treatments. But this depends on how hooded your eyes are.

Image source: Instagram @plasma_pen_doc
Plasma Lip Lift
Similar to the eye lift, the plasma pen lip lift is growing in popularity thanks to how non-invasive it is.
This is a variation of the lip flip, in which the surgeon makes a small incision above the upper lift, tugging the lip's skin upwards and making it appear larger.
With the plasma pen, this procedure is made much simpler. The cells around the upper lip are fibroblasted, causing them to contract. Their movement then pulls up the lip skin, creating a fuller and poutier look.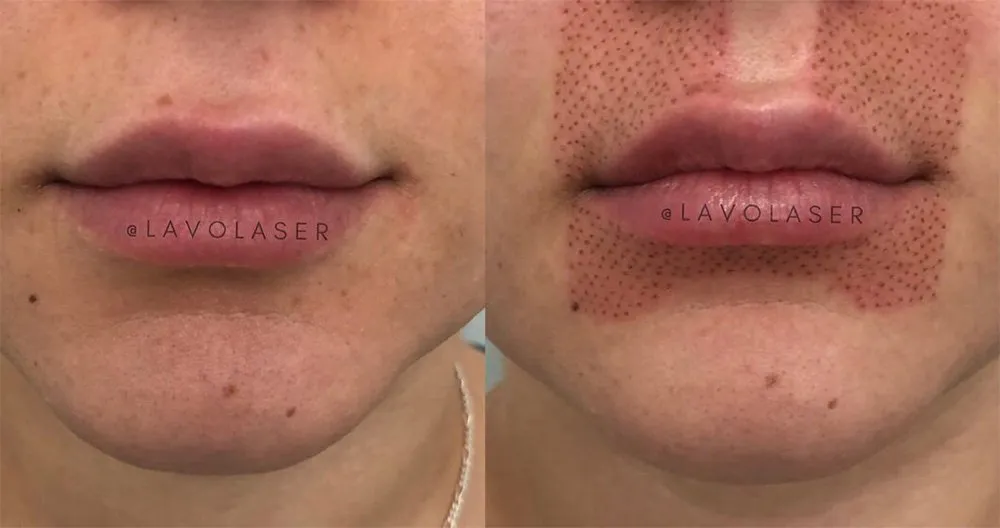 Image source: Instagram @lavolaser
Plasma Pen for Smile Lines
We've already covered how the fibroblast plasma pen can be used to treat and remove wrinkles. The nasolabial folds, also known as smile lines, are no exception.
Strategically targeting areas that will iron out the smile lines, the area around the mouth is rejuvenated.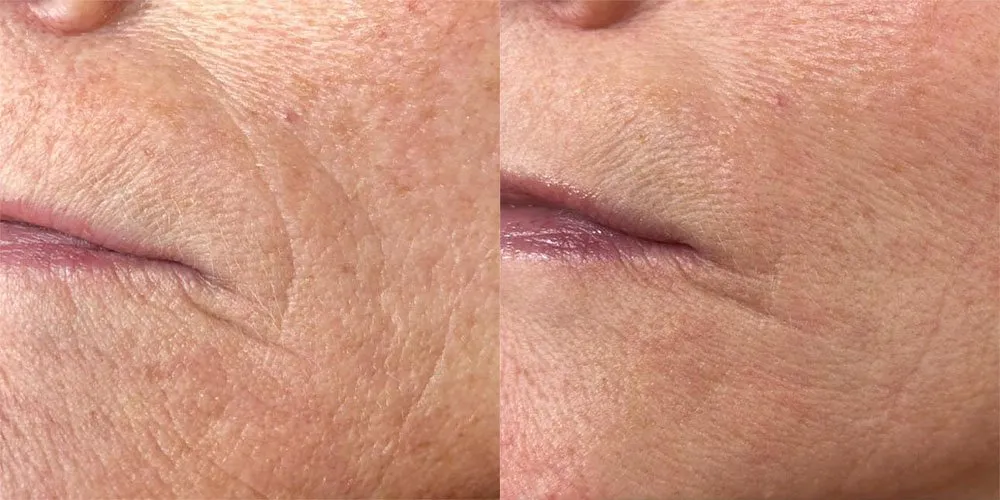 Image source: Instagram @lulu_lashes_and_blasting
Plasma Pen for Smoker's Lines
The same is true for smoker's lines – those little lines that appear above the upper lip.
Although this condition is named after the demographic that mostly gets them, anyone can have them. They are created by pursing your lips often, so if you frequently drink out of straws – this might be for you.
Fibroblasting the area above the upper lip can successfully diminish smoker's lines.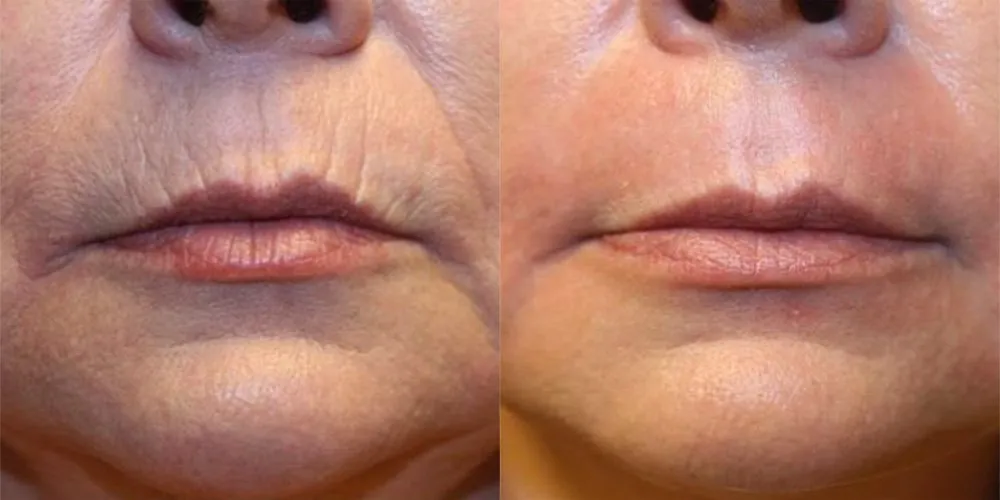 Image source: Instagram @estetiqinternational
Plasma Fibroblast Nose Contouring
By now, you've probably guessed that the plasma blast treatment can be applied to pretty much any area of the face – and you're right!
Something we've already discussed is the fact that you can plasma pen nasolabial folds to remove unwanted lines between the nose and corners of the mouth.
But did you know that you can fibroblast your nose to slightly alter its shape? The difference won't be as big as with a traditional rhinoplasty, but if you want to take care of some smaller imperfections that aren't tied to your bone structure, this is the way to go.
The 'shrunken' cells tug on the skin, making it tighter, and making your nose appear less bulbous. You can also tackle asymmetry of the nostrils by fibroblasting just one side.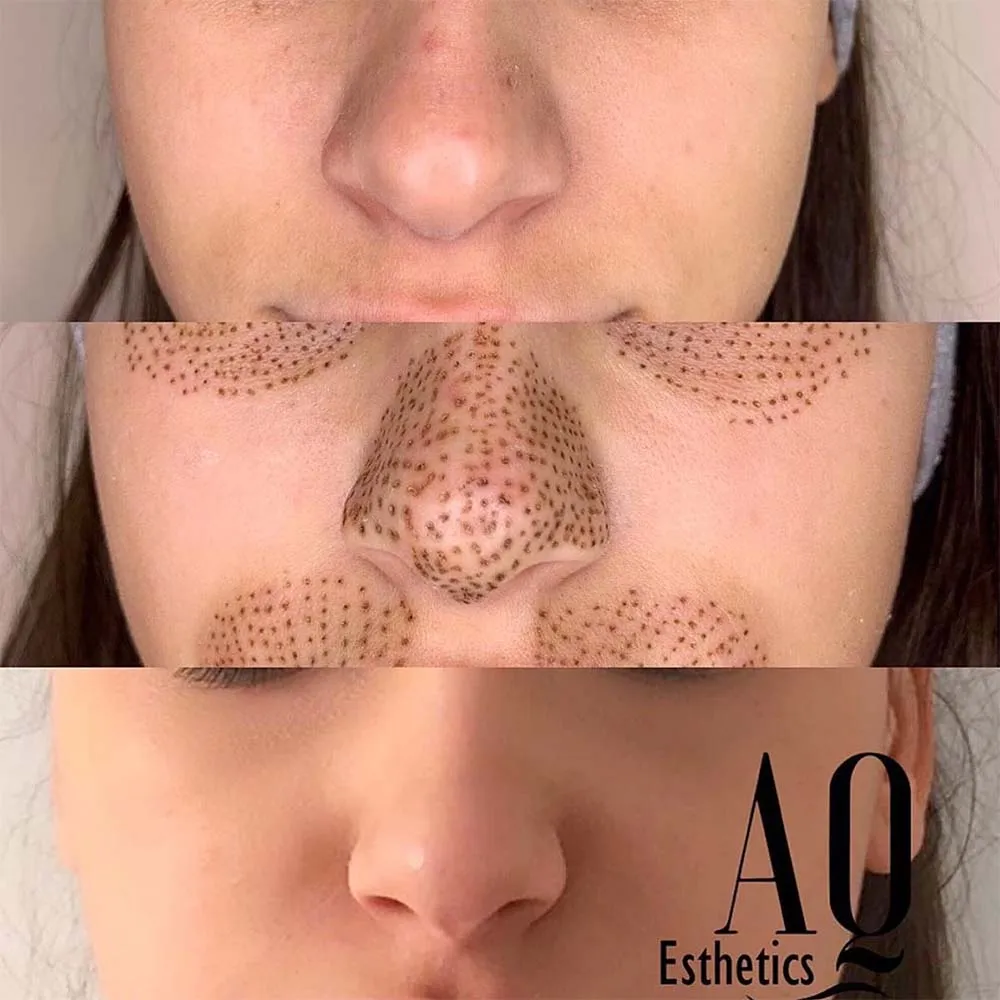 Image source: Instagram @anaceliaesthetics
Plasma Pen for Stretch Marks
Stretch marks and wrinkles are both structural changes on the skin that appear as lines in the skin that appear naturally and have been the target of many cosmetic procedures. If you want to have yours removed, you can fibroblast stretch marks too.
The way this works is the same as it is with wrinkles – the tiny electric shocks make the skin tighter, flattening the surface.

Image source: Instagram @fibroblast_by_ginamarie
Plasma Pen for Acne Scars
Acne scars are indentations in your skin that can be filled from within if the skin's collagen web is repaired, which is what the plasma pen fibroblast does.
Be careful though.
If you currently have active acne, it's best to postpone your fibroblasting treatment. The plasma pen can help with scar tissue, but zapping active, inflamed acne with electricity isn't a great idea.

Image source: Instagram @fibroblastbyrose
Fibroblast Neck Lift
No matter how much effort you put into making the face look younger, the neck will reveal the truth. That's why neck lifts are a very popular pairing to facelifts of any kind. You can achieve that effect with the plasma pen!
The procedure is the same as with eye and brow lifts – and the results are just as impressive!
The skin is tightened and rejuvenated. Depending on the degree of skin laxity and sagging, multiple treatments may be necessary.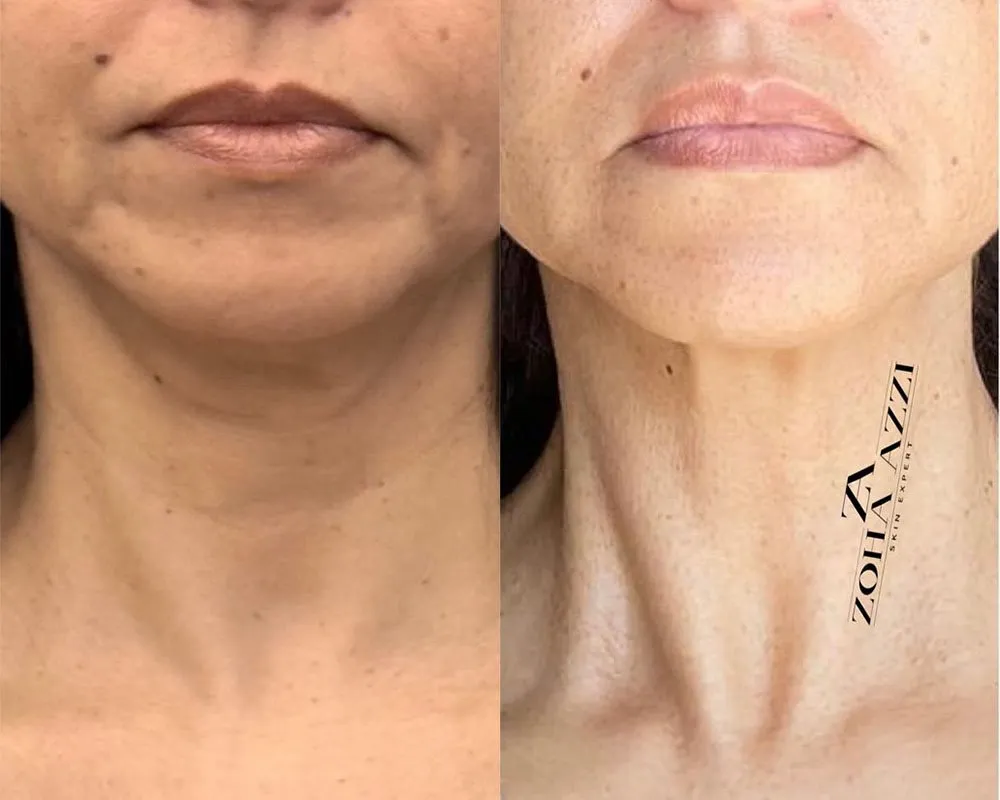 Image source: Instagram @zohaazziofficial
Plasma Pen Breast Lift
We talked about how the plasma pen fibroblast treatments are most effective around the face and neck areas, but that doesn't mean the rest of the body is excluded. You've seen how impressive the results were on stretch marks!
The plasma pen breast lift works the same as the other lifts you can do. The collagen tightens the skin, which helps to tighten the surrounding tissue, and you get a firmer and smoother look.
Depending on the degree of skin laxity and sagging, multiple treatments may be necessary.

Image source: Instagram @glow_skin_science
Plasma Fibroblast Stomach Tightening
The skin on the abdominal area can be looser than you like for a variety of reasons. As the muscles expand due to weight loss, exercise, or pregnancy, the skin doesn't necessarily follow the movement – especially if the change is relatively sudden.
The main procedure to fix this used to be to have a surgeon cut off the excess skin, tighten it, and leave scarring behind. Thankfully, the plasma pen is much less painful and invasive, with a shorter recovery, and absolutely zero scars.
Depending on the degree of skin laxity and the area of the skin that needs to be treated to achieve tightening, you might need a series of treatments, although some improvement will probably be visible even after just 1.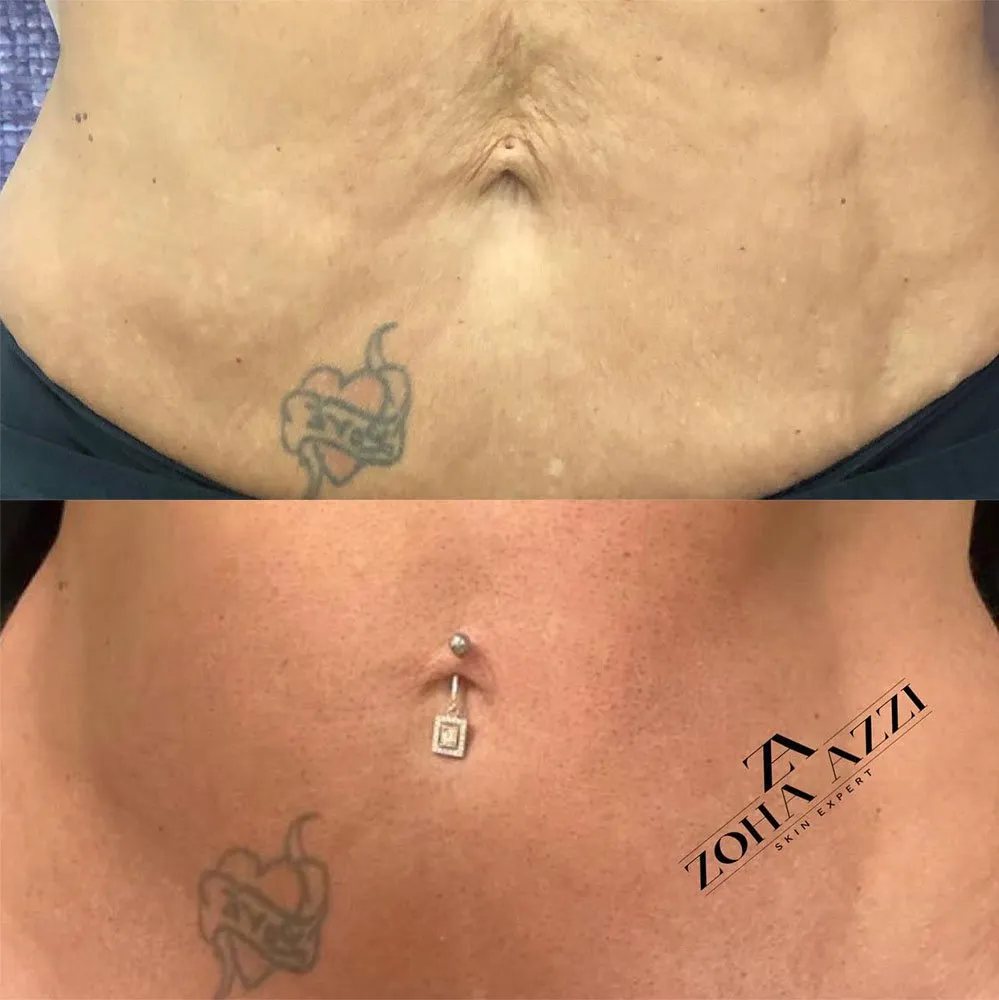 Image source: Instagram @zohaazziofficial
Skin Tightening on Other Areas
The fibroblasting process is very versatile and it can be used on many area that we may not have covered, like the hands, or above the knees. Consult a skin expert and let them assess the situation.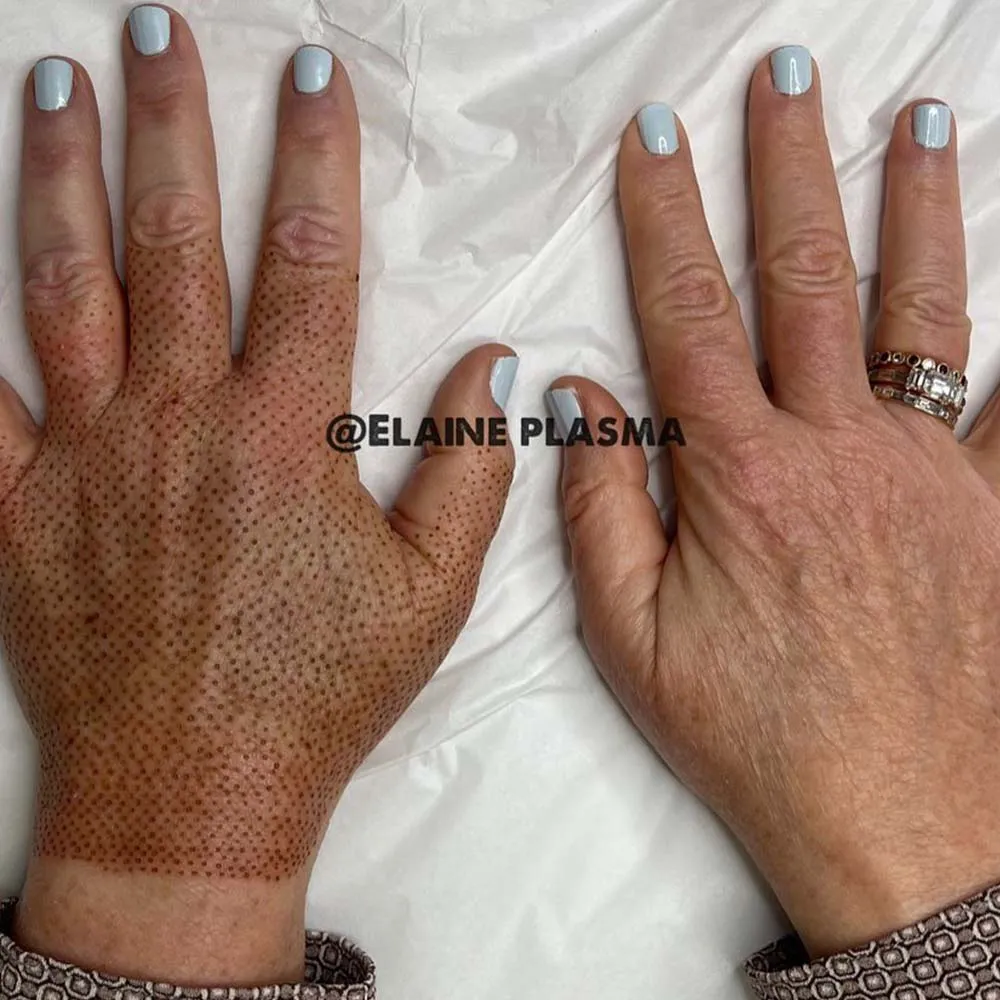 Image source: Instagram @elaine_plasma
Plasma Pen Recovery
The recovery period is relatively short and stress-free, but it's still a time when you have to be careful. Here's what you can expect:
Week 1: Swelling and discomfort – like a bad sunburn. The scab-like dots where the blasts targeted the skin are very visible.
Week 2: The dots are visible, but begin to shed. It's important not to pick them to prevent scarring and avoid the sun and liquid/steam products.
Week 3: The dots have peeled, and you may resume your normal skincare and makeup routines. Avoid acids, peels, and physical exfoliants for a while, and apply an SPF when you're in direct sunlight.
Keep in mind that the timing may vary for everyone, so if you're lucky you'll be shedding after only a few days. Use your senses here – if any product feels itchy and burning, stop using it and try again in a few days.
Plasma Pen Aftercare
On top of avoiding aggressive products and nursing your skin back to health, here are a few tips on what you can do to speed up your fibroblasting recovery:
Wash your face with lukewarm water and use gentle cleansers,
Pat dry to avoid friction damaging the scabs,
Soothe the skin with mild agents such as aloe vera,
Use sanitized ice packs or cooling eye masks to lessen the swelling and discomfort,
If you had plasma pen on your face, sleep on your back,
Avoid shaving the area until it's fully healed,
Don't go to saunas or hotbeds until you're healed.
Your skin expert will give you more detailed instructions and a more tailored aftercare routine. They will probably prescribe a plasma fibroblast aftercare cream to make the healing process even faster.
Some of them might prescribe collagen supplements to boost the healing process further.
Skin Expert Recommended Products for Plasma Pen Aftercare
Plasma Pen Side Effects
The most common side effects of the fibroblast are the ones we already mentioned – discomfort, swelling, redness, and increased sensitivity. These should go away after a week or so, but if they don't, it's time to contact a professional.
The most obvious one is the scabbing. The carbon crusts are a completely normal, inevitable part of the procedure and should peel off on their own after the first 7 days. Remember not to pick at them!

Image source: Instagram @martin_klingac
Plasma Pen Risks
Unfortunately, just like any other treatment, fibroblasting can go wrong in some cases. For example, the treatment may be ineffective and you end up with no results.
If your skin doesn't respond well to the blasts, it may also leave hyperpigmentation in the form of either lighter or darker spots. Taking poor care of the fibroblasted area can potentially cause scarring and infections too.
On a lighter note, these longer-lasting side effects aren't common and can be easily prevented by carefully choosing the person to administer the treatment and closely following their aftercare instructions.
Plasma Pen Treatment Cost
The treatment's cost will depend on the area you're getting done and its size. Here's what you can expect in terms of an estimated starting fibroblast cost in different cities in the US:
| | |
| --- | --- |
| City | Average Price |
| NYC | $350 |
| Miami | $350 |
| Los Angeles | $450 |
| Dallas | $500 |
| Houston | $400 |
| Atlanta | $350 |
| Boston | $500 |
| Phoenix | $400 |
| Philadelphia | $400 |
| San Diego | $400 |
As you can see, the starting price point doesn't vary too much. However, keep in mind that a treatment could end up costing you several thousand dollars if you're getting a large area done, or require multiple appointments in order to get the best results.
Can You Do Plasma Pen at Home?
No. The plasma pen was designed to be used by medical professionals since it requires expert-level precision and knowledge about the skin, muscles, and nerve endings. The treatment shouldn't be done by aestheticians or cosmetologists, either.
Is Plasma Pen FDA Approved?
Yes! Plasma pens need to be certified and allowed by the FDA in order to be distributed and marketed, so don't worry about the safety of the tool.
Fibroblasting – Main Takeaways
Overall, fibroblasting is a great noninvasive treatment for skin tightening and similar skin imperfections. It works by administering energy into the skin with maximum precision, to improve the structure of the connective tissue and stimulate the production of collagen.
It's a very effective treatment for tightening lax skin on the face and body, as well as diminishing the appearance of certain types of acne scars and stretch marks.
LEARN MORE ABOUT FIBROBLASTING