⏱️
7
min read
This is an objective, non-biased article. We base our product choices on various factors, such as product reviews, ingredient analysis, and overall reputation of brands. It does, however, contain affiliate links for featured products.
Whether you're an avid skincare enthusiast or just trying to keep your skin healthy and hydrated – adapting your routine to the environment is a must.
Each season brings its unique set of challenges and opportunities, and with every shift in weather, our skin responds accordingly.
So, as the air turns crisper, it's time to slowly transition to a fall skincare routine. In this article, we'll delve into essential fall skincare tips, including what are the best treatments to get, as well as some products to add to your routine.
Why Should I Transition from Summer to Fall Skincare?
The environment has a lot to do with how our skin feels and looks. When it's hot and humid, the skin may feel greasy; when it's cold and dry, the skin may feel parched for some hydration.
Not to mention the effects of other environmental stressors like air pollution, sun exposure, air-conditioning, and more.
So our skin is dealing with a lot and the best way you can help it remain healthy is by adapting to its needs when you feel like it needs some extra TLC.
The changing climate can lead to dead skin cell buildup, which in turn results in trapped oil and bacteria beneath the surface, and increased breakouts.
On top of this, you'll probably also be dealing with dryness and dehydration, and for those with sensitive or reactive skin, the changing seasons may shock your skin even more – possibly increasing its sensitivity.
So what should you add or change for the best possible results? Well, you should consider making some changes to your skincare regimen, as well as booking with a professional.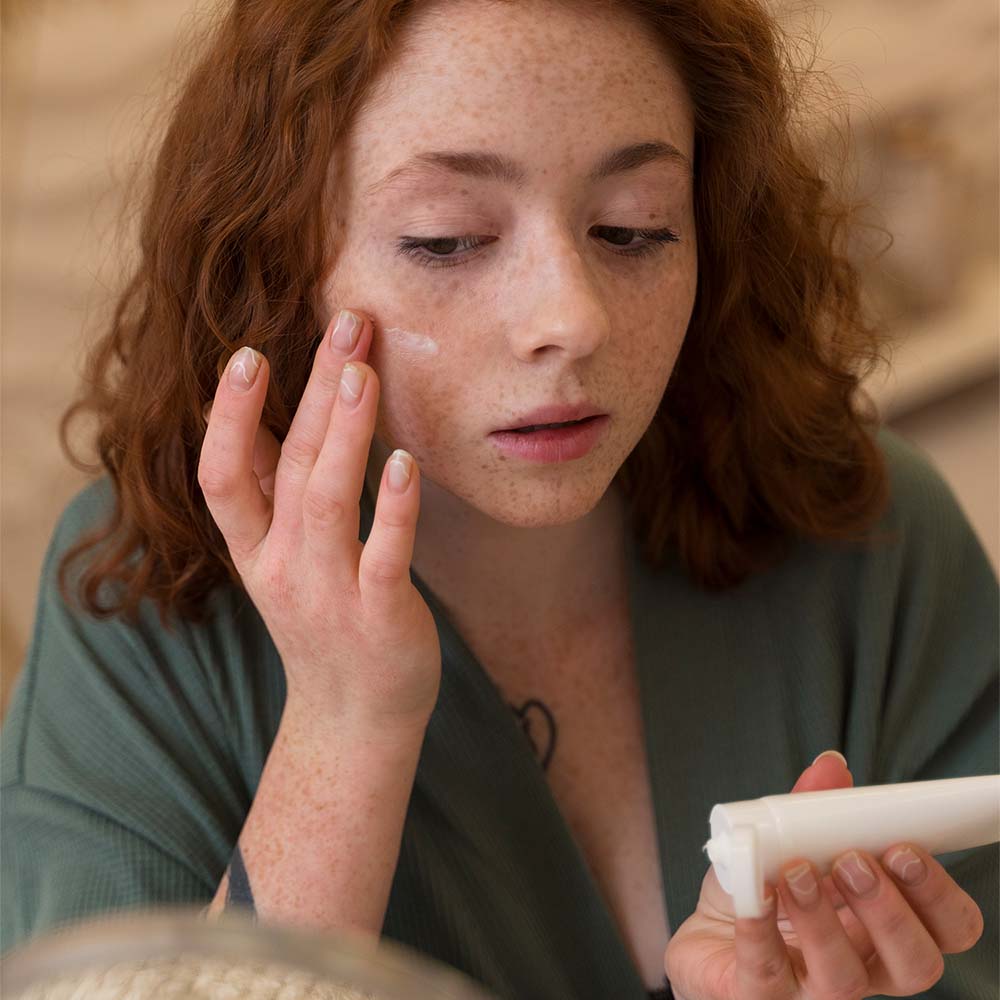 Image source: Freepik
Fall Skincare Products
Transitioning your skincare routine to the challenges the new season brings is a must if you're looking to keep your skin healthy and radiant – or simply indulge in some self-care.
Swapping out some of your routines can be difficult, though. So if you're unsure what to replace we've got you covered! Here's what fall skincare products should be in your skincare regimen rotation.
Transition Your Cleanser
Fall is the time to switch from lighter, gel-based cleansers to cream or oil-based cleansers.
These cleansers are more hydrating and help combat the drying effects of colder weather. They also help to remove makeup and impurities without stripping your skin of its natural oils, leaving it soft and supple.
Exfoliate – Just Not Too Often
By removing dead skin cells, you'll allow your skin to absorb moisture more effectively. However, be gentle with your exfoliation routine to avoid over-exfoliating.
Opt for a mild exfoliant, such as one containing glycolic, lactic, or mandelic acid and use it no more than 2 times a week.
Also keep in mind that if you're experiencing any skin sensitivity changes due to environmental changes, you should tone down the strength of your active ingredients like acids and retinols or maybe switch over to their gentler forms to avoid irritation.
Layer Moisturizers
You can introduce a bit heftier hydrator, but we recommend following your skin's lead rather than bringing out the big guns just yet. Your skin definitely needs a little more moisture, but stick with something relatively lightweight.
Bombarding your face with heavy creams can cause your skin to feel oily and your pores to become clogged. So consider layering hydrating ingredients like hyaluronic acid and glycerin instead.
You Can Also Introduce Oils
When the skin's moisture balance is disrupted, your skin can become a lot flakier and drier, so introducing facial oil into your fall skincare routine will not only nourish your skin short-term but will also help your skin improve its moisture retention in the long haul.
Up the Hydration
As mentioned several times by now, one of the most important aspects of fall skincare is maintaining hydration.
Consider a hyaluronic acid-based serum or sheet mask alongside a heftier moisturizer. We need to compensate for the drier and colder air by adding more moisture to the skin and helping retain it.
Add Serums of Your Choice
Seeing as each individual's skin is different, this step should be tailored according to your skincare goals. So, here are some options that would be a great addition to any autumn skincare routine:
A Boost of Vitamin C
Vitamin C helps to repair any summer skin damage, such as dark skin and uneven skin tone. It's also an antioxidant that helps fight against free radical damage in the air, so it pairs great with sunscreen and barrier-strengthening ingredients.
Plus – adding vitamin C is great for treating fine lines and wrinkles!
Barrier-Strengthening Ceramides
Ceramides are essential fatty acids that occur naturally in the skin and serve as a support system for your skin barrier.
But during the colder months, they need to be replenished because when the skin lacks ceramides, the barrier becomes compromised, resulting in dryness and irritation.
Continue Using Sunscreen
Many people associate sunscreen with summer, but UV radiation is still present throughout all four seasons. So you should continue using sunscreen with at least SPF 30 to protect your skin from UV damage.
Look for broad-spectrum sunscreen that is lightweight and easily layered with other skincare products. If you wear makeup, you can look into formulations made to be used as a primer or even tinted sunscreens that can be used instead of foundations.