⏱️
6
min read
We know that permanent eyeliner treatments can sound scary and that many people don't exactly look forward to having a needle go over their skin back and forth. And in such close proximity to your eyes, mind you!
But getting familiar with all aspects of the eyeliner tattoo procedure can help relieve your anxiety and abolish the fear of the unknown. Granted, some clients handle the treatment better than others, but well-informed clients always end up more satisfied with the results!
So, we've prepared a thorough step-by-step guide through the permanent eyeliner process, explaining each phase, and warning you what to expect.
Is Getting PMU Eyeliner as Uncomfortable as It Sounds?
It's really not.
The treatment is always done with a topical anesthetic which numbs the area and eliminates pain as much as possible.
It may not be the most comfortable thing in the world having someone poke around your eyes with a buzzing machine, but it's over relatively quickly, and it's all worth it considering you'll be waking up with on-point eyeliner for a couple of years.
Image source: Freepik
Eyeliner Tattoo Procedure – Step by Step
Without further ado, let's go straight into the treatment walkthrough:
Step 1: Consults
The most important part of the permanent eyeliner procedure actually happens before the actual treatment starts. Doing thorough consults, being vocal about your wishes and expectations and having the artist answer all your questions is essential.
This is also the time to do a patch test – all the pigments and products that will be used during the treatment should be tested on a hidden part of your skin to make sure there's no allergic reaction. If nothing happens within 48 hours, you're good to go.
Step 2: Consent Forms and Before Pictures
The artist will have you sign a couple of forms. One will be a medical history form that will determine whether you're a candidate for the treatment. Another will be a consent form where you agree to have the treatment done, and you commit to following the aftercare regime you're prescribed.
You will also probably be asked to sign a photography release form, allowing your artist to take photos of the work they do and share them for professional purposes.
Then, they'll take a before photo.
This can be done as part of consults, or on the day of your permanent eyeliner procedure.
Step 3: Preparations
The first step of the actual tattooing process is the artist preparing their equipment, workspace, and you.
They will place protective covers according to protocol, and you'll probably be asked to wear a protective cap or a headband to keep your hair away from your face, and a protective gown so your clothes don't get stained.
Your eye area will be cleaned with a disinfecting cleanser to remove all residues of makeup, skincare, and sebum.
Step 4: Numbing
A numbing cream is applied to your eyelids. It's left to sit for about 20-30 minutes, depending on the formula.
Artists have different tricks for maximizing the effects of the topical anesthetic. Your lids might be exfoliated very gently before the cream is applied, to break the skin ever so slightly and allow the anesthetic to penetrate it.
Your eyes may be covered with pieces of thin plastic foil, which will lock in the cream.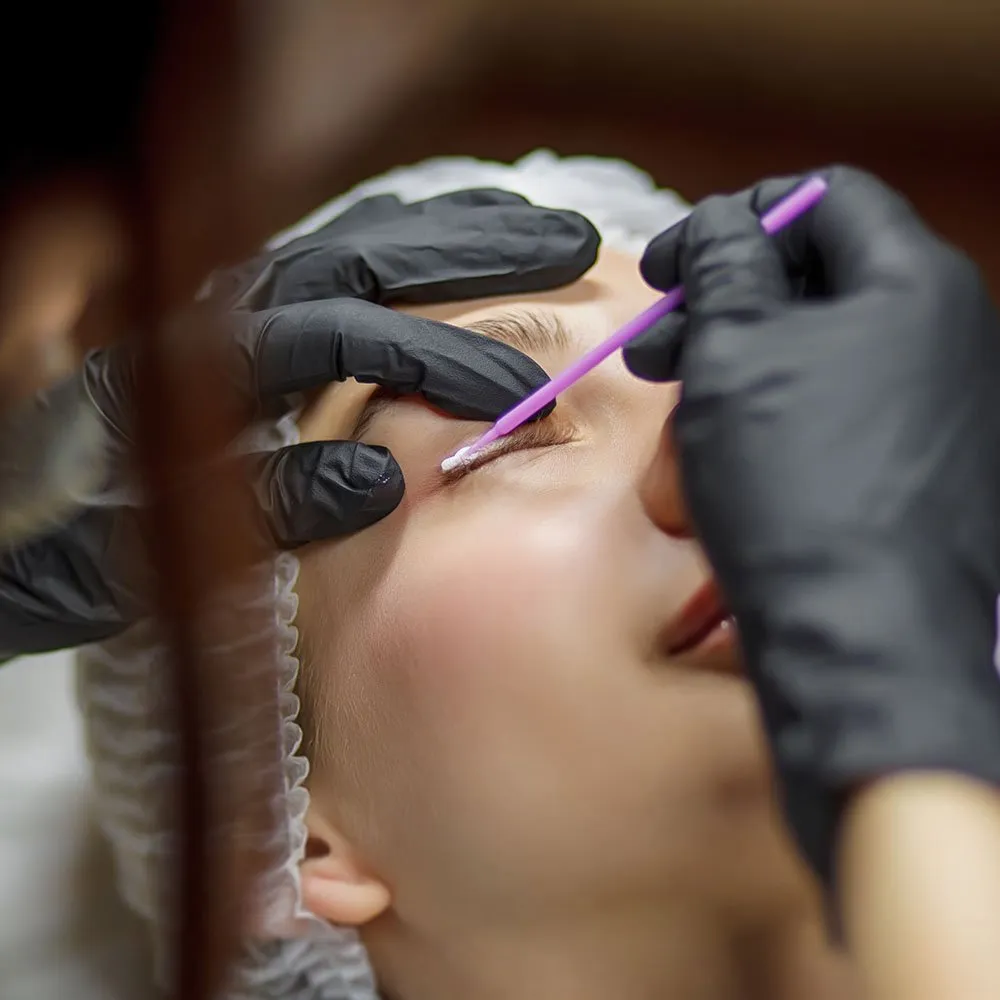 Image source: Freepik
Step 5: Mapping
The artist will do an outline to mark what the tattoo should look like. This step can be skipped if you're getting just a subtle lash enhancement.
Some artists need more time than others, so they may do the mapping first, and then the numbing, to make sure the effects of the anesthetic don't wear off during mapping.
Image source: Instagram @meganbotellopermanentcosmetics
Step 6: Pigment Mixing
Then, the artist will prepare the pigment. This is usually a quick step, as they'll decide on the color mix in advance.
Just so you know, even if you're getting a simple black or brown shade, the pigment mix is usually custom mixed with varying amounts of warmth – this ensures the best possible fading for your skin tone and undertone.
Step 7: First Pass
Finally, the needling starts.
The artist will activate the machine, and then go over your eyelids, moving the machine back and forth in a pendulum-like motion.
They will probably start slow and ask you whether you feel anything. If you feel any pain, let them know and have them repeat the numbing step.
If everything is fine, they'll cover the designated area with pigment.
You will need to keep your eyes closed throughout the eyeliner tattoo procedure until your artist says otherwise – some pigment formulas can sting if they get into your eyes.
Step 8: More Numbing
Once the first pass is over, the artist will take a short break and apply secondary numbing.
This is a numbing formula which is safe for use on skin that's already been perforated with the first pass. It works more intensely, so even if you did feel some not-too-pleasant sensations during the first pass, the secondary numbing will eliminate them in the second pass.
2-3 minutes are enough for the secondary numbing to kick in.
Step 9: Second Pass
The artist will go over the entire pigmented area again, to make sure enough pigment is deposited.
Your eyelids may start swelling a bit at this point.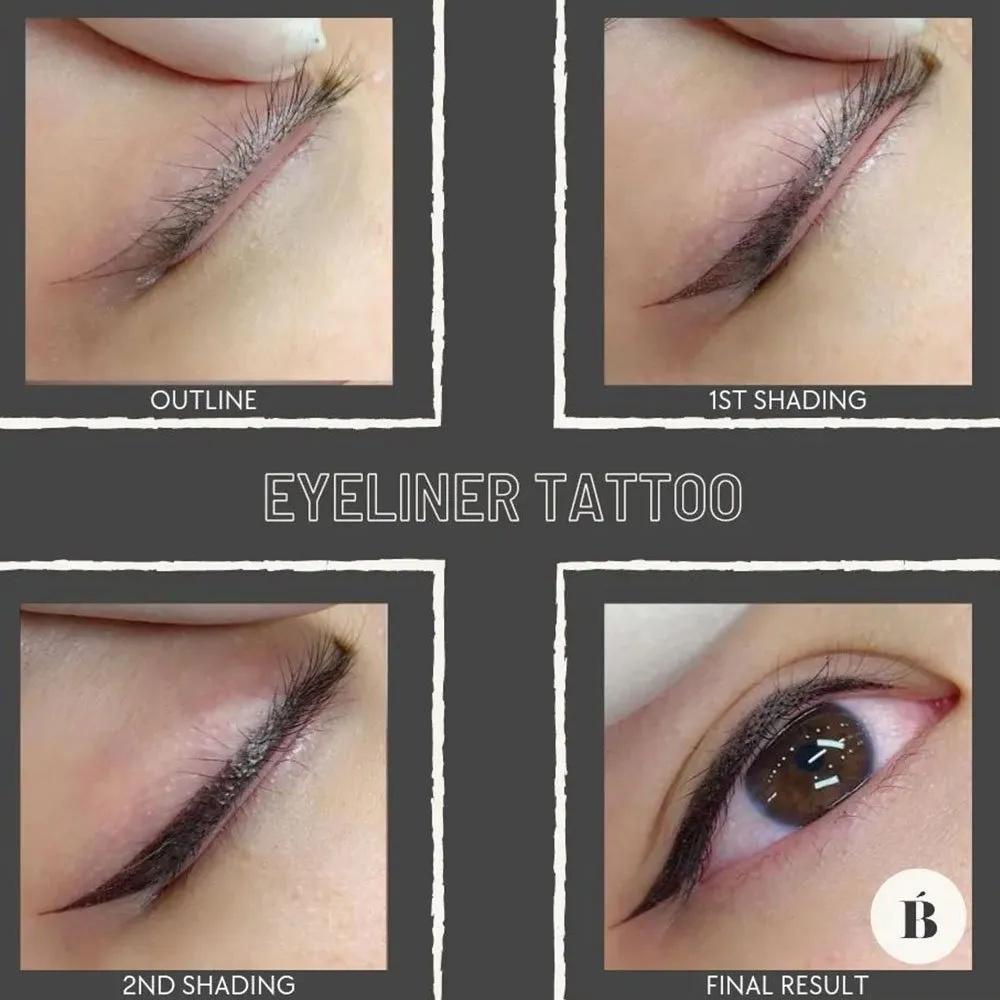 Image source: Instagram @beauteacademystudio
Step 10: Cleaning
That's the end of the needling, hurray!
The artist will clean the area with a foaming cleanser to remove the pigment residues. You'll be handed a mirror and you can finally see your new eyeliner tattoo!
The eyeliner tattoo procedure usually doesn't include more than 2 passes, since the skin of the eyelids is so delicate it can get overworked, or it starts swelling up and makes additional passes impossible.
Step 11: Photos
Your artist will set up their photo equipment and take some pictures of their work.
After that, you're free to go.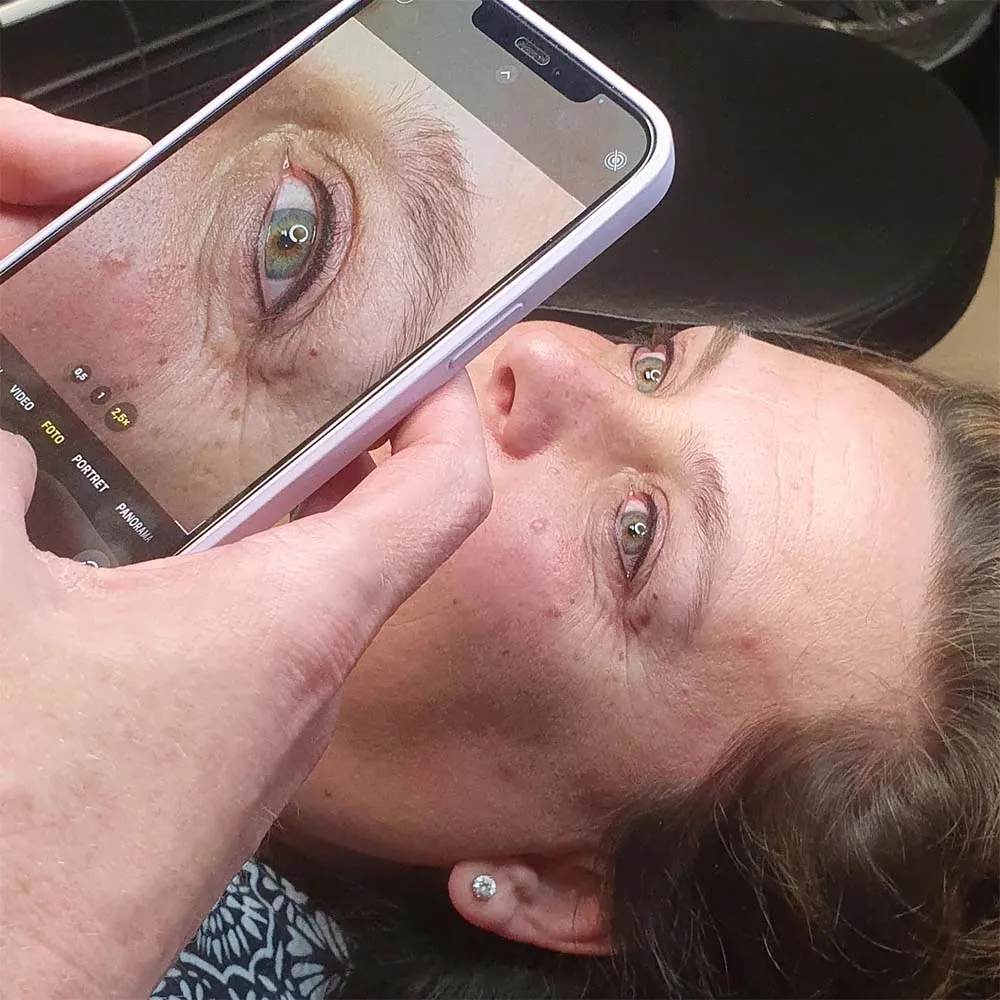 Image source: Instagram @artlinespermanentemakeup
Step 12: Touch Up
After the treatment, your permanent eyeliner will need 6-8 weeks to heal. During that time, its color will lighten and some patches will probably emerge.
That's why you need to go back in for your 6-week touch up. The artist will assess how the results have healed. They'll numb you up and do a quick pass to replenish the pigment where necessary.
The touch up ensures your results last as long as possible, so it should never be skipped. The treatment is considered incomplete without it.
Does It Hurt?
As you can see, artists pay special attention to numbing. They have special tricks they use to maximize its effects, and they can take a short break and add more if you need it at any point of the procedure.
So the eyeliner tattoo procedure shouldn't hurt. You will feel certain sensations that can be more or less comfortable, though, like:
Pressure
Stinging
Pinching
The buzzing of the machine.
It's also possible your eyes get tired or irritated at some point. But there should be no pain per se. If there is, be vocal about it and ask for more numbing.
How Long Does an Eyeliner Tattoo Procedure Take?
An eyeliner tattoo procedure can take up to 2 hours. For most clients, it goes faster, but artists like to leave some extra time if numbing or mapping take a bit longer than expected.
Final Word of Encouragement
If you're still really anxious about the procedure, perhaps communication directly with your artist will help more than we could. Take advantage of the consultation appointment to ask them whatever you want, and let them know you're anxious. If you share your thoughts in advance, they'll know how to approach the treatment to make it as easy for you to stomach it as possible.
Plus, you'll establish mutual trust, which is super important for the success of the treatment!
It's also a good idea to take a look at our permanent eyeliner guide if you gave further questions.
Cover image source: Freepik