PMUHub brings you all you need to know about the trendiest eyelash extensions style. Find out what are wispy lashes and choose the style that is the best for you!
Not so long ago, only one style of eyelash extensions was available – classic lashes, that applied one individual lash extension per one natural lash. But, people wanted more – more density, more volume, more fluffiness. New styles have developed, but wispy lashes stole the spotlight. They became the most often requested eyelash extensions.
Here is all you need to know about wispy lash extensions.
Table of contents - Skip to a specific paragraph
What Are Wispy Lashes?
Wispy lashes are the trendiest style because they look fluffy and feathery, so very natural. They are perfect for people who prefer a dramatic, makeup look and eyelashes that stand out.
Wispy lashes can be achieved in different ways. Besides getting a strip of wispy lashes, which are one-time use, or trying to achieve the effect with mascara, the best long-term results are achieved with eyelash extensions.
Wispy eyelash extensions are created by combining either individual lashes or closed fans and eyelash extensions fans of different lengths and curls. That way you get feathery lashes with noticeable spikes.
Want to find out more about eyelash extensions? Follow the links:

Eyelash Extensions: The Ultimate Guide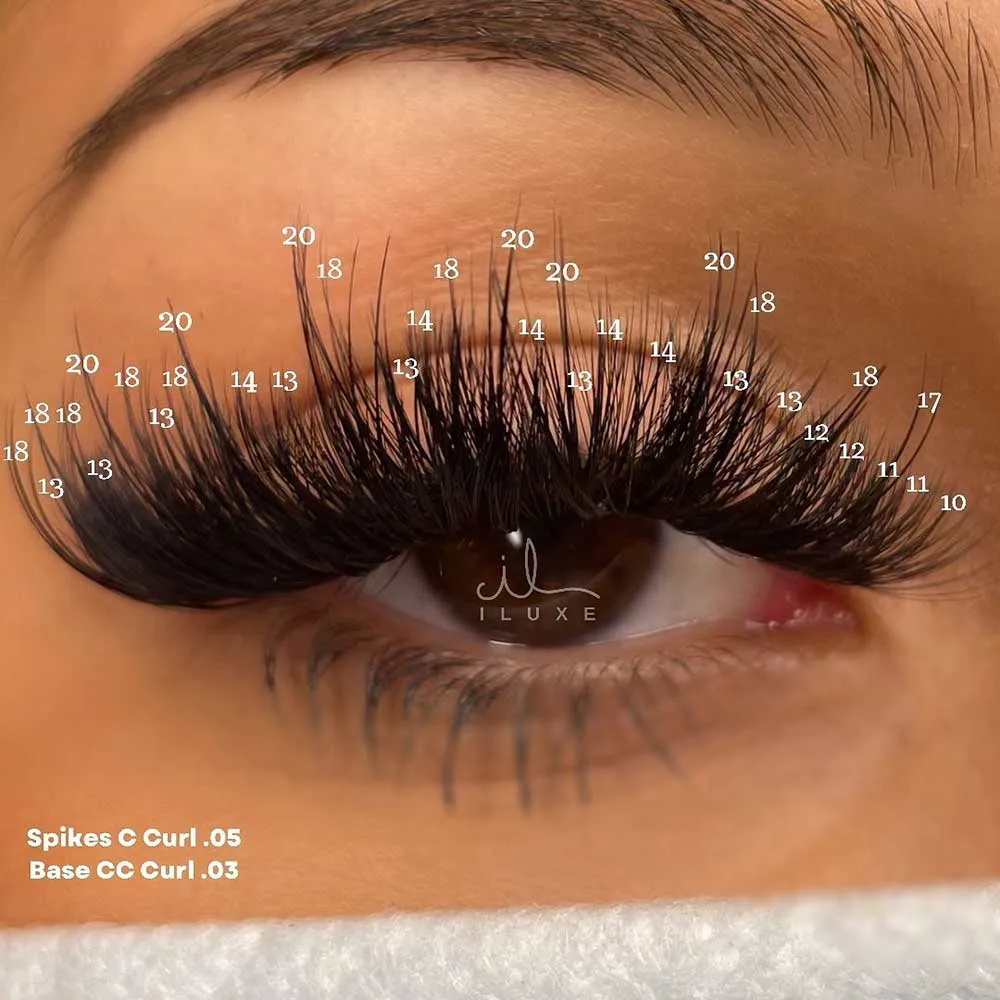 Image source: Instagram @_iluxelashes
How to Create Wispy Lashes
It is all about mapping! And if you are a lash artist, you know that it is not an easy thing to do and requires a lot of practice and hard work.
Wispy eyelashes can be created in three ways: with classic lashes of different lengths, with volume lashes as well as hybrid lashes, which are a combination of the two styles.
The biggest problem is how to choose the right length and the spots where the spikes will be placed, so the lashes look even. Also, you need to figure out how much weight your client's lashes can hold and then map a design that fits their eyes.
Wispy lash extensions are applied in 2 layers.
First Layer – Spikes
Spikes are 2-3 mm longer than the main layer. They are made of closed fans (for wispy volume) or individual lashes (for wispy classics and wispy hybrid lashes). There are usually 7-10 spikes per eye. Lash technicians usually put two individual lashes or closed lash fans close to each other to make a spike, so if the client loses one extension, the other one is there to fill in the gap.
Lash technicians most commonly choose individual lashes of 10mm to 20mm in length, 0.07 – 0.10 mm thickness and C, CC or D curls.
Second Layer – Fans
This layer is created with 2-6D fans, also known as volume lashes. They are added to fill in the spots between the spikes and add density and thickness to the lashes. Lash technicians usually use fans that are 7mm to 14 mm long and very thin, 0.03-0.05mm, in C or D curls.
What Wispy Lashes Styles Are There?
There are different wispy lashes types you can choose from:
Wispy classic lashes
Wispy volume lashes
Wispy hybrid lashes
Wispy classic lashes are done by combining individual lash extensions of different lengths. They look fluffy and feathery and give length as well as some volume to your natural lashes. This style is a great option for those who want their classic lashes to be more noticeable.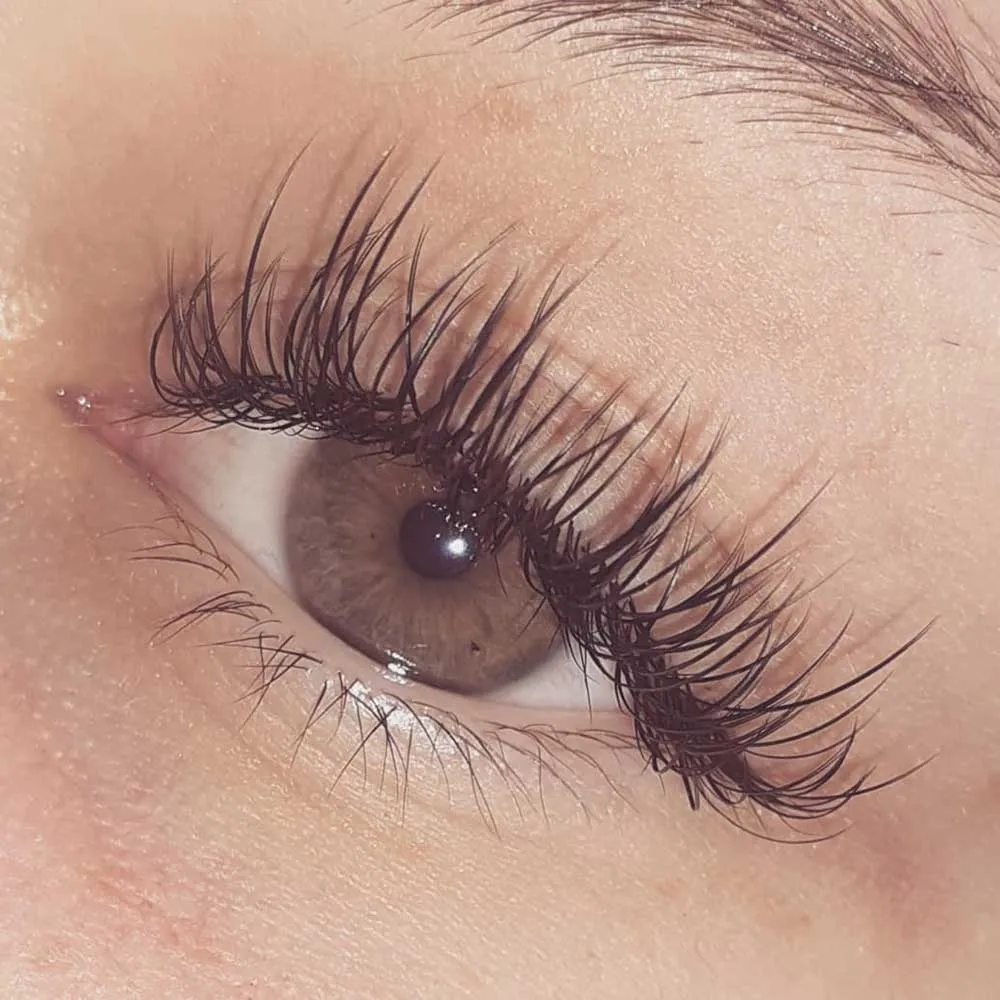 Imaage source: Instagram @_heavenly_lashes_x
Wispy volume lashes are done by combining different fans of 2-6 lash extensions. Closed fans are used to create the spikes and between them, 2D to 6D fans are inserted to add density and volume.
Image source: Instagram @zitavysbeautyhut
Wispy hybrid lashes combine these two techniques. Spikes are created with individual lash extensions and the fans of volume lash extensions are between them.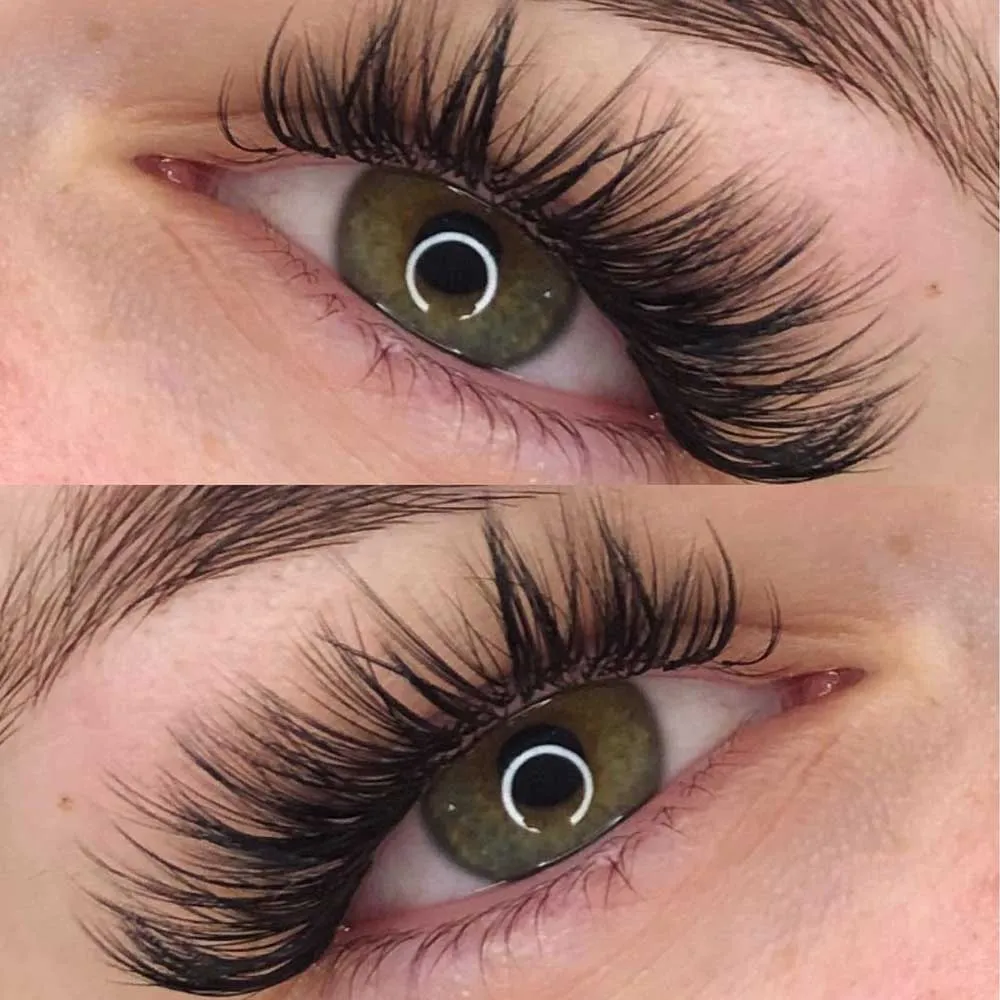 Image source: Instagram @lauraclairelashes
Wispy Lash Maps
There are different wispy eyelashes styles to choose from and all of them require different mapping. The most popular one is the Kim K style, which got its name after the celebrity star Kim Kardashian. Here is the difference between the different wispy eyelashes styles.
Kim K wispy lashes – the most popular and the most suitable for anybody. The 10mm long fans are placed in outer corners, 11mm fans in the middle, and 7, 8 and 9mm fans are in the inner corner. Spikes are usually 2mm longer than the main layer, and 1mm longer in the inner corner. Place a couple of spikes of the same length near each other, so there is no gap if the one falls off. Apply 7-10 spikes per eye or more for a dramatic look.
Doll effect – For the doll effect, longer lashes are put in the middle section of the lashes, usually 12mms, then 11mm near to the inner corner and 10, 8, and 9 in the corneas.
Squirrel effect – perfect for round eyes. The longest lashes are placed near the outer corner of the eye, followed by the shorter ones in the outer corner.
Wispy cat-eye eyelash extensions – the longest lash extensions are applied in the outer corner.
How Long Do Wispy Lashes Last?
Wispy eyelash extensions follow the growth cycle of your natural lashes and fall off with them, which means they will last for 6-8 weeks. However, after 3-4 weeks, half of your lashes are about to fall off and you will need an infill to make your wispy lash extensions look good as long as possible.
How to Maintain Wispy Lashes?
If you want to prevent your lashes from falling off prematurely, you need to follow up on some maintenance tips.
Don't get your lashes wet 48h after the treatment.
Sleep on your back.
Don't rub your lashes
Avoid mascara.
Avoid oil-based products.
Brush your lashes regularly with a clean spoolie.
Clean your lashes regularly, if possible, every day. Read this article to find out how to do that properly: Cleaning Eyelash Extensions
Learn more about eyelash extensions aftercare and maintenance here.
Image source: Instagram @tress.lashboxla
Do Wispy Lashes Ruin Your Natural Lashes?
No, wispy lash extensions will not damage your natural lashes if they are applied properly and if you follow the aftercare and maintenance tips.
That is why it is important to find a certified and experienced lash technician who will know how to properly apply wispy eyelashes. If the lash tech chooses lash extensions that are too heavy for the eye or uses low-quality materials, then you risk damaging your natural lashes.
Also, if you decide to remove your wispy eyelash extensions, it is advisable to visit the lash technician for the removal service, otherwise, you can ruin your natural lashes.
Wispy Lashes – Main Takeaways
Wispy lashes are great for people who want very noticeable, dramatic lashes. They are done by combining lash extensions of different lengths and have a fluffy feathery look. Only certified and experienced artists should be allowed to do wispy lashes, so be careful and thorough when you choose the one you can trust.
LEARN MORE ABOUT EYELASH EXTENSIONS
Explore more eyelash extensions topics:
Swipe for more lash extension topics →