⏱️
6
min read
2022 was a mixed bag of eyebrow trends. To many people's dismay, we saw a resurrection of the skinny brow – which caused quite a stir.
The past year also marked a return of the creative brow era. We saw a lot of experimentation with shapes, colors, and accessories like rhinestones, fake tattoos, etc.
But will these trends continue to rule in the upcoming year as well? Let's discuss which styles might be taking the spotlight.
Eyebrow Trends 2023 – Our Predictions
When it comes to brow styles, there are two main things to focus on: shape and color.
Thin brows don't seem to be going anywhere any time soon. But don't worry if that's not your thing – there are a few trends focused on thicker arches as well.
Here are our eyebrow trends 2023 predictions.
Y2K-Inspired Thin Brows
Once you get over the initial shock, you'll realize there's one key difference between the modern and the outdated '90s version of this brow trend: no over-tweezing.
That's right! Unlike the actual Y2K era where the brows would be super skinny and drawn in with a pencil, nowadays it's more about staying within the border – just making it slightly thinner and cleaner.
The more contemporary version of the skinny brow is mostly just focused on accentuating the arch and getting that face-lifting effect. You can expect to see this more and more throughout the year.
Get more insight into the skinny brow trend here.
Image source: Instagram @bellahadid
Straight Brow
Since the past few decades have been all about the arch, this trend is focused on doing the opposite. It's the anti-arch trend, and it can go hand-in-hand with the skinny brow, but it also works great with some volume.
Originating from Korea, this brow trend is focused on visually lifting the eye area. The straight brow has a lowered, sort of flat peak so it minimizes the arch that the natural brow would have.
But that doesn't mean that you have to have dead straight brows either.
Depending on how subtle you want it to be, it can be pointed or a bit rounder.
Plus the tail can be shorter or elongated, depending on your face shape. If you want to elongate the face, fill it in to make it longer, if you want to focus on widening the face, shorten the tail.
Image source: Instagram @zoeisabellakravitz
Defined Fluffy Brows
Brow lamination was the trend in 2022. And it's here to stay! This method will only become better in 2023.
The shape will be slightly different. More brow technicians will likely laminate inside defined borders, maintaining a well-groomed brow. So instead of brushing it at such an intense angle, the new and improved laminated brow will be more streamlined and precise.
The point is to achieve that perfectly imperfect look – not too fluffy and wild, but not overly shaped and refined either.
Image source: Instagram @dualipa
Simple Natural Brows
Not that nicely groomed, natural brows were ever really out of style, but with minimalistic clean girl aesthetic movement, they had a huge comeback. And this style will continue to trend well into 2023.
In general, more toned-down looks made a comeback in 2022 and this look is all about simplicity. Sticking to your natural shape, just slightly more groomed.
It doesn't matter if the brows are thin or thick, as long as the shape is neat and simple.
Image source: Instagram @haileybieber
Brows a Few Shades Lighter
Lately, we've been seeing a rise in the popularity of brows that are a few shades lighter than their natural color.
This is a less drastic version of the bleached brow trend – which isn't going anywhere either.
But since it doesn't have as much shock value as completely bleached brows, this trend is a lot more wearable. The point is to help the brows blend in with the glowy complexion – which in itself has been the major focus the whole of last year.
Lifting your natural brow color a few tones lighter also gives you more creative freedom for statement makeup looks.
Image source: Instagram @kyliejenner
Tinted Brows
Speaking of color, a basic tint enables people to begin experimenting with their brows a bit more than simply filling them in with shades that match their hair.
Think rainbow brows – just way less intense.
This trend is all about making a (subtle) statement rather than anything overt. It doesn't imply that you must dye your eyebrow hair purple or fill it in with a neon shadow.
But you can if you want to!
Image source: Instagram @lizzobeeating
PMU Eyebrow Trends 2023
Brow tattoos continued to be high in demand last year. Especially in the wake of low-maintenance beauty trends, as people realized how effective this long-term solution is.
Clients are becoming less and less interested in a well-defined, powdered, or totally filled-in brow. Instead, they are looking for the most natural-looking results – and there are two very fast-growing treatments that can provide these results.
Nanoblading
Lately, nanoblading has been gaining a lot of popularity. Artists have started seeing its advantages over regular microblading. Most of all, the ability to cause less skin trauma.
Nanoblading is actually a method of microblading – only instead of using regular microblading blades, it uses nano blades which are thinner. And thinner blades mean thinner strokes! So this technique allows for very delicate, precise, and realistic hair strokes.
You can learn more about nanoblading here.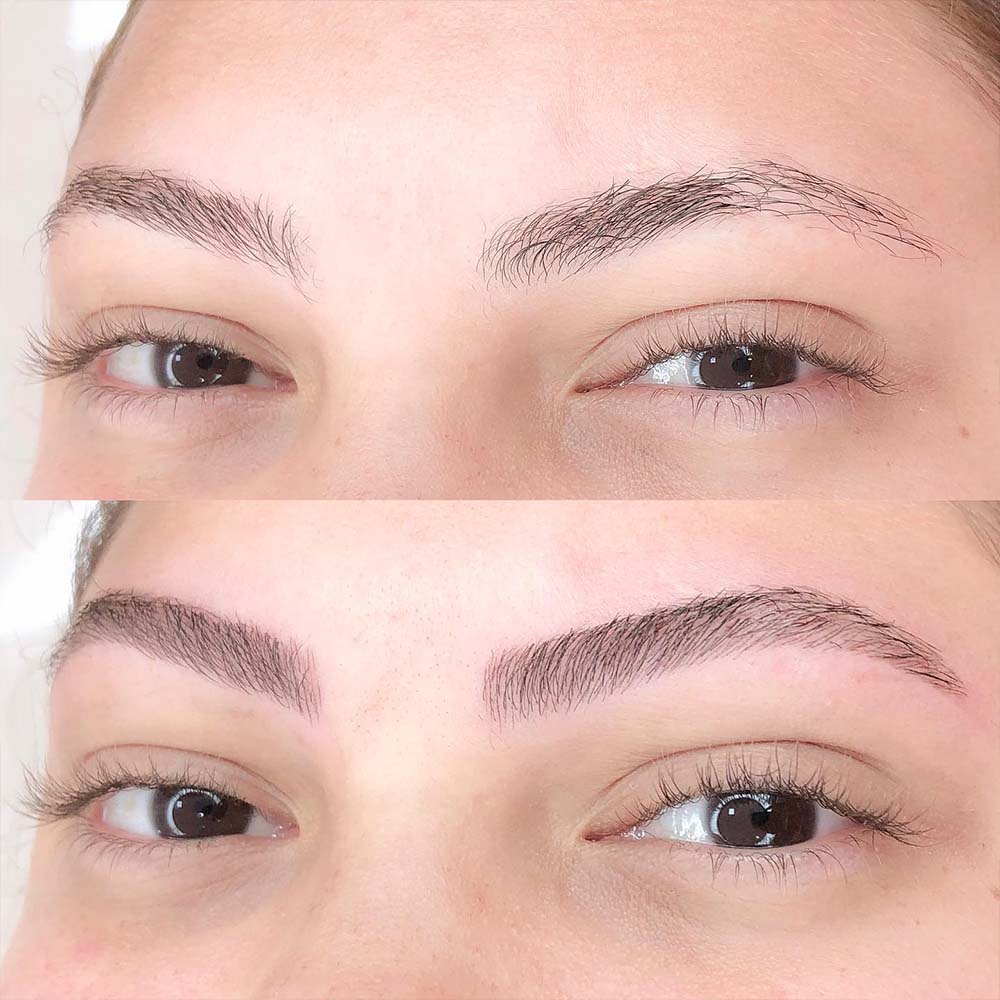 Image source: Instagram @estudiomaygomes
Nano Brows
Nano brows are a form of eyebrow tattoo done with a PMU machine.
Similarly to nanoblading, nano brows also use very tiny needles to create thinner-looking strokes, so this technique also gives very natural results – fake hair strokes look almost unrecognizable between the real ones.
But nanoblading and nano brows are not the same technique. More information about their differences can be found here, but the main difference is in the application process.
Instead of using a manual tool, which is how nanoblading is done, the pigments are inserted with a machine. This provides more precision, which is one of the reasons nano brows are becoming a preferred method over other techniques.
Plus the fact that skin trauma is minimal.
Learn more about nano brows here.
Image source: Instagram @lebrows.beauty
In Conclusion
It appears that the majority of eyebrow trends in 2023 primarily emphasize obtaining the effortlessly cool vibe. The trends also seem to be focused on embracing the styles of the past by giving them a new twist.
Although social media makeup artists and celebrities frequently follow excessive brow trends, they're more often the exception from the majority. Most people want the most flattering version of their own natural brows, regardless of what's trendy.
Luckily, today's trends are all over the place so you can rock whatever shape best compliments your bone structure. You can go for clean, polished brows with a more defined arch or you can also go for fluffier, overgrown brows.
Cover image source: Freepik