How Much Does Eyebrow Tint Cost?
Eyebrow tinting has become increasingly popular in recent years. Naturally, everyone is wondering how much does an eyebrow tint cost? Check out PMUHub's research into the average price range.
Everyone knows that eyebrows draw attention to the eyes and accentuate our features. They can make a big difference in how we look and how others perceive us, so it's no wonder we want to take extra good care of them.
Waking up each morning with thicker, darker-looking eyebrows without having to fill them in with makeup products sounds too good to be true, doesn't it?
Well, eyebrow tints exist to give you these results without having to constantly re-purchase makeup products. If you're interested in trying out the treatment for yourself, read this short guide and discover the average eyebrow tint cost.
Table of contents - Skip to a specific paragraph
What Is an Eyebrow Tint Exactly?
An eyebrow tint is a brow enhancement technique during which semi-permanent brow hair dye is used to color or stain the eyebrows, including the skin underneath them.
This gives off the look of fuller, darker, and even bolder brows depending on your wishes. Tinting can help define and shape the natural brow without them becoming too overpowering.
The stain or tint on your skin lasts approximately a few days, or up to a week. But your brow hairs will stay tinted until they grow out and new ones replace them, which is a gradual process that lasts about 4-6 weeks.
It is normal for the results of your eyebrow tint to gradually fade over time, especially with frequent sun exposure.
Image source: Instagram @perfectedbeautydmv
What's the Average Eyebrow Tint Cost in the US?
The average eyebrow tinting price in the US ranges from $20 to $40 without any additional services included.
This price may be higher or lower depending on factors such as the location, expertise, and popularity of the brow artist. It's best to check with your local salons or to get a more accurate estimate of an eyebrow tint cost in your area.
It is important to note that eyebrow tinting is banned in some US states because permanent eyelash and eyebrow tints and dyes have been known to cause serious eye injuries, according to the FDA.
So, always check the credibility of your brow artist before booking your appointment, to reduce the risk of developing an allergic reaction or other brow tint-related complications.
What's Included in the Average Eyebrow Tinting Price?
A professional eyebrow tint cost includes only the treatment itself, meaning you won't get additional eyebrow treatments like brow shaping (tweezing, waxing, or threading) or an eyebrow flip.
The eyebrow tinting process is very quick and simple. It starts with a consultation with your chosen artist where you will discuss the look you're hoping to achieve.
Next, the artist will clean and prep the eyebrow area and proceed to mix a custom color that will best match your natural brow hair, and give it a slightly darker appearance.
The dye is then applied to the brows and left on for about 15 minutes. After the tint has stained the hairs and the skin underneath the eyebrows, it is then removed and the brows are brushed into place.
Average Brow Tint Cost with Additional Services
Usually, brow artists offer additional services like waxing, brow lamination, or even lash tinting to go with their clients' eyebrow tint. Here's a look at the average cost of brow tinting with extra treatments:
Eyebrow Wax and Tint Price
In addition to your eyebrow tint cost, you will have to pay anywhere from $10 to $30 for eyebrow shaping, which includes waxing and tweezing.
For threading, the cost usually ranges from an additional $15 to $37 depending on the location of the artist or salon.
So in total, you can expect to pay an average of $75 for an eyebrow wax and tint.

Image source: Instagram @workofarchbrows
Brow Lamination and Tint Cost
The average brow lamination cost is between $80 and $85 dollars in most US states.
Usually, a brow tint is part of a brow lamination procedure, as most clients want to experience the full, fluffy brow effect. But in some salons, tinting is not included in the brow lamination treatment.
So, the price of a tinting add-on can range between $10 and $50.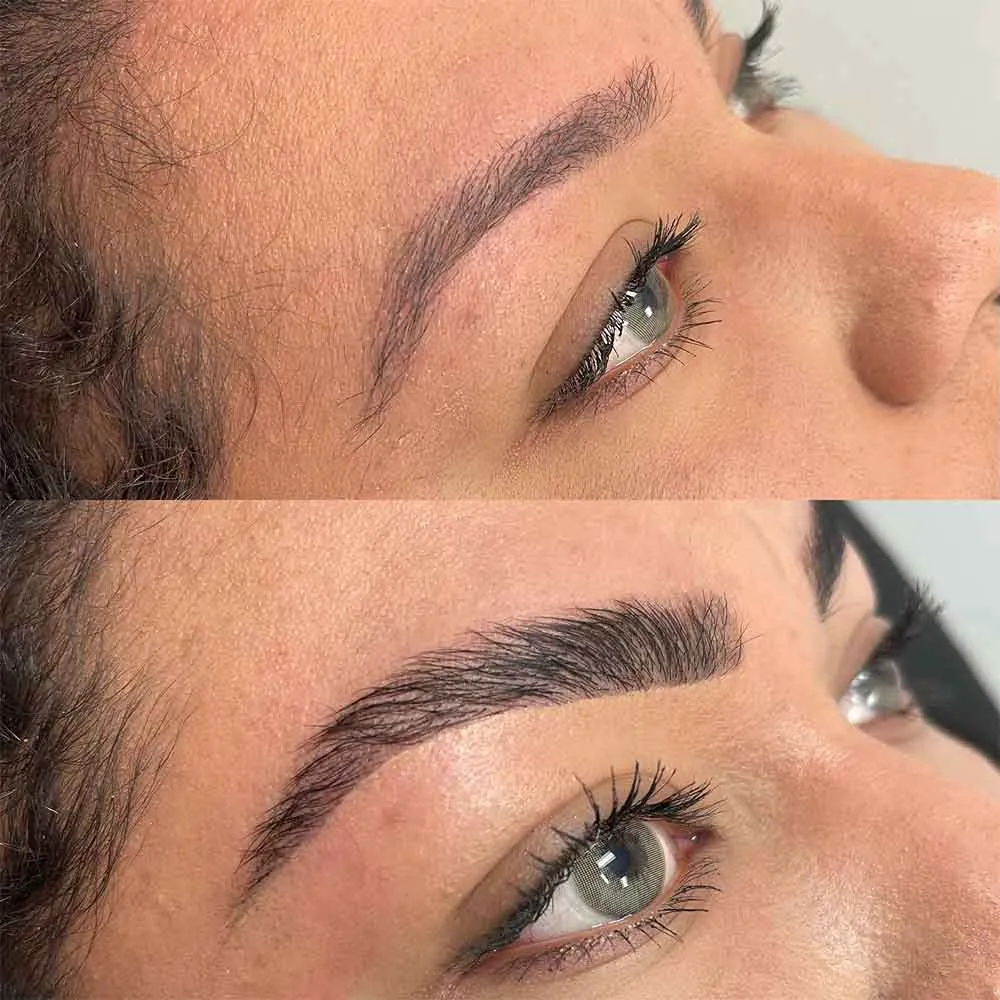 Image source: Instagram @eleganzebeautysalon
Lash and Brow Tint Price
A lash and brow tint duo is also a common service in most salons that offer either brow or eyelash treatments.
The procedure is more or less the same, so it makes sense to market these treatments as an all-rounder for enhancing the natural lash and brow. The average price for a lash and brow tint combo is around $50 in most states.
You can read more about the lash tint treatment here.

Image source: Instagram @ruta_flawlesslashesbyloreta
What's the Average DIY Brow Tint Price?
For those wanting to take the DIY route, you can purchase eyebrow tint kits for at-home use at a lower price than a professional treatment.
DIY brow tint kits cost between $15 and $25 and can be reused up to 10 times or more depending on the manufacturer. However, store-bought dyes come in a handful of shades, while a professional can custom-mix a shade that suits you best.
How to Do an At-Home Eyebrow Tint
DIY eyebrow kits in most cases contain semi-permanent dye, a developer, and several tools that will make the application process as easy as possible.
When doing a brow tinting procedure on yourself, it is very important to follow the instructions that come with your kit very carefully, since every kit is a little bit different.
The general rule of thumb is to mix the dye with the developer and apply it to your clean, dry eyebrows, in the direction of your hair growth. It is important to cover any area you would normally fill in with a pencil or similar product.
Then, with a clean q-tip, you should remove the access dye around your eyebrows and wait accordingly. When the waiting period is over, proceed to remove your tint with a clean cotton round and brush your eyebrows thoroughly with a spoolie.
Find more tips and tricks on doing an at-home eyebrow tint here.
Which Products to Use?
When choosing a brow tinting kit, look for something that will provide you with all the necessary tools, so you don't have to buy extras separately – that can be a hassle.
DIY brow tint kits usually come in a single shade, so pay attention to what you're buying, or they contain several shades for you to test out.
Many of them also work for your lashes, so it's a 2-for-1 deal.
They all work more or less the same, though, and have very similar formulas. 
Whichever tint you decide to purchase, remember it has to patch-tested before you apply it to your brows to avoid allergic reactions.
Which Is More Expensive – Eyebrow Tinting or Henna Brows?
Henna brows are, as the name suggests, a natural way of eyebrow tinting or eyebrow enhancement that uses henna paste instead of eyebrow dye.
The application process is basically the same, the only difference is in the ingredients used to stain the eyebrow hairs.
The biggest advantage of henna brows is that this treatment is more suitable for people with sensitive skin, or those whose skin reacts to hydrogen peroxide used in regular brow tinting dyes.
Henna tinting is slightly more expensive than regular brow tinting, with average prices starting at $45. Combined with other treatments like brow shaping, the cost of henna brows can reach up to $100 in most salons in the US.

Image source: Instagram @lestudio.beautybrows
Does Eyebrow Tinting Pay Off?
If you're looking for a way to temporarily enhance and darken your existing brow hairs, without having to fill them in with your brow pencil on a regular basis – eyebrow tinting may be the perfect solution.
It is definitely worth considering for both your brows and your budget if you're not exactly ready to splurge on more expensive brow treatments like microblading or machine brows.
As long as this service is allowed in your state and you've done your research to find a salon with licensed artists and technicians, we say it's definitely worth trying out.
Eyebrow Tint Cost – Main Takeaways
An eyebrow tint is a semi-permanent brow enhancement procedure that stains or dyes the natural brow hair and the skin underneath them for a period of up to 4-6 weeks.
The eyebrow tinting price can range from $20 to $40, or even higher, depending on the additional services you choose to get like brow shaping or lash tinting.
Lash tinting can be done at home with the help of many available DIY lash tint kits on the market. The price of a DIY lash tint kit ranges from $15 to $25 and can be reused up to 10 times.
LEARN MORE ABOUT EYEBROW TINTING