Eyebrow Tinting: All You Need to Know
Find out all you need to know about eyebrows tinting – a quick treatment that darkens your brows. Effects, how-to, longevity, safety + more.
Swipe for more eyebrow tinting topics →
Explore more eyebrow tinting topics:
If you want a quick brows enhancement, eyebrow tinting is the perfect solution. It makes the best of your natural brows, darkening them for extra density.
It's a short-term brow enhancement, but it's a favorite of people who have thinner or lighter brows than they'd like, but they're not willing to commit to a cosmetic eyebrow tattoo yet.
We're answering all your questions about eyebrows tinting.
Note: This guide explains brow tinting with a chemical eyebrow dye. If you want to learn more about tinting your brows with henna, here's our guide.
Table of contents - Skip to a specific paragraph
What Is Eyebrow Tinting?
Eyebrow tinting is a quick and easy way to darken your brows. It's a lot like dying your hair.
Eyebrow dye combines two effects – it colors the hairs themselves, but also slightly stains the skin underneath for an illusion of extra fullness.
Its power to thicken the brows lies in the fact that the dye colors all the super-thin baby hairs in the brow arches that are otherwise invisible. The shade left on the skin provides a light makeup look.
That way, brow tinting gives the brows density, definition and dimension.
The color of the brow tint can be custom-mixed to suit the color of your hair and your wishes.
It's often combined with other brow treatments.
Image source: Instagram @tulsabeautybar
Benefits of Eyebrow Tinting
Eyebrow tinting is so popular for a reason. For many reasons, actually. Here are the biggest benefits:
It enhances the brows in a natural-looking way
It perfects their color, shape, and density
It lasts for weeks
You can ditch your brow makeup
It's quick
It's relatively affordable
It's completely non-invasive
It doesn't smudge, so you can relax
Eyebrow dye requires no commitment at all. It's definitely worth trying, especially since you don't have to repeat it if you don't like it.

Image source: Instagram @thebrowoffice
Who Is Eyebrows Tinting For?
Anyone who wants to enhance their brows! The most common clients are those with light eyebrows.
The effects are subtle, so many men like this treatment, too.
There are a few contraindications, though:
History of allergic reactions to hair dyes and similar products
Eczema, psoriasis or rosacea in the area
Cuts or scabbing in the area


Image source: Instagram @taramonroeesthetics
How Is Professional Eyebrow Tinting Done?
Again, a lot like dying your hair. It's done with a special dye intended for brow hairs.
Here's how professional eyebrow tinting is done:
The brows are cleaned thoroughly from any products and sebum.
The dye is applied onto the brows carefully. It will slightly stain the skin underneath, so it's applied in the shape you want your brows to have. Most techs apply a protective cream around the brows to keep the skin unstained.
The brow tint is left on for 5-15 minutes. How long depends on the formula and the shade of the dye.
The area is cleaned and the brows are brushed into place.
An optional serum is applied to gloss them up.
Professional eyebrow tinting usually implies add-on services: eyebrow shaping (threading, waxing or just tweezing), or brow lifting.
Can I Do an Eyebrow Tint at Home?
Yes, you can buy a brow tinting kit and DIY it. The process will be more or less the same as above, only you'll do it yourself.
This is a more affordable option, since you can use the same kit multiple times.
However, store-bought dyes come in only a handful of shades, while a professional can custom-mix a shade for you. They are generally not as high-quality as the stuff professionals use.
Brow tinting is relatively risk-free, but if you decide to do it at home, make sure to read the instructions carefully and pay close attention to how long you'll leave the dye on.
How Do I Prepare for Brow Tinting?
The only really important part of prep is doing a patch test.
Different formulas of eyebrow dye might contain ingredients irritating to your skin (primarily PPD, or para-phenylenediamine, a substance many people are allergic to), so before you use it on your face, it should be tested on a small, hidden spot on your skin.
Apart from that, you should think about how dark you want to go with the shade.
How Long Does Eyebrow Tint Last?
It lasts 4-6 weeks, but it's important to understand that the 2 effects of brow tinting – the skin stain and the color of the actual hairs – don't have the same lifespan.
The pace at which they'll fade depends on your skin type (fading is faster on oily skin), hair type, the products you use, and your lifestyle (swimming in the pool or the ocean can speed up the fading).
The stain on your skin (if you get one in the first place) probably won't last longer than a few days.
But your brows will stay tinted until they grow out and new ones replace them, which is a gradual process that lasts about 4-6 weeks.
The natural color of your brows will start becoming noticeable after about 3 weeks.
How Can I Make My Eyebrow Tint Last Longer?
There are certain things you can do to make sure the stain on your skin lasts for a few days:
Keep your brows dry for 12 hours
Avoid exfoliating products in the brow area
Avoid anti-aging skincare in the brow area
Avoid rubbing your brows
Avoid frequent brushing (keep it down to once a day)
Avoid swimming in chlorinated or saltwater (unless you keep the brows dry)
You can find special serums meant for maintaining the brow tint on the market. These products can slightly prolong how long does eyebrow tint last.
The brow hairs will stay tinted until they fall out, but their color might fade slightly due to exposure to sunlight or salt/chlorinated water, and frequent washing with harsh products.
Extra Tip: Avoid self-tanners and spray-tan in the area. The tan can react with the dye and the color of your brows can turn into an unattractive greenish.
Can I Wash My Face After a Brow Tint?
Of course, but it's advisable to wait 12 hours and avoid oil-based cleansers and exfoliating products.
You should avoid excessive sweating and touching or rubbing the area for 24 hours. Your skin could get irritated.
Image Source: Instagram @glowing.and.grounded
Is Eyebrow Tinting Safe?
Yes, if done right.
The potential risks are:
Allergic reaction to the dye.
Irritation.
If the dye is left on for too long, wrong color, hair damage, or skin irritation.
In order to prevent an allergic reaction, you should do a patch test.
If high-quality products are used, the risk of irritation is very low, but you can never know with certainty how your skin will react. Professionals will pay close attention to timing, so they'll know when to remove the dye.
Does Eyebrows Tinting Damage the Hairs?
No.
The dyes used for eyebrows tinting are formulated for brow hairs, and they won't damage them in any way if they're used properly.
If left on for too long, the dye could potentially make the hairs brittle, fragile, or even cause breakage. That's why you should always go to a professional who knows how to perform the treatment.
How Much Does Eyebrows Tinting Cost?
Done on its own, the price of a brow tint is around $30, but you can find it as cheap as $10, or as expensive as $75.
If it's an add-on to other brow services, it's charged about the same, or a bit less.
Brow Lamination + Eyebrows Tinting = Brow Lift & Tint
Eyebrows tinting is often done as an add-on service to brow lamination. Once the brows are shaped and uplifted, the brow tint darkens them and adds a shade.
Many clients go for the combo, since the results are more dramatic.
Why Are These Often Combined?
Darkening the brows is the easiest way to enhance them. While brow lamination gives the brows a special shape and texture that can't be achieved any other way, the brow tint gives them extra definition and depth.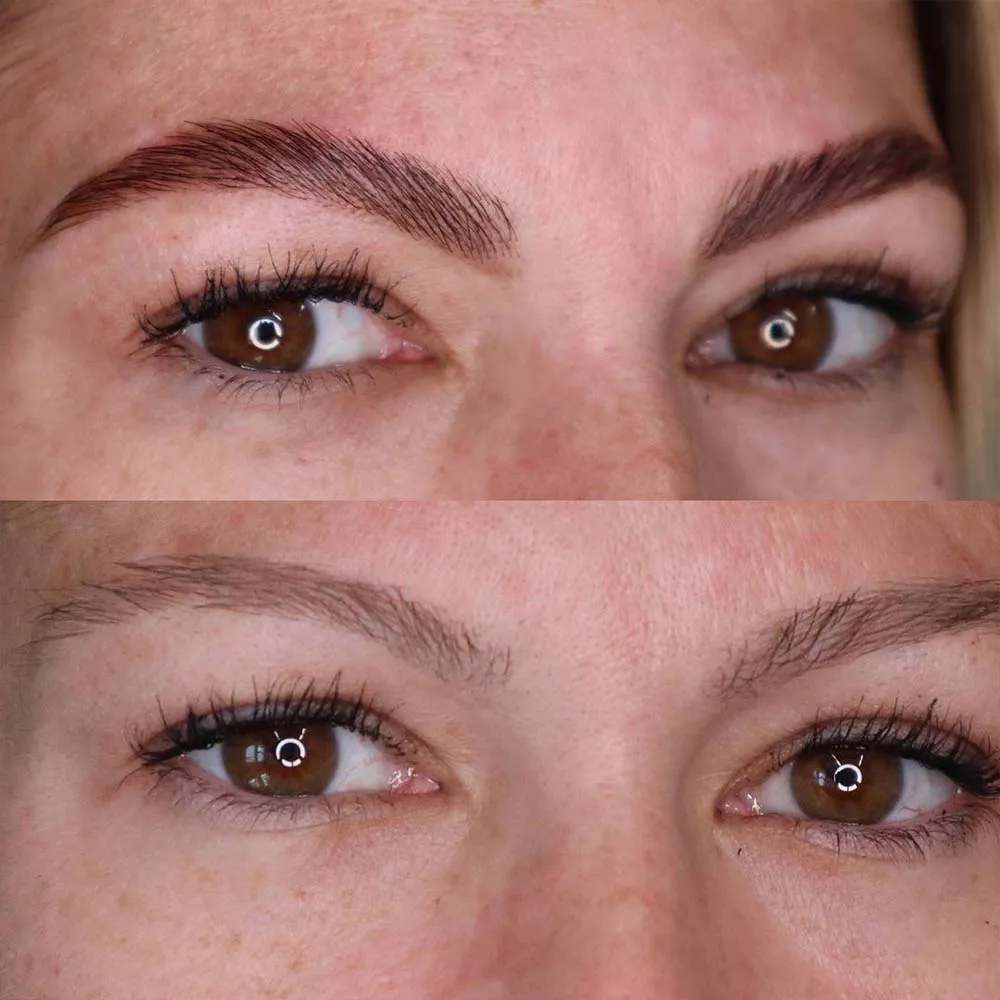 Image source: Instagram @awestheticsny
How Are They Combined?
When you get the lamination+tinting combo, the treatment is done in several steps:
Cleaning the area.
Brow lamination – chemicals are applied onto the brows to straighten them, and then fix them into an upwards position.
Tinting – a brow tint is applied onto the brows to darken them.
Nourishing serum – a nourishing formula is applied onto the brows to give them some moisturization and an attractive gloss.
Some brow laminations formulas are 2-in-1 products that fix the brows and color them at the same time.
How Long Do the Results Last?
The results of brow lamination last around 6 weeks, or as long as a brow hair growth cycle. The shape will gradually relax until it's lost and the brows go back to their natural shape.
The results of an eyebrow tint become significantly lighter after about 3 weeks. It will probably still be somewhat visible for up to 6 weeks.
Eyebrow Tinting – Main Takeaways
Eyebrows tinting is a great treatment for anyone who wants to enhance and darken their brows. While it's technically a side effect, the stain left on the skin after eyebrow tinting can be considered a secondary effect many clients love.
The final look is similar to that of wearing light brow makeup, but with longer-lasting effects.
LEARN MORE ABOUT EYEBROW TINTING
Swipe for more eyebrow tinting topics →
Explore more eyebrow tinting topics: