Eyebrow Tattoo: Everything You Need to Know
PMUHub's guide through the eyebrow tattoo of all styles. Get informed about the treatments, pre-care, aftercare, cost, side effects, and other important things you should know.
Getting an eyebrow tattoo is a perfect way to enhance the shape of your brows, to fill in the arches, or to get whole new brows if you don't have any. But an eyebrow tattoo is a wide term and it means something else nowadays. It may sound scary to get something that lasts forever on your face, but modern-day brow tattoos are not permanent.
Keep reading to find out all about them.
Table of contents - Skip to a specific paragraph
What Is an Eyebrow Tattoo?
An eyebrows tattoo can be permanent or semi-permanent.
Permanent eyebrow tattoos are outdated, and hardly anyone does them anymore. They used to be created with a tattoo machine and tattoo ink, just like decorative body tattoos. Once a person gets it, they are stuck with it for life. They tend to change color after years, into an unattractive bluish or greyish shade.
A semi-permanent eyebrow tattoo is a modern eyebrow tattoo. It can be done with a manual tool and pigments of natural origin. It does not go as deep as the traditional too – semi-permanent tattoo goes only to the border between epidermis and dermis. That means the tattooed eyebrows are going to fade after some time – they don't last forever.
In this guide, we will focus on the semi-permanent way to tattoo eyebrows.
Want to find out more about permanent makeup? Follow the link:

Permanent Makeup – The Ultimate Guide
What Kinds of Eyebrows Tattoo Are There?
There are different techniques and styles of tattooed eyebrows to choose from, and new styles will probably be developed in the future. Here are the most popular techniques at the moment:
Microblading
When a person wants to tattoo eyebrows, they usually think of microblading. Microblading is the most popular technique for hair strokes eyebrow look. It's a versatile technique that comes in many patterns. It is done with a manual blade that, after being dipped in pigment, makes small incisions in the skin and creates realistic hair strokes.
Learn all about microblading here.
Image source: Instagram @victoriaribacphibrows


Powder Brows
Also very trendy and popular. Powder brows have a slight advantage over microblading, because they are suitable for all skin types, while microblading doesn't give great results on oily skin. Powder brows look powdery and give that makeup effect, which makes them less natural-looking than microblading.
Read our Powder Brows Guide.
Ombre Powder Brows
Ombre brows are actually powder brows with a lighter head and a darker tail, creating the so-called ombre effect.
Image source: Instagram @dollfacepmu


Nano Brows
Nano brows are becoming more and more popular. They give very similar results to microblading, but the difference is that they are done with a machine. They also tend to last a bit longer than microblading.
Read more about nano brows here.
Image source: Instagram @merakibrowbar


Microshading
Microshading is similar to powder brows, but can be done manually or with a machine. It is commonly combined with microblading, to create the popular combo brows – the fusion of the two techniques.
Read our Microshading Guide.
Image source: Instagram @monicaivani.mybrows
How Long Does an Eyebrow Tattoo Last?
It depends on the technique and other factors, but the average lifespan of an eyebrow tattoo is 1.5 – 2 years. By that time, your eyebrows will look faded and require a color boost. Microblading and other eyebrow tattoos are supposed to fade completely after about two years, but sometimes that is not the case.
The longevity of your eyebrows tattoo will depend on:
Your skin type – eyebrow tattoo tends to last shorter on oily skin
Your lifestyle – if you spend a lot of time in the sun, or in the water, it will speed up the fading process. Your skincare products can also accelerate fading.
How to Prepare for the Eyebrow Tattoo Appointment?
There are certain things you should pay attention to before you get tattooed eyebrows:
Stop using retinol or Vitamin A products one month prior to the treatment
Avoid tanning, and working out 7 days before the treatment.
Avoid products with retinol, botox, and facials at least a month before the treatment.
Don't drink alcohol and caffeine 24h before the treatment, to prevent excess bleeding.
Don't pluck or wax your eyebrows at least a week prior to the treatment.


Image source: Instagram @absolut.phibrows
What Does the Treatment Look Like?
A reputable artist should offer a consultation appointment at which you will get well informed about the treatment.Also, the artist needs to assess your skin type, check out your medical record, and see whether you are a good candidate.
The treatment itself includes numbing the area and then mapping and shaping, and the pre-draw which you need to agree to. Then the artist does the blading, or tattoos your eyebrows with a machine.
After the treatment, you will be informed about the healing process and the aftercare to follow. You should book a touch up appointment, which is done after your brows are healed, i.e. 6-8 weeks after the initial treatment.
Image source: Instagram @liron.cohen.m
Is Eyebrow Tattoo Painful?
As said above, eyebrow tattoo artists use numbing solutions to ease the discomfort. Some people find it quite uncomfortable, while others feel no pain at all. It all depends on the level of pain you can bear.
What Are the Eyebrow Tattoo Healing Stages?
All tattoos take some time to heal, so that is the case with tattoo eyebrows as well. The healing process is 6-8 weeks long, but the first two weeks are crucial. Your eyebrow tattoo will go through the following healing stages:
Day 2 – eyebrows too dark and swollen
Day 5 – scabbing/peeling stage
Day 12 – ghosting stage – eyebrows appear too light
Day 21 – the pigment reappeared
Day 42 – healed eyebrow tattoo
What Does the Eyebrow Tattoo Aftercare Include?
Tattooed eyebrows aftercare is crucial for the success of the treatment. You should be given instructions at the appointment. Follow them religiously to ensure proper healing.
Here are the eyebrow tattoo aftercare tips:
Avoid exposure to the sun, swimming in the ocean or swimming pools, sleeping on your face, working out and sweating, saunas or steam baths, taking long, hot showers for 14 days after the treatment.
Don't pick the scabs or you risk pulling out the pigment. Let the scabs fall off on their own.
Wash your eyebrows regularly. Remove the lymph 2-3 times on the first day and wash the brows gently with antibacterial soap starting day 2.
Your eyebrow tattoo artist will recommend wet or dry healing. Wet healing means that you should use an ointment once you clean your brows properly. Dry healing means no ointment, but you still need to clean your brows with water and mild soap, and dry them afterward.
Eyebrow Tattoo Touch Up
It takes two sessions to tattoo eyebrows. 6-8 weeks after the initial treatment, a touch up appointment is required. It is very important because the artist needs to assess how your eyebrows have healed and to add more pigment if needed.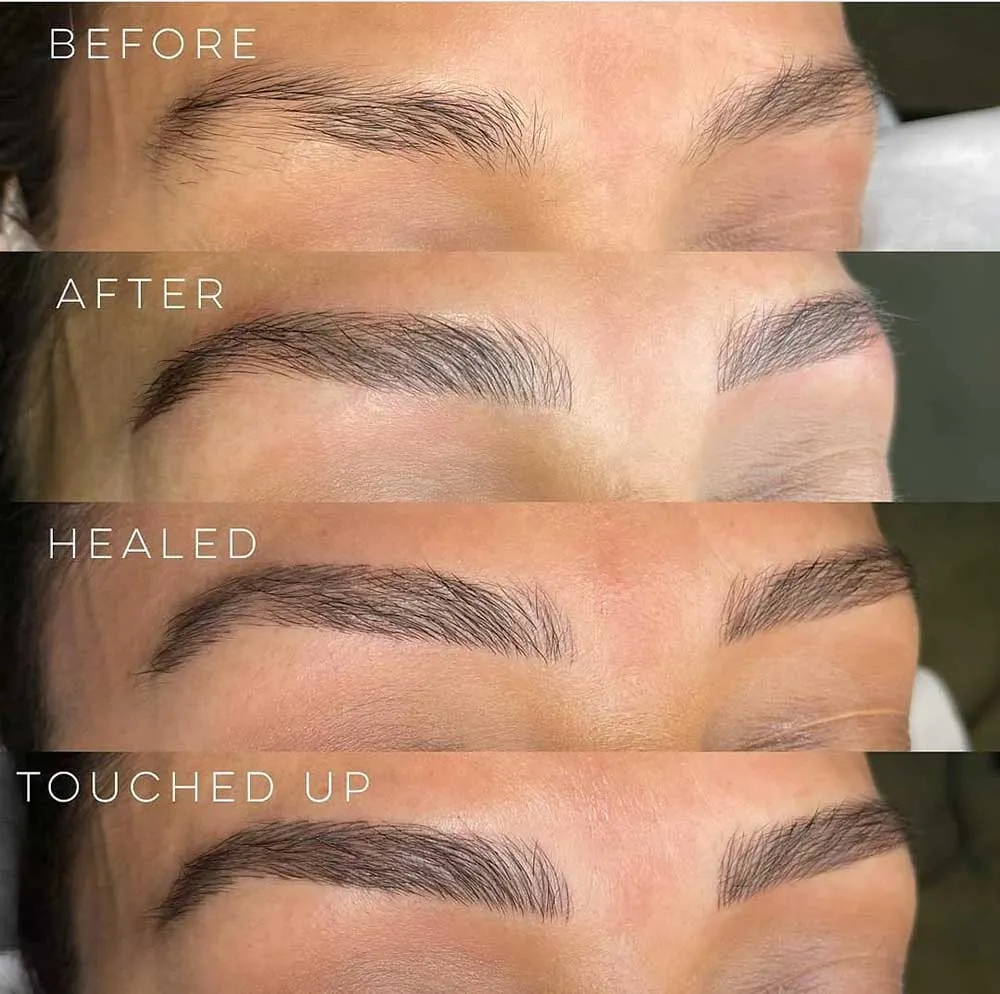 Image source: Instagram @nikabrowbabe
Eyebrow Tattoo Side Effects
Some risks and side effects of getting an eyebrow tattoo include:
Swollen and itchy eyebrows – this is normal while your brows are healing.
Allergic reaction – do a patch test before the treatment, to check whether you are allergic to any of the ingredients in the pigment or the numbing.
Infection – choosing a reputable artist who works in sterile conditions and is very careful during the healing process. Wash your brows regularly!
There is the risk of scarring if the artist is not skilled enough. They need to know which is the right amount of pressure. Also, if you pick the scabs while your eyebrows are healing, you risk scarring.
Botched eyebrow tattoo – to avoid this, do thorough research to find a reputable eyebrow tattoo artist. Check for recommendations and online reviews on Google, Facebook, and other sites.
Eyebrow Tattoo Removal
Can eyebrow tattoo be removed? Yes, of course. There are different ways to remove an unwanted eyebrow tattoo, some are more effective than others. The removal is done in 3 different ways
How Much Does Eyebrow Tattoo Cost?
The price of tattooed eyebrows depends on the treatment you choose. The average cost of microblading and powder brows is around $600.
Eyebrow Tattoo – Main Takeaways
Getting an eyebrow tattoo is a great way to get trendy, full eyebrows that will frame your face, make you look prettier, and boost your self-esteem. Eyebrow tattoo includes microblading, powder brows, nano brows, combo brows, and similar treatments and a good artist can help you choose the right treatment for yourself.
LEARN MORE ABOUT EYEBROW TATTOO