⏱️
5
min read
A popular way to shorten your morning routine and always look awesome is getting an eyebrows tattoo. Nowadays, tattooed eyebrows are not the same as traditional body tattoos. They are not permanent, different pigments are used and there are various options to choose from.
Let's discuss the most common questions about eyebrow tattoos.
What is Eyebrow Tattoo?
The answer is simple – it is a tattoo on your brows, created to help those people with sparse, irregular, or no brows at all to get the look they desire.
We can make a distinction between a permanent and semi-permanent brow tattoo.

Image source: Instagram @adrianas__eyebrows
Permanent Eyebrow Tattoo
Done in a traditional way, with tattoo ink and a machine, it goes deep under the skin and stays there forever. Unfortunately, it usually changes color after a couple of years, especially if exposed to the sun.
This technique is rarely done anymore and is becoming completely replaced by semi-permanent eyebrow tattoos.
Cosmetic Eyebrow Tattoo
These eyebrow tattoos are upgraded versions of traditional eyebrow tattoo. They can be done with a manual tool or a machine. They are also called permanent makeup for eyebrows. They use pigments that are inserted into the dermis, just like traditional eyebrow tattoos.
Body tattoo pigment binds to the iron molecules in our blood in our body and is meant to last a lifetime. The cosmetic pigment is meant to be broken down and absorbed by the body. It lasts only about 2 years, depending on skin type.
What Kind of Cosmetic Eyebrow Tattoo Treatments Are There?
New semi-permanent eyebrow tattoo treatments are constantly emerging, but microblading is still the most popular.
People are always asking about the differences between eyebrow tattoo vs microblading and some permanent makeup artists say that microblading is not a tattoo. However, it is more correct to say that microblading actually is a tattoo.
Here are the most popular eyebrows tattoos right now:
Microblading
Imitates hair strokes, looks natural, and lasts up to 2 years, microblading is done with a hand tool. Different techniques have been developed to create feather and fluffy effect or to create hyperrealistic brows. Learn more about microblading here.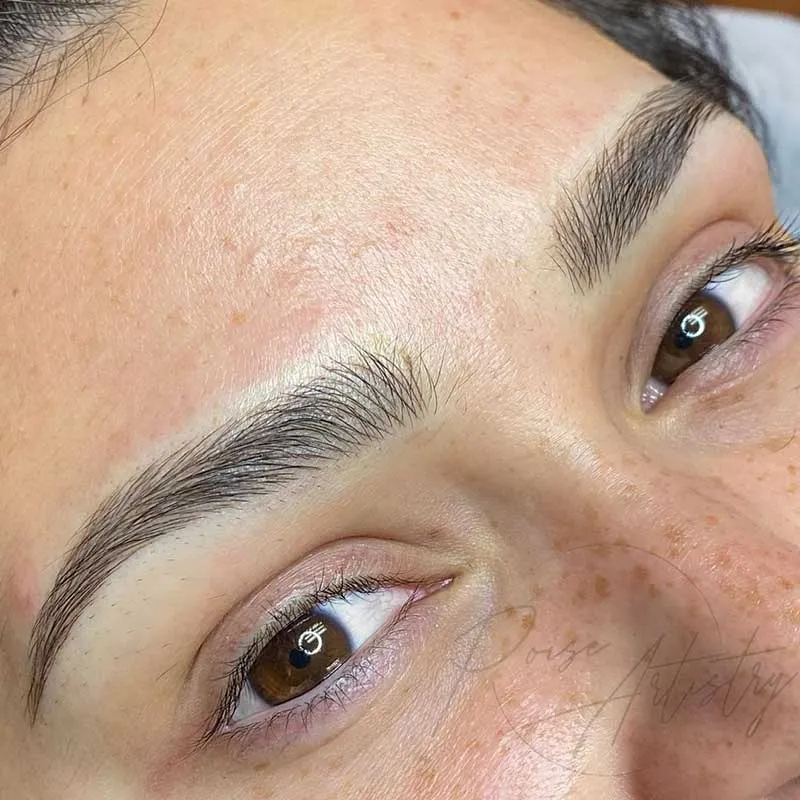 Image source: Instagram @poiseartistry
Powder Ombre Brows
Powder brows eyebrow tattoo gives a more filled-in, powdery effect. Done with a machine, perfect for all skin types and lasts up to 2 years. Learn more here.

Image source: Instagram @olakowalska.pmu
Nano Brows
Similar to microblading, nano tattooed eyebrows are done with a machine but look natural because strokes are drawn instead of a shadow. They last approximately the same, if not longer than microblading. Learn more here.

Image source: Instagram @browsbyyael
Microshading
It is commonly added after microblading when a client asks for brows with the makeup effect, thus creating combo brows. This treatment uses a manual or electric tool with needles that make tiny, pin-like dots in a gradient pattern, creating a powdered effect. Learn more here.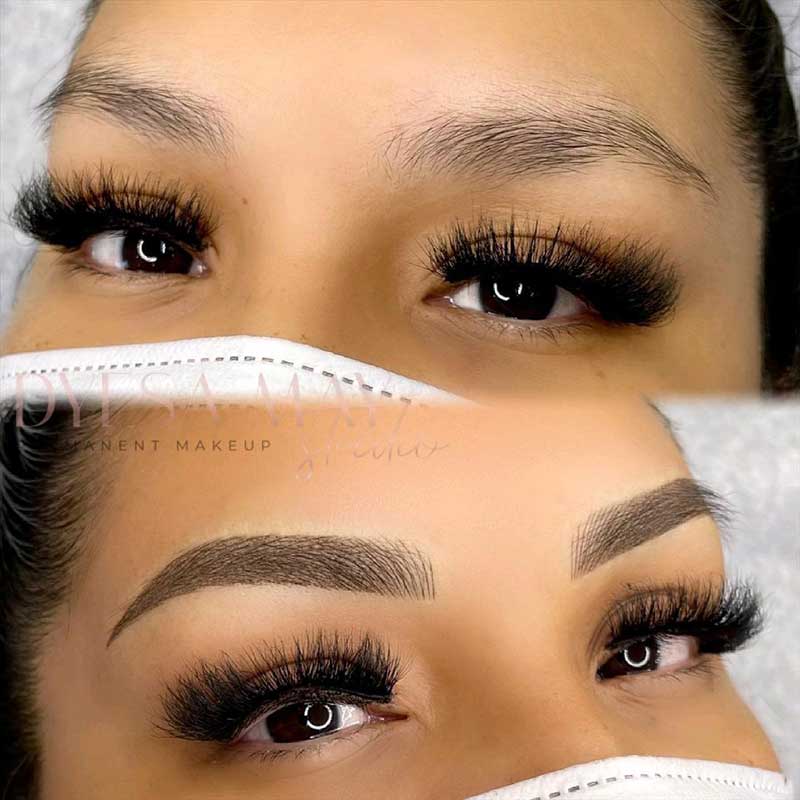 Image source: Instagram @dyesamaystudio
How Long Does Eyebrow Tattoo Last?
Semi-permanent tattoo eyebrows last up to 2 years. The longevity depends on many factors such as:
These can sometimes cause a brow tattoo to start fading sooner.
The traditional eyebrow tattoo lasts a lifetime.
What Do I Need to Know Before the Tattoo Eyebrows Treatment?
If you plan to tattoo eyebrows, there are some things you should know before you book a treatment:
It is important to choose your eyebrow tattoo artist carefully. Check for their portfolio and reviews. Book a consultation, if they offer one (as they should!)


Prepare for the treatment – typically by avoiding caffeine, alcohol, tanning, and working out 24 hours before the treatment. Also, avoid products with retinol, botox, and facials at least two weeks before the treatment. Ask your artist for DOs and DON'Ts before the tattoo eyebrows treatment.


The treatment lasts 2-3 hours and the blading or needling part can be a little bit uncomfortable.


You may experience a brow shock and it may take some time to get used to your new brow tattoo.


The eyebrow tattoo healing process lasts for about a month and you will see results only after that.


The aftercare is very important and you should follow the rules, otherwise, your eyebrows tattoo can be unsuccessful.


Semi-permanent eyebrow tattoos require two sessions. The second one is a touch up, where the artist will make all the corrections needed.


Your eyebrow tattoo will start fading after a year or two, depending on your skin type and other factors mentioned above. If you want to prolong your tattoo eyebrows, you need to book a touch up appointment.

Image source: Instagram @browsbymels
Is Eyebrow Tattoo Painful?
It depends on the sensitivity of your skin. Some people claim that is painful, some experience only slight discomfort, similar to plucking eyebrows. Brow tattoo artists use numbing cream to reduce the pain during the treatment.
What Are Potential Side Effects of Tattoo Eyebrows?
Getting an eyebrow tattoo is a pretty safe procedure, but it is important to find the right artist. Choosing an uncertified, undertrained and inexperienced artist can lead to infection, allergic reactions, and botched eyebrow tattoos.
How Much Does Eyebrow Tattoo Cost?
The average price of microblading and powder ombre eyebrow tattoo is similar, which is around $600.
Eyebrow tattoo price depends on the location, artist's popularity and expertise, the price of the material used, etc.
Can I Remove My Tattooed Eyebrows?
Yes, there are different ways to remove a brow tattoo. Some of them are more expensive and require a couple of sessions, such as laser removal. It is used when a pigment is too saturated.
Other options include microneedling, chemical solutions, saline removal. If you are unhappy with the results, contact another artist to recommend what kind of removal is the best for you.
Learn more about microblading removal here.
Eyebrow Tattoo – Why Should I do It?
The advantages of getting tattooed eyebrows are numerous, but the most important one is that they improve how you look and feel about yourself. They are low-maintenance, water-resistant, and look natural and realistic.
Cover image source: Pexels