⏱️
6
min read
Trends come and go, but every now and again, a bold and unique style that captures the public's attention will reemerge. This was the case with the eyebrow slit.
In this blog, we'll delve into the origins of the eyebrow slit trend, its significance, and different ways you can participate in this trend.
The Cultural Impact of Eyebrow Slit Trend
An eyebrow slit, or eyebrow cut, is essentially a thin vertical gap in the eyebrow hairs made purposely, to make a statement.
The eyebrow slit meaning is kind of hard to pinpoint, as the look is reminiscent of scarring – which is why this style is associated with edginess and rebellion.
The eyebrow slit trend was all the rage back in the '90 when it originated in the hip hop community. But the trend died down in the 2000s, which is when super skinny brows started gaining traction.
There were many notable brow trends since then, but a few years back the eyebrow slit trend had a resurgence in popularity. This time, the eyebrow cut was mostly adopted by the LGBTQA+ community. Although, it's not exclusively associated with any sexuality or gender.
Since this seems like quite a shift from the original demographic that popularized this look, it's important to note that, if you get an eyebrow slit meaning to make a statement and to rebel, the message depends on the person wearing it.
Also, let's not forget the influence celebrities had in making this trend go so mainstream.
As with many fashion trends, celebrities like Rihanna, Jason Momoa, Zayn Malik, and Willow Smith have played a significant role in popularizing the eyebrow slit.
As the eyebrow cut popularity grew, this sort of got lost in translation so nowadays, eyebrow slit doesn't have formal meaning beyond being a style choice and form of self-expression.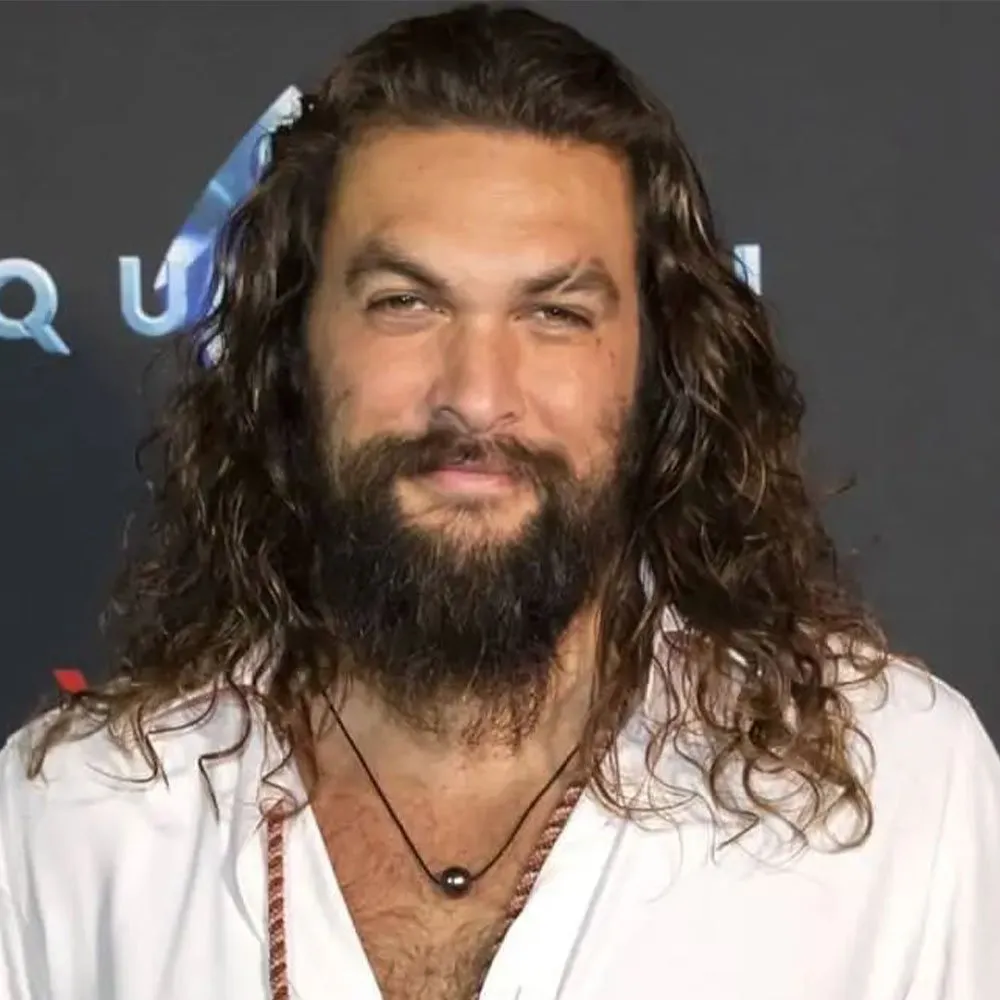 Image source: Instagram @jasonmomoadiaries
Types of Eyebrow Slits
Since the eyebrow slit trend isn't gender-specific, it's common to find both men and women sporting it. The biggest gender difference is only in the thickness and the positioning of the eyebrows slit.
So let's see how the eyebrow slit for men and women differentiates, as well as a few different types of eyebrow slits:
Eyebrow Slit for Women
Women usually opt for more subtle and delicate slits rather than really bold designs. They are also more open to experimenting with different shapes and placements, making their eyebrow cut match their individual style.
Some choose to incorporate playful or feminine elements into their eyebrow slits, such as heart-shaped or curved slits, to add an extra touch of personality.
Eyebrow Slit for Men
In general, eyebrow slits for men tend to lean towards bolder and edgier styles. Men usually often opt for wider and more pronounced slits, creating a stronger visual impact. This ends up reflecting a more structured and masculine aesthetic.
Single Eyebrow Slit
Single eyebrow slit, also known as vertical eyebrow slit, is the classic and the most common type. It's just a thin, straight line shaved vertically through the eyebrow.
It's typically positioned towards the outer end or the center of the brow, but there's also a sub-style where it's shaved in the first ⅓ of the eyebrow. This sub-style is known as the front eyebrow slit.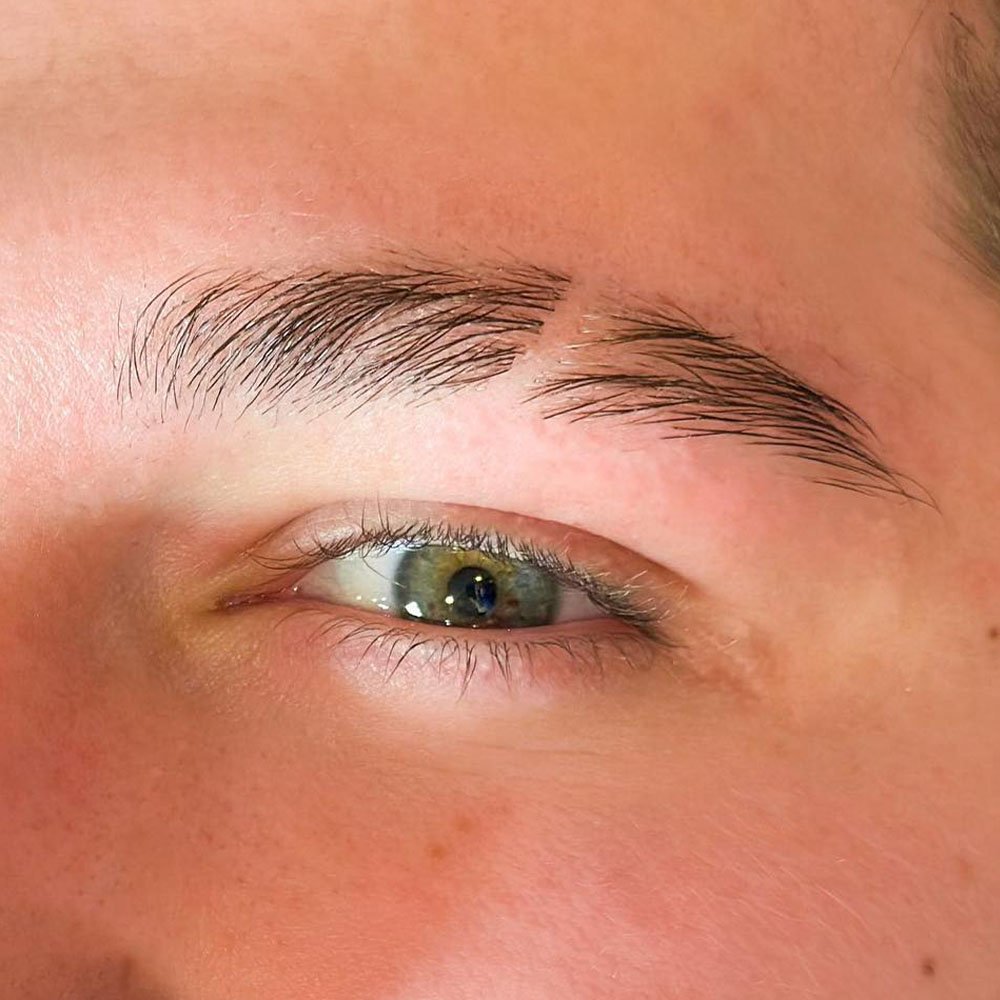 Image source: Instagram @kristinasvanity_
Double Eyebrow Slit
Double eyebrow slit is pretty self-explanatory – it's just two thin vertical lines shaved parallel to one another. The positioning varies on personal preference so they can be as close or as far apart as you'd like.

Image source: Instagram @beautyonthedayly
Eyebrow Slits on Both Sides
As the name suggests, this is when there's an eyebrow slit (or double eyebrow slit) made on each brow. This style can enhance facial symmetry as they offer a more balanced look.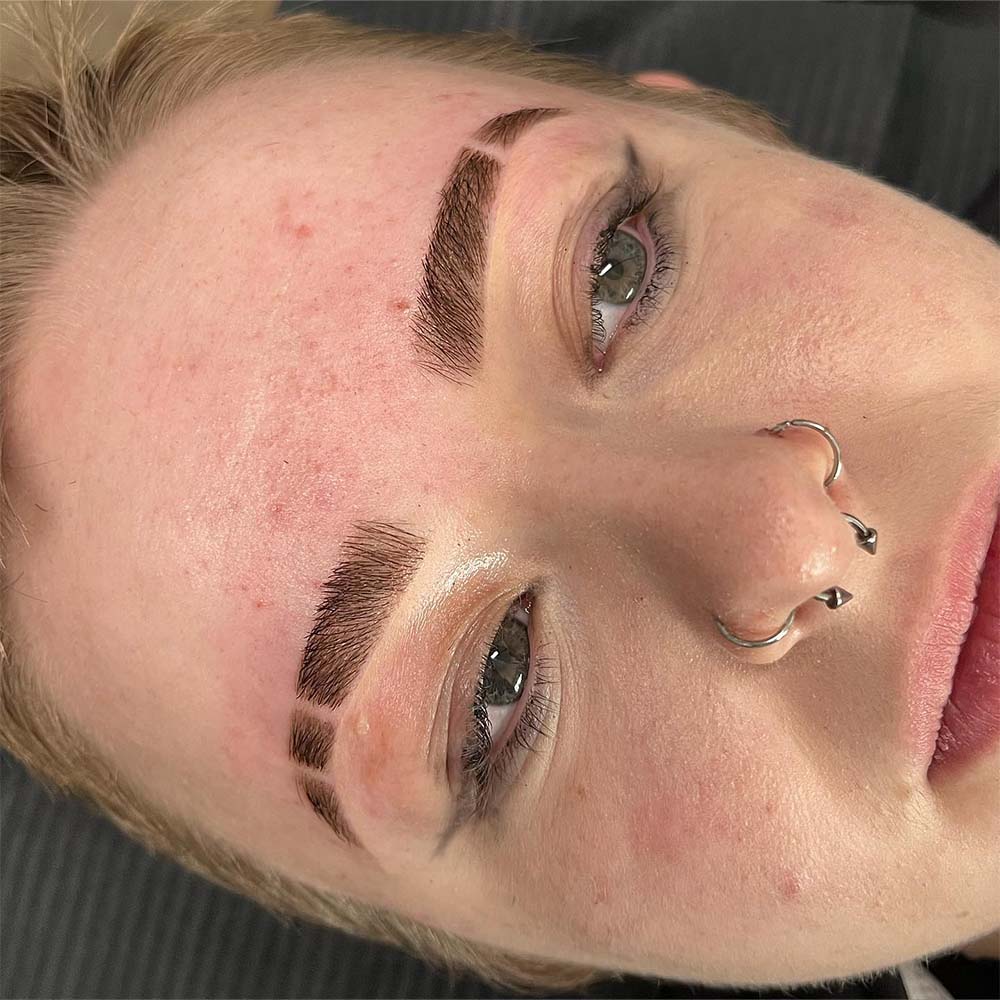 Image source: Instagram @_therefinedspace
Eyebrow Slash Haircut
The eyebrow slash haircut, also known as an eyebrow slit haircut, is a hairstyle that combines an eyebrow slit with a specific type of haircut. When creating this look, the key is to maintain the same angle in your brow and hair.
So basically, it's an eyebrow cut that extends into the hair. And seeing as it looks best on very short hairstyles, it's more popular with men.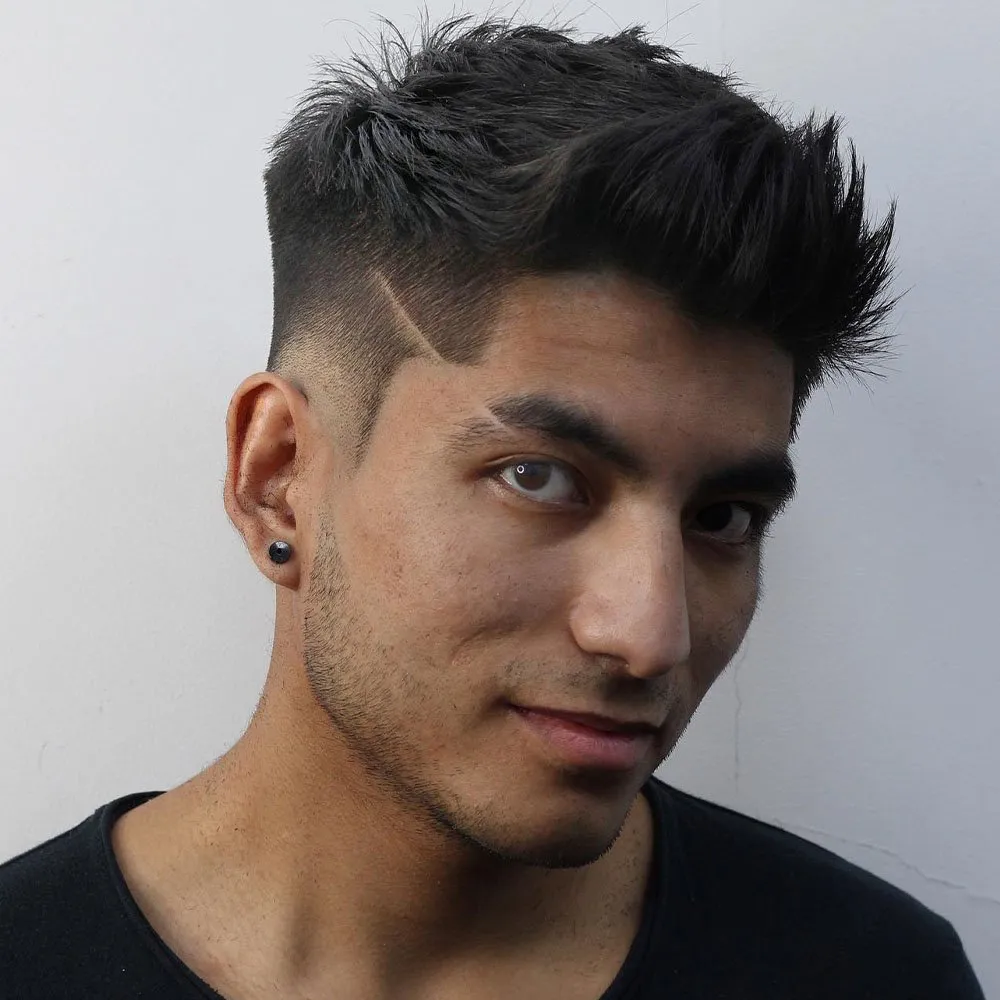 Image source: Instagram @bellstreetbarbers
Heart Eyebrow Slit
Heart eyebrow slit is a sub-category of geometric eyebrow slits – which also involves cross eyebrow slit, triangles, and other shapes and designs beyond just simple straight lines.
This style is a creative and playful variation of the classic eyebrow slit, as instead of a straight vertical line, it involves shaving or trimming a small heart-shaped slit into the eyebrow.
It's a perfect style for achieving a more intricate look and showing your artistic expression!
How to Make an Eyebrow Slit
There are a few ways you can achieve this look, depending on how short-term or permanent you want it to be.
At-Home Eyebrow Cut
You can easily achieve an eyebrow cut at home by yourself. The best option would be shaving it with an electric shaver, but if you don't own one there are other ways you can achieve this look.
You just need a steady hand and a few eyebrow grooming supplies.
Here are a few products you'll need plus a recommendation for the best razor for eyebrow slits:
Once you've gathered your supplies, it's time to begin shaving.
Shaving in Your Eyebrow Slit Step-by-Step:
Start by brushing your brows out with a spoolie. Decide where the best placement for an eyebrow cut is, then place two pieces of tape on each side to mark the placement.
You don't want to leave too big of a gap, as the emptiness between the tapes is what you'll be shaving off. So, adjust if needed. The tape will act as a guide and prevent you from making any mistakes.
Once you're happy with the marked spot, slowly start shaving your brow hairs. Make sure you are making small vertical motions and not pressing too hard as not to cut yourself.
Hold the blade at an angle to allow yourself to see more of the area and to reduce the risk of nicking yourself.
You can learn more tips + tricks on how to shave your eyebrows here.
Alternatively, Do Fake Eyebrow Slits with Concealer
If you are too scared to fully commit to the eyebrow slit but want to test the waters – faking an eyebrow slit is the perfect solution.
Using a lash glue and a full-coverage concealer you can mimic the look of an eyebrow slit before you shave it off permanently.
Here's a quick video tutorial:
Semi-Permanent Eyebrow Slit with Professional Grooming
If you aren't confident you can create the desired effect yourself, you can always go to a professional.
In addition to grooming your eyebrows, brow salons also offer services like brow tinting which can help make your eyebrow slit stand out even more by darkening the hairs around it.

Image source: Instagram @cursodesobrancelhaspro
More Permanent Eyebrow Slit with PMU Tattoo
If you are loving this brow style, but don't love putting on makeup daily around your slit – you can get that effect with an eyebrow tattoo. By adding fake hairs around the eyebrow cut, you are enhancing its effect.
And although this procedure's effects last a couple of years, that doesn't mean you can't change your mind at any point. If you decide eyebrow slit is no longer your thing, you can always get a cover-up to match the rest of your brow tattoo!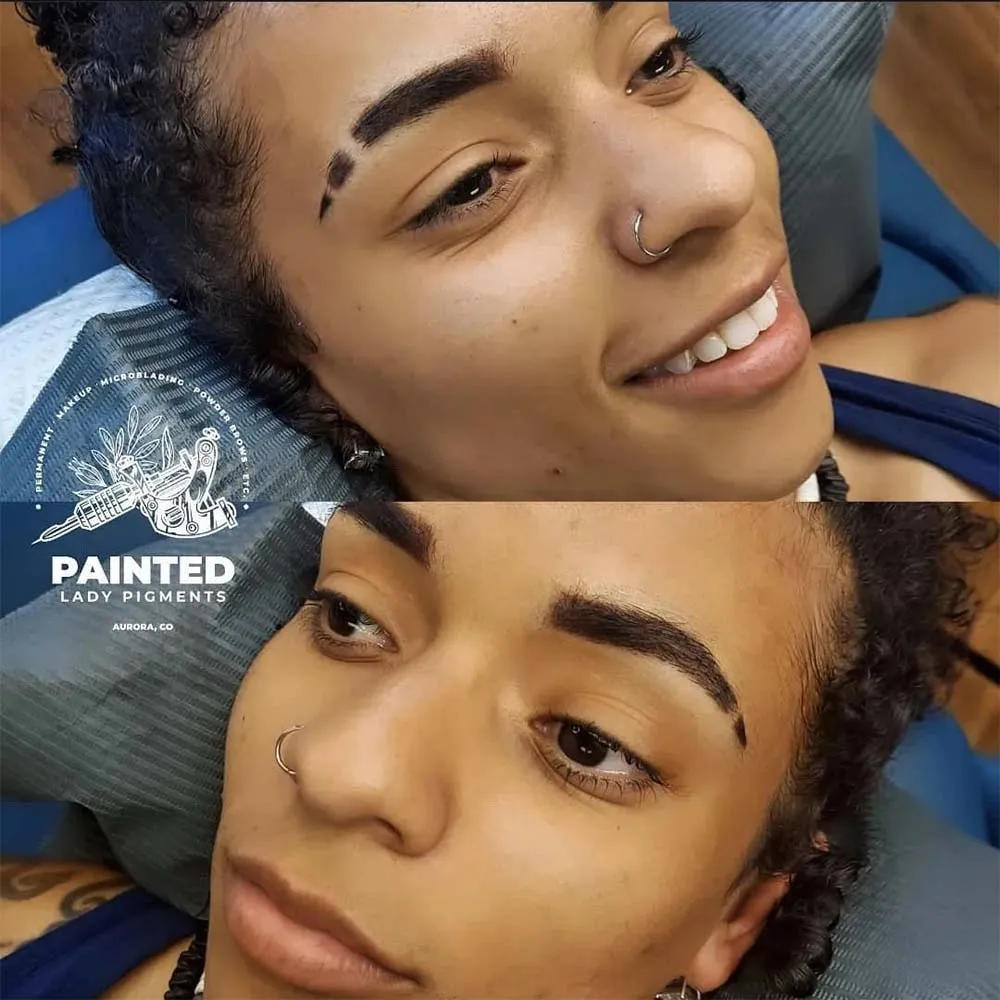 Image source: Image source @bren_paintedlady_pigments
Do Eyebrow Slits Grow Back?
Yes, the shaved eyebrow slit will grow back. Usually, it'll take 2-6 weeks, aka an entire hair growth cycle.
This is why it's recommended to shave the hair rather than using other grooming methods such as tweezing or waxing. Plucking the hairs from the root may stunt its growth in the long run, so your eyebrow slit may never fully grow back.
So, Would You Give It a Go?
In an era where self-expression and embracing individuality are highly valued, the eyebrow slit offers a unique way for people to stand out from the crowd.
Unsurprisingly, it offers many different variations that you can experiment with, based on the level of risk you're comfortable embracing.
Cover image source: Freepik