⏱️
5
min read
If you're a permanent makeup artist, you already know the importance of a good pre-draw. Whether you're offering brow, lip, or other PMU services in your salon, making a precise and detailed map is crucial for achieving truly amazing results.
But, finding reliable mapping tools can often come as a challenge, so we decided to gather a list to make your decision easier. Let's find you the best eyebrow mapping pencil!
Why Use a Pencil for Eyebrow Mapping?
Using a pencil for eyebrow mapping can act as a guide through which you will implement pigments during your microblading or machine brow procedure. Working between the lines you sketched out is extremely important for precise results.
It also allows your clients to better understand and see the final shape of their eyebrows, plus you can easily make small tweaks to the shape until they're satisfied.
Mapping pencils come in a variety of colors and sizes, as well as in the form of gel pens and markers, so you can explore the options until you find the right one for you.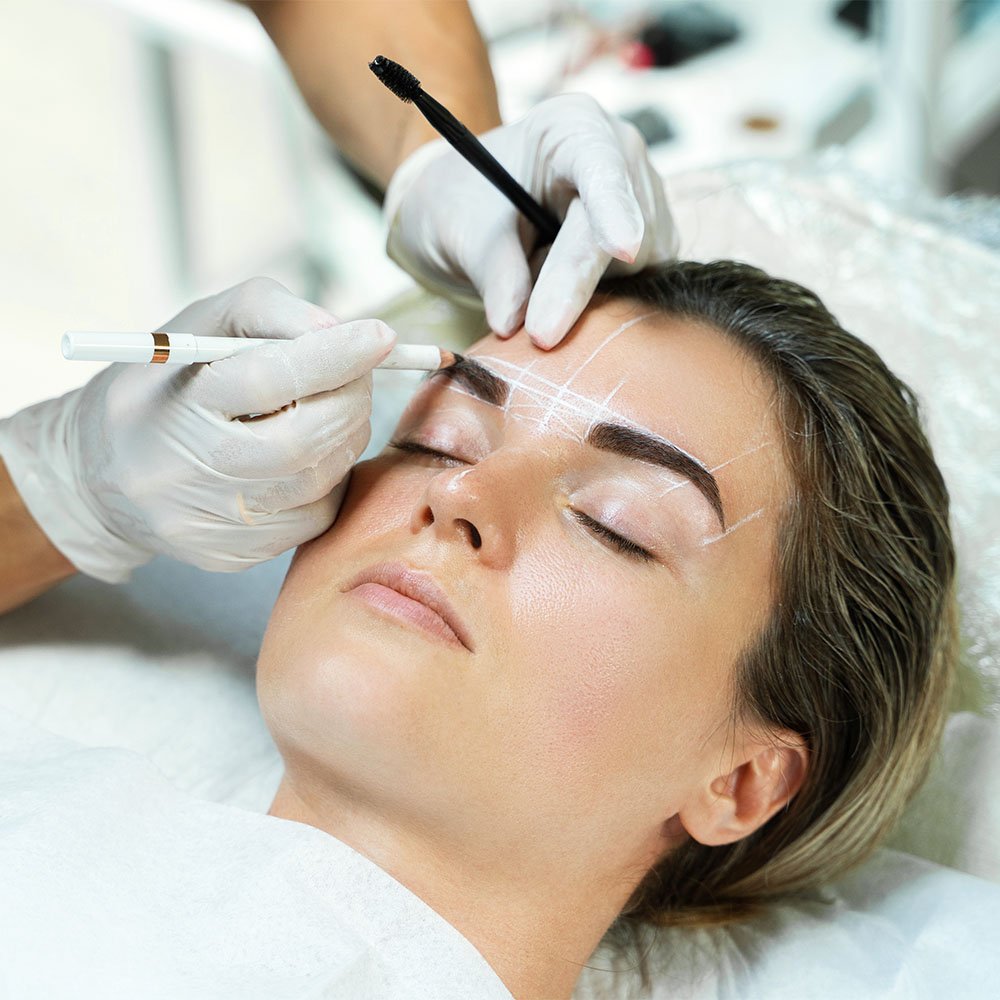 Image source: Freepik
Which Is the Best Brow Mapping Pencil?
While pencils for eyebrow mapping come in a variety of colors, the most popular options are white and brown.
You'll most likely use a white pencil to map outlines, but to simulate hair strokes for your client, you'll probably find a brown pencil to be more useful. That's why we decided to give you our top product picks for both color categories:
White Brow Mapping Pencil
Artists who swear by white mapping pencils claim they give them better visibility. Here are some of their go-tos:
Sharpie China Marker
Favorite among brow artists, the Sharpie China Marker is the best quality white pencil for brow mapping on the market.
Smudge-proof and water-resistant, rest assured that the mapping and outlining you do with this pencil will stay in place during the whole microblading, machine brow, or eyebrow tinting process.
The best part about this pencil is that you can just peal the paper wrapping with the provided string to get to more wax.
BRAWNA Peel-Off Pencil
The BRAWNA Peel-Off Pencils are very similar to the Sharpie China Marker in both quality and ease of use.
They work in the same way, by unwrapping the paper to get to the lead, which has a medium-dry texture. These pencils are long-lasting and smudge-proof, and they come with a convenient free razor for sharpening.
Brown Brow Mapping Pencil
On the other hand, brown pencils might give the client a better idea of what they'll get. Here's a few picks:
Brow Daddy Framework Master Pencil
The Brow Daddy Framework pencil is a great option for achieving clean and precise strokes, but also for seamless shading, if you want to show your client what they'll be getting.
Its large core size makes for a long-lasting product that you don't have to rebuy and replace often. The formula itself is very pigmented and glides on the skin effortlessly, but the whole design takes some getting used to, since it's quite bulky.
These pencils come in black and brown, so you can pick and choose depending on your client's hair color.
Or Try an Alternative Product – Brow Mapping Marker & Brow Mapping String
Apart from traditional pencils, there's a bunch of other products you can try for mapping, like these:
Tondaus Tattoo Marker Pens
The Tondaus Tattoo Kit contains 6 markers of different sizes and thickness, plus they come with handy paper rulers for easier mapping and measurement.
If you're looking for a longer-lasting solution than brow mapping pencils, markers like these are the way to go. The stencils you make with them are waterproof and you will most likely need about 4 alcohol swabs to remove them.
These markers come individually packed and are meant for one-time use, which is a great for preventing cross-contamination, but maybe less practical than having a reusable pencil around.
MADLUVV Pre-Inked Eyebrow Mapping String
Mapping string is a great alternative to using a brow pencil for making crisp and precise marks on your client's skin, but it does take some practice to get right.
The MADLUVV Pre-Inked Eyebrow Mapping String is our top pick due to its consistency and richness in pigment.
It unravels easily out of the box so there will be no messy pigment stains on your hands. Plus it doesn't take a lot of scrubbing to get off the skin after treatment. The amount of string found in the box should be enough for 15-20 uses.
Learn more about brow mapping string and how to use it here.
How to Use an Eyebrow Mapping Pencil
Using an eyebrow mapping pencil is just like using a regular pencil for tracing and marking. The most important thing to know is that it has to be sharpened before each use, and the rest comes down to your mapping skillset.
So, let's take a closer look at how to map brows with a pencil:
Sharpening
Getting your pencil tip to be perfectly thin and flat takes some practice. To achieve this, you don't need a standard sharpener, but a sharp blade instead.
Since most brow mapping pencils consist of the same paper material, you will first need to unwrap your pencil lead before you start sharpening. Then, proceed to shave off one side of the pencil until flat. Turn the pencil and repeat the process until you have two evenly flat sides.
Now, your eyebrow mapping pencil is ready for pre-drawing.
Pre-Drawing
Pre-drawing your client's brows without using any additional tools like a caliper or compass, may come as a challenge, but don't worry. Here's a simple pre-drawing step-by-step:
Step 1
Begin by identifying your client's eyebrow front, arch, and tail.
Step 2
To mark the front of the brow correctly, run the end of your eyebrow mapping pencil vertically from the client's nose dimple to the inner corner of their eye, marking where the pencil crosses their brow.
Step 3
To identify the arch, draw a line from the dimple of the nose to the brow. This time, you should bend it slightly diagonally so that it's in line with the outside of the iris of the eye — this is where the arch should be the tallest.
Step 4
Angle your pencil from the side of your client's nose to the outer corner of their eye to determine where the tail of their eyebrow should end.
Step 5
The last step is to connect these points to trace the top of the brow. Then, draw a similar curve around the bottom of your client's brow. This step is also very important for determining the final thickness of the brow.
Find more tips about achieving brow symmetry here.

Image source: Instagram @flauntbrows
In Conclusion
When trying to find the best brow mapping pencil, the most important factors to consider are color and durability. A white brow mapping pencil can be great because it stands out, but when it comes to filling out the brows and drawing on hair strokes, a brown mapping pencil is your best choice.