⏱️
6
min read
Eyelash extensions can be a great way to take your makeup to the next level or just enhance the appearance of your natural eyelashes. They can definitely make or break your daily look, so choosing the best style for your eye shape is a must.
Doll eye eyelash extensions have become extremely popular in recent years thanks to their ability to make your eyes rounder and more doll-like, hence their name. Keep reading this article to learn more about doll eye eyelash extensions and whether they will work for you.
What Are Doll Eye Eyelash Extensions?
If you've been dreaming of long, voluminous Barbie doll lashes your whole life, then the doll eyelash extensions technique is perfect for you!
The doll eye look is achieved by combining lash extensions of different lengths, placing the shorter extensions on the corners of the eye, and concentrating the longer extensions on the middle of the eyelid.
Doll lash extensions can be a great addition to your special occasion look or give your day-to-day style some extra oomph.
Image source: Instagram @beautybymirandac
How to Create Doll Eyelash Extensions
Doll eye lash extensions are a combination of various lash extension styles and techniques. Let's take a look at the doll eye lash extension procedure:
Mapping
To achieve the desired look, your chosen artist must follow a specific doll eye mapping pattern and adapt it to best suit your eye shape.
Following the created pattern, the artist will first place the shortest extensions in the inner corner of the eye. The general starting point would be using an 8 mm lash extension.
After that, the length of extensions will increase towards the middle of the eye, and the estimated length here would be 12 mm.
The last step is to apply a smooth transition towards the outer corner of the eye, generally using the same length extensions as used previously in the inner corner area.
After the work is finished, there should be a clean eyelash row, in which the length increases towards the middle of the eye and decreases slightly at the edges, giving the client's eyes a rounded appearance.

Image source: Instagram @pmuhub
Techniques
This eyelash extension style can be achieved by using many different techniques, depending on the client's natural lash length and wishes:
Classic doll eyelash extensions: One extension gets glued to one natural eyelash, creating the most natural-looking doll eye effect.
2D volume eyelashes: Two extensions are glued to one natural eyelash, creating more volume for clients with naturally thin and weak eyelashes.
3D volume eyelashes: The most popular option for achieving a dramatic result. Three lash extensions are attached to one natural eyelash.
Materials
To create the doll eye look, the following lash extensions can be used:
Silk lashes: Preferred by artists for their glossy sheen. The most natural-looking extensions.
Mink lashes: Fine and light. Very similar in structure and density to natural lashes.
Cashmere lashes: Soft lash extensions with a strong, long-lasting bond.
Synthetic lashes: The most commonly used material. Made to imitate natural silk, mink, or cashmere.
Curls
The chosen curl plays an important role in creating the doll eye effect. A good tech will always tell you that the stronger the parameters, the greater the load on natural eyelashes, so choosing the right type of curl is also very important:
C curl lashes: This is a medium curl that has a beautiful lift from the side. In many cases, they are used for classic doll eyelash extensions.
CC curl lashes: The CC curl creates a fuller, more dramatic look to your doll eye extensions.
D curl lashes: This is the perfect curl for creating volume Doll eyelashes. It is also good for correcting wide-set eye shapes.
What Are Wispy Doll Eye Eyelash Extensions?
Wispy eyelash extensions are created by combining lashes of different lengths and curls to achieve a feathery effect with noticeable spikes. The lash extension styles that can be used to achieve this look are classic, volume, and hybrid lashes.
To create the wispy doll eye eyelash effect, longer lashes are placed in the middle section of the lash line, usually 12mms, then 11mm near the inner corner, and 10, 8, and 9 in the corneas.
Image source: Instagram @glamsbynat
Who Are Doll Eye Eyelash Extensions Suited For?
The purpose of doll eyelash extensions is to make your eyes appear round, bright, and larger than they seem.
If you have a narrower eye shape, this type of eyelash extension would work great in highlighting your eyes and creating a sultry, glamorous look. It can also make your eyes look more symmetrical.
The doll eye look is also suitable for people with small eyes or hooded eyes, as they can help camouflage excess skin, brighten up the eyes, and visually enlarge them.
Who Should Avoid Doll Eye Eyelash Extensions?
Doll eye extensions are not really recommended for people with naturally rounded and close-set eyes. If you have larger eyes, this style of lash extensions can create an unflattering, alarmed look.
How Long Do Doll Eyelash Extensions Last?
Like other lash extensions, doll eye lash extensions have the same lifetime as your natural lash cycle, which is approximately 4 to 6 weeks. As your natural lashes start to grow, your doll eye extensions will start to fall out.
However, you can prolong their effect by booking a touch-up with your artist, 2-3 weeks after the initial treatment. The right aftercare also plays a role in the effectiveness of the treatment and the longevity of the results.
How to Care for Your Doll Eye Eyelash Extensions
No matter what kind or style of eyelash extensions you choose, they require the same aftercare routine in order to prevent breakage and premature falling off.
To get the maximum out of your doll eye extensions, it is important to brush them regularly using a spoolie or lash comb.
For the first 3-5 hours post-treatment, it is advised to avoid touching and getting your lash extensions wet. After that period, you should wash your lash extensions regularly to remove bacteria and oil build-up.
You should also avoid using mascara, lash curlers, and oil-based products as they can break down the adhesive used during the initial treatment.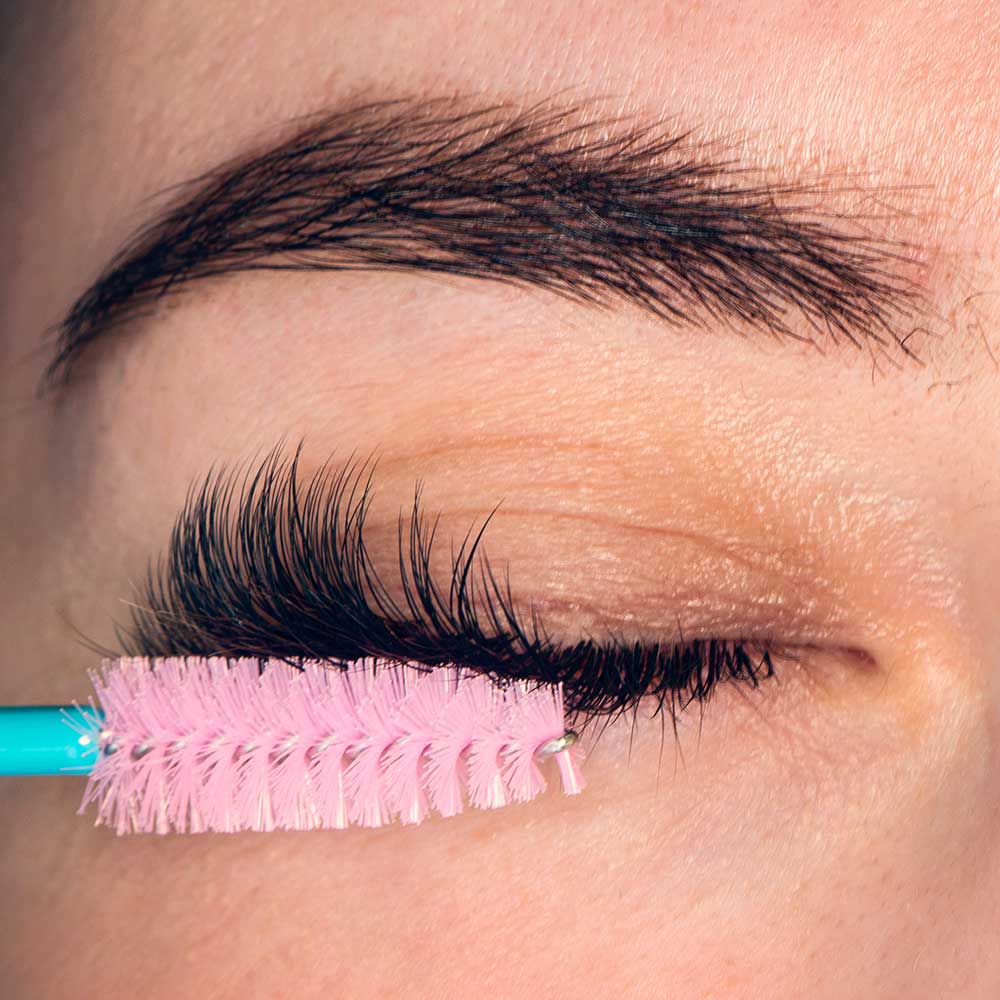 Image source: Freepik
Can Doll Eyelash Extensions Damage Your Natural Lashes?
Just like other types of lash extensions, doll eye eyelash extensions won't damage your natural lashes if done by an experienced lash technician.
Your chosen tech must choose the correct length, thickness, and curl of extensions to use when creating the doll eye look. If you go to a less experienced artist, you risk leaving their salon with lash extensions that are too heavy for your natural lashes, causing them to break and fall off early.
If you decide to remove your doll eye eyelash extensions, choosing the correct products is a must. Pulling out your extensions is not recommended and can severely damage your natural lashes.
Click here to learn how to properly remove eyelash extensions.
So, Should You Get Doll Eye Eyelash Extensions?
Knowing your eye shape and choosing the correct style of eyelash extensions is what matters most, and with doll eyelash extensions, this is especially true.
Doll eye eyelash extensions can do wonders for your eye shape by making your eyes appear bigger and rounder, with a flattering doll-like appearance.
If you have close-set eyes or naturally big eyes, this type of eyelash extension may not be the right one for you, as you risk looking alarmed or frightened.
To learn more about different types of eyelash extensions, click here.
Cover image source: Freepik