⏱️
4
min read
The dermaplaning treatment is often thought of as a hair removal technique. And while this is not its primary purpose, it does get rid of facial hairs as an additional benefit.
But what worries a lot of clients is what the post dermaplaning hair regrowth looks like.
We're here to answer all the questions and clarify the truth behind common dermaplaning myths.
What's Dermaplaning?
Dermaplaning is a non-invasive mechanical exfoliation treatment. It's done with a surgical scalpel or an at-home tool that gently scrapes the top skin layer at a 45-degree angle.
This removes up to two weeks of dead skin cells, debris, and facial hairs with it.
With all that buildup eliminated, the skin looks much fresher and brighter. The pores appear smaller and the texture smoother, so the improvements are visible instantly.
Therefore, dermaplaning is first and foremost a skincare treatment. Getting rid of peach fuzz is just a beneficial side effect.
Learn more about this procedure in our Comprehensive Guide to Dermaplaning.
The Benefits of Removing Peach Fuzz
Facial hair does serve a certain purpose – it offers protection and regulates the body's temperature. But it can also be inconvenient, especially for people who have problematic skin and are prone to acne.
Acne forms when the pores get clogged. And hair, dead skin, and excess oils are the biggest contributors. Peach fuzz allows bacteria to get closer to the pore and travel into them.
It also reduces the efficacy of skin care products. Creating an additional barrier, it traps a portion of the product. By removing the fuzz, you are finally allowing your skincare to penetrate deep into the skin and be more potent.
This also goes for makeup. Most of the products get trapped in the hair, which is what causes the makeup to look cakey.

Image source: Instagram @dermaplanepro
How Is Dermaplaning Different From Shaving?
If we disregard all the skincare benefits of dermaplaning and only focus on the hair removal aspect of it, the main difference from shaving would be in the way dermaplaning removes the hair.
Natural hair gently tapers at the end which makes it feel soft. But when we cut it straight across, it'll feel sharper and coarser than it did before.
This is what causes the illusion of thicker hairs upon shaving – there's no actual change in their thickness.
With dermaplaning, it's a bit different. The dermaplaning blade is held at a 45-degree angle, and since the hairs are cut at an angle, they grow back soft and pretty much the same as before.
Other than straight vs angled cut, the biggest difference is in the exfoliation that dermaplaning provides – which is the primary function of dermaplaning in the first place.
So while it will do the same thing as shaving in regards to hair removal, dermaplaning will also remove the stratum corneum of the epidermis skin layer – and everything else on it. So it's definitely more elaborate than shaving.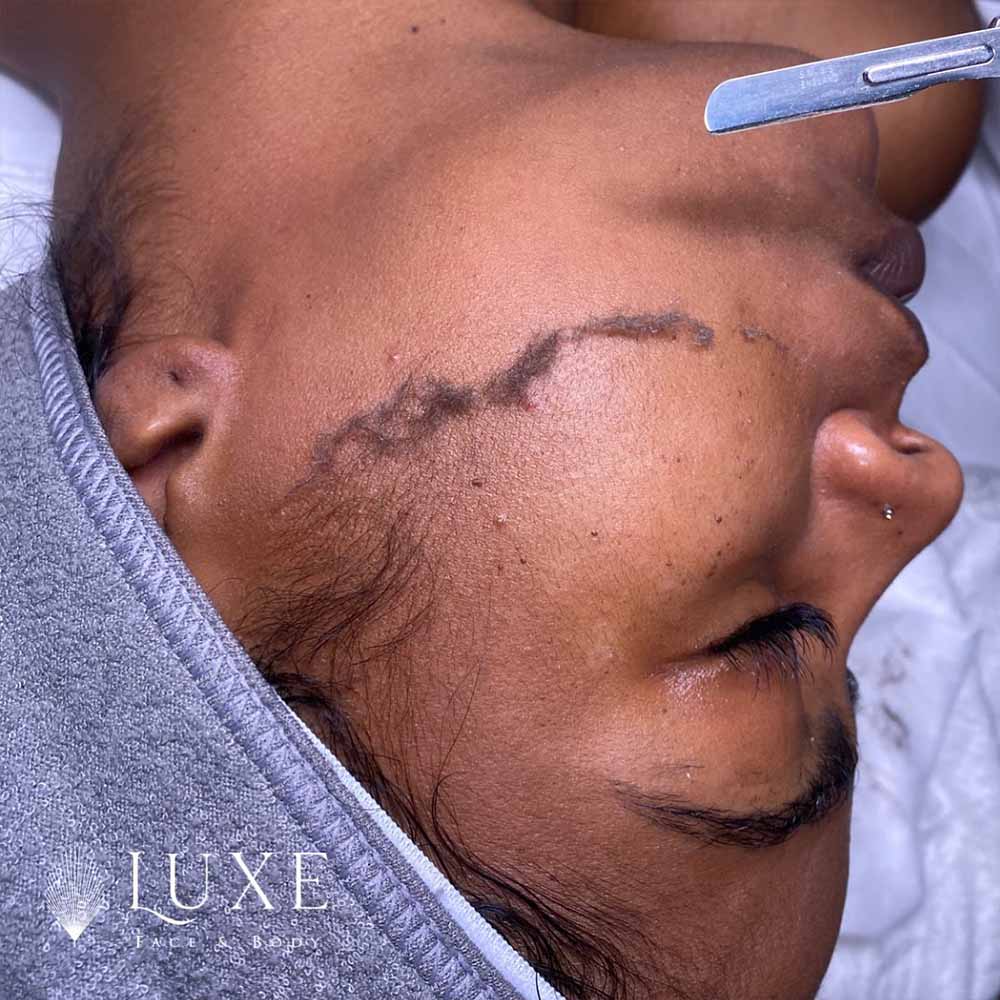 Image source: Instagram @luxefaceandbody
The Truth About Dermaplaning Hair Regrowth
Will my hair grow back thicker? No.
Will my hair grow out darker? A bit.
Let's explain.
Facial hair is light, short, and thin. And since it has been sitting on top of the skin for a while, it became even lighter due to exposure to sunlight.
So once you shave it off, it'll grow back in its natural, un-faded color, which is why we have an illusion that it's suddenly much darker. In reality, however, it won't change its color, texture, or thickness.
Another one of the most commonly asked questions about dermaplaning is does dermaplaning hair regrowth appear as stubble? Of course, the answer is no – dermaplaning won't suddenly encourage stubble. Nor sudden hair growth.
Dermaplaning actually can't affect hair growth at all. The only way to affect hair growth is to alter the root of the hair because that's where the hair begins and this treatment only influences the superficial hairs.
NOTE
Depending on the hair structure, dermaplaning can sometimes cause ingrown hairs. They might look like minor acne breakouts as the skin tries to extract them naturally.
The chances of this happening are low since the skin is exfoliated by the treatment itself. However, if you're prone to ingrown hairs know that getting them is a possible side effect of this treatment.
How Often Should You Dermaplane?
The dermaplaning treatment, especially when done professionally, is first and foremost an exfoliation technique. This means you shouldn't do it too often.
The results usually last around 3-4 weeks after which dead skin cells have accumulated again and vellus hairs have grown back.
That means that dermaplaning facials can be done about once a month. If your hair grows faster than that, you should probably look into another type of hair removal – if that is your primary motivation for doing this treatment.
The great thing about dermaplaning is that you don't have to continue doing it if you decide it's not for you. You won't lose any progress if you temporarily stop and can pick it back up anytime you want.
In Conclusion
Dermaplaning is a quick and non-invasive procedure that combines exfoliation and facial hair removal into one treatment.
It doesn't affect the natural growth of peach fuzz in any way, but if dermaplaning hair regrowth is still something that scares you, you can always choose another procedure that offers similar benefits.
Check out how dermaplaning compares to microdermabrasion here.
Cover image source: Freepik