⏱️
4
min read
Lip tattooing is a permanent makeup procedure that can alter the appearance of your lips by evening out their tone or improving their shape. Whether your lips lack color, or you're just tired of lipsticks and lip pencils, lip tattooing can be a great solution.
It is especially important to note that lip tattoos can also camouflage certain insecurities. For people who have permanent scarring on or around their lips due to injury, surgery, or other factors, a cleft lip tattoo can make a big difference.
Read this article for helpful information about lip tattooing and how it can benefit those who underwent cleft lip and palate repair surgery.
What Is a Cleft Lip Tattoo?
A cleft lip tattoo is a cosmetic tattoo treatment that involves inserting pigments beneath the skin of the lips and above it, focusing on covering scars, and achieving a well-balanced lip shape.
The lip tattoo procedure is done with an electric needle device that uses PMU pigments rather than regular tattoo ink, which are formulated in such a way that the body gradually breaks them down over time.
For most people, lip tattoos last about 2 years without any additional touch-ups.
There are so many talented artists out there who can do such a realistic cleft lip tattoo nobody will be able to tell you ever had the scar in the first place! Just make sure to find an artist who has experience doing scar camouflage.

Image source: Instagram @lurestudioaz
How Old Does the Scar Have to Be for Cleft Lip Tattoo?
The scar has to be fully healed before you can do any camouflage. For lip scars, this is usually 6 months to a year.
Who Is Cosmetic Lip Tattooing For?
A lip tattoo or lip blush is best suited for people who regularly apply lip products, who have lip hyperpigmentation, scarring on their lips, or an uneven lip shape. Besides offering a flawless, long-lasting color that doesn't smudge, lip tattoos can:
Save time on applying makeup
Conceal scarring
Even out your lip skin tone or correct cool-toned lips
Correct an uneven lip shape
Give you more defined, fuller-looking lips without filler

Image source: Instagram @pmu.rozental
Who Should Avoid Getting Lip Tattoos?
Lip tattooing is a non-invasive procedure that doesn't entail many side effects or risks. However, there are several conditions where PMU is generally not considered safe:
Pregnancy
Hemophilia
Major heart problems
Uncontrolled diabetes (if it's regulated, you can probably get PMU if your GP approves it)
Anemia
High blood pressure
Auto-immune diseases
Psoriasis, eczema, and other severe skin conditions in the area
Proneness to keloid scarring
What Does the Procedure Look Like?
Cleft lip tattooing can take anywhere from 1.5 to 2 hours. Here's a quick look at the procedure:
First, you will have a consultation with your artist, discussing color options, cupid's bow restoration, and general suggestions. If you're getting consults in advance (which you should), your artist will do a patch test to make sure you're not allergic to the pigments.
The next step is applying a numbing cream to your lips, which will make the treatment virtually painless.
Once the lip area becomes numb, your artist will start depositing tattoo pigments into your lips using a specialized, electric PMU machine.
After the treatment is over, the healing process begins during which your lips will lighten and the pigments will settle.
The finishing stage of your lip tattoo treatment is coming in for a touch-up, 4-6 weeks after the initial procedure, to replenish the pigment lost during the healing process.

Image source: Instagram @nofilterbeauty_syd
Does Cleft Lip Tattooing Hurt?
Since pain is a subjective experience, there is no universal answer to this question.
However, your artist's main goal is to ensure that you feel as comfortable as possible during the procedure, so they will most likely use a numbing cream on your lips before starting the treatment.
Generally speaking, PMU procedures hurt less than conventional tattooing. The whole process will just mostly be itchy and slightly uncomfortable, so there's no need to get discouraged before booking your appointment.
However, it's possible for scar tissue to be very sensitive, so going over the actual scar might be a bit worse than the rest of your lip.
How Long Will It Take to Heal?
Lip tattoos in general take about 7-10 days to heal superficially. Complete, deep tissue healing will take about a month or so, after which you can schedule a touch-up appointment to regain some of the pigment lost during the healing process.
Here's more information on how long it takes for a lip tattoo to heal.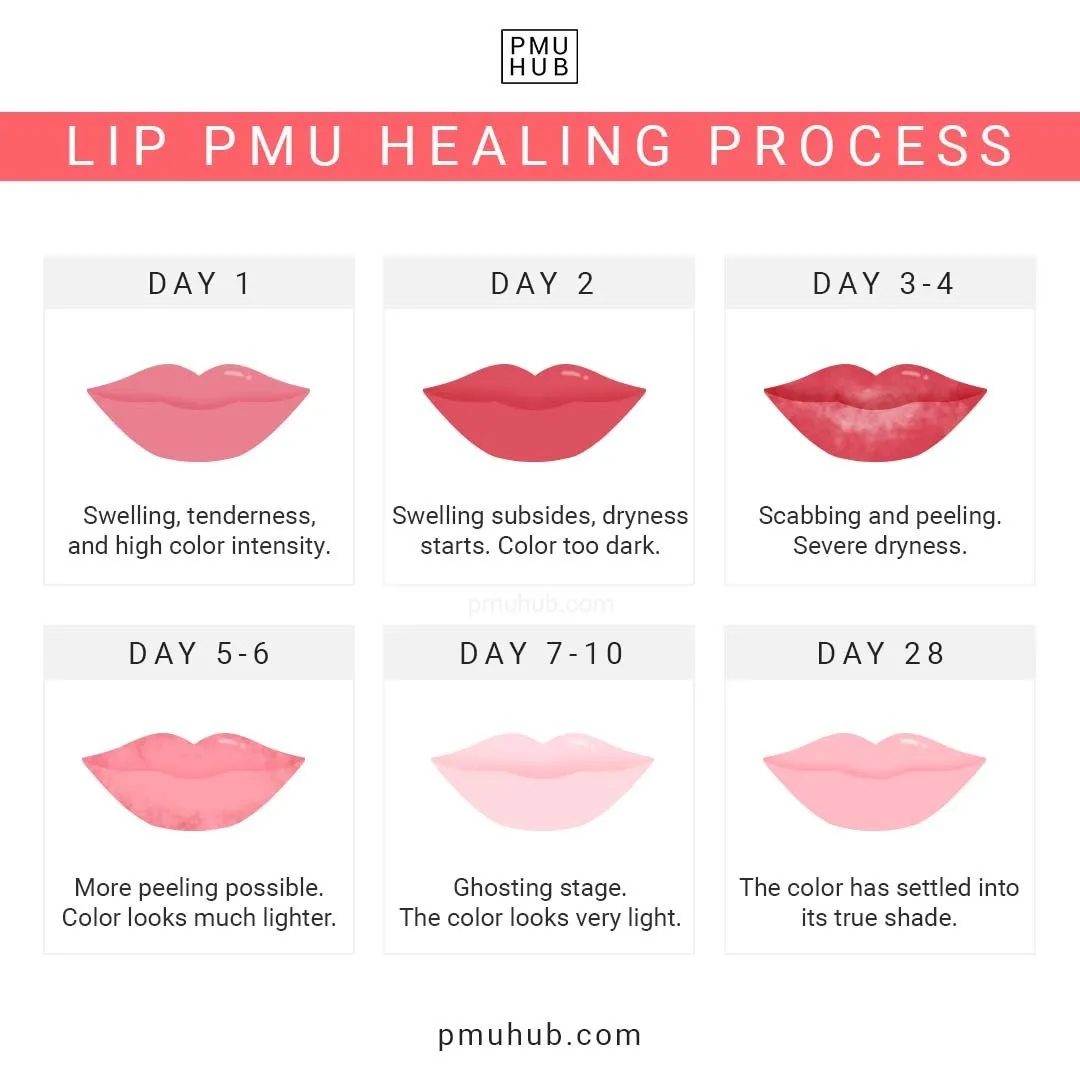 Cleft Lip Tattoo Aftercare
Cleft lip tattoo aftercare is fairly simple – it generally implies cleaning the treated area regularly, treating it with special ointments, and staying away from certain activities in the first 7-10 days after treatment.
Here are some general rules when it comes to lip tattoo aftercare:
Don't touch your lips or pick at scabs
No swimming or excessive sweating
Don't get toothpaste on your lips
No makeup on or around your lips
Don't eat spicy or salty foods
Stay out of direct sunlight
Don't sleep face down
Final Thoughts
Cleft lip tattoos can enhance, contour, and perfect the look of your lips. They can make your lips look more prominent while providing you with the benefit of not having to worry about lipstick or lip liner smearing or wearing off.
Scarring on and around the lips caused by surgery or injury can be camouflaged and corrected, helping you regain your confidence and stop worrying about it.
Learn everything there is to know about the lip tattoo procedure here.
Cover image source: Freepik