⏱️
5
min read
Eyelash extensions have been popular for some time. The reason they stand out as one of the best methods of eyelash enhancement is that they are custom-made. Strip lashes can look artificial, whereas eyelash technicians carefully choose lengths, shapes, and thickness of extensions for each client to create the best look.
The right style of eyelash extensions can do so much for the shape of your eyes. It can make them look more open, bigger, and more attractive. Different styles have been developed and one of the most popular is cat eyelash extensions or cat-eye eyelash extensions. Let's find out more about them.
What Are Cat Eyelash Extensions?
Cat eyelash extensions are extensions that are shorter in the inner corners of the eyes and longer in the outer. They give the illusion of elongated eyes, just like with cats' eyes. They also look like you are wearing winged eyeliner!
These are one of the most popular styles and can be worn either for special occasions or for every day.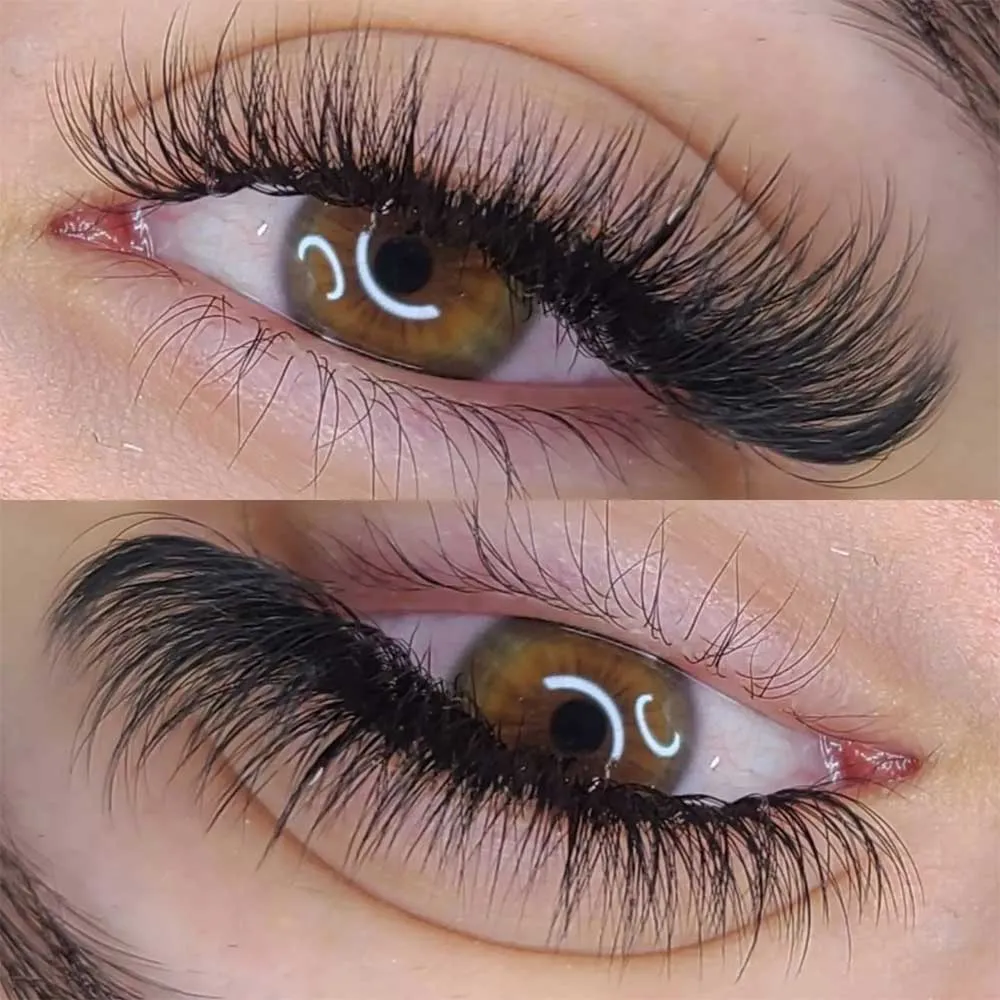 Image source: Instagram @beautylashbrowslv
Who Are Cat Eyelash Extensions For?
Cat eye eyelash extensions are great for almost everyone, but they can be really beneficial for people with round eyes – the cat eyelash extensions will lengthen them – and for deep-set eyes – the extensions will make them look more open.
People with upturned or downturned eyes should avoid cat eyelash extensions because they can make the eyes look smaller.
How Are Cat Eyelash Extensions Created?
It's all about the right mapping. It takes a lot of practice for a lash technician to create this look. They need to carefully assess the client's eye shape and the state of their natural lashes to see whether a client is a good candidate for cat eye extensions and to know what length, thickness and curl of the extensions to choose for the client.
Cat eye extensions can be created with classic extensions and volume lash extensions.
With classics, where one extension is applied per one natural lash, a soft, natural look is created. Volume lashes are more popular for this style – they add density and some drama and look really noticeable. With volume lashes, fans of 3-6 super thin extensions are applied per natural lashes.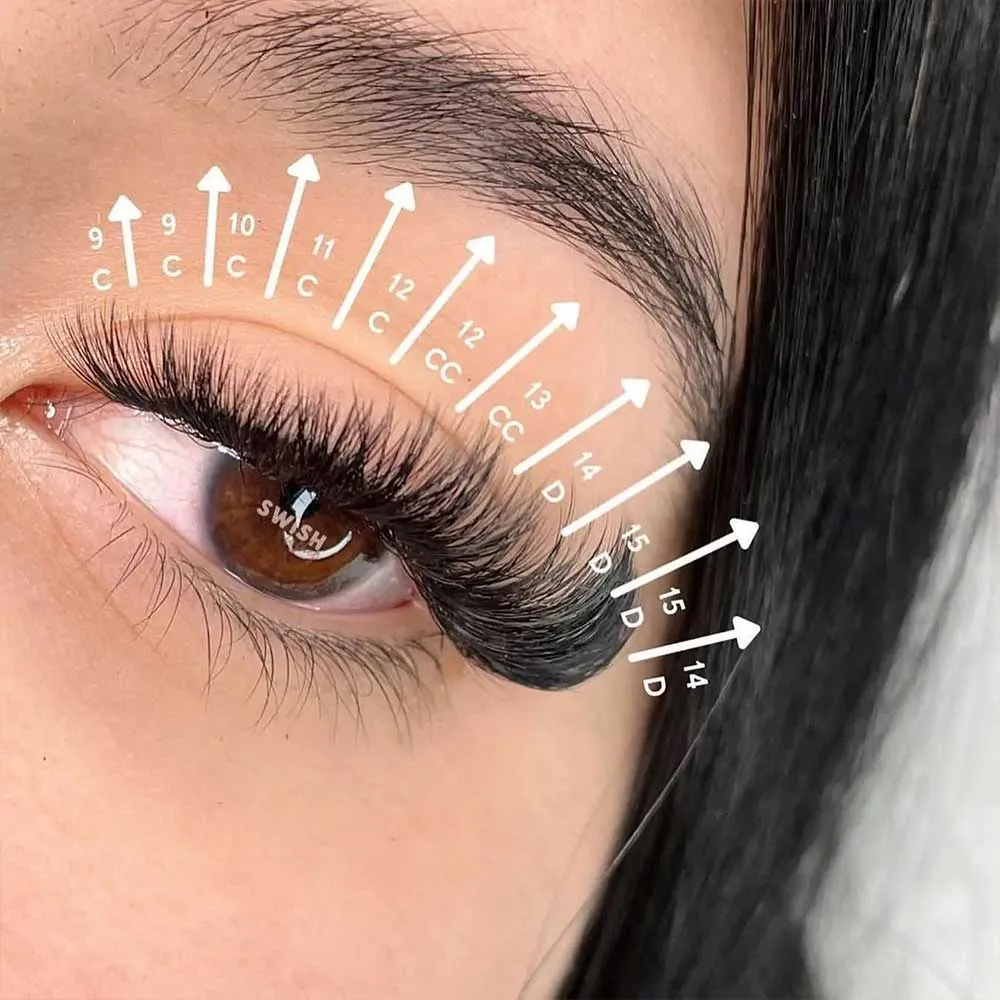 Image source: Instagram @topstareyelashextension.alice
The Right Length
As said above, the cat extension set consists of extensions of different lengths – shorter in the inner corners, and longer in the outer. The most popular lengths are from 8mm to 14mm.
The longest lashes should go where the brow arch is and where the natural lashes are the longest. For perfect cat eyelash extensions, the very last lashes in the outer corner should be a bit shorter than those that are in the line with the brow arch. If you have extensions that are too long in the outer corner, they can drag the eye down.
The lash tech should not choose the extensions that are much longer than the natural lashes, because they can be too heavy and damage the client's natural lashes. The extensions should be around 2mm longer than the natural lashes.
The Right Curl
Any curl is okay for cat eye eyelash extensions, from J to M. it depends on the client's natural lashes and preferences. That means that if, for example, a client has pretty straight lashes, the lash tech shouldn't go over the C curl.
What Are Wispy Cat Eye Eyelash Extensions?
Wispy cat eye eyelash extensions are created by combining the classics and volume lashes of different lengths to get a natural, feathery look. It's done similarly as described above, but some spikes are supposed to be standing out. The extensions are longer and thicker in the outer corner.
Image source: Instagram @topstareyelashextension1
How Long Do Cat Eyelash Extensions Last?
Just as any other extensions, they are attached to the natural lashes so they will follow their growth cycle, which is around 8 weeks long.
However, you can expect to lose half of your extensions in a month. That's why you need to book a lash fill (or infill, as they also call it) after 3-4 weeks, depending on how fast the extensions are falling off. Lash techs usually require you to have at least 40% of extensions remaining for the lash fill.
How To Maintain Cat Eyelash Extensions
No matter which style you choose, eyelash extensions require some maintenance. If you want them to last longer and look good, as well as to avoid premature falling off, you need to brush them regularly. Also, it's required to wash them to remove all the bacteria and oil build-up.
Learn how to wash your eyelash extensions in this article.
Other tips for maintaining your cat eyelash extensions include:
Don't wash your lash extensions 24h after the treatment.
Avoid long showers and steam for 24h after the treatment.
Avoid oil-based products, they will break down the adhesive.
Don't use the lash curler.
Don't touch your lashes.
Don't rub or pull the extensions.
Sleep on your back.
Don't use mascara on volume and wispy lashes.
Image source: Instagram @ilashartis
Do Cat Eyelash Extensions Damage Your Natural Lashes?
Eyelash extensions don't damage natural lashes if they are done and maintained properly. That means that the lash tech needs to choose the right length, thickness and curl of the extensions that won't be too heavy for your natural lashes.
Also, if you don't wash your extensions regularly, you risk damaging your natural lashes.
If you decide to remove them, it's important to let the professional do that with special products. Pulling your extensions and trying to remove them on your own can ruin your natural lashes.
Conclusion
Cat eyelash extensions are a great style and can really do a lot for your looks. Make sure you choose an experienced and professional lash technician who will know how to create perfect cat eye eyelash extensions that won't look fake and won't damage your natural lashes.
Cover image source: Freepik